Norfolk Warehouse
Norfolk Warehouse
606 W. Phillip  Ave.
Norfolk, NE 68701

Warehouse Manager: 
Doug Trampe
ogtwarehouse@gmail.com
402.371.7393 ext. 148
 
Office Hours:
Monday thru Friday 9am to 4pm
---
Glorious Day for New Recipient in Haiti
OGT's first shipment to Josias Marin in Thomassique, Haiti was cleared and unloaded! It was a glorious day for Josias and everyone helping to unload and see the gifts from OGT. A goat farmer had a special request for 'farmer's clothes' and OGT collected coveralls and rubber boots. He (photo with coveralls and boots) has a goat farm there for people to work and support themselves; he was grateful for the boots and clothes. The shipment also included the 40' shipping container to be used for storage, 57,024 Mercy Meals, 5,000 pounds of beans, French Bibles, bed frames and mattresses, hygiene kits, school kits, sports equipment, classroom tables and chairs. Goods will be organized and distributed soon.(4/2018)
---
School Desks Received in Liberia
Joe Boway with Lutheran Schools in Liberia received student desks and chairs from the Norfolk warehouse last month. These furnishings were set up at Trinity Evangelical Lutheran School in Foya, Liberia. These are wonderful blessings for their meek surroundings which usually are benches and tables made from cinder blocks and wood slabs as desks. Thank you to our donors and supporters for showing students in Liberia that people care about their schooling.(4/2018)
Shipment On its Way to Moldova
Norfolk warehouse volunteers loaded a shipment of quilts, school supplies, desks, chairs, sewing machines/supplies, yarn, bikes, medical equipment, beds with mattresses, hygiene kits, diapers, clothing, shoes and coats for Moldova. Bible Mission International is excited to receive the goods to help children in orphanages, families living in poverty and their Christian camps.(4/2018)
---
Shipment to Bless Region in Philippines Struggling with Drought
April 5th the Norfolk warehouse volunteers loaded food and relief supplies for Camp Mt Moriah in Malaybalay City, Philippines. Camp Mt Moriah has outreach programs for children and families living in poverty. Currently the region is struggling with drought, causing poor crops and farmers now have no crops or income and are also in desperate need of help. They are looking forward to receiving 142,560 Mercy Meals, blankets, uniforms, flip-flops, bed frames with mattresses, adult diapers, infant diapers, hygiene kits, towels, toys, bench tables, sports equipment, bicycles, and child gift boxes to help those in need and also support the many Christian camps offered during the summer.(4/2018)
---
Joyous for Shipment Received in Ukraine
OGT's recipient Charitiable Foundation "Mariam" in Melitopol, Ukraine shared gratitude and joy for the shipment they received from the Norfolk warehouse. The photos are their first distribution of clothes and toys being shared with children living in poverty and people with disabilities. Praise be to God.(4/2018)
---
A New Dress Brings Smiles Abound 
Sandra Koch with Help For Haiti recently received pillowcase dresses along with Mercy Meals and Kids Against Hunger meals from the Norfolk warehouse. Sandra shared the dresses with girls in 'Norway', an area in Cite Soleil which borders on the ocean and every time there is a storm the ocean wipes out most of what they have. You can see the rusted tin houses that are "home" to these children. (first 4 pictures)
Sandra also shared the dresses with girls living in an area called 'The Mangos' which borders on the filthy canal. The pile of debris you see behind the girls is the garbage cleaned out of the canal. These children live in the slums on a garbage dump. There is no water, no electricity and few schools and very little food. We came with the dresses and began to share them with the girls ---who wanted to pick out their colors and enjoyed they're picture being taken. You can see that the dresses brought a ray of happiness into the girls life that day...they felt pretty, they posed for the photos, laughed and for a short time, life was as close to normal as it could be. Thank you to those that make these adorable dresses to put a smile on a child's face and give hope to her heart.(3/2018)
---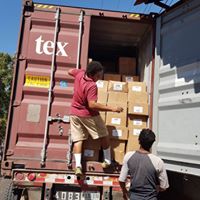 Shipment Arrives to Leon, Nicaragua
Lutheran Hour Ministries in Leon, Nicaragua unloaded their shipment of blankets, linens, Good News Magazines, Christian resource materials, layette kits, purses, gym bags, clothing, flip flops, diapers, exam gloves, hospital beds, canes, commodes, wheelchairs, IV stands, bicycles, toys, desks, chairs, file cabinets, and school kits shipped from the Norfolk warehouse. Distribution to those in need is being planned and photos will be sent.(3/2018)
---
Beans and Kids Against Hunger Meals Will Bless Many in Liberia
Norfolk warehouse volunteers were busy today loading 30,000 pounds of edible mixed beans donated from Morrison Farms in Clearwater, NE and 38,880 Kids Against Hunger meals. Wisconsin Branch funded this load which has left on its journey to Rev. Kollie at Lutheran AID Ministries (LAM) in Liberia. These wonderful blessings will feed thousands of children and families to nourish both body and soul. When feedings occur, scripture is also shared.(3/2018)
---
Cornerstone Children's Ranch in Texas Grateful for Gifts
Cornerstone Children's Ranch received church pews, clothing, a variety of foods and household items from the Norfolk warehouse. The Children's Ranch is a Christian organization whose mission is to serve the children and parents of low income, indigent families along both sides of the Texas-Mexico border and are grateful for the assistance through OGT donations.(3/2018)
---
Serving Women For Justice
Orphan Grain Train has a new recipient, Women for Justice in the Republic of Georgia which assists women living in poverty, with domestic difficulties and disabilities. They also help children in orphanages with food, clothing and other essentials. Women for Justice is eager to receive blankets/quilts/linens, clothes, coats, shoes, hygiene kits/diapers, medical equipment, school kits/supplies and toys from the Norfolk warehouse. What wonderful blessings to share with women and children living in difficult situations.  (3-2018)
---
Dedicated Volunteers Load Shipment Despite Snow Storm
The snow storm on March 6th closed several schools in surrounding area but did not stop the Norfolk warehouse volunteers from loading a shipment for Monrovia, Liberia. The shipping container made it from Omaha and was loaded with 92,664 Kids Against Hunger meals, 5,000 pounds of edible beans, clothing, diapers, hygiene supplies, scales, canes, wheelchairs, PETS (adult, child, and pull all terrain wheelchairs), bicycles, toys, and school kits for Children Relief Services, Inc. Rev. Hilary Earley is always grateful for the donations to share with children and others in desperate need.(3/2018)
---
Shipment to Uzbekistan Unloaded by Hand
In 2017 the Norfolk warehouse volunteers loaded a shipment of quilts, clothing, shoes, new underwear, child handicapped chairs, patient lifts, commodes, toilet risers, orthopedic boots/prosthesis, PETs (all terrain wheelchairs), therapy tables, walkers, bicycles, and toys for New Hope Rehab Foundation in Tashkent, Uzbekistan. New Hope was amazed and thankful for the wonderful goods and will distribute soon to those in need. Notice in the photos that the medical equipment and boxes were all unloaded by hand.(3/2018)
---
NELHS Blessed with Food 
OGT delivered its second load of food to Nebraska Evangelical Lutheran High School in Waco, NE. NELHS serves young men and women in grades 9-12. Something unique is that over 80 percent of the students live in dormitories at the school and are fed three meals a day seven days a week. OGT's donated food will assist the school greatly to reduce costs of preparing the meals for students. Some students and faculty helped to unload the food. It was a cold day and it was also Hawaiian day so the students weren't dressed for Nebraska cold to unload a truck – thank you to the students and staff for your help! In the first picture Corina Bauer, head cook is on the left with the students that helped and in the second picture on the left is Mark Otte, school administrator helping with the unloading.(2/2018)
---
Volunteers Busy Getting Shipment Loaded for Nicaragua
February 6th, 2018 the Norfolk warehouse volunteers were busy loading quilts, linens, bikes, stuffed toys, 35 boxes of school kits, sports equipment, student chairs, office furniture, medical equipment, flip-flops, clothes and diapers for Nicaragua. Lutheran Hour ministries (LHM) will be receiving the goods to distribute to organizations and families living in rural areas in need.(2/2018)
---
Ukraine Eager to Receive Gifts
February 5th, 2018 the Norfolk warehouse volunteers loaded a shipment for Fastiv, Ukraine. OGT's recipient 'Together Into The Future' provides assistance in over 150 villages and small towns for schools, orphanages, hospitals, the elderly and disabled as well as families living in poverty. They are eager to receive quilts, sewing machines, bikes, office chairs, hygiene kits, diapers, bed frames with mattresses, clothes, coats, and shoes to distribute as needed. Thank you again to our supporters and dedicated volunteers for making this shipment possible.(2/2018)
---
Ukraine Container Arrives 
Charitable Foundation "Mariam" in Melitopol, Ukraine recently received a shipment of school desks, chairs, class room tables and teacher's desks from Norfolk warehouse. "Mariam" shared 150 chairs and 37 tables with a local school that was thankful for the much needed items for their school children.(2/2018)
---
Congo is Number 67
February 2, 2018 OGT shipped humanitarian aid to our 67th country – Congo! OGT's new recipient Women of Diverse Confessions, INC assists to improve farming and raising small farm animals, assist local hospitals, sewing school for girls, clothes for families and provide school supplies to children in Katanga, Congo. They are overjoyed to be receiving 28,512 Kids Against Hunger meals, clothes, pillowcase dresses, quilts, shoes, hospital beds, 10 bikes, adult and pull PETs (all terrain wheelchairs), school kits/supplies, sewing machines/supplies and 2 solar ovens to share with those in need. God is good! Thank you to our hardworking volunteers loading all these wonderful gifts in the cold warehouse.(2/2018)
---
Families in Remote Nicaragua to be Blessed
On January 24 the Norfolk warehouse volunteers loaded sewing machines, sleeping mats, school kits, adult and children's PETs (all terrain wheelchairs), hygiene kits, clothing, Spanish Bibles and quilts for Rainbow Network in Nicaragua. Rainbow Networks is a Christian Ministry assisting about 50,000 people living only in rural remote areas. Their work is focused on four areas; healthcare, education, economic development and housing and involves community participation. Special gifts and love are on the way to help the families in remote Nicaragua.(1/2018)
---
Many Mouths and Souls Will Be Fed
Help For Haiti will soon be receiving 213,840 Mercy Meals and 42,768 Kids Against Hunger meals as well as a box of pillowcase dresses donated from ladies in Castle Rock, CO. This shipment was loaded at the Norfolk warehouse and should arrive in Haiti early February. Some of the food will be shared with four other organizations that help feed the hungry and also children at House of Hope orphanage. The food and dresses are such wonderful blessings for children and families in Haiti.(1/2018)
---
36 Pallets of Gifts Sent to Mission, Texas
The Norfolk warehouse volunteers loaded 36 pallets of clothing to be delivered to Valley Baptist Retreat Center (VBRC) in Mission, Texas. VBRC helps with border missions and camps for churches or groups. They gave a blessing for the clothing and were grateful to be able to distribute it among local organizations and families in need.(1/2018)
---
Liberia Looking Forward to Container of Gifts
Joe Boway with Lutheran Church in Liberia will soon be receiving school desks, student chairs, classroom tables and file cabinets loaded by the Norfolk warehouse volunteers. Joe Boway has helped start several Lutheran schools which this shipment will be a blessing for. He has also received edible beans to serve for lunch to the student which is sometimes the only meal they eat all day. Pictures are of students at Lutheran schools in Liberia. Thank you to our donors and volunteers for helping the children in Liberia.(1/2018)
---
4th Container Shipped Out to Puerto Rico
The fourth container to Puerto Rico was loaded on December 21, 2017 at the Norfolk warehouse. This shipment of processed food, bottled water, pet food, hygiene kits/supplies, cleaning kit/supplies, blankets, table, chairs, diapers, buckets, and school supplies will be received by Puerto Rico Baptist College and shared with families in desperate need. They will keep the shipping container for storage. Today the Indiana Branch loaded the fifth shipment for Puerto Rico with shipping costs being paid by OGT's Hurricane Relief fund. Thank you to our donors for making these shipments possible! Pictures are of the fourth shipment loaded and heading to port.(1/2018)
---
Sharing Christmas in Nicaragua
These amazing Christmas boxes were made by OGT office staff in a Thrivent Action Team event earlier this year. Some were shipped with humanitarian aid to Rainbow Network in Managua, Nicaragua and shared with families in need of gifts for their children. One of the families that received a Christmas box was Angela Gutiérrez Fuente and she has 6 children. They are a poor family, what they earn is enough to feed them; her husband is a security man and works three days a week earning about $60. Angela cares for the children while he works. Her heart was filled with joy to see her 2 year-old son Mateo receive one of the Christmas Boxes. She shared not having money to buy him anything and is very thankful to OGT and Rainbow Network for these precious gifts of love. Thank you volunteers and donors for sharing Christmas in Nicaragua! First two pictures are of Angela and her children, third photo is her kitchen and the rest are of other children receiving the Christmas boxes.(1/2018)
Celebrating the Birth of Jesus
OGT Christmas boxes were also shipped to Lutheran Hour Ministries (LHM) in Leon, Nicaragua. Ricardo and Georgina with LHM had a special gathering for the children and shared the Christmas boxes with them. The excitement and curiosity on their faces is amazing! This is such a magical time of the year celebrating the birth of Jesus.(12/2017)
---
So Many Blessings Loaded For Kenya
Diakonia Compassionate Ministry, a faith based organization aligned to Lutheran teachings in Kisumu, Kenya is one of our recipients. They help to empower disadvantaged individuals, families and communities to cope with demands of daily life and to experience life in its spiritual and physical fullness. The Norfolk warehouse volunteers loaded 57,024 Mercy Meals, blankets, summer clothing, pillowcase dresses, recreational uniforms, diapers, sanitary kits, new underwear, handbags, PETS, bicycles, toys, school books, scales, ultrasound machines, bed frames and new mattresses to use for Diakonia missions and also to be shared with other mission organizations, schools and orphanages in Kenya. Many families and ministries will be blessed by this shipment. God is good!(12/2017)
---
Lutheran Church of Liberia Elated By Gifts
September 2017 the Norfolk warehouse volunteers loaded a shipment containing 73,008 Kids Against Hunger meals (KAH), sleeping mats, baptismal font, lecterns, church supplies, choir robes, Bibles, Christian resource materials, hymnals, clothing, shoes, walkers, bicycles, toys, school desks/chairs, chalkboards, sports equipment, and books for Monrovia, Liberia. Rev. Amos Bolay with Lutheran Church of Liberia received the shipment and shared these pictures of the KAH meals being used at one of their Lutheran schools. The children are grateful for the rice meals. Schools in Liberia require students to wear uniforms. The shipment was filled with many blessings for families and the Lutheran schools and churches in Liberia – thank you to our donors.(12/2017)
---
Kansas School Donates Desks and More
In June 2017 the Larned Collection station in Kansas was blessed with desks. The Larned School District, USD 495 built a new grade school, pre-school through grade 5 and closed 3 old grade school buildings. USD 495 donated the desks and other equipment in the old schools which was 252 desks, 366 chairs, 23 tables and other equipment-2 semi loads full to OGT. Larned volunteers and men from the local correctional facility helped to load the semis. The two semis were taken to the Norfolk warehouse. One shipment of the school furnishings was shipped to Charitable Foundation "Mariam" in the Ukraine and was unloaded this week. The other shipment will be going to Joe Boway with Lutheran schools in Liberia this January. These are wonderful blessings for teachers and children receiving these gifts – thank you Larned School District, USD 495!(12/2017)
Mattresses Delivered for Volunteers Helping in Texas
OGT purchased 50 various size mattresses for volunteers to use at Salem Lutheran Church in Tomball, TX. Some of the volunteers were sleeping on the floor at the church so we worked with Gallery Furniture in Houston to have mattresses delivered. Thank you to the volunteers helping to rebuild Houston.(12/2017)
---
Uganda to be Blessed with Food and Solar Ovens
A shipment of 182,952 Mercy Meals, 73,656 Kids Against Hunger meals and 4 solar ovens in a shipper owned container were shipped to Arua, Uganda from the Norfolk warehouse. Registered Trustees of Arua Diocese along with Helfen Wir! which means "Let's Help!" will receive the container for storage and the food and ovens will be distributed to camps for refugees fleeing South Sudan.(12/2017)
---
First Container for Puerto Rico Arrives Second is On Its Way
OGT's first shipment to Puerto Rico is at port and is scheduled to be picked up today from our recipient Centro Cristiano Gracia Y Verdad Inc.! This shipment was loaded in Indiana and funded by OGT international office from the Hurricane Relief Fund. Yesterday the Norfolk warehouse volunteers (pictured) loaded second shipment for Puerto Rico and is scheduled to go to rail yard next week to begin its journey to San Juan. Please pray for the safety and ease of unloading the cargo today and for safe travels of the second shipment to assist the many children and families needing help in Puerto Rico.(11/2017)
---
Donations Shipped To Compassion in Kyrgyzstan
Norfolk warehouse volunteers loaded quilts, clothes, coats, shoes, furniture, medical equipment and bicycles yesterday for Kyrgyzstan. Compassion will receive the goods and they work with disabled individuals, the elderly, blind, orphans and families living in poverty. What a blessing for those receiving these donated goods. Photos are from Compassion showing prior distributions to those in need.(11/2017)
---
Remote School To Receive Supplies
Monday November 13th the Norfolk warehouse volunteers loaded a shipment for Kids International Ministries (KIM) in the Philippines. One of the items loaded was an encyclopedia set which was a special request by a remote school that does not have internet access and needed a set for teaching. KIM will be receiving math books, convertible bench table, student desks, chairs and supplies to be used at their school. What wonderful gifts for the teachers and the children. Photos are previous ones sent from KIM's school in the Philippines.(11/2017)
---
Zambia's Container is on its Way
November 7, 2017 the Norfolk warehouse shipped humanitarian aid to Gospel Link Zambia. The donations included 33,264 Kids Against Hunger meals, 49,896 Mercy Meals, quilts, Christian books, clothes, accessories, shoes, hygiene items, toys, medical equipment, school backpacks, trays, sports equipment, sewing machines and supplies. Gospel Link Zambia has feeding programs for children and families living poverty and at their clinic.(11/2017)
Hurricane Relief Supplies to Houston
The week of October 30th, a shipment of hurricane relief supplies were shipped to Gloria Dei Lutheran Church in Houston. The Norfolk warehouse shipped donated generators, diapers, hygiene kits and OGT purchased tools, wheelbarrows, air compressor, pressure washer, respirator and hard hats/goggles from donations designated for Hurricane Relief. Gloria Dei is where OGT set up two bedroom units for volunteers to sleep in and use Gloria Dei facility for meals and showers. The tools and supplies will be for the volunteers to use while rebuilding homes destroyed by Hurricane Harvey.(11/2017)

Shipment to Haiti Will Benefit 7 Organizations
November 2nd the Norfolk warehouse volunteers loaded 171,072 Mercy Meals, children's clothing and shoes, hospital beds, exam tables, PETs (all terrain wheelchairs), solar lights, desks, chairs and school supplies for Haiti. The goods are designated to several organizations and will be distributed to Helping Hands for Haiti, Haiti Baptist Mission, Mission Haiti, La Gonave Alive, House of Hope, Haiti Lutheran Mission Society, and Help for Haiti. OGT is grateful to be able to ship so many different and wonderful gifts for the children, families, elderly and disabled people in Haiti.(11/2017)
---
Gifts Cherished By Those With Very Little
Lutheran Hour Ministries (LHM) in Leon, Nicaragua was able to receive a shipment of quilts/linens, clothing, shoes, Spanish Bibles, church lectern, purses/handbags, dental chair, bed frames and mattresses, diapers, hospital beds, medical equipment, bicycles, Christmas gift boxes, stuffed toys, solar oven, projection screens, chalk boards, school tables/chairs, school supplies, and sewing machines from the Norfolk warehouse. Georgina with LHM said some of the items are in storage until distribution and some will be saved for the children at Christmas time. These gifts are always cherished for children with very little. The hospital beds and furnishings went to a small hospital in Quilali nestled in the northern hills of Nicaragua. Thank you OGT donors and volunteers for helping to share these gifts to families in Nicaragua.(11/2017)
---
Mission Heart Helps Load for Zambia
October 23rd the Norfolk warehouse volunteers along with help from Mission Heart volunteers from Central City loaded 57,024 Mercy Meals, 19,008 Kids Againt Hunger meals, adult and child PETs (all terrain wheelchairs), generators, building supplies, clothing, medical linens/furnishings/equipment, dental cabinets, hand tools, whiteboard, and bicycles for Gospel Link Zambia in Chongwe, Zambia. Dr. Marjie Heier with Chifundo Rural Health Center will be receiving the medical items for the clinic and will share the food and supplies with children and families in need. They have several feeding programs that help undernourished children and pregnant women. What wonderful gifts for those in need in Zambia.(11/2017)
---
Several Schools Blessed in Romania
OGT shipped 14 pallets of sportswear and clothing, 128,304 Kids Against Hunger meals, bicycles, and school supplies to Bucharest, Romania earlier this year. Bread of Life Orphanage was elated to receive the clothing, food and other supplies and shared these pictures with OGT. They are a Christian organization that has an orphanage and also assists widows, the unborn, homeless children, needy families and offer feeding programs. The uniforms went to several different schools that cannot afford uniforms and felt so blessed to receive these. How wonderful to see the children's smiles and pride with their new sportswear. Thank you to our donors and volunteers!(10/2017)
---
Container for India on its Way
Earlier in October, the Norfolk warehouse volunteers loaded 755 boxes of recreational sports wear for Jesus Shines Ministries in Hyderabad, India. The ministry will share the clothing with families living in poverty and orphanages. Thank you again to our donors and volunteers!(10/2017)
---
Container To Arrive For Christmas
Charitable Foundation "Mariam" works with the elderly, blind, orphanages, disabled individuals and families living in poverty in Melitopol, Ukraine and will soon be receiving blankets, winter accessories and clothing, bed frames/mattresses, canes, crutches, walkers, wheelchairs, bicycles, toys, bookcases, office chairs, file cabinets, and chalkboards. The Norfolk warehouse volunteers loaded all items October 18th and should be in the Ukraine before Christmas so the children can be blessed with some of the gifts.(10/2017)
---
Ghana Shipment Distributed
Earlier this year the Norfolk warehouse shipped its first load in years of humanitarian aid to Ghana. Save the Poor International in Accra received the shipment of blankets/quilts, sleeping mats, Bibles, summer clothing, women's shoes, hygiene kits, hospital beds, hospital furnishings, canes, crutches, wheelchairs, walkers, orthopedic supplies, bicycles, toys, floor mats, school desks, classroom tables, chairs, chalkboards, and school supplies to distribute to various schools and medical facilities. A portion of the clothing included school uniforms and these were a hit with the students and administrators. The schools are located in the very poor areas and do not have the funds nor do the families to purchase uniforms and were delighted and blessed to receive these. Enjoy the pictures of the children with their new uniforms, books and Bibles from OGT donors! Thank you!(10/2017)
---
Balancing Act Unloading
Last July the Norfolk warehouse shipped a container filled with 12,960 Kids Against Hunger meals, 243,648 Mercy Meals to Children Relief Services, Inc. (CRS) in Monrovia, Liberia. Rev. Earley with CRS sent an email thanking OGT and praising God for the shipment of food. She shared how excited families and children were when they saw the container arrive and everyone helped to unload the boxes. The food will be shared with the elderly, orphanages, the poor and families in need. What amazing pictures of the boxes on heads of women while unloading the container.  (9-2017)
Help for the Soul and Body
On July 28, 2017 the Norfolk warehouse shipped a load of humanitarian aid to Rainbow Network in Nicaragua. Rainbow Network assists those in need in the rural areas. On September 5, 2017 they were able to unload blankets/linens, Spanish Bibles, clothing, shoes, single mattress frames and mattresses, PETs (all terrain wheelchairs), medical gurney, over the bed tables, electric wheelchairs and bicycles. Pictures are of the gifts being unloaded.
People of Mindanao to be Helped 
The Norfolk warehouse shipped a load of humanitarian aid to World Harvest Mt. Moriah Camp on the island of Mindanao in the Philippines. Mt. Moriah helps the very poor in rural areas, hospitals, displaced persons and families, orphanages and the elderly. They will soon be receiving 99,792 Mercy Meals, 80 pounds of rice, blankets, linens, Bibles, shoes, handbags, sports uniforms, sports equipment, toys, Christmas gift boxes, single bed frames and mattresses, adult diapers, hygiene kits, towels, medical equipment, PETS, mini-marts for PETS, bicycles, carpet mats, and sewing machines to share with those in need.(8/2017)
LHM Nicaragua Excited for Shipment to Arrive
The Norfolk warehouse volunteers loaded a shipment for Lutheran Hour Ministries in Leon, Nicaragua. Ricardo Arguello with LHM recently received the shipment of quilts, clothing, shoes, new underwear, adult diapers, summer recreational clothing, twin bed frames with new mattresses, adult diapers, medical equipment, orthopedic supplies, bicycles, stuffed toys, office desks/chairs, and school backpacks. LHM staff and volunteers visit schools, and other outreach arenas to talk to young people about life situations and provide youth with guidance on how to approach choices in life through a biblical perspective. LHM in Nicaragua also has outreach programs to help families and the elderly living in poverty. What wonderful donations to share with others in need.(8/2017)
---
Helping Those Who Live on Trash Mountain
Kids International Ministries (KIM) in the Philippines shares OGT donated Mercy Meals with families living on "Smokey Mountain". This mountain is not like the U.S.
Smokey Mountain range, it is a mountain of trash that families, including young children, pick through heaping piles of garbage all day to find things like plastic straws to recycle. There is burning rubble all around. Lung sicknesses are common and life expectancy is even shorter up there. KIM has a mission group that takes the Mercy Meals to a Filipino pastor who ministers to that area while sharing food with the families. Thank you to our donors and volunteers that give to help those living on Trash Mountain.(8/2017)
---
India is in Store for Great Blessings
India Transformed in Bangalore, India will be receiving 95,688 KAH meals, blankets, quilts, linens, women's and children's recreational clothing, school chairs/desks, chalkboards, supplies, and classroom tables from the Norfolk Warehouse. They reach out to women to offer a trade for them to gain independence and self-worth. They also give children living in poverty and on the streets an opportunity to attend school and to help break the cycle of illiteracy and poverty. Through the outreach and feeding programs they also share the Gospel, less than 2% of India's population is Christian. Thank you to our volunteers and donors for giving hope to those in need in India.(8/2017)
---
Rainbow Network in Nicaragua Grateful for Blessings
Rainbow Network has been a recipient of OGT's for several years. They are a Christian Ministry assisting children and families in the remote regions of Nicaragua living in poverty.  Volunteers at the Norfolk warehouse loaded blankets/quilts, Spanish Bibles, clothes, shoes, furniture, medical equipment, 13 adult and child's PETs (all terrain wheelchairs) and bicycles. What wonderful gifts for their ministry to share with the families along with the Gospel.(7/2017)
---
So Many Hands Working Together for God's Glory
OGT's recipient in Bacolod, Negros in the Philippines is Ryan Tormentor with Christian Missionary Baptist Church. Ryan helps the children and families struggling with starvation, poverty and poor medical conditions in his region. He also has several feeding and outreach programs he supports. July 27th the Norfolk warehouse shipped 28,512 Kids Against Hunger meals, 120 pounds of rice, 21,600 pounds of dried corn, blankets, linens, sleeping mats, bed frames and mattresses, hygiene kits, crutches, wheelchair, bicycles, carpet mats, chalkboards, school maps and easel, food trays, school kits, soccer balls, tennis balls, sewing machines, fabric, and yarn for the children and families in Negros.(7/2017)
Monrovia to Receive Shipment of Food 
Earlier in July the Norfolk warehouse shipped 12,960 Kids Against Hunger meals and 243,648 Mercy Meals to Monrovia, Liberia. OGT's new recipient is Children Relief Services, Inc. (CRS) who helps with basic needs for children that have been orphaned or abandoned. They also assist children to attend school, most parents cannot afford school. Rev. Hilary Enoch Earley with CRS is grateful for the much needed food for the forgotten children of Monrovia.(7/2017)
---
Domestic Shipments On The Road
The Norfolk warehouse volunteers were busy loading 2 shipments of various foods for the Native American Heritage Association in Black Hawk, SD. The Association will share the food with families and organizations on the Sioux Reservations of South Dakota. Two of the poorest counties in the U.S. are on the Pine Ridge Sioux Reservation and Crow Creek Reservation, with over 63% of the people living below the federal poverty line. Thank you to our donors and volunteers for helping to provide nourishment and full bellies.
---
140 Boxes Packed in 5 Hours
OGT had a great group of ambitious youth from First Christian Church in Norfolk, NE help with a packing event. Approximately 32 youths and 3 leaders sorted clothes into OGT shipping boxes from 9 until 2. They took a lunch break with pizza and ice cream sandwiches while watching a video about the history and missions of OGT. This hard working group packed 140 boxes which will ship to serve those in need in Nicaragua. It was a great experience with everyone working hard and having fun while serving our Lord.(6/2016)
Norfolk Rescue Mission Lended a Helping Hand
Norfolk warehouse volunteers along with volunteers from the Norfolk Rescue Mission worked hard loading a shipment for Kids International Ministries in the Philippines. KIM will soon be receiving 400 lbs. of rice, 249,480 Mercy Meals, piano, household items, school equipment and supplies. What wonderful blessings for their school and orphanage. Thank you Norfolk Rescue Mission helpers for getting this shipment loaded.(6/2017)
---
---
Many to be Blessed by Meals 
Sandra Koch with Help For Haiti recently received a shipment containing 49,896 Mercy Meals and 201,960 Kids Against Hunger (KAH) meals. A majority of the food was distributed with 7 other organizations helping the poor. Pictured is Sister Lops receiving 129,600 meals donated by Sioux Falls KAH meals. She will share with the orphanages and schools she works with in Haiti.(6/2017)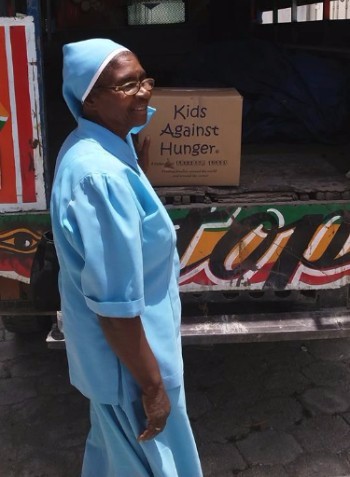 ---
Zambia Grateful For Shipment
OGT recently shipped 156,816 Mercy Meals, 150 fifty pound bags bean/pea medley, 154 boxes processed black beans, 206 boxes processed pinto beans, and surgical stands to Dr. Marjie Heier with Gospelink in Zambia. Dr. Heier helps with the distribution of food to children and families in desperate need. She shared these photos of food being distributed to children at school and the Mercy Meals being unloaded. If you would like to learn more about OGT changing lives in Zambia, Dr. Heier will be one of our speakers at OGT's 25th Anniversary Convention this September 15 & 16 in Norfolk, NE. Visit www.ogt.org to find out more information and to register.(6/2017)
---