In the News
Tessa Nelson on 03/15/2018

Tessa Nelson on 03/07/2018

Tessa Nelson on 02/28/2018
---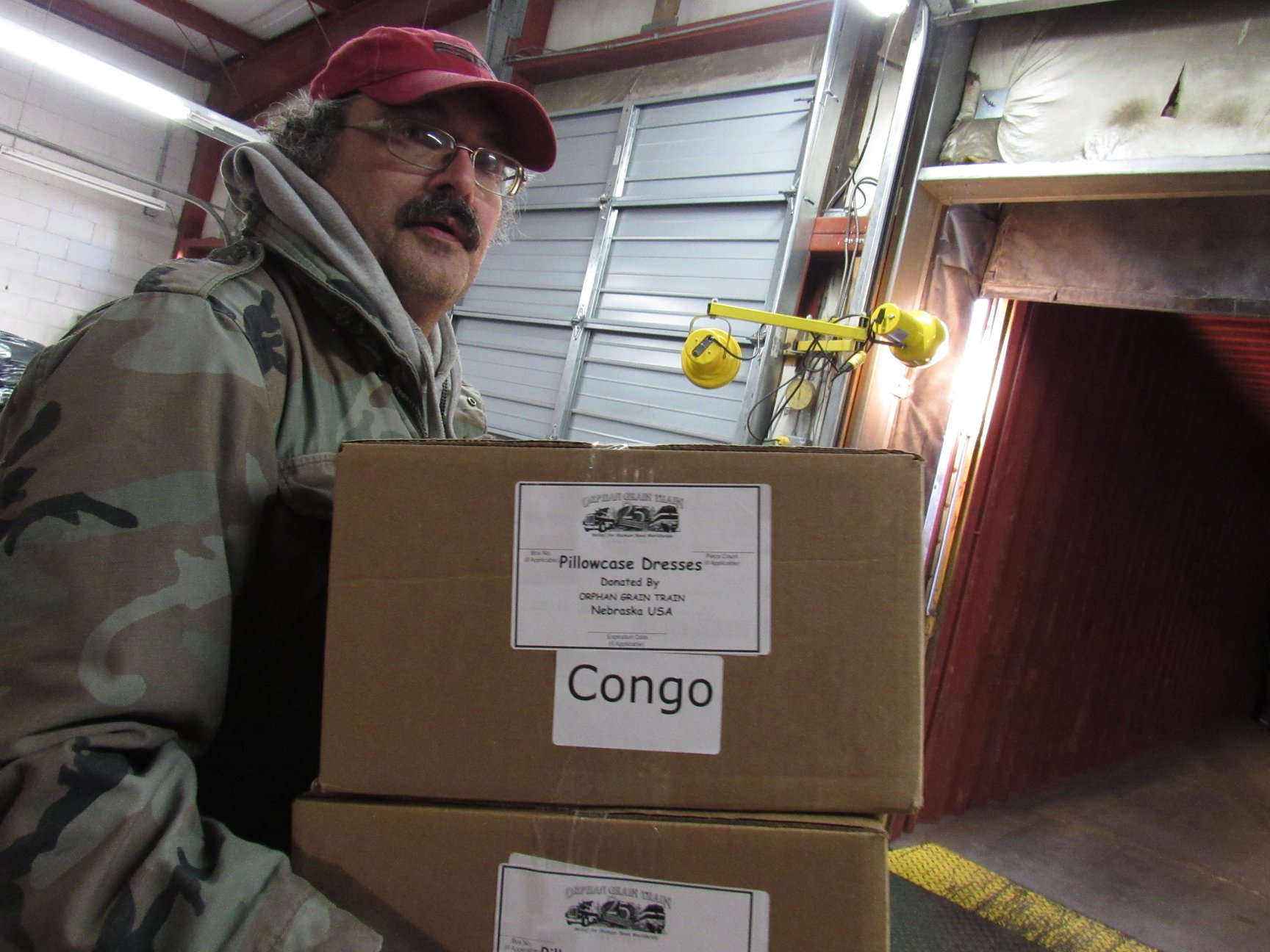 Norfolk warehouse volunteer Brian Bagger
loads boxes for Congo.
67 Countries Served
On February 2, 2018 Orphan Grain Train shipped humanitarian aid to our 67th country – Congo! Our new recipient Women of Diverse Confessions, INC assists to improve farming and raising small farm animals, assist local hospitals, sewing school for girls, clothes for families and provide school supplies to children in Katanga, Congo. They are overjoyed to be receiving 28,512 Kids Against Hunger meals, clothes, pillowcase dresses, quilts, shoes, hospital beds, 10 bikes, adult and pull PETs (all terrain wheelchairs), school kits/supplies, sewing machines/supplies and 2 solar ovens to share with those in need. God is good! Thank you to our hardworking volunteers that loaded all these wonderful gifts in the cold warehouse.
---
Thrivent Choice Dollars Expire Easter weekend!  Designate Today!
Attention Thrivent Members – Please direct your Thrivent Choice Dollars to Orphan Grain Train before they expire on March 31, 2018.  Plan ahead if you prefer to call in to have your Choice Dollars designated because Choice Dollars expire Easter weekend.   Thrivent office will be closed on Friday, March 30 and Saturday, March 31 so online is the only option to designate your Choice Dollars those two days.  Please keep in mind that the phones will be very busy on Thursday, March 29th so why not designate your Choice Dollars today. It is simple and doesn't cost you anything but your time.  Only about 1/3 of Thrivent members take advantage of this, which means charities lose 2/3 of the Thrivent Choice Dollars.  YOU MUST RENEW THE DISTRIBUTION OF YOUR CHOICE DOLLARS EVERY YEAR. YOUR CHOICE OF A PRIOR YEAR DOES NOT CARRY OVER.
There are two ways to direct your Choice Dollars. Go to www.thriventchoice.com or call 1-800-847-4836 and say "choice dollars" at automation. 
Thank you for considering Orphan Grain Train when making your Choice Dollars donation.
---
Inventory is Low  
      Do You Have.....
Orphan Grain Train's inventory of children and adult bicycles, school kits, hygiene kits and medical equipment that includes walkers, canes, crutches, commodes, wheelchairs, shower chairs, etc. is depleted.  If you have any new or gently used bikes or medical equipment not being used we would love to be able to share those with people in need.  Would you, your employer, a local organization, youth group, or congregation consider collecting items for school or hygiene kits? It is a fun and rewarding event which helps children and families less fortunate. If you are a Thrivent member you can apply for a Thrivent Action Team and the seed money goes toward purchasing supplies. For more information on these Special Projects click on the above tab 'How You Can Help' and scroll down to Special Projects. If you have any questions, please call toll free 1-877-371-7393. Thank you for your support of Orphan Grain Train missions.
---
Hurricane Harvey, Irma and Maria Relief Update 
We have responded early and often.  A semi load of tools, generators, water pumps, wheelbarrows, etc. were sent to both Fort Meyers, Florida and Corpus Christi, Texas to help with the cleanup.  We have delivered eleven semi-loads of sheet-rock, three loads of insulation, three loads of clothing, one load of shingles, and two load of mattresses to Houston.  Sixty percent of the food pantries in Houston were flooded, and Trinity Klein Lutheran Church in Spring, Texas was asked to ramp up their food pantry service.  They are now serving 1200 people a week, and we have sent four semi-loads of food there to assist with efforts.  Two bedroom units are now located at Gloria Dei Lutheran Church in Houston where volunteers who are helping clean up and restore the city can stay.  Two containers filled with relief supplies (cleaning materials, water, clothing, food, hygiene kits, etc.) have already been received in Puerto Rico which was devastated by the storm, and three more are en route. To read about more details click here.  (2-2018)
---
Volunteers Needed in Houston
If you would like to volunteer or you have a group of people that would like to help with the rebuilding of the Houston area and stay in OGT's bedroom unit located at the Gloria Dei Lutheran Church here is your contact information. The registrations for volunteers are set up through The Fuller Center for Housing website http://fullercenter.org/disaster-rebuilders/  Click on Volunteer Lodging to find out more about the lodging, meals, requirements and who to contact with questions. There is a button "Register Here for Texas Location". OGT is working with Gloria Dei Lutheran Church. If you have questions or problems registering please contact Brenda Barton at brenda@fullercenter.org. Thank you for supporting OGT and helping our neighbors in Texas with rebuilding their homes and lives from Hurricane Harvey.
---
---
The Great Need
In loving response to Christ, the Servant, the Orphan Grain Train movement encourages and enables God's people to share personal and material resources in bringing Christ's name and character to needy people both far and near. Sometimes that character expresses itself as a word well spoken, sometimes as a bandage well applied, and sometimes as a child well fed.
---
Charity Navigator is America's premier independent charity evaluator. They help charitable givers make intelligent giving decisions by providing in-depth, objective ratings and analysis of the financial health and accountability & transparency  of America's largest charities. Charity Navigator awarded Orphan Grain Train four out of a possible four stars. Receiving four out of a possible four stars indicates that Orphan Grain Train adheres to good governance and other best practices that minimize the chance of unethical activities and consistently executes its mission in a fiscally responsible way. Please click on the logo to review our four star rating.
Last year more than 4.6 million meals were shipped to starving people around the world.

Only 3 % of every dollar spent go for administration and fundraising. 97% goes for helping needy people.

At last count, more than 2,650 semi- loads or 40 ft. shipping containers of relief supplies have been sent in the united States and worldwide since 1992.
Where We Serve
To see our full list of locations click here.
Relief for Human Need Worldwide Since 1992