In the News
Tessa Nelson on 08/08/2017

Tessa Nelson on 07/26/2017

Tessa Nelson on 07/10/2017
       25th Anniversary Update
Did you know.....
Orphan Grain Train will have a truck accepting donations at our 25th Anniversary convention coming up this September 15 & 16.

The Norfolk warehouse will also have tours from 4-5 pm on Saturday following the convention if you would like to see the facility and learn more about what goes on there.

For those attending the convention we have a lot planned on Friday evening with the recognition of 25 years so we would like to start at 4:30 instead of 4:45 to make time for everyone presenting.
If you have not made plans to attend, it is not too late to register for the convention.  Click on the 25th Anniversary logo for more information and registration form.
---
New Flags Flying High
Congratulations to Orphan Grain Train for 25 YEARS of serving those in need around the world! Thrivent member's support brings to you these three flag poles that are flying in front of OGT's International Headquarters in Norfolk, NE. Thank you, Thrivent and its members, for all you do to support Orphan Grain Train in their mission to feed, clothe and care for those in need! The flags include the US Flag, Nebraska State flag and OGT flag. Thank you also to Love Signs of Norfolk for putting up the flag poles and flags.(8/2017)
---
                                                            Visit With The President of Peru
On June 15, 2017, President Rev. Ray Wilke, Vice President Grant Schmidt, and OGT Board member Doug Sunderman had the honor of visiting personally with the President and Vice President of Peru at the Governmental Palace in Lima, Peru. Orphan Grain Train had developed a relationship with a native of southern Peru, Rolando Luna, currently living in Sioux City, IA, who is requesting OGT's assistance in providing much needed humanitarian aid to the southern region in Peru. President Kuczinski not only welcomed Orphan Grain Train's mission but he also agreed in providing assistance in transporting the containers to the various villages that are in the most need. Included is a picture of Pastor Wilke and Grant Schmidt enjoying a moment with President Kuczinski.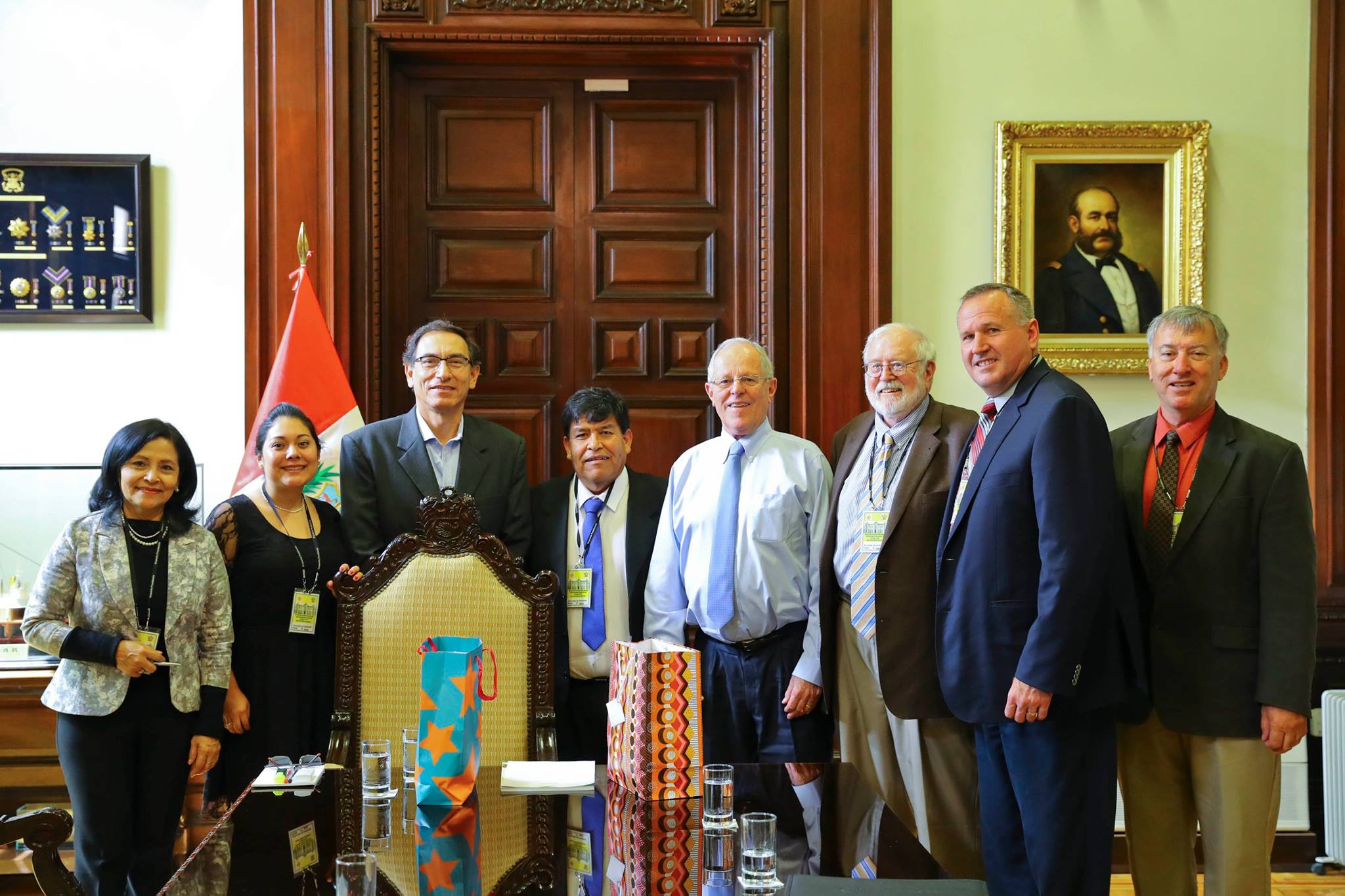 Pictured L-R: Miriam Rivas, Rosa Gonzalez (interpreter/Concordia Univ. NE student/native of Peru) Vice President Martin Vizcarra, Rolando Luna, President Pedro Pablo Kuczinski, President Rev. Ray Wilke, Vice President Grant Schmidt and Doug Sunderman.
---
OGT is Proud to Announce
OGT's 2016-17 Fiscal Year (FY) ended May 31 and we have some exciting numbers to announce with International and Domestic Shipments! Orphan Grain Train had 107 international shipments, up from last year of 90 shipments. These are all paid for by contributions from our generous donors. It is truly amazing the increase in shipments and our ability to pay for all of those. FY 2013-14 OGT had 83 shipments, 20 of those were government funded. 2014-15 OGT had 74 shipments, 2 of which were government funded. 2015-16 we had 90 international shipments, all funded by donations and then this year 107. Some of the countries shipped to included Latvia, Zambia, Moldova, Uzbekistan, Tajikistan, Ukraine, Romania, Kenya, Republic of Georgia and Greece which all received 2 shipments each. Others that include more than 2 shipments are Liberia, Kyrgyzstan, Haiti, Philippines, Lithuania, Nicaragua, Panama, Ghana and India.  
OGT is amazed and grateful also for the increased number of Domestic shipments in our last Fiscal Year 2016-17! OGT delivered 101 full semi loads compared to 58 the previous fiscal year. An increase of 43 shipments! Some of the shipments delivered food and goods to facilities for our Veterans, to homeless shelters and food banks. Other shipments went to reservations in six Western states, to Texas for border missions and also help those in need in the Appalachian Mountain region of Kentucky. OGT also assisted with flooding and prairie fires in several states.  We have been blessed with dedicated donors and volunteers that help make these shipments possible – Thank you!
We could not change lives worldwide if it wasn't for YOU!
---
---
The Great Need
In loving response to Christ, the Servant, the Orphan Grain Train movement encourages and enables God's people to share personal and material resources in bringing Christ's name and character to needy people both far and near. Sometimes that character expresses itself as a word well spoken, sometimes as a bandage well applied, and sometimes as a child well fed.
---
Charity Navigator is America's premier independent charity evaluator. They help charitable givers make intelligent giving decisions by providing in-depth, objective ratings and analysis of the financial health and accountability & transparency  of America's largest charities. Charity Navigator awarded Orphan Grain Train four out of a possible four stars. Receiving four out of a possible four stars indicates that Orphan Grain Train adheres to good governance and other best practices that minimize the chance of unethical activities and consistently executes its mission in a fiscally responsible way. Please click on the logo to review our four star rating.
---
Last year more than 4.6 million meals were shipped to starving people around the world.

Only 3 % of every dollar spent go for administration and fundraising. 97% goes for helping needy people.

At last count, more than 2,650 semi- loads or 40 ft. shipping containers of relief supplies have been sent in the united States and worldwide since 1992.
Where We Serve
To see our full list of locations click here.
Relief for Human Need Worldwide Since 1992