New England
New England Branch
Branch Manager:
Bill Schneeloch
(860)604-5264
newengland@ogt.org
Warehouse:
22 S. Main Street 
Terryville, CT 06786
---
Moldova Container Arrives
In December 2017 New England Branch loaded a container with gifts of quilts, linens, clothing, coats, hygiene kits, church pews/chair, hospital beds, medical equipment, bicycles, school kits, sewing machines and supplies for Bible Mission International in Kishinau, Moldova. The container arrived and was unloaded with some of the goods distributed. What wonderful gifts for those in desperate need.(2/2018)
---
Shipment Headed to Moldova
On December 15th the New England Branch volunteers in Terryville, CT loaded a shipment for Kishinau, Moldova. Bible Mission International will be receiving quilts, linens, clothing, coats, hygiene kits, church pews/chair, hospital beds, medical equipment, bicycles, school kits, sewing machines and supplies. These are wonderful gifts for their outreach and churches. Thank you donors and volunteers!(12-2017)
---
KIM to Receive Supplies
A shipment was loaded for Kids International Ministries (KIM) in Manila last Friday, September 29, 2017. New England Branch loaded quilts, linens, sleeping mats, shoes, handbags, hygiene kits, diapers, household items, hospital beds, patient lifts, exam tables, medical equipment/supplies, bicycles, toys, school supplies/kits, projectors, sewing machines and supplies. KIM will use these materials at their facilities which include a school, orphanage, clinics. Thank you to all the volunteers and donors that helped to make this shipment possible. (10/2017)
Blessings Going to Lithuania
Taurage Evangelical Lutheran Church in Lithuania will be receiving a shipment of goods from OGT's New England Branch located in Terryville, CT. The volunteers worked hard loading church pews, altar, and other church furnishings, quilts, 711 boxes of clothes, coats and shoes, hygiene kits, medical equipment, bikes, garden tools, toys and school kits. What wonderful blessings for the children and families in need in Lithuania. Thank you to the volunteers and donors at the New England Branch!(6/2017)
---
Ghana Shipment Sets Sail
May 5th the New England Branch in partnership with Northstar Foundation shipped a load to Ghana. The inventory included children's and women's summer clothes, adult diapers, hygiene kits, hospital beds, safety rails, medical equipment, hospital linens/supplies, and toys. Such wonderful blessings for the children and families in Ghana!(5/2017)
---
K.I.M. Orphanages, Schools, and Clinics Blessed by Shipment
In December 2016 the New England Branch loaded a shipment for Kids International Ministries (KIM) in Manila, Philippines. In February KIM unloaded the shipment of blankets, linens, sleeping mats, shoes, hospital beds/mattresses, medical equipment, hygiene kits, layette kits, diapers, hospital linens, medical equipment/supplies, toys, bicycles, sewing machines/supplies and school supplies. What wonderful gifts for them to share with children at their orphanages, schools and clinics. Thank you to the volunteers and donors at the New England Branch for sending humanitarian aid for families in the Philippines.(3/2017)
---
Team Work to Help Others
In December the New England Branch and Mid-Atlantic Branch split a load for Riga, Latvia. Located in Wilmington, DE, the Mid-Atlantic Branch volunteers loaded gloves, hats, scarves, clothes, shoes, hygiene kits, school supplies and sewing supplies. Then in Terryville, CT, the New England Branch volunteers loaded blankets, linens, clothing, layette kits, medical equipment, school supplies and sewing machines. What wonderful gifts for children and families in need from two of OGT's locations. The first picture is of Mid-Atlantic Branch volunteers and the next is New England Branch volunteers.(1/2017)
---
Philippines to Receive Blessings Soon
December 9th, OGT's New England Branch located in Terryville, CT shipped a load to Manila, Philippines. Kids International Ministries (KIM) will soon be receiving blankets/quilts, bicycles, toys, school kits, sewing machines and supplies, clothes, shoes, layette kits, household items, hygiene kits, and medical equipment. These are wonderful gifts for the ministry to share with their orphanages, schools and clinics. Thank you to all the volunteers and donors in the New England area that helped make this shipment possible.(12/2016)
Church Pews and So Much More to Lithuania
September 23, 2016 the New England Branch volunteers loaded a shipment for Lithuania. Taurage Evangelical Lutheran Church will soon be receiving church pews, blankets/quilts/linens, clothing, coats and shoes, hygiene items, canes, commodes, toilet risers, shower chairs, walkers, wheelchairs, tools, bikes, and school kits. Thank you to our wonderful donors and to our hard working volunteers.(9/2016)
---
Two Places Come Together for One Cause
Last April 1, the New England Branch located in Terryville, CT shipped a load to Bible Mission in Kishinau, Moldova. The inventory included quilts, clothing, hygiene kits, hospital beds, canes, crutches, commodes, IV stands, walkers, and wheelchairs. The first picture is of the New England Branch volunteers that loaded the shipment and the second picture is the volunteers in Moldova that unloaded the shipment. It is amazing to see with modern technology two different places in the world come together for one cause.(5-2016)
Some Faith, Determination and Muscle Can Accomplish Alot
New England Branch loaded a shipment for Moldova on April 1st. Moldova is one of the poorest nations in Eastern Europe. The volunteers were busy loading medical equipment that consisted of 30 hospital beds with mattresses, 6 IV stands, 23 wheelchairs, commodes, crutches, canes and 153 walkers. They also loaded 700 boxes of clothing, hygiene kits, blankets and quilts. Thank you to the volunteers for your time and muscles with loading these wonderful gifts for the families and medical facilities in Moldova.(4-2016)
---
Fruits of Our Labor
On January 15th, together the New England and Mid-Atlantic Branches shipped a load to LHM in Nicaragua. The container was filled with 61,560 Kids Against Hunger meals, blankets/quilts, linens, men's, women's, and children's clothing, shoes, handicapped devices, medical supplies, hygiene kits, layette kits, diapers, bicycles, toys, school kits, school supplies, sewing machines, and sewing supplies. Our recipient Ricardo and Georgina distributed some of the cargo to families and organizations in need. They shared some of the food with local pastors to use for their children's feeding programs. What wonderful pictures showing OGT donations helping those in need and nourishing little minds and bodies. (3-2016)
---
All Packed and Ready for Lithuania
OGT's New England Branch located in Terryville, CT loaded a shipment destined for Lithuania. The volunteers had to use many muscles to load 29 hospital beds, mattresses and side rails, IV stands, wheelchairs, showers chairs walkers and other medical equipment. Thank you to donors that help support the New England Branch and thank you to the volunteers for your time and hard work!(3-2016)
---
A Joint Effort Achieves Great Blessings for Nicaragua
Together, the Mid-Atlantic and New England Branches sent a container of 61,560 Kids Against Hunger meals, clothing, shoes, bedding, layette kits, diapers, medical supplies, handicapped devices, bicycles, tools, toys, school kits and supplies, sewing machines, and sewing supplies to LHM in Leon, Nicaragua. The volunteers in Wilmington, Delaware (Mid-Atlantic Branch) loaded Wednesday afternoon January 13, 2016 and the group at Terryville, Connecticut (New England Branch) loaded the afternoon of January 15, 2016. The container will now make its way to Nicaragua where it will be a blessing for many. The first picture is of the Mid-Atlantic Branch volunteers, next is the New England Branch volunteers and the rest of the pictures are of the container being loaded. (1-2016)
---
Shipment for the Ukraine and Ghana
The New England Branch shipped a load to the Ukraine on May 11, 2015. The relief supplies included blankets, clothing, shoes, and hygiene and school kits. What needed supplies and hope for a country hurting and in turmoil. Pictured are the volunteers that helped to sort and pack the shipment – thank you!
On April 27, New England Branch loaded a shipment of medical supplies and food for Ghana.  Again, thank you to the volunteers for the hard work and heavy lifting.
---
Orphan Grain Train Set to Make First Shipment
Monday, October 27, 2014 11:16 AM EDT
The Bristol Press
By SUSAN CORICA
STAFF WRITER
PLYMOUTH — Back in June, Orphan Grain Train, the Christian volunteer network that aids needy people at home and around the world, dedicated its newest branch here.

At the time, the volunteers involved in creating the branch inside a warehouse on South Main Street and sponsored by Holy Trinity Lutheran Church in Terryville, didn't expect they'd have the operation up and running so fast.
"We had no idea in June that we would be ready to make a shipment already," said Paul Arbesman, warehouse manager for the charity, along with his wife Linda.
The shipment will be of hospital beds, mattresses, wheelchairs, walkers, and other medical and sanitary supplies. The items will be loaded into a truck this Friday and sent to a partner church in Providence to be combined with more supplies and sent to Liberia to assist hospitals coping with the Ebola crisis.
Based in Nebraska, Orphan Grain Train got started in the early 1990s when a Lutheran church mission tried to get donations of Midwestern grain sent to starving orphans in Eastern Europe. That first project proved impractical but soon OGT successfully sent clothing and quilts to Latvia and the organization took off from there.
Since then 20 regional locations have delivered more than 85 million pounds of humanitarian aid to needy people in more than 60 countries on five continents, as well to disaster sites in the United States.
The Arbesmans, who own Roberts Orchard in Bristol, first encountered the charity a few years ago when they were in New Orleans helping out post-Katrina. Orphan Grain Train had a trailer set up to serve three meals a day to several hundred volunteers.
"They did a fantastic job," recalled Arbesman.
Then last year the charity contacted them to get a branch started in New England.
"They are getting more and more calls for medical supplies, and we are rich with hospitals here, so they wanted to see if they could tap in to that resource," he said.
The Arbesmans found warehouse space at the former Eagle Lock factory, owned by Bill Allread. They cleaned it out and fixed it up. Since the official dedication, they have been receiving donations of good, used medical equipment and supplies, from a number of sources.
They connected with the church in Providence, which has a number of Liberian immigrants in its congregation, and was already planning to send a shipment of supplies overseas.
"They were looking for medical supplies to deal with Ebola, and we happened to have hospital beds and mattresses and all those types of things that we had accumulated," said Arbesman. "So they said if you can get those to us, we'll put them in and send them over with what we have."
"It turned out to be a wonderful match," he said. "It's a very big expense to ship but they have someone there who has donated a container and the shipping cost. If we can get things to the right people at the right time it's a real blessing."
"We're going to fill up a 26 foot box truck, which will be about half a shipping container, and we're going to bring that to them and off load it. They're going to put all the rest of their stuff fin it and it's all going over to Liberia," he said.
The local branch has already logged in hundreds of man hours of volunteer time, Arbesman said. "We've been getting a lot of people from Immanuel Lutheran Church in Bristol helping. It's open to anybody who wants to get involved."
Grand Opening and Dedication
The OGT New England Branch in Terryville has become the newest addition to the other 18 regional OGT branches operating around the United States.  Here's how these branches work.  OGT volunteers collect clothing and other relief supplies to ship to the needy around the world.  The items are prepared for shipment in the branch warehouse, once funds are collected to cover the cost of the shipment of a filled-container, the semi-load is then shipped to wherever the relief supplies are most needed.
The community is warmly invited to join us as we celebrate the Grand Opening and Dedication of our ORPHAN GRAIN TRAIN New England Branch on Sunday, June 1st at 4:00PM at our warehouse space located at 22 S. Main Street, Terryville.  Following the Dedication, a light reception will be served at Holy Trinity Lutheran Church, 8 Maple Street.  Please RSVP at Holy Trinity @ 860-582-0723.  A cash or material offering will be accepted for the assembling of School and Hygiene Kits.  School Kits: backpack, spiral notebooks, pkg. of construction paper, pencils, pens, crayons, ruler, glue sticks, blunt scissors, washable markers, protractor.  Hygiene Kits: bath towel, wash cloth, bath-size bar of soap, stick deodorant, band-aids (1/2" or 3/4"), adult toothbrush, sturdy comb.  
If you would like to volunteer to help with our new Orphan Grain Train Branch, please contact Holy Trinity Lutheran Church and be part of our volunteer work force.
If you have items to donate for the School Kits or Hygiene Kits mentioned above, please contact Paul Arbesman (860)582-5314 or Rich Klepps (860)940-9814 or Holy Trinity Lutheran Church (860)582-0723.  (Our new OGT branch will also accept the following items: new socks, new underwear, gently used blankets or quilts, and winter coats in excellent condition.)
Come to our Grand Opening and Dedication on June 1st to learn more.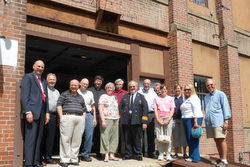 ---
---