Wichita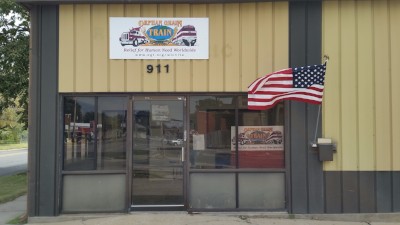 Wichita Branch
Branch Manager:
Jeff Crane
Cell:  (316) 655-1854
wichita@ogt.org
Warehouse:
911 W. Maple
Wichita, KS 
---
We Invite You To Join Us
OGT's Wichita Branch started nearly a year ago and donations have increased from individuals and thrift stores. They recently had a youth group and some employees from Cargill Industries volunteer to help sort. Jeff Crane, Branch manager would like to invite you to check out their warehouse and join them for sorting, packing and fun fellowship. They are looking forward to their first shipment soon. If you are in the Wichita area and would like to volunteer or donate, please go to the warehouse located at 911 W. Maple or call Jeff at (3016) 655-1854.(6/2018)
---
Medical Equipment Very Appreciated
Wichita Branch was grateful to receive a donation of crutches, recovery boots, and orthopedic aids which included ankle, knee and back braces from the Medical Loan Closet (MLC). They are pleased to partner with this local organization to be able to share these items with others in need. The first photo L-R is Bill 'Gus' Wesche, Wichita Branch volunteer; Arlen Roberson, MLC volunteer and John Evans, Wichita Branch warehouse manager.(4/2018)
---
OGT's Newest Branch Dedicated
June 25th was the dedication of a warehouse for one of OGT's newest locations, the Wichita Branch. The Branch officers and volunteers are very excited and motivated to be serving the Lord through their work at OGT. They have been working hard renovating, painting and laying flooring at the warehouse which is now ready to accept donations for those in need. Jeff Crane, the Branch Manager, opened the dedication with prayer and then included speakers, music and song. People were able to tour the warehouse ad learn more about OGT. The Wichita warehouse is located at 911 W. Maple and will be open for sorting, packing and donation drop offs every Wednesday and Saturday from 10 AM to 2 PM. Pictures include the dedication, renovations, opening day of packing and the first box packed.(7/2017)
---

Up and Ready to GO!
OGT Wichita Branch has completed the remodeling of their warehouse and is ready for packing! Jeff Crane, the Branch Manager is excited to begin the sorting, packing and distribution of donated goods. The warehouse will be open for sorting, packing and donation drop offs every Wednesday and Saturday from 10 AM to 2 PM. For more information, or to volunteer, please call 316-655-1853. Please pray that the Lord would bless this mission of mercy to those in need.(6/2017)
---
ORPHAN GRAIN TRAIN-WICHITA DEDICATION OPEN HOUSE JUNE 25!
You are cordially invited to the
DEDICATION SERVICE AND OPEN HOUSE
When: Sunday June 25
What Time: 2 PM.  
If you would like additional information or to volunteer please call 316-655-1854.
Orphan Grain Train is opening a new warehouse in Wichita at 911 W Maple.  Beginning June 21 the warehouse will be open every Wednesday and Saturday from 10 AM until 2 PM.
Orphan Grain Train is a Recognized Service Organization of the LCMS which encourages and enables God's people to share personal and material resources with people in need.  OGT has 26 regional warehouses across the US which gather clothing and many other relief supplies.  During the last fiscal year over 88,000 volunteer hours were spent sorting and packing making it possible for 90 shipping containers to go to destinations overseas and 58 semi-loads to domestic locations. Orphan Grain Train serves 90 orphanages, 3 hospitals and 7 prisons in Russia and former Soviet Republics.(5/2017)
---
Wichita is OGT's 25th Location!
OGT has its 25th location starting up in Wichita, Kansas! Jeff Crane the Wichita Branch manager along with their treasurer Alan Weikal, and warehouse managers Mike Hauschild and John Evans attended a two day orientation at OGT's home office in Norfolk NE. We are excited to have them a part of OGT and to have another region collecting recyclable goods to ship in the US and around the world. Thank you! Pictured L – R are Alan Weikal, John Evans, Mike Hauschild and Jeff Crane.  (2/2017)