North Dakota
North Dakota Branch
Manager- Kirk Rosin
P.O. Box 1546
Jamestown, ND 58402-1546
701-347-5279 | krosin@juno.com

Warehouse:
Warehouse Manager - Carmen Larson
701-269-6555
call concerning different time to donate, group packing event or wanting a local presentation

Warehouse Location:
103 4th Ave SE
Jamestown, ND 58401

Packing and Receiving Days
Mondays 9am-12noon 
Saturdays 9am - 12noon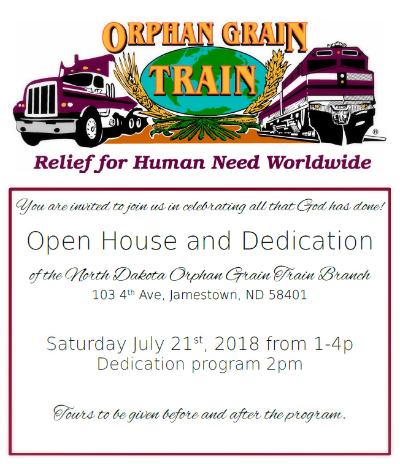 News Article and Interviews from News Dakota
North Dakota Branch Newsletters
Radio Interview with Elissa Rosin
Elissa Rosin, North Dakota Branch Manager interviewed with KQDJ Radio in Jamestown, ND in November 2015.  Elissa shared what Orphan Grain Train is and what the North Dakota Branch is doing. 
Click here to hear the interview.
Thrivent Choice is up and running now. We are "Orphan Grain Train - North Dakota". You can go online: https://service.thrivent.com/apps/ThriventChoiceMemberWeb/public/orgDetails/100379045629 or call 1-800-847-4836 to direct your Choice Dollars.
---
Ukraine to Receive Shipment Full of Blessings
During the week of July 9th the volunteers at North Dakota Branch in Jamestown loaded a shipment for Kiev, Ukraine. This shipment of blankets, quilts, clothing, coats, and shoes will be going to Charitable Organization "Castor", a new OGT recipient that assists children and families living in poverty. Thank you to all the volunteers that worked hard and strategically to load 1,503 boxes within two hours! Great job!(7/2018)
North Marion VBS Donate Much Needed School and Hygiene Kits
During the week of May 28th the North Dakota branch in Jamestown received an awesome donation from the Vacation Bible School - VBS kids at North Marion church in Marion, ND. They brought in $1,220 to purchase supplies and they packed 27 school kits and 40 hygiene kits!(6/2018)
---
Serving With Joyful Hearts
On February 24th OGT's North Dakota Branch had students from the University of Jamestown volunteer at the warehouse. They were a great group of students that did some great work sorting and packing! Thank you for serving with joy!(3/2018)
---
Volunteers Load Shipment Despite the Cold
It was a very cold day on January 30 in Jamestown, ND but that did not stop volunteers at the North Dakota Branch from loading a shipping container headed for Liberia. Joe Boway with Lutheran Church in Liberia will receive 31 boxes of Bibles, choir robes, candelabras, children's shoe and clothes, 96,768 Mercy Meals, hygiene kits, school supplies, backpacks, chairs and desks. Joe is always appreciative of the food and goods donated for the children at the Lutheran schools.(2/2018)
---
Meals Will Be Blessing In Liberia
Mercy Meals of North Dakota have been busy planning packing events with local communities and churches. Their goal is to pack enough meals to fill a shipping container. OGT's North Dakota Branch will ship the meals to Joe Boway with 13 Lutheran schools in Liberia. Mercy Meals are served to the children for lunch which mean the children get a nutritious meal that day. If you are interested in helping to pack meals, please contact Andrea Eckstein at andrea.eckstein100@gmail.com or call 701-658-9057. The first three pictures are 60 volunteers packing 17,712 meals at the Litchville Community Center in Litchville, ND. The children are writing letters to be included with the boxes of meals.The last photos are of 18 volunteers packing 5,016 meals at Zion Lutheran Church in Ellendale, ND.(11/2017)
---
Liberia Shipment Sets Sail
Joe Boway with the Lutheran schools and church in Monrovia, Liberia will soon be receiving Bibles, VBS pamphlets, 516 – 5lb. bags of flour, 90,720 Mercy Meals, file cabinets, books, student desks, chairs and school backpacks/supplies from the North Dakota Branch. Joe works with the Lutheran schools and OGT helps to support the feeding programs for the children. Poverty is high in the region and the school lunch is sometimes the only meal the children have that day. If you would like to learn more about how OGT and Joe Boway partner to help the children in Monrovia, he is a speaker at OGT's 25th Anniversary Convention this September 15 & 16, 2017. If you would like more info about the convention, please go to www.ogt.org. Pictures are of the volunteers at the North Dakota Branch loading the shipment. (4/2017)
---
Riga to Receive Shipment
North Dakota Branch volunteers loaded a shipment for Riga, Latvia. They will soon be receiving blankets/quilts, clothing, coats, shoes, hygiene kits/supplies, towels/washcloths, canes/crutches/walkers/wheelchairs, hospital linens, and bicycles. So many wonderful gifts for families in need.(3/2017)
---
Surrounding Communities Benefit
North Dakota Branch in Jamestown delivered a load of bedding, clothing, furniture, household items, medical equipment, toys, and church items to Bdecan Presbyterian Church in Warwick, ND. What wonderful items to be shared with the congregation and families of the surrounding communities.(3/2017)
---
UJ and OGT Work Together for a Great Cause
OGT's North Dakota Branch located in Jamestown had a very busy Martin Luther King Jr. Day last January 16. The University of Jamestown partnered with ND Branch and provided hourly transportation from the University for students or faculty to volunteer sorting and packing at the ND Branch. This was in spirit of keeping Martin Luther King Jr.'s dream alive for justice, equality and opportunity for all individuals. North Dakota Branch had a great turn out of volunteers for this event. Thank you to the students and faculty at the University of Jamestown.(2/2017)
Jimmie's Helps Out the North Dakota Branch
On Saturday, October 15th the University of Jamestown Boy's Basketball team helped pack donations.
The stats from their day of Volunteering = 120 boxes made, 88 filled with books, 30 unsorted boxes brought in and presorted, along with several boxes broken down.  Again to put that into perspective....  The North Dakota Branch packed 207 boxes last month.   Compare that to last month these guys packed 42% of a month's worth in one day. That is outstanding!   (10/2016)
Happy Faces, Grateful Hearts
Earlier this year, the North Dakota Branch shipped a load for Kishinev, Moldova. The Mission Bible of Charity recently received blankets, quilts, bedding, gloves, hats, scarves, clothing, coats, suitcases, hygiene kits, canes, crutches, walkers, buckets, teacher's desks, student desks and chairs. The Mission Bible had a Jubilee celebrating 20 years of ministry.  Thank you to the donors and volunteers in North Dakota that helped provide this shipment of needed gifts for the families in Moldova. Pictures are of the shipment being unloaded in Moldova and of the special Jubilee.(9/2016)
---
Wrestling Guys Help to Get Tons Done
Saturday September 24th the North Dakota Branch had some awesome help at their warehouse in Jamestown, ND from UJ Men's Wrestling team. Elissa Rosin, North Dakota branch manager for Orphan Grain Train said, "It would have taken me all day to do what these guys did in 20 minutes! They unloaded a trailer full of donated items and hauled inventoried boxes out back to their spot. Thanks University of Jamestown Men's Wresting team!!"(9/2016)
---
Liberia Receives Container
This is exciting news and amazing phots from our recipient Joe Boway in Monrovia, Liberia. Last May, the North Dakota Branch volunteers loaded this shipment to Lutheran Church in Liberia, which is the first photo shown. The shipment included 16,200 Mercy Meals, blankets, children's clothing and shoes, layette kits, hygiene kits, church altar, lectern, church furnishings, paraments, Bibles, Christian literature, medical supplies, school desks, backpacks, school kits, schoolbooks and supplies. The food, supplies and school items were loaded and delivered to schools and churches in rural Liberia. The altar, lectern and church furnishings delivered to St. John Lutheran Church in Monrovia, Liberia. Pictures include their first worship service with Rev. Thomas Boway and Rev. Baicrah Gaye using these furnishings. How wonderful to see these donations from North Dakota being used in another church half way around the world. Enjoy the pictures of the container being offloaded all by hand.(8/2016)
---
Boxes Full of Love Shipped Off to Moldova
On June 28th, the North Dakota Branch volunteers were working hard loading a shipment for Chishinau, Moldova. Bible Mission International will soon be receiving 567 boxes of blankets and quilts, linens, 770 boxes of clothes, coats and accessories, medical equipment, office desks, and 20 student desks with chairs. This container is on its way to Minneapolis, MN to be placed on a train headed for New York. It will then go by ship to the port of Odessa, Ukraine and make its way to Chishinau, Moldova to our recipient Bible Mission International. The photos are of the North Dakota Branch volunteers loading the shipment from their warehouse. Thank you to all the volunteers for your hard work and organizational skills! The first photo is Elissa Rosin, N.D. Branch manager busy pulling boxes to be loaded.(7-2016)
---
With Patience & Love Nothing is Impossible
On May 17th the North Dakota Branch volunteers loaded a shipment for the Lutheran Church in Liberia. The volunteers were busy loading 16,200 Mercy Meals, blankets, children's clothing and shoes, layette kits, hygiene kits, church altar, lectern, church furnishings, Bibles, Christian literature, medical supplies, school desks, backpacks, school kits, books, and supplies. What wonderful blessings for the church and the children. Thank you to all that donated and to the hard working volunteers for loading all of it. The pictures are of the volunteers loading the shipment for Monrovia, Liberia.(5-2016)
---
A Blessing to be a Blessing
Elissa Rosin Branch Manager
February 9th was a special day for our branch!  We made our first domestic shipment to Tokio, ND on the Spirit Lake Nation Reservation. 
This was kind of a special day for me too.  Sharon is our contact person up there.  She is a volunteer for the Bdecan Presbyterian Church.  They have their own little food and clothing pantry up there.  I met her 9 years ago while doing a Vacation Bible School at their church.  It was good to see her again.  It was such a blessing to be a blessing to her and the ministry their little congregation is doing for their community. 
Many thanks to Don and Marlene Brandenburg who hauled the OGT trailer up there today.  
---
New Warehouse Getting Organized  (12-2015)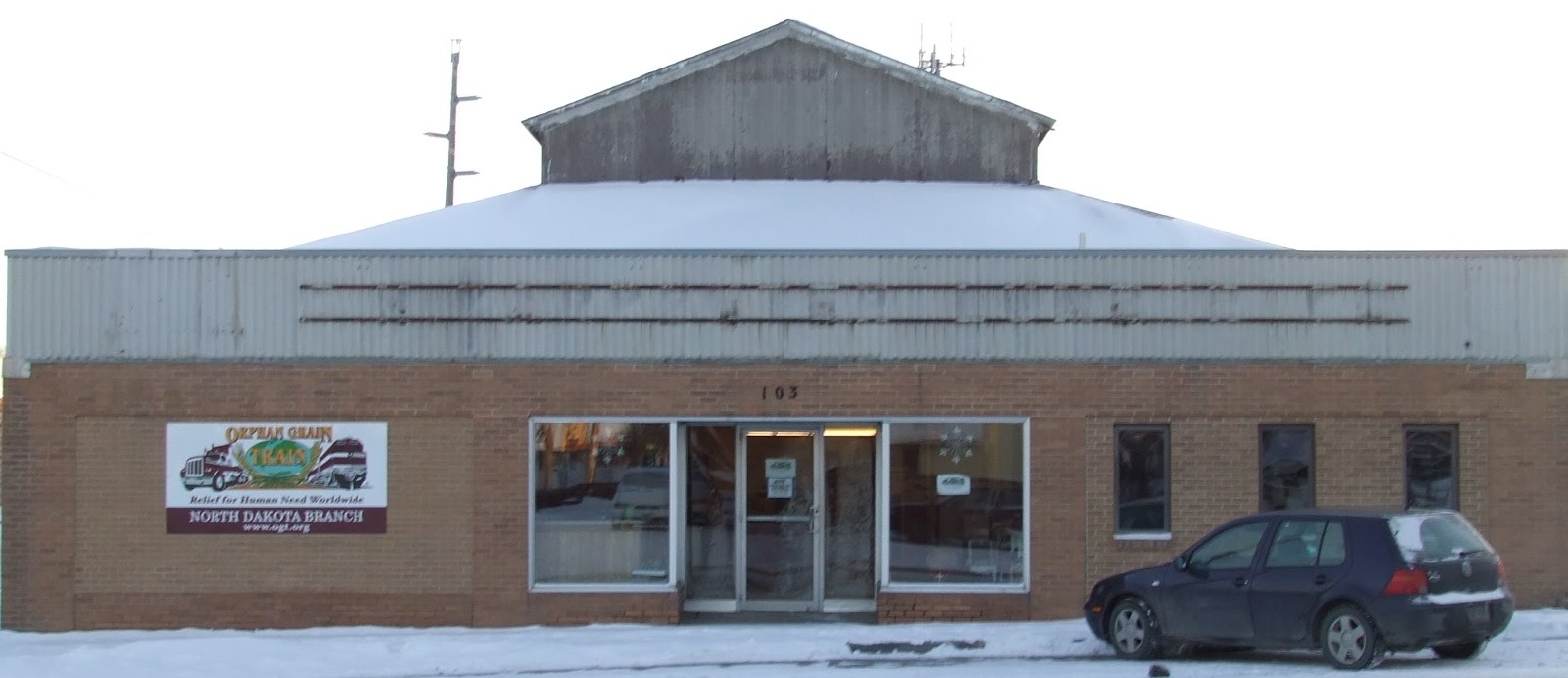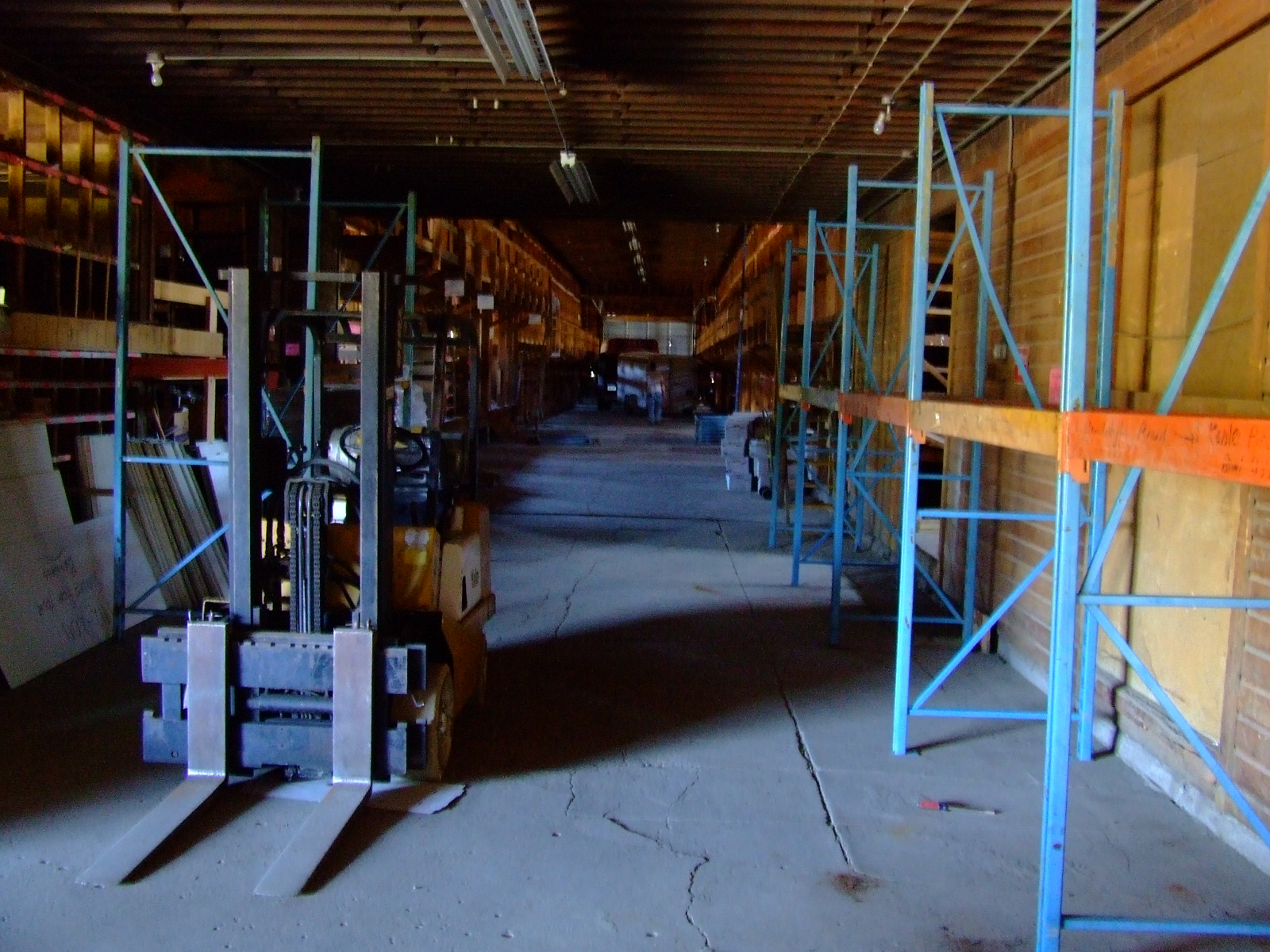 We've been busy in the last few months.... going from this....
to this full back warehouse....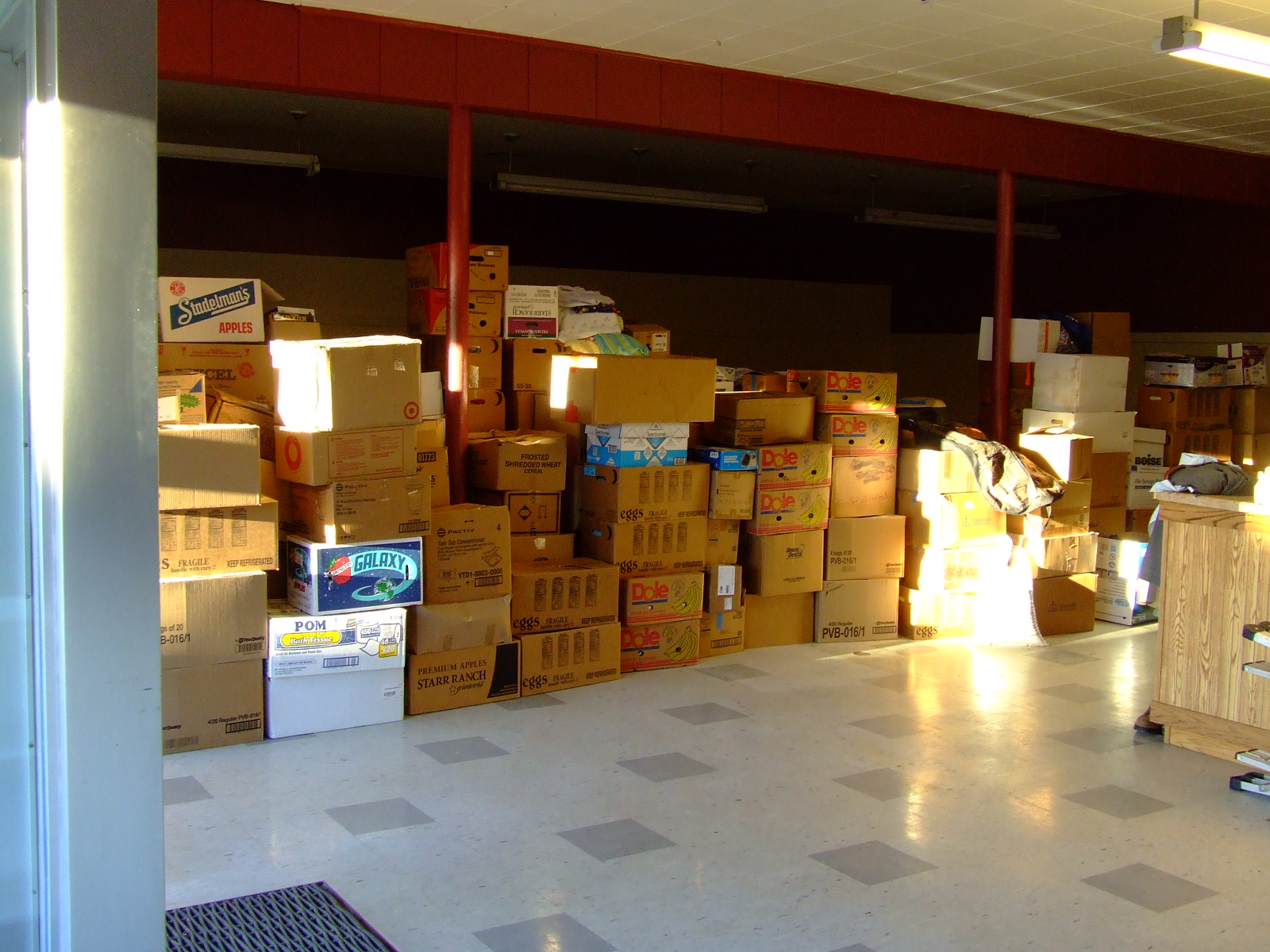 to a more organized flow in as well in the last few months.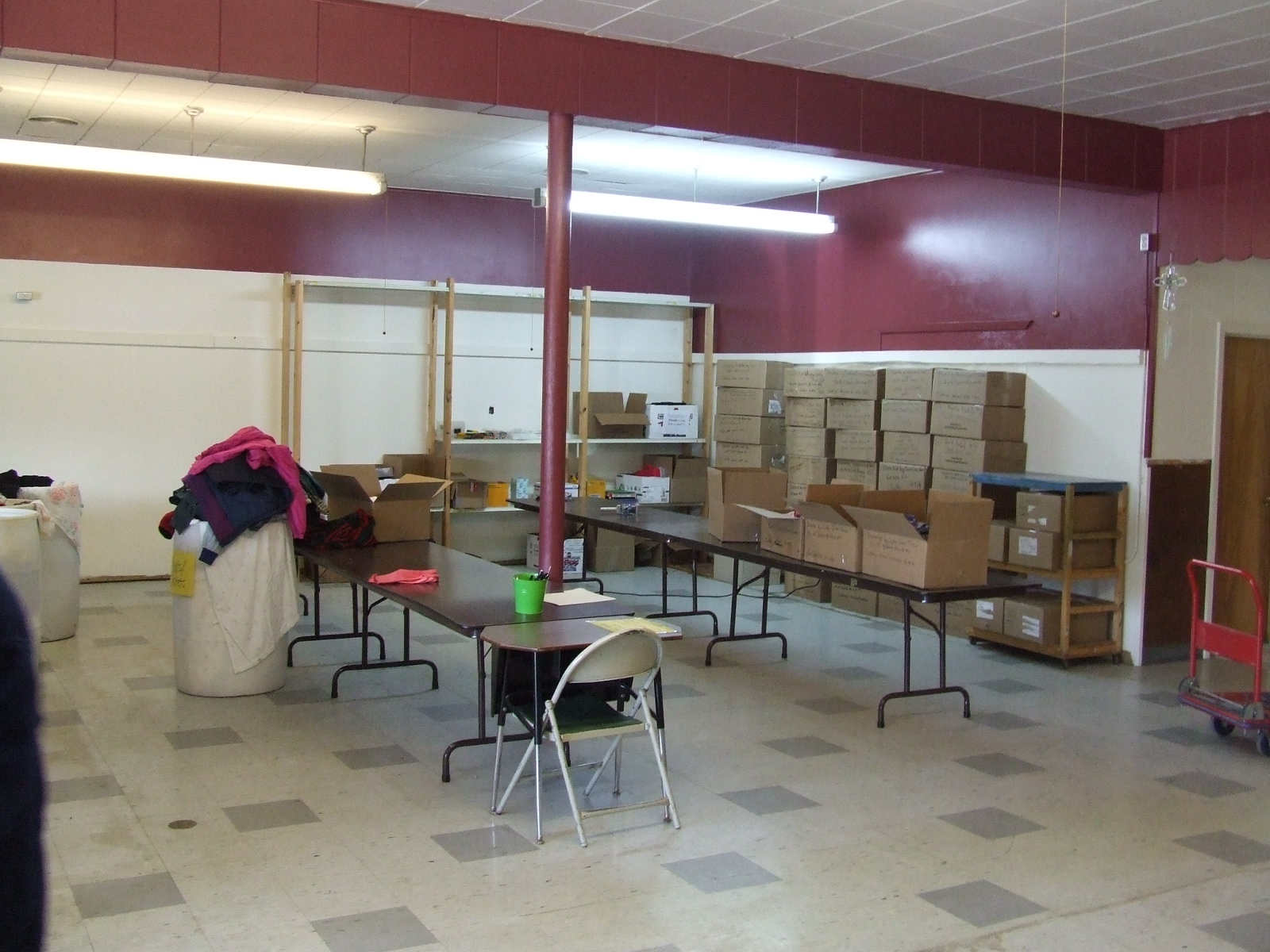 We still have a long ways to go in this whole process. Our last hang up is utilizing space in the back area. It might sound funny since this place is so huge, but we are running out of usable space to properly organize this place. We really need to take down some structures.
Also, all those boxes along the pallet shelves to the way back of this picture are still unsorted.  We had to move them rather quickly one day before they took the 40' shipping container away.  We've had so many other things to do that we just haven't gotten back to them to sort them all out.   We need those sorted so when it is time to ship-  we can find the right boxes!  :) 

We are getting closer to shipping.  There is a lot of paper work to be done before then- which means items need to be in soon than later and we need people to come help get things sorted and packed up.  We have enough to fill a container for this load.  We just need people to help get it ready.  There is a lot of unsorted, unpacked items waiting to be boxed and inventoried!  If we could get a a few crews in-  maybe we could get this shipped by the end of January.    And then these items can get to those kids who need them in Liberia. 
So this little update is really a call for help.  We also are still trying to get some roofing done... so if there is anyone gifted in that area and feels called to help... give me a call.  If anyone is gifted in sorting and organizing... we've got plenty of that to do as well.  If anyone is gifted with strength and agility- we've got lots of heavy boxes full of books to move.  If anyone is gifting in fixing garage doors, we've got a couple that need some attention.  We love getting to know fellow members of the body of Christ!  To see what gifts God has given them.... and helping them to use them for His glory!  
Blessings to you all! 
Elissa Rosin
Branch Manager
North Dakota Orphan Grain Train
 
---
New Warehouse is Cleaned Up! 
And we are in!   The painting of the main room is complete and we've lost no time in moving out of the basement of Concordia Lutheran Church and into this warehouse.  We only have our already inventoried boxes left.  So one more day of moving boxes and we can remove that shipping container from the parking lot. 
So as you can see from the pictures, we will be packing and sorting for quite some time.  
Carmen Larson, warehouse manager,  is the contact person for this.  Her cell is 701-269-6555 | email: kclarson@daktel.com
And one last thought.  It's been a year.  Can you believe it?  One year ago, we were just getting started.  Look how far this has all come.   God you are good.  Let's see what year number two brings.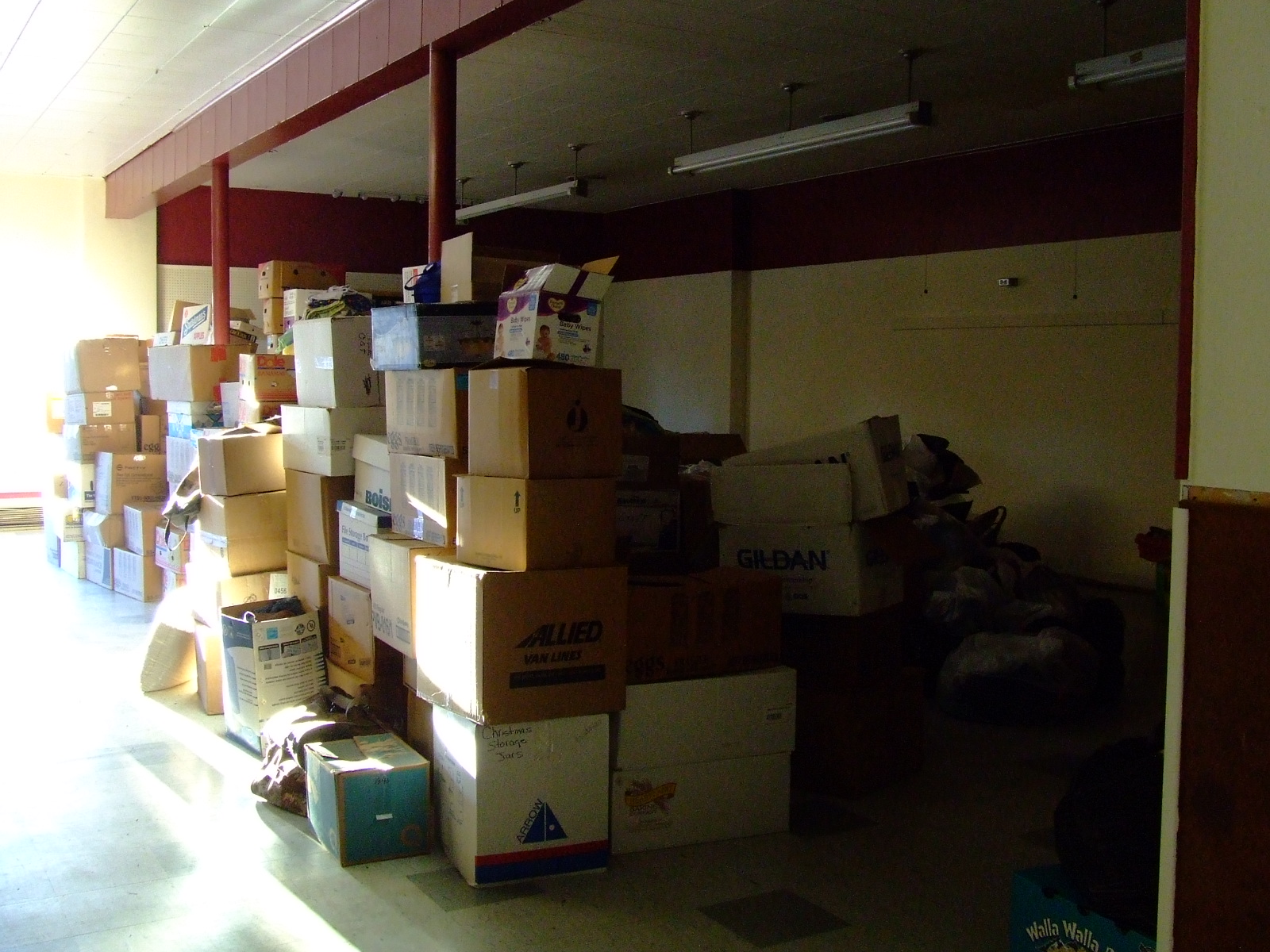 North Dakota Warehouse
Just look at that lovely maroon! Thank you Michael and Carmen for all your hard work getting that done! Micheal came in with her scaffold and cruised through it in a few days! And Carmen keeps sneaking back to finish off trim. It looks great in there! And Jenner and Esther have been painting up a storm in the back rooms and fixing bits here and there. Thank you to all who have been coming and making this place come together.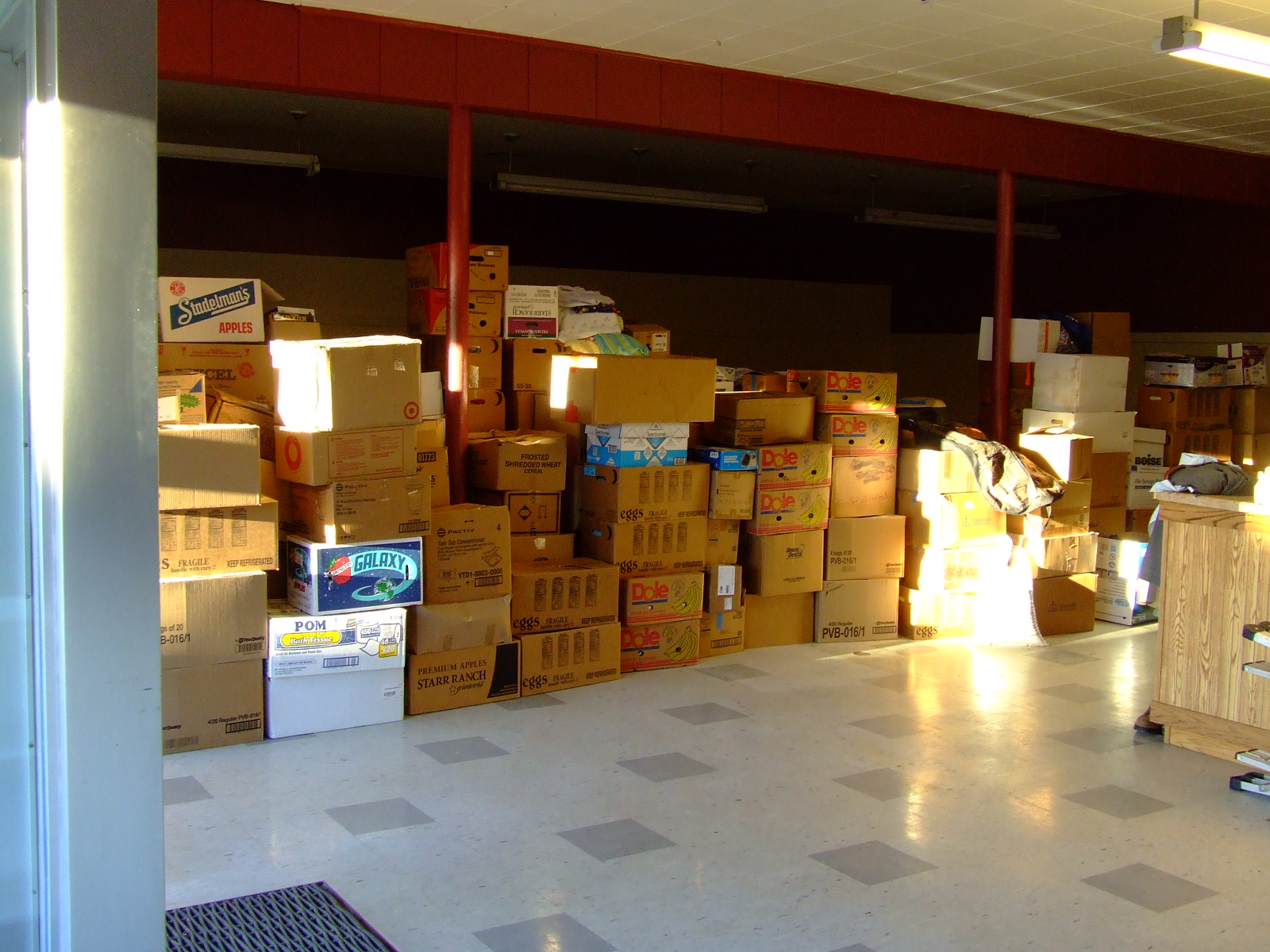 We have lots to sort and pack. Doesn't the floor shine for an old warehouse. Great job team!!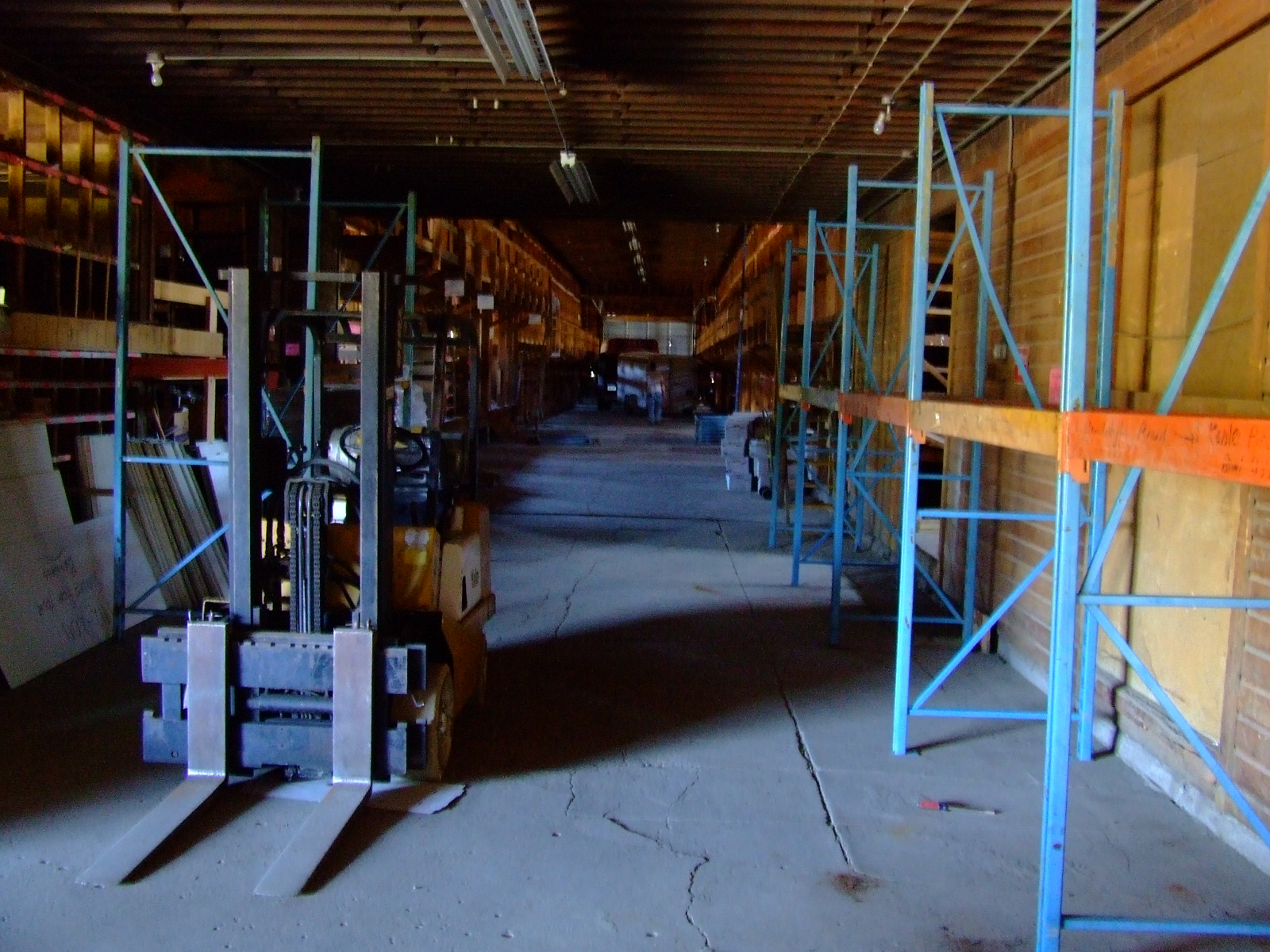 The pallet shelving is up! We are ready to get organized now! Thank you Justin, Dallas and Kirk!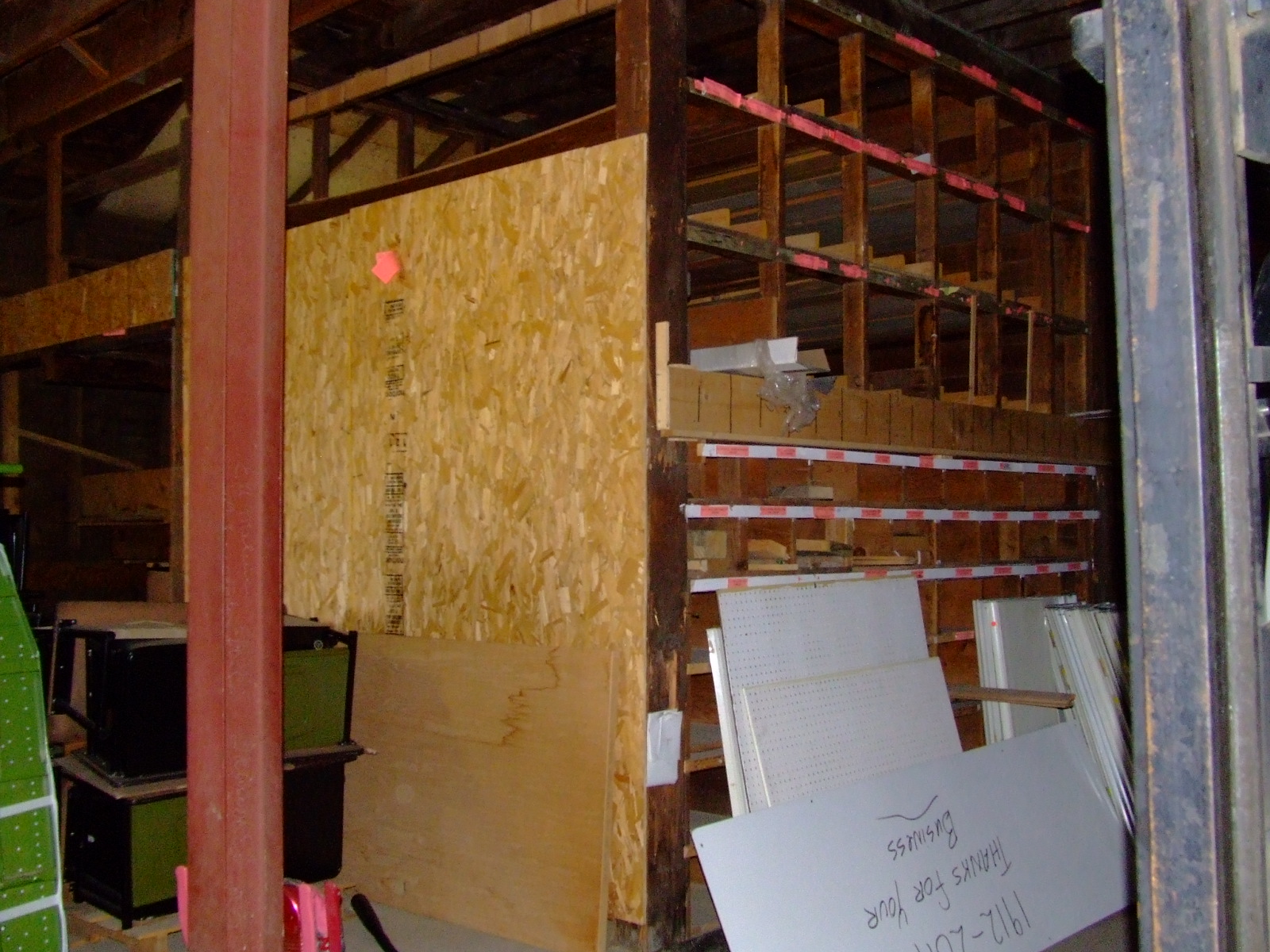 Lots of projects yet to do... we are needing this trim board shelving removed to open up this area for storage as well. So if you like to deconstruct, this would be a great project to take on. Hammers, gloves, crow bars, power drill... would all be useful tools to bring.
Volunteers Help to Give the Old Warehouse a New Look
It was a busy week getting the warehouse ready to be moved in.  There was cleaning of shelves, unloading of desks and items from the trailer, windows washed, painting of walls, and much more.  As you can see we had another great crew to help!  We had a crew from Fargo and the Concordia Lutheran in Jamestown- not to mention our faithful few who have been here from the beginning!  Thank you to all who came out.  (8-2015)
| | |
| --- | --- |
| Carmen Larson applying a fresh coat of paint | Jenner came down and asked to clean that basement! He did an amazing job! |
| The sign is coming down! Thanks Brad! | Ken and Austin taking a break to pose! |
| The walls get a fresh, new look. | |
Activities Update 7/10/2015
If you've ever thought about coming to help pack and sort, this summer is the time!  We'd love to have the company, show you the ropes and get to know more brothers and sisters in Christ as we work together to prepare to help others!  And it's amazing the difference even 3 more people make.  We get so much more accomplished!  
If you can't come on a Monday, but there is enough interest in coming on a Saturday let me know and we can get a Saturday packing day planned. 
I'll give you an idea of what goes on in those 3 short hours Monday morning. 
1. We usually assess what we have the most of and the grab a bunch of it. 
2. Then the sorting begins.  For example, if clothes we make piles of men's, women's, children's, infant/toddler.  And Women's and Men's get sorted into 4 categories Winter/Summer Tops/Bottoms.  Children's just into Winter/Summer categories.   Infant/Toddler (up to 4T) we do sort into Winter/Summer categories too.    While packing we check for stains, buttons missing, smells, animal hair,  holes, etc.    We make a mend/wash pile and a discard pile.
3. We then fill as many boxes as we can, label them, tape them up.
4. The final thing we do that day is take inventory of the boxes and then take them out to the shipping container to store them. 
Number 2. changes depending on the item we sort. 
We do take a short break- coffee, water and if someone brings a snack to share.  We then take time to refocus on our Lord who gave us so much and the reason why we do what we do. 
Some things to consider when packing up items to bring to the warehouse. 
1.  We are thrilled to open boxes full of CLEAN clothes!   Any pre-washing, pre-mending, pre-sorting, pre-folding that you can do on your end is MUCH appreciated!  We want to give nice clothes to people.  We keep the mindset- the people we are giving to don't have a washing machine.   If disaster struck- most likely washing machines will be out of order. Or that is the last thing your mind would be on.  Or the people in other countries we are helping most likely don't have a washing machine, let alone a lot of water.  If it was us and we were in tough times, which would we like to open better- a box full of dirty clothes, or a box full full of nicely folded, clean clothes.  We want these boxes to truly be a gift... a moment of grace.
2.  We pack everything donated into uniform sized boxes.  So whatever boxes we receive, we unpack and then re-pack into our OGT boxes according to categories we are given by the main office.  This helps the main office assess value when we get ready to ship esp overseas.   We have to give an estimate of the value of the items we are donating for customs purposes.    It is much easier to keep track of one size of box than 4 different sizes, or every single piece.  :)   So we pack boxes full of like-kind items.  I learned the hard way last time when it came to school supplies.  We were trying hard to fill boxes to the brim, so the school supply boxes were filled with all kinds of things.  Well the pre-inspection company had lots of questions.   We had to open each box and count every single item and submit a very detailed list.    So this time it will be a box full of pencils, a box full of crayons, a box full of notebooks, etc.  That is how we are planning to roll this time.  

 Now if you are like me, you hate to see a good box go to waste.  So I propose that if you bring a big load full of boxes, we can do a trade.  The boxes we have left over from other loads you can take and re-use for your next loads (Lord willing!)
And I don't want to discourage you from donating if you can't do all the above mention things (pre-wash, pre-mend, pre-sort, pre-folding).  Believe it or not, there are people who like to do this and have the time and have let me know that!  And for me- a busy mama- this is music to my ears!  :) 
---
Volunteers Help Out 
Thank you to all who answered the call for help! We had 16 volunteers on June 8th, 2015, the day the big load from Montana arrived! It was outstanding! We got so much done!
Below are some pictures of that day. I unfortunately didn't get pictures taken during the unloading process. We got some afters and then packing in the basement.
| | |
| --- | --- |
| Ready to unload shipment from Montana | All donations are unloaded! |
| Volunteers sorting and packing donations | Sorting donated school supplies. |
---
North Dakota Branch Purchases New Warehouse
For all those who have been praying for a warehouse for us, we have gotten word that we do have an official purchase agreement signed and we are awaiting a final closing day. That's right- we are going to have a warehouse! We are busting at the seams and this is sweet music to our ears. For those in the Jamestown area we are going to be moving into the CH Carpenter Building. There is more on this in the July newsletter which you can download from this page.  We are extremely grateful and eager to breathe new life and purpose into it. (7/2015)
So right now we are accepting small physical donations, but we just don't have room for larger donations right now. As you can see in some of those pictures, that container is overflowing. The little space we have in the church is also overflowing. So please hold tight for now. Once we can get in, we'll let you know! It's going to be a bit of a process getting the new place up and running. So again stay tuned and if you know already you want to be a part of helping to get that warehouse up to date, let us know! You will be such a blessing!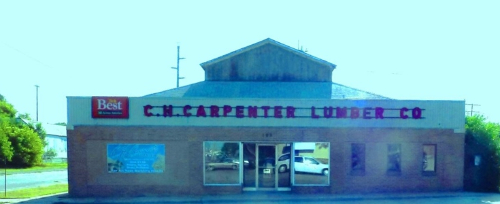 Exciting News!
Our first container is officially unloaded from the ports of Liberia and being dispersed (as I type this) through the rural countryside.  There were some complications getting the container out of port.  That full story will be in the upcoming newsletter.    For now here is Joe's email:
Good morning Karen,

     We were finally able to cleared the container on Monday, June 1. Thanks
for all your prayers.  We have two 20 foot trucks filled with the
contents from the container heading to rural Liberia today (Tuesday).
     I have decided not to fly back to the U.S. on June 5th. I changed my
return flight to June 16.  I will travel to rural Liberia tomorrow
(Wednesday) to help with the distribution of the supplies to our schools
and churches. I hope to return to Monrovia on Sunday after service - June
14.
Thanks again for all your prayers and support.
Joe
So all of this hard work is worth it.  All those precious items are on their way!   I can't wait to get more stories and pictures from Kirk (our assistant manager) and Judy  who just returned a week ago from Liberia to share with you all! 
First Load Shipped From the New North Dakota Branch
Congratulations to the new North Dakota Branch for successfully loading their first shipping container to Liberia! A lot of work and prayers has gone into this shipment. Liberia will be receiving 10,200 Mercy Meals, pasta, flour, pinto beans, canes, commodes, crutches, school desks, chalkboards, backpacks, benches, books, sports equipment, plastic buckets, disinfecting wipes, soap, gloves, thermometers, band aids, and school supplies. The North Dakota Branch officers and volunteers deserve a big thank you for arranging the shipment and loading all the items. (March 2015)
New North Dakota Branch is Official
Jamestown, N.D. is home of the latest chartered branch of Orphan Grain Train. Branch Manager, Elissa Rosin, is grateful for everybody's hardwork and prayers. They are currently accepting donations for a shipment to Liberia to help with the effects of the Ebola outbreak. They have been blessed with donations of clothing and supplies for layette and school kits. Volunteers packed boxes on Monday but more volunteers are needed to keep up with the abundance of donations. To see how you can help, please contact Elissa at elissarosin@gmail.com | 701-368-1456. 
The picture is of the Branch Officers: (L to R): Kirk Rosin (Assistant Branch Manager), Daine Flieth (Branch Treasurer), Elissa Rosin (Branch Manager), Carmen Larson (Branch Warehouse Manager).​(12/2014)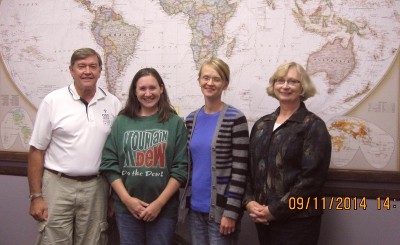 ---
The North Dakota Branch located in Bottineau closed in 2014.  The stories below are from that branch happenings.  In October 2014, volunteers in Jamestown, ND opened a new OGT branch.  The current operations, location and hours are stated above.
---
OGT Unit to be used at Hope Village for Minot, ND flood in 2011

OGT truck with attached hydraulic hoist for moving mobile disaster units; truck driven by Norfolk volunteers

Loading hospital beds donated to Liberian hospitals

Humanitarian aid for Liberia

Loading container at Bottineau, ND warehouse for Liberia

The group that loaded the container at Bottineau, ND warehouse for Liberia - March 2012
Fall 2007
From Harold Gessner:
Our volunteer workers meet each Friday at the warehouse and process used clothing. We have been delivering used clothing to contacts domestically as well as those in Liberia, Africa. A Christian congregation on the Spirit Lake reservation has been the recipient of clothing for some times. A few weeks ago, Northwood, N.D. was hit by a tornado which did damage to the entire village of 1,200 people. All homes were damaged from minimal to completely destroyed. A call for quilts came to us from Lutheran Disaster Response.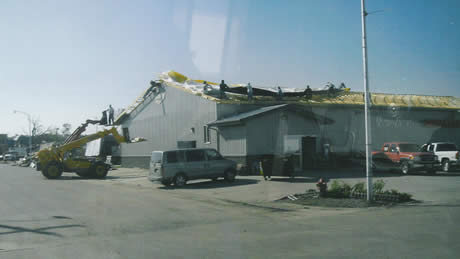 We answered the call with some 300 quilts and with the help of local volunteers we drove fro house to house delivering them. Many volunteers have entered the town and have cleared debris, broken trees, tossed about automobiles, houses and the like. Restoration is well in progress.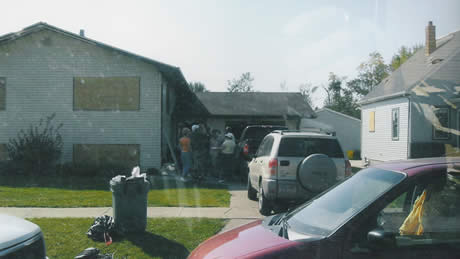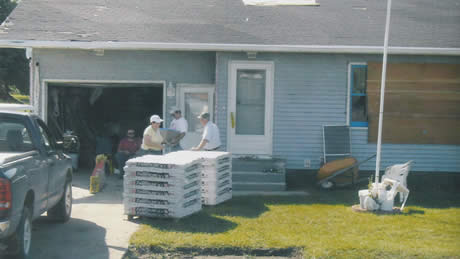 It warmed my heart to visit our local hospital, upon request, to witness and speak to a group of long-term residents in wheelchairs who gathered to put together sewing kits to be distributed to needy women in Liberia.
A new facility for the loading of containers in Minot, 80 miles from our Bottineau warehouse, will permit us to place our containers on railer and ship to the east and west coasts.
Our prayer is that all things work together for the good of the Kingdom.
ND-OGT Harold Gessner.
---