North Dakota
North Dakota Branch
Manager- Kirk Rosin
P.O. Box 1546
Jamestown, ND 58402-1546
701-347-5279 | krosin@juno.com

Warehouse:
Warehouse Manager - Carmen Larson
701-269-6555
call concerning different time to donate, group packing event or wanting a local presentation

Warehouse Location:
103 4th Ave SE
Jamestown, ND 58401

Packing and Receiving Days
Mondays 9am-12noon 
Saturdays 9am - 12noon
---
**Supplies Needed for Hurricane Disaster Relief Efforts**
* Cleaning supplies: 5 gallon buckets, brooms, mops, cleaners (i.e. ammonia, Pin-sol, bleach, etc.), scrub brushes, paper towels
* Non perishable food items: canned food, boxes food mixes (i.e. macaroni and cheese, hamburger helper, soup mixes, etc.), bottled water, bottled drinks
* Baby things: diapers, bottles, burp cloths, pacifiers, onesies, receiving blankets, baby blankets, baby wipes 
* Hygiene supplies: adult diapers, deodorant, toothpaste, toothbrushes, combs, brushes, bars of soap, toilet paper, disposable razors, shaving cream, wet wipes.
---
North Dakota Branch Newsletters
Radio Interview with Elissa Rosin
Elissa Rosin, North Dakota Branch Manager interviewed with KQDJ Radio in Jamestown, ND in November 2015.  Elissa shared what Orphan Grain Train is and what the North Dakota Branch is doing. 
Click here to hear the interview.
Thrivent Choice is up and running now. We are "Orphan Grain Train - North Dakota". You can go online: https://service.thrivent.com/apps/ThriventChoiceMemberWeb/public/orgDetails/100379045629 or call 1-800-847-4836 to direct your Choice Dollars.
---
Mercy Meals of North Dakota Now Has Storage
Mercy Meals of North Dakota has purchased a container from OGT to be used to house their raw products and also the completed boxed meals! Mercy Meals of North Dakota was started in March of 2015 and donate all meals to North Dakota Branch to distribute to those in need in the US and around the world. To God be the glory!(10/2018)
---
Teaming Together for Border Missions
In September the North Dakota Branch located in Jamestown had a group of young volunteers move medical equipment from Milbank, SD for a split load with Wisconsin Branch. North Dakota Branch also added bedding, clothing, furniture, household items, hygiene supplies, toys and sports equipment to the load for Latin American Lutheran Mission (LALM) in Laredo, TX. Wisconsin Branch provided the transportation and added bedding, clothing, furniture, medical equipment, toys, and school supplies for those in need along the Texas-Mexico border.  (10-2018)
---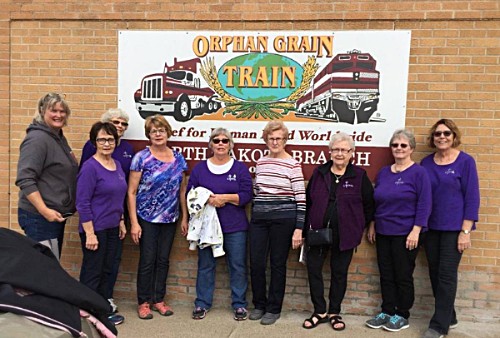 LWML Help Sort and Pack 75 Boxes
North Dakota Branch in Jamestown welcomed the help of an LWML group from McClusky. They helped sort and pack 75 boxes last Wednesday. Thank you for your support of OGT!(9/2018)
---
Ukraine to Receive Shipment Full of Blessings
During the week of July 9th the volunteers at North Dakota Branch in Jamestown loaded a shipment for Kiev, Ukraine. This shipment of blankets, quilts, clothing, coats, and shoes will be going to Charitable Organization "Castor", a new OGT recipient that assists children and families living in poverty. Thank you to all the volunteers that worked hard and strategically to load 1,503 boxes within two hours! Great job!(7/2018)
North Marion VBS Donate Much Needed School and Hygiene Kits
During the week of May 28th the North Dakota branch in Jamestown received an awesome donation from the Vacation Bible School - VBS kids at North Marion church in Marion, ND. They brought in $1,220 to purchase supplies and they packed 27 school kits and 40 hygiene kits!(6/2018)
---
Serving With Joyful Hearts
On February 24th OGT's North Dakota Branch had students from the University of Jamestown volunteer at the warehouse. They were a great group of students that did some great work sorting and packing! Thank you for serving with joy!(3/2018)
---
Volunteers Load Shipment Despite the Cold
It was a very cold day on January 30 in Jamestown, ND but that did not stop volunteers at the North Dakota Branch from loading a shipping container headed for Liberia. Joe Boway with Lutheran Church in Liberia will receive 31 boxes of Bibles, choir robes, candelabras, children's shoe and clothes, 96,768 Mercy Meals, hygiene kits, school supplies, backpacks, chairs and desks. Joe is always appreciative of the food and goods donated for the children at the Lutheran schools.(2/2018)
---
Meals Will Be Blessing In Liberia
Mercy Meals of North Dakota have been busy planning packing events with local communities and churches. Their goal is to pack enough meals to fill a shipping container. OGT's North Dakota Branch will ship the meals to Joe Boway with 13 Lutheran schools in Liberia. Mercy Meals are served to the children for lunch which mean the children get a nutritious meal that day. If you are interested in helping to pack meals, please contact Andrea Eckstein at andrea.eckstein100@gmail.com or call 701-658-9057. The first three pictures are 60 volunteers packing 17,712 meals at the Litchville Community Center in Litchville, ND. The children are writing letters to be included with the boxes of meals.The last photos are of 18 volunteers packing 5,016 meals at Zion Lutheran Church in Ellendale, ND.(11/2017)
---
Liberia Shipment Sets Sail
Joe Boway with the Lutheran schools and church in Monrovia, Liberia will soon be receiving Bibles, VBS pamphlets, 516 – 5lb. bags of flour, 90,720 Mercy Meals, file cabinets, books, student desks, chairs and school backpacks/supplies from the North Dakota Branch. Joe works with the Lutheran schools and OGT helps to support the feeding programs for the children. Poverty is high in the region and the school lunch is sometimes the only meal the children have that day. If you would like to learn more about how OGT and Joe Boway partner to help the children in Monrovia, he is a speaker at OGT's 25th Anniversary Convention this September 15 & 16, 2017. If you would like more info about the convention, please go to www.ogt.org. Pictures are of the volunteers at the North Dakota Branch loading the shipment. (4/2017)
---
Riga to Receive Shipment
North Dakota Branch volunteers loaded a shipment for Riga, Latvia. They will soon be receiving blankets/quilts, clothing, coats, shoes, hygiene kits/supplies, towels/washcloths, canes/crutches/walkers/wheelchairs, hospital linens, and bicycles. So many wonderful gifts for families in need.(3/2017)
---
Surrounding Communities Benefit
North Dakota Branch in Jamestown delivered a load of bedding, clothing, furniture, household items, medical equipment, toys, and church items to Bdecan Presbyterian Church in Warwick, ND. What wonderful items to be shared with the congregation and families of the surrounding communities.(3/2017)
---
UJ and OGT Work Together for a Great Cause
OGT's North Dakota Branch located in Jamestown had a very busy Martin Luther King Jr. Day last January 16. The University of Jamestown partnered with ND Branch and provided hourly transportation from the University for students or faculty to volunteer sorting and packing at the ND Branch. This was in spirit of keeping Martin Luther King Jr.'s dream alive for justice, equality and opportunity for all individuals. North Dakota Branch had a great turn out of volunteers for this event. Thank you to the students and faculty at the University of Jamestown.(2/2017)
Jimmie's Helps Out the North Dakota Branch
On Saturday, October 15th the University of Jamestown Boy's Basketball team helped pack donations.
The stats from their day of Volunteering = 120 boxes made, 88 filled with books, 30 unsorted boxes brought in and presorted, along with several boxes broken down.  Again to put that into perspective....  The North Dakota Branch packed 207 boxes last month.   Compare that to last month these guys packed 42% of a month's worth in one day. That is outstanding!   (10/2016)
Happy Faces, Grateful Hearts
Earlier this year, the North Dakota Branch shipped a load for Kishinev, Moldova. The Mission Bible of Charity recently received blankets, quilts, bedding, gloves, hats, scarves, clothing, coats, suitcases, hygiene kits, canes, crutches, walkers, buckets, teacher's desks, student desks and chairs. The Mission Bible had a Jubilee celebrating 20 years of ministry.  Thank you to the donors and volunteers in North Dakota that helped provide this shipment of needed gifts for the families in Moldova. Pictures are of the shipment being unloaded in Moldova and of the special Jubilee.(9/2016)
---
Wrestling Guys Help to Get Tons Done
Saturday September 24th the North Dakota Branch had some awesome help at their warehouse in Jamestown, ND from UJ Men's Wrestling team. Elissa Rosin, North Dakota branch manager for Orphan Grain Train said, "It would have taken me all day to do what these guys did in 20 minutes! They unloaded a trailer full of donated items and hauled inventoried boxes out back to their spot. Thanks University of Jamestown Men's Wresting team!!"(9/2016)
---
Liberia Receives Container
This is exciting news and amazing phots from our recipient Joe Boway in Monrovia, Liberia. Last May, the North Dakota Branch volunteers loaded this shipment to Lutheran Church in Liberia, which is the first photo shown. The shipment included 16,200 Mercy Meals, blankets, children's clothing and shoes, layette kits, hygiene kits, church altar, lectern, church furnishings, paraments, Bibles, Christian literature, medical supplies, school desks, backpacks, school kits, schoolbooks and supplies. The food, supplies and school items were loaded and delivered to schools and churches in rural Liberia. The altar, lectern and church furnishings delivered to St. John Lutheran Church in Monrovia, Liberia. Pictures include their first worship service with Rev. Thomas Boway and Rev. Baicrah Gaye using these furnishings. How wonderful to see these donations from North Dakota being used in another church half way around the world. Enjoy the pictures of the container being offloaded all by hand.(8/2016)