Missouri-Illinois
Missouri-Illinois Branch
Manager: Ronald Loesch
314-842-1982
ronaldloesch@sbcglobal.net  
Orphan Grain Train Mo/Ill branch
Mailing Address:
P. O. BOX 29346
St. Louis, Mo 63126-0346
Eager Volunteers and Good Planning Resulted in Progress
More than 30 volunteers in the Missouri-Illinois Branch of OGT recently were very active in obtaining, preparing, packaging and loading much-needed items for use in The Gambia, a needy area in Africa.
Items were prepared for young and old, from cradle to school-age, to young adult and beyond.  Included were personal items to augment health, clothing of various sizes and types, and items to be used in educational efforts: small school desks, chairs, tables, cabinets, teaching aids, and more.  Blankets of all types were bagged and counted, then placed strategically to protect the items. 
A special conveyor system was used for loading.  Part of the system allowed easy manual rolling of items with hardly any effort.  A new addition, thanks to the generosity of regional volunteers and of a contributor about 250 miles away, a motorized conveyor was designed, configured, and  adapted in order to convey items uphill into the truck where these were then properly packed for shipment to Norfolk.   
"The whole process worked wonderfully," said Ron Loesch, who manages the branch headquartered in St. Louis. "A big word of thanks to all the volunteers, especially those who made the conveyor system a reality."  The loading was completed in about four hours, thanks to the innovation.  It was estimated that the work time was nearly cut in half thanks to the number of volunteers and the safety of the conveyor.  The load was prayerfully sent off to its eventual destination to help those in need. 
---
Caring for Our Neighbors
Missouri-Illinois Branch recently distributed blankets, quilts, household items, medical equipment and supplies, Bibles, clothing, diapers and food to several outreach locations that help those in need in St. Louis, MO. Thank you to our donors and volunteers for your help with these distributions.(11/2016)
Lots of Work But Always Worth It
On August 28th the Missouri-Illinois Branch volunteers, located in St. Louis, MO, were busy loading a shipment for Lithuania. Jurbarkus Evangelical Lutheran Parish will be receiving blankets/quilts/linens, clothing, coats, shoes, hygiene supplies, strollers, bicycles, student desks and chairs. They will distribute the needed donations to families in the community and through their outreach programs. Thank you to the volunteers for your time and muscles to load these wonderful gifts.(8/2016)
Local Centers Receive Supplies
In October 2014, Missouri-Illinois Collection Center located in Concordia, MO. delivered relief supplies to local food banks, churches and community centers in need. The various facilities received food, clothing, hygiene kits, and household items. Thank you to the volunteers for sorting and loading the supplies.
Help for Local Communities
This past August, Missouri-Illinois Branch delivered various loads of clothing, food, medical equipment, hygiene kits, bikes and household items to different local centers in need of relief supplies. Thank you to the volunteers for packing the needed items. (2014)
Sharing God's Blessings
Since its beginning in 2001, the MO-IL Branch has been sending container shipments overseas to help provide for human needs and in the process support Lutheran mission efforts in foreign lands. In addition, our Branch has been providing food to families and individuals within the St. Louis community who are at a point in life where such support is necessary to meet daily needs. Starting with deliveries of food donated through the national headquarters, we have supplied food to a number a number of local church pantries. In August 2009 we became an approved member of the St. Louis Area Foodbank. This enables us to purchase, at a relatively small cost, food for churches and ministries that do not have space, facilities, or means to obtain and store food in their own pantries. Then these pantries in turn every month serve over 400 needy families totaling more than 2500 individuals with healthy, nutritious food providing approximately 8,000 to 10,000 pounds of God's blessings. To accomplish this provision of food in such quantity requires many dedicated volunteers. Branch volunteers order and pick up the food from the Foodbank. They unload the truck at the warehouse, pack frozen food into freezers, and manage the allocation to the food pantries. Food pantry volunteers pick up for the pantries and then make distribution to the hungry families and individuals they serve.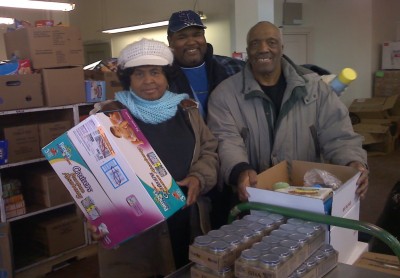 ---
Lutheran Hour Ministry Workers Volunteer
By Gerald Perschbacher
The love of Christ beamed from happy and intense workers as they came from the staff of Lutheran Hour Ministries to conduct two volunteer work days in September and October 2011 at the Branch center in St. Louis, MO. Their labor and the hours of time donated were of invaluable assistance in preparing a container for shipment to the Evangelical Lutheran Church of Liberia. Boxes of clothing, shoes, school books and supplies, and Kids Against Hunger food packets were readied and loaded on the container along with school desks, stacking chairs and over 500 blankets.
Over fifteen LHM employees were involved in the two work days. Among them was the newest voice of The Lutheran Hour, the Rev. Greg Seltz. Tours were conducted of historic Holy Cross Lutheran Church and the old Concordia Seminary building which serves as the warehouse for the Missouri-Illinois Branch. It was an educational, spiritual, and fulfilling two days of serving others in the name of Christ.
Volunteers and groups of helpers are welcomed at the OGT site. For details, contact Rev. Eldon Winker 314-846-5246 or email ewinker@att.net.
Photos by Gerald Perschbacher. All rights reserved.
LHM volunteers prepare boxes for shipment to Liberia

Packing school books and supplies

Lutheran Hour Speaker, Rev. Greg Seltz, and another volunteer pack school supplies

The container to Liberia is filling up.
Missouri-Illinois Spring 2010
Pastors Heed the Call to Help at Orphan Grain Train in St. Louis
By Gerald Perschbacher
About a dozen Lutheran Church—Missouri Synod pastors from congregations in the St. Louis area descended on the Missouri-Illinois Division center in south St. Louis to express their Christian faith through labor, April 20. Thresa Jacobsmeyer, volunteer coordinator, and the Rev. Eldon Winker, division chair, coordinated the effort. Assisting was Gerald Perschbacher, division board member and staffer for Lutheran Hour Ministries.
Volunteers concentrated on yard work, painting, and the moving of donated items. They received a tour of the facility to show how the former Concordia Seminary structure (built in 1908) was still functioning for the good of the Church more than a century later. While they were involved in the work effort, the pastors also witnessed various agencies that came to the center to receive food and other items for distribution through outreach efforts in various locations in and around St. Louis.
Instead of holding a regular gathering on pastoral matters, the group wanted to exert muscle and do a hands-on service project. Similar projects at the division center have been done by at least one department from the Lutheran Church—Missouri Synod International Center and by staff members from the Int'l Lutheran Laymen's League headquarters (Lutheran Hour Ministries). A local Lutheran high school and other institutions with Lutheran connections also have assisted in past years.
The involvement of each outside organization allows for Orphan Grain Train's Missouri-Illinois division to tell its story on meeting the needs of people who are precious in the eyes of the Lord.
nterestingly, when the pastors conversed during the painting on April 20, the conversation was about preaching and pastoral matters, so participants maximized their time with a two-fold accomplishment! The division explained that nearly 40 associations, organizations, and outreach efforts are blessed through Orphan Grain Train efforts locally. The Missouri-Illinois Division also extends its influence through shipments of items overseas and to domestic disasters sites such as those devastated by Katrina.
Missouri-Illinois Regional Division Dedicates Historic Site
by Gerald Perschbacher
bout 125 supporters and volunteers for Orphan Grain Train stood at a very historic moment on Sunday, Sept. 9, 2001, in south St. Louis, Missouri. It was the dedication of the new Missouri-Illinois Division and its work center. For about 75 years, the two-city-block area of St. Louis bordered by the streets of Miami to the North, Jefferson Ave., to the east, and Ohio to the west, was the hub of major activity for what we now know as the Lutheran Church-Missouri Synod.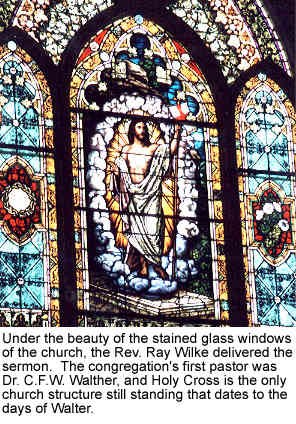 "Wow—to stand in this place, to hear how well you sing with that organ behind you—you sound like a thousand," said the Rev. Ray Wilke, co-founder of Orphan Grain Train, who preached at the dedication.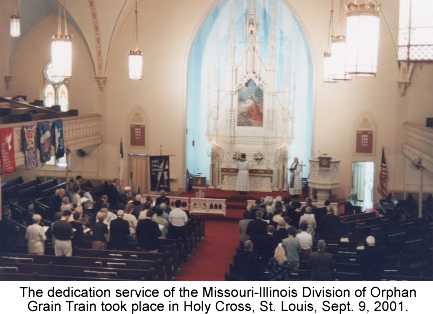 You're sitting in an energetic place. I feel quite awestruck...standing in the same pulpit as C.F.W. Walther...and that an organization sprung from a little idea while walking along a beach in Riga, Latvia, should become a nationwide movement," he noted, mentioning the blessings of God on Orphan Grain Train.
He also mentioned the early years of the organization and its close ties with the International Lutheran Laymen's League.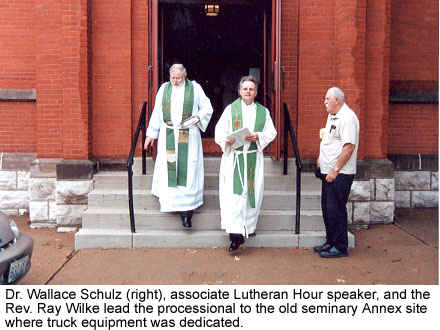 "The geography you walk upon is holy geography," added Wilke.
Visitors and volunteers learned that radio station KFUO sent its first official broadcast from the attic of the "sem" here on South Jefferson, at the southeast corner of the complex. The long and complex antenna ran to the roof of the Annex where it was mounted. Therefore, the Annex is the last remaining structure associated with that fledging broadcast.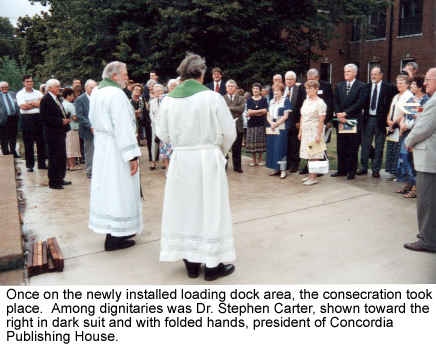 Wilke noted how Orphan Grain Train involves workers who sweat a lot, even its leaders who roll up their sleeves and get to work.
Liturgist for the service was Dr. Wallace Schulz, associate Lutheran Hour speaker, and now second vice president of the LCMS. Schulz was involved with Wilke in the dedication ceremony and the consecration of truck units which are being used in Orphan Grain Train efforts.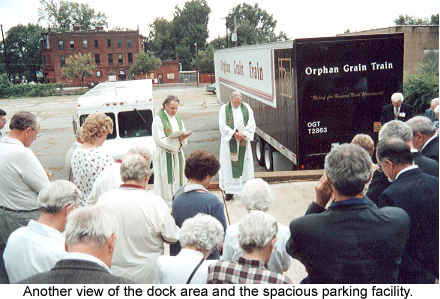 Marilyn Bertram, who chairs the new division, greeted visitors and volunteers and invited them to an open house of the facility that followed the service and dedication.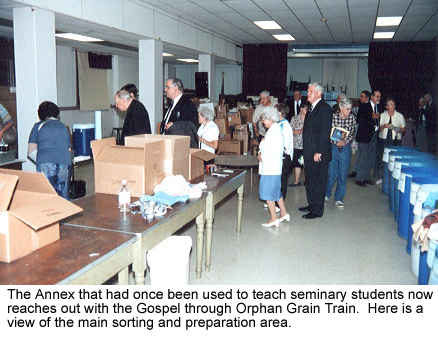 For more, call (636) 376-5113 or write to:
Missouri-Illinois Division Orphan Grain Train
P.O. Box 29346
St. Louis, MO 63126-0346
Dr. Oswald Hoffman Commends the Work of OGT at Dedication of New Workcenter
Sept. 9, 2001 - Dr. Oswald Hoffmann, honorary Lutheran Hour speaker, was asked to share recollections about the historic site. Hoffmann was a seminary student at Concordia and visited the old seminary main structure just before it was taken down in the 1930s.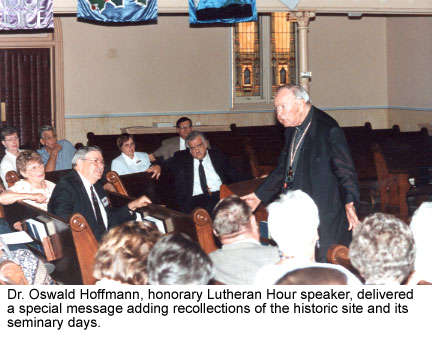 He traced Lutheran Church Missouri Synod history at the site and launched into a message based on the first chapter of John, where Christ is mentioned as the Light the world could never put out.
"Jesus was 100 percent human—altogether human—and at the same time He was 100 percent God...(we) take that as it is...and take people as they are," said Hoffmann, as he applied the Gospel to the work of Orphan Grain Train and the historical significance of the site.