Iowa West
Iowa West Branch
Sharon Irwin - Branch Manager
Home  (712) 273-5575
Cell (712) 660-1380
iowaw@ogt.org
Warehouse:
417 1st Street
Ida Grove, IA 51445
Mailing Address:
Iowa West Branch
P.O. box 152
Early, IA 50535
Warehouse is open on Tuesday mornings from 8 A.M. to 11 A.M. for packing and receiving. The warehouse opens at other times when groups make arrangements for working.
Welcome!
OGT would like to welcome Sharon and Jerry Irwin to the Iowa West Branch in Ida Grove, IA. They are not new to OGT and have volunteered for many years but Sharon recently accepted the role as Iowa West Branch Manager. For the past 22 years, Elroy Koch has been the Branch Manager, his wife Barb was the Warehouse Coordinator, and they have decided to step down. OGT appreciates their dedication and hard work that they have shared with the missions of OGT and to Iowa West Branch. It was wonderful having Sharon and Jerry visit the OGT home office today and we welcome them in their new roles.(8/2016)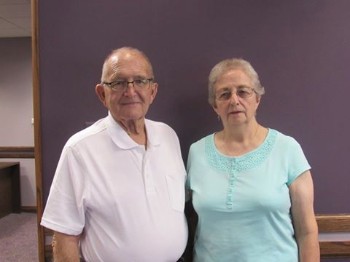 ---
Blessings to Riga from Iowa
Iowa West Branch volunteers were busy August 5th loading 1,603 boxes and equipment for a shipment to Riga, Latvia. The cargo included bedding, blankets, quilts, clothing, coats, shoes, canes, walkers, crutches and wheelchairs. This shipment will leave Ida Grove, IA, be placed on the rail for its journey to a port in New York then across the Atlantic Ocean by barge to Riga, Latvia. Thank you to our donors and volunteers for making this voyage of humanitarian aid possible.(8/2016)
---
Smiles Abound 
OGT's recipient Latvian Foster Family in Riga, Latvia sent pictures of them unloading and distributing the humanitarian aid shipped from the Iowa West Branch. The shipment of blankets/quilts, men's, women's, and children's clothing, coats and shoes were loaded and shipped on March 31, 2016 from Ida Grove, IA. Latvian Foster Family said "thank you for the wonderful goods and the support for their people". Thank you Iowa West volunteers and donors for getting these goods together for families in need in Latvia.(5-2016)
---
Container Full of Warmth Shipped Off
Thursday March 29, 2016 the Iowa West Branch loaded a shipment for Foster Family Services in Riga, Latvia. The organization will receive 1,599 boxes of blankets, quilts, men's, women's and children's clothes, coats and shoes. Our dedicated volunteers in Ida Grove, IA did a lot of sorting, packing and loading of boxes to give love and hope to families needing help. Thank you!!(4-2016)
---
Latvia should recieve shipment by Christmas
On November 18, 2014, Iowa West Branch shipped a load to Riga, Latvia and it should arrive towards the end of December.  The 40 ft. container was filled with 93 boxes of quits, 24 boxes of gloves/hats/scarves, 1,375 boxes of men's, women's, and children's clothing/coats/shoes, crutches and walkers.  The picture is of the volunteers that loaded container.  Thank you for all your hard work, especially on a very cold day.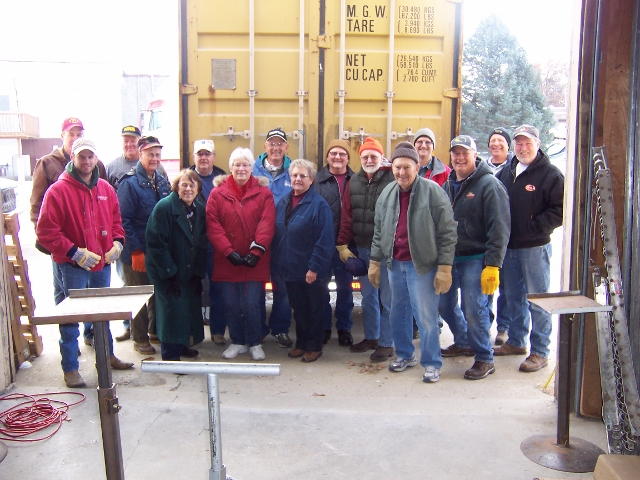 ---
Iowa West loads shipment for Lithuania
On Thursday, July 24, 2014 Iowa West branch loaded a shipment for Lithuania. The wonderful volunteers were tested with several obstacles.  First there was confusion by the trucking company who delivered the empty container to Norfolk instead of Ida Grove, IA.  So following a 3 or more hour delay the volunteers were still there to load - - - then it rained - - - then it hailed - - - and then they were done!  Meanwhile they packed more boxes of clothing and goods for Orphan Grain Train and snacked on great treats from Elroy and Barb Koch.  Thank you volunteers!  They loaded 1,577 boxes of clothing, shoes, bedding, layettes and hygiene kits, along with wheelchairs, baby cribs and mattresses for Lithuania.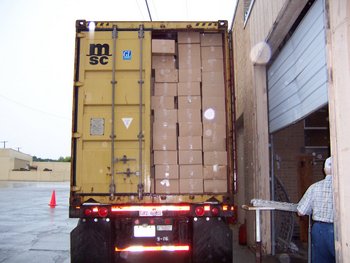 ---
Iowa West Sends a Shipment to Latvia
Iowa West loaded a container for Talsi, Latvia. The inventory included men, women, and children's clothing, shoes, coats, canes, crutches, walkers, and wheelchairs. The picture is their group of volunteers that loaded this container on the first day of spring, March 20, 2014. Thanks again to our wonderful, hardworking volunteers!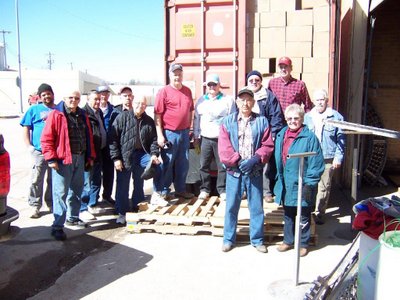 ---
Destination Latvia
On March 3, 2009, another shipping container was sent to Latvia filled with used clothing, shoes, wheelchairs, and crutches.
Volunteers at Ida Grove, Iowa, hoist hospital bed into container for Uzbekistan.

Medical equipment finally loaded with only a few cubic feet left at the end of the container. Boxes of clothing and other supplies will fill out the load.

Shipment to Uzbekistan is loaded and volunteers are ready for lunch.