Europe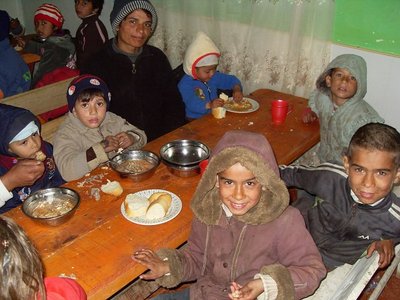 Romanian Children Eating OGT Food
Orphan Grain Train had its beginning serving the people of Eastern Europe. Today we have served many European countries in the Name of Jesus, delivering clothing, medical, quilts and other supplies to people in need. here is a list of some of them:
Armenia
Azerbaijan
Belarus
Bulgaria
Czech Republic
Estonia
Georgia
Kazakhstan
Kyrgyzstan
Latvia
Lithuania
Moldova
Romania
Russia
Ukraine
---
Grateful for Such a Fruitful Partnership
The last eight years Bible Mission International has received humanitarian aid from OGT to share with families, clinics and organizations in desperate need. They also offer Bible studies and groups with a single purpose: that people come to know Christ. OGT is grateful for this working relationship and to be able to serve those in need in Moldova. Bible Mission had this video produced to share their gratitude to the volunteers and donors of OGT that make these shipments of goods possible.(7/2018)
---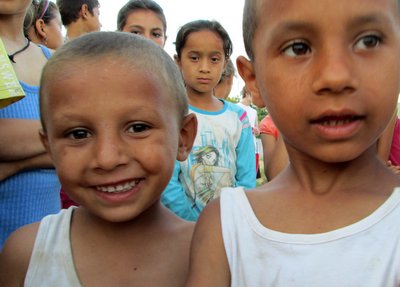 Romanian Children at a Feeding Station
Bread of Life for Romania
Bread of Life Ministries in Romania, our newest recipient, has a warehouse and orphanage located in the town of Brosteni. In addition to the orphanage, 35 feeding stations in various towns and villages across Romania have been established by this ministry to try to meet the needs of hungry people. The children and others who receive meals at the feeding centers also receive the message of the love of Jesus through His life giving Word of forgiveness and salvation. Among the children served by this ministry are 105 orphans who live in the orphanage, and street children, whose only other source of food is the local garbage. As Cecil Pagel, Founder of Bread of Life Ministries, said, "The children will steal your heart. They truthfully have no voice. They are there, unsung and unknown. They are going to bed abused, beaten and starved. The only hope for them is to care." His wife, Phyllis shared, "Most of them, if they have a home, live in little huts with dirt floors. Some of them bring their pigs into the house for warmth. They can't go to school because they have no clothing or school supplies." Others who are served on a regular basis by the feeding programs are people confined to a leper village, as well as elderly and disabled people. In November, the three warehouses which stored food for the daily feeding of about 2000 people, were nearly empty. In fact, the ministry was unable to keep up with the demand for food as the need far exceeded their resources. Funds from the ministry account, were used to purchase emergency food supplies, but providing food for thousands for an extended period of time would require something more. In December, Orphan Grain Train was contacted by Eric Honea to ask if we could help with this crisis. You already know the answer. Orphan Grain Train's wheels were ready to roll toward Romania! It took several weeks to get all of the needed paperwork in order to satisfy government regulations. Finally on April 2nd, Orphan Grain Train volunteers loaded 259,200 Kids Against Hunger meals into a 40 ft. shipping container, for the children of Romania.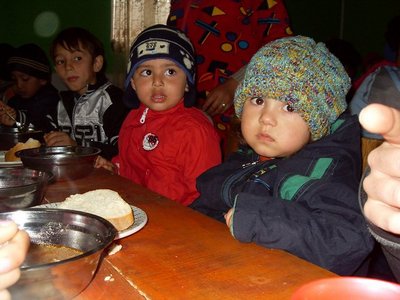 Sweet Little Orphans
It is normal when we send the first shipment into a new country, to have concerns about possible problems in the ports. According to Cecil Pagel, "It was perfect; just came right through customs. Documentation was great and everything was received without any delays or any problems. It was a great blessing." "When we notified our feeding centers that the container had arrived there was hope and joy and a lot of enthusiasm and happiness, especially when our delivery trucks started arriving at each of these villages where we have a feeding center. Once again you could smell the aroma of food cooking in the village and the children came from all directions. This is something that you did. We are indebted to you and God will have to pay our debt back. He that gives to the poor loans to the Lord, so God will reward you for what you have done. Thank you very much. Thank you for the sacrifice that you have done for the children of Romania." Since things went so well with our first shipment, another shipment containing food and additional relief items was lovingly packed and shipped just days ago. Included in the shipment were 350 boxes of winter clothing and coats, 140 boxes of hygiene kits, 105 boxes of blankets and quilts, 15 dorm room desks, 129,600 Kids Against Hunger Meals, and other items. We pray that Orphan Grain Train would continue to be a blessing to the precious little children of Romania. Lord willing, we plan to send more shipments of food and other necessities to help the orphans in Romania. If you would like to partner with us, in this mission, your donation of any size will help. Be sure to note "Romania" on your gift.
---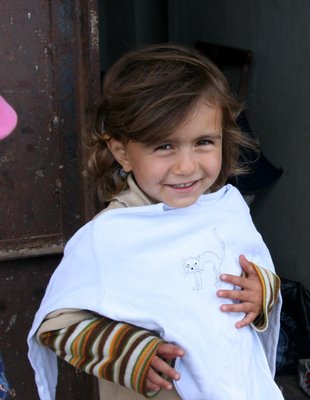 Moldova Child with OGT Clothing
"Thank You" from Moldova
The following heartwarming letter was translated into English by one of the workers in Moldova who took Orphan Grain Train clothing and blankets to this struggling family. My Dear Friends, Thank you so much for not forgetting us. We enjoyed so much the bags with clothes and blankets we received. The clothes where just our size. Me and my sister we are orphans. We live with our grandmother in a small village in Moldova. Grandma loves us very much but for her it is hard to get us things we need. Her pension is too small but we need lots of things for school, especially clothes for winter. In the bags we got winter clothes, socks, pants even got some clothes for our grandma. She did not buy clothes for a long long time for her this was a great gift. We wish you blessings and health and may you be able to help many kids like us in our country.
---