Asia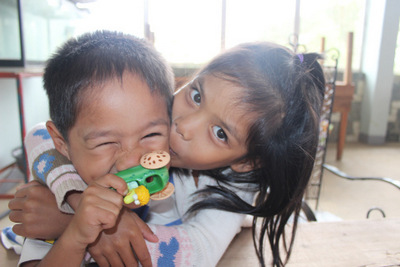 Philippine Siblings Hug
Orphan Grain Train has assisted with humanitarian aid efforts in the following Asian and Southern Pacific Countries:
Bangladesh
Cambodia
India
Iraq
Mongolia
New Guinea
Philippines
Tajikistan
Thailand
Uzbekistan
Vietnam
Japan
---
Delighted to Receive So Many Blessings
New Hope Rehabilitation Foundation in Tashkent, Uzbekistan assists individuals with orthopedics and prosthetics needs that cannot afford these medical necessitates. New Hope and its patients were thankful and amazed for the a shipment of child handicapped chairs, patient lifts, commodes, toilet risers, orthopedic boots & prosthesis, PETs (all terrain wheelchairs), therapy tables, walkers, bicycles, and toys, blankets/quilts, clothing, shoes and new underwear from the Norfolk warehouse. They shared that the goods will be distributed also to Uzbek Society of Disabled People in different locations of Uzbekistan. What wonderful life-changing blessings for disabled people.(5/2018)
---
Overjoyed to be Mobile
Orphan Grain Train received these pictures from Kids International Ministries (KIM). KIM received the Child PETs (all terrain wheelchairs) from OGT and gave them to Gentle Hands which works with disabled children. They were overjoyed to receive these for the boys and be able to give them the freedom to get around on their own. Caleb, the first boy has cerebral palsy and is unable to walk. CJ is a palliative patient who is suffering from stage 5 renal disease and kidney failure. The smiles say it all! God is good!(12/2017)
---
Dear Lord, Bless this Food To Their Bodies
Jeff Long with Kids International Ministry (KIM) emailed pictures of one of their feedings for squatters (displaced families) in Arenda, Taytay. The children are giving thanks before eating Mercy Meals donated and shipped by OGT. The feeding has 35 regular kids weekly. Occasionally, the feedings are to a larger number of kids from about 150 to 200. What precious children giving thanks to God for their food.
---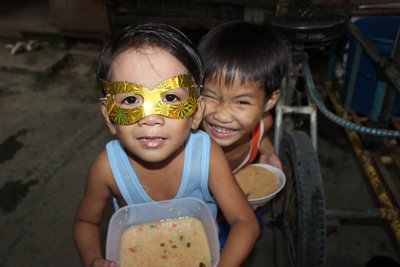 Boys Happy to Have Food
"Project Feed 500" in Action
The following is part of a thank you was received by Karen, our Transportation Coordinator for International Shipments, on June 3rd. It is from Doug Bennett, Board Chairman for Kids International Ministries, an organization that distributes food and other relief supplies to children in the Philippines. Money from "Project Feed 500" pays for the food shipments from Orphan Grain Train. Hi Karen, This is Doug Bennett with Kids International Ministries. I wanted to personally thank you and your organization for the food you provide us. Without it we would not be able to do the feedings we do. With these feedings we are not only able to feed the hungry children a nutritious meal but are able to help them in other ways. Because of our feedings we have been able to find children with medical needs from infected wounds, broken bones to cleft palates. We have been able to help a great number of these children. Dewey Bland who heads up our feeding program estimates that we feed over 10,000 meals a month and give medical attention to about 800 children a month! Again, we couldn't do this without the help of your organization… Thank You, Doug Bennett Kids International Ministries Board Chairman
---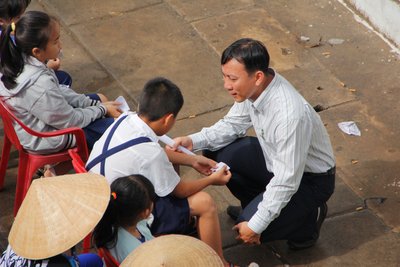 Director of LHM-Vietnam, Dinh Hai Au
Nourishment for Body and Soul in Vietnam
On a rainy day of September, elderly people and orphans gathered very early in the morning in hopes of getting some of the 259,200 Mercy Meals that had been provided to Lutheran Hour Ministries for distribution in Vietnam. The hungry people were told that the Mercy Meals were the "rice of love from people who have already received it from God". During the distribution, caring LHM volunteers took time to share the love of Jesus with the recipients. A booklet was given to each one, which explained the message of the Gospel. Friends of the orphans came asking for their own copy of the booklet, as they were hungry to learn more about Jesus. Our contact in Vietnam said, "To be honest, we see that what we have been doing especially the Mercy Meals here helps our ministries a lot. Due to the Orphan Grain Train project we can have more influence on people who live in the remote areas….because we support them their physical need. We are sure that one day they will get to know Jesus thanks to our deeds and booklets. We highly thank God because the gift from you - OGT, the love of Jesus now comes to every corner of Tra On District."
---
Papua New Guinea
Back in 2010, Orphan Grain Train's very first memorial shipment was sent in memory of Gail Otten, a wonderful child of God who spent much of her life serving as a librarian in Lutheran schools. The shipment, very fittingly, was filled with school books and school supplies for the thousands of children who attend Lutheran schools in the Highlands of Papua New Guinea.