Africa
Orphan Grain Train has assisted with humanitarian aid efforts
in the following African countries: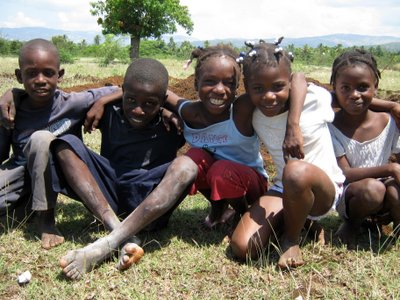 Sudanese Children
Cameroon
Congo
Ethiopia
Gambia
Ghana
Guinea
Kenya
Liberia
Madagascar
Malawi
Nigeria
Sierra Leone
Somalia
South Africa
South Sudan
Sudan
Swaziland
Tanzania
Uganda
Zambia
Zimbabwe
First Shipment to Zambia
November 28, 2016 OGT shipped its first load ever to Zambia, which means OGT has shipped humanitarian aid to 66 different countries. The new recipient, Gospelink Zambia operates a medical clinic in Chongwe, Zambia. Dr. Marjie Heier, one of the doctors from the clinic visited the Norfolk home office in early October. Much of the medical supplies and equipment were donated specifically for this shipment. The shipping container purchased by OGT will remain at the clinic to use for storage. The clinic is Chifundo Rural Health Center, operated in conjunction with the Ministry of Health, and serves about 15,500 patients. They will be receiving 28,512 Mercy Meals, clothing, furniture and office equipment, household items, medical equipment and supplies, bicycles, books, and tools. What great blessings for another part of the world where OGT can serve those in need.(11/2016)
Maryland Shipped to Cameroon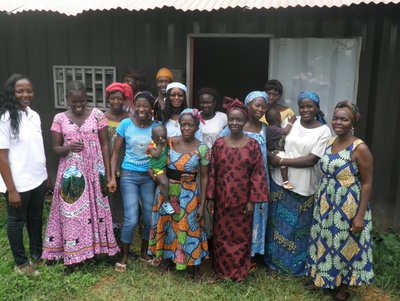 Sewing School Students in Front of School
Volunteers in Maryland loaded a shipment, on February 24, 2014, for Cameroon, Africa. Items loaded were 132 boxes of clothing, 20 boxes of quilts, 20 boxes of linens, 20 boxes of Bibles and Christian resource materials, 10 heart monitors, 5 hospital beds, 2 baby warmers, 2 ultrasound machines, miscellaneous hospital equipment, school kits, school desks, hygiene kits, toys, sewing machines, sewing supplies (for the Lutheran Hour Ministries sewing school), and other needed items.
---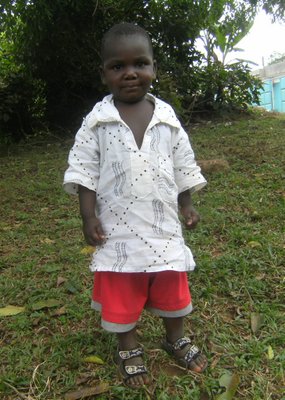 Happy Little Ghana Boy
Letter of Appreciation from Ghana
Save the Poor, one of our recipients in Ghana, delivers Orphan Grain Train supplies to schools, hospitals and orphanages. Some of the items we have shipped to them include blankets, clothing, shoes, hospital equipment & supplies, PET all-terrain wheelchairs, crutches bicycles; sewing machines; Bibles, toys, desks, chalkboards and school supplies. The following is a letter of thanks from the director, Samuel Yeboah. Dear Believers in Christ, It is with great pleasure that I extend warmest greetings to the members of the Orphan Grain Train Inc. On behalf of our dear organization, Save the Poor International, and the entire communities in Ghana where we operate, I wish to express our deepest and sincerest appreciation for the wonderful gift of a 40 ft. container of humanitarian aid materials to help us in spreading the Word of God and to help extend our activities and operations in Ghana, respectively. In view of this, I am very happy to inform you that we have successfully received all the 919 pieces that you sent to us as expected. May the Almighty God richly bless each and every one in your organization and all those who contributed their quota to support this course… and may the good Lord give all of you the necessary support you may need in championing this endeavor. Please as you reflect upon this special milestone, you may take great pride in your dedication to helping others. I commend each of you for your compassion and generosity of spirit, and for your unwavering commitment to making a real difference in the lives of countless individuals throughout the world. I hope this will not be the first and last but it will continue till Our Lord Jesus' second coming… May the Good Lord richly bless you. Amen Yours faithfully, Mr. Samuel Annoh Yeboah
---
Evangelical Lutheran Church of Liberia Says Thanks
The peace of the Lord!
On behalf of the Lutheran Church of Liberia, I like to extend our heartfelt thanks and appreciation to you and your organization, the OGT for this level of support given the Church and people of Liberia. I say Liberia because we have been reaching out not only to the Church, but the Government and it people. You probably remember last sending us a shipment of medical supplies. We mostly distributed said supplies to our Government Hospitals.
I will attach a photo of said donations as was distributed. We there want to say many thanks for supporting both our spiritual and human resource ministry in Liberia. We are so grateful for the text books and thank God for proving to us that his days of miracles are not yet over. It is so amazing the way the books were provided to meet the needs of our 16 Lutherans schools across Liberia. Finally, we will appreciate you sending the original bill of landing along with the custom and port clearance fees before the arrival of the container. That way, we will be able to process all documents for clearance before the arrival of the container. That will also help to prevent over-storage charges which we usually run into.
Rev.Amos Bolay President/Bishop
Evangelical Lutheran Church of Liberia

Orphan Grain Train's shipment to the Lutheran Church of Liberia contained: 70 boxes of blankets/quilts 1 pallet of sleeping mats 1 church altar 5 church kneelers 68 boxes of Bibles 133 boxes recreational clothing 10 boxes first aid kits 1 microscope 20 chalkboards 95 boxes school supplies 64 student desks with chairs 20 boxes of high school science text books. Note: We at Orphan Grain Train are so happy with the textbooks. When the load was set up, Rev. Bolay had specifically asked for Biology and Chemistry books. We had no high school text books in inventory. Then a few days later we received a call from a high school teacher who called to see if we needed some science textbooks. He drove about 60 miles to bring us the high school science text books to be included in the load. Although we were not able to provide, God did!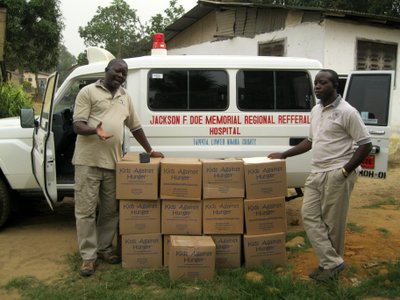 Rev. Amos Bolay