Storms
Helping Marshalltown Iowa After Devastating Tornado
On July 19th a F3 tornado ripped through Marshalltown, IA leaving behind 89 homes and 7 businesses destroyed and another 525 homes severely damaged. Many families are displaced and struggling with daily tasks with not having a home. Central Iowa Branch delivered 25 quilts, 10 pillows and 3 boxes of clothes to Trinity Lutheran Church for the tornado victims. The Norfolk warehouse volunteers loaded 50 twin mattresses, 8,571 pounds of various foods and paper products along with 3 crates of toothbrushes to give some hope and relief to the residents of Marshalltown. Please pray for the families and workers helping to clean up and rebuild after a devastating tornado.  (9/2018)
---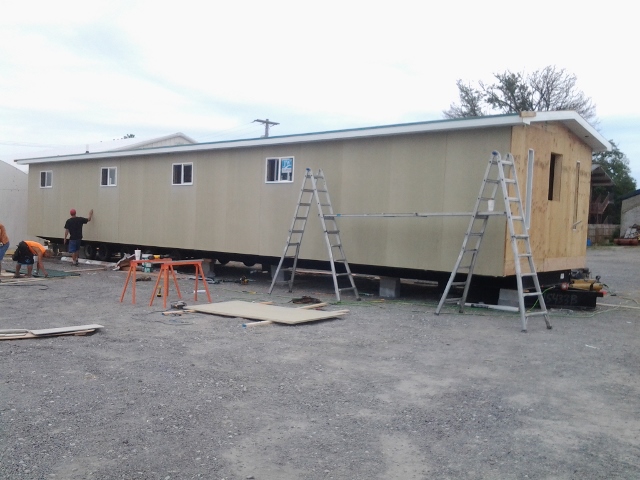 Mobile Chapel being painted
Mobile Chapel's Outside Completed
The Mobile Chapel that is being built at the OGT Norfolk Office is about finished on the outside. The roof is on and it has been painted. This Mobile Chapel is being built by Orphan Grain Train and is being funded by a grant from Lutheran Church Missouri Synod. The Chapel will be placed in Pilger, NE for Pastor Terry Makelin to use as his temporary church until St. John's Lutheran Church is rebuilt. The church building was destroyed by a tornado in June.
Mobile Chapel Being Built
Due to a generous donation from The Lutheran Church – Missouri Synod, Orphan Grain Train is in the process of building a mobile chapel that will provide for a place of worship for the members of St. John's Lutheran Church, in Pilger, Nebraska.  We are both pleased and proud to be able to provide a place of worship for the members of St. John's, as they continue to recover from the June tornado that destroyed their church building. Through generous donations, Orphan Grain Train has been able to provide aid to many families in Pilger as well as to families in northeast Nebraska. We are saddened by the damage that was done by this tornado and the hardships that so many have had to deal with. Our prayer at OGT is that this chapel will allow the members of St. John's and the community of Pilger, to gather and worship together as they continue to rebuild.
| | |
| --- | --- |
| Beginning stage of the Mobile Chapel | |
| Walls are built on the Mobile Chapel | |
Stories Bring Tears to Our Eyes
As of August 15, 2014, Orphan Grain Train has given out over $80,000.00 to northeast Nebraska tornado victims. The families have shared how they lost everything except the clothes on their back.  They recount the horrors of living through the tornado, huddled in their basements while their houses are lifted off the foundations and then looking up into the blackened sky.  Orphan Grain Train is committed to giving 100% of donations to the northeast Nebraska tornado victims.   OGT has also delivered 21- forty-foot security storage units to tornado victims to lock up their salvaged possessions.  There is still much that needs to be done for the families that lost everything; homes, cars, and belongings in the tornadoes last June.  If you would like to donate to Nebraska tornado victims, please designate on the check and mail to Orphan Grain Train P.O. Box 1466 Norfolk, NE 68702 or go online to www.ogt.org.  Thank you for your support.
OGT Continues to Help Tornado Victims
Since the end of July, Orphan Grain Train has given over $70,000.00 to the tornado victims to allow for them to use for their own specific needs. We are committed to giving 100% of all donated money directly to the victims of the storms.
We have met with a grandmother who lost her granddaughter, as well as having her daughter( the child's mother), severely injured in the tornado, we met with a single mother of four that had nothing left, as well as  a couple who now has only a trailer to live in for the next 12 months. All the stories are real and brings a tear to all of our eyes.  We want to thank the many people, churches, and organizations that have sent us their donations for the victims of the Northeast Nebraska Storms.  We are able to give some form of aid to the people that are desperately in need! It is humbling to hear the heartache and stories of loss that each of these families have experienced, but it is a true blessing that all of us here at OGT can express God's love to the victims through these gifts and acts of kindness!
Several of the victims who admitted that they had not been at church for awhile, have expressed their gratitude and stated that as a result of having their life spared and receiving OGT financial support and aid, they will be giving thanks to God, and returning their family back to church. To all of us here at OGT, there could not be a better response!
Pilger and Northeast Nebraska are Devastated by Tornadoes
The people of Pilger, Nebraska and the surrounding area were devastated by tornadoes on June 16, 2014. OGT was there that night and again the next morning to see what we could do to help. Pilger has been evacuated and is in the process of assessing the situation. At this time, OGT is accepting donations for Pilger & Northeast Nebraska Tornado Relief Fund. The monies will be used however needed for disaster relief for the people of Pilger and the surrounding area. To donate, please mail check to Orphan Grain Train P.O.Box 1466 Norfolk, NE 68702 or go to our website www.ogt.org. The pictures are of the destruction of Pilger.
| | |
| --- | --- |
| Pilger, NE after tornado | Downtown Pilger, NE |
| Pilger, NE | St. John Lutheran Church bell tower is all that stands |
| Pilger, NE | Pilger, NE |
Clayton Andrews Visits Pilger
Clayton Andrews, co-founder and CEO of Orphan Grain Train, is at the Disaster Communication Center in Pilger, Nebraska shortly after a tornado ripped through the town. Clayton was assessing the damages and seeing how OGT could best serve the people devastated by the tornadoes.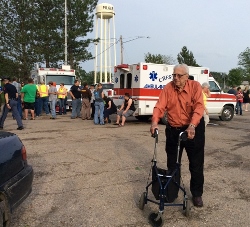 Orphan Grain Train delivers storage containers
On June 16, 2014, Pilger and northeast Nebraska were devastated by several tornadoes.  After the tornadoes hit, families began to rummage through what was once their home to find whatever possessions they had left.  Then what do they do with the possessions, where do they put them?  Most of the tornado victims didn't even have a car left.  Orphan Grain Train immediately started delivering 40' security storage containers at no charge for the tornado victims to use for their few salvaged possessions.  The containers were placed in Pilger and surrounding communities devastated by the tornadoes.  Pictured are some of the containers located in Pilger, NE. 
| | |
| --- | --- |
| 40' Security Storage Containers | |
Orphan Grain Train Helping Victims of the Tornadoes
The picture is of volunteers in Pilger, Nebraska taking a break from the hot sun and cleaning up from the tornadoes that destroyed 75% of the town on June 16. The Orphan Grain Train truck is a refrigeration truck to keep water cold for the volunteers. OGT has also placed several 40 ft. security storage containers throughout northeast Nebraska for tornado victims to put their possessions. Thank you to the volunteers for your help and support for the people devastated by the tornadoes.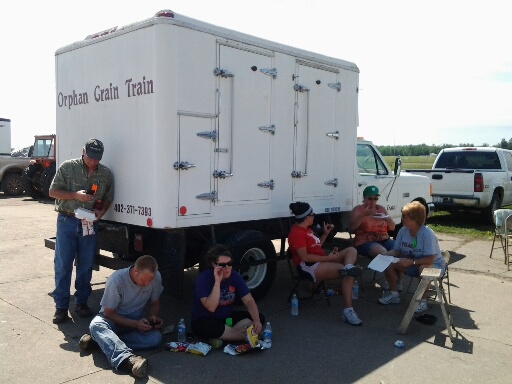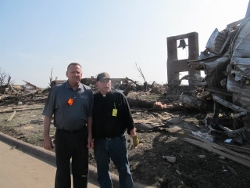 St. John's Lutheran Church is Destroyed by Tornado
St. John's Lutheran Church and parsonage in Pilger, NE were destroyed by a tornado. Pastor Terry Makelin and his family were not home at the time of the tornado. All that is left of the church is the bell tower to show where the church once stood. Pictured are Pastor Makelin and Grant Schmidt of Orphan Grain Train.
| | |
| --- | --- |
| Pastor Makelin at his temporary church office from OGT | OGT set up temporary tents for church service |
Orphan Grain Train Helps St. John Lutheran Church
Pastor Terry Makelin of St. John Lutheran Church of Pilger, NE lost his church building and personage in the June 16, 2014 tornado.  All that was left standing was the bell tower.  Neither he nor his family were home during the tornado.  Orphan Grain Train is supplying a mobile office unit for the church to operate out of until a more permanent office can be built.  OGT also put up tents where the church once stood for St. John's parish to have church service.  Pictured is Pastor Makelin at his temporary church office and the tents are his temporary church service site.
---
Joplin And Birmingham Tornado
NORFOLK, NE (May 25, 2011) Flood and Storm Update. Orphan Grain Train is establishing a warehouse in the Joplin area to aid the victims of the latest round of tornados. FEMA has indicated that the search for survivors is ongoing and as a result, no one is allowed to enter the area directly affected by the storm, at this time, without permission. This information is changing hourly, so by the time this information goes out, it may change. Orphan Grain Train is working closely with disaster professionals there so that needed items will get to the victims as soon as possible. A semi-load of relief supplies, including cleaning supplies, tarps, bottled water, personal hygiene items, charcoal, quilts, lanterns, chainsaws, and other needed items, have been sent to the tornado victims in Birmingham. They also received 11 mobile units, storage, restroom/shower and bedroom.
Hurricane Sandy Update
Crisfield, Maryland was devastated by Hurricane Sandy. Over 300 homes were completely destroyed. The MD chapter of OGT trucked over 2,000 items in late 2012, including scrub buckets filled with cleaning supplies, warm gloves, hats, socks, and blankets. Volunteer village and water were also shipped. Construction crews were recruited to go down to Crisfield and work with other churches to rebuild the homes that were either completely leveled or substantially destroyed. Rockaway, Long Island, New York also sustained significant damage from Hurricane Sandy. The Maryland branch sorted, packed, and hauled 700 blankets to the storm victims in that area.
---