Terror Attacks
Turkey's Delivered to New York After 9-11
City Harvest leaders were very excited. "What a Godsend this is," they exclaimed. They were concerned about Thanksgiving in New York City this year with a 37% increase in the number of new hungry people and a 36% decrease in their donations since September 11.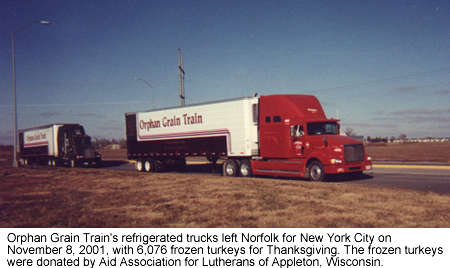 "There is a whole other side of this rescue effort - the New Hungry," says City Harvest Executive Director, Julie Erickson. The New Hungry are represented by in the 37% increase in requests for help since September 11.
City Harvest normally receives 2,500 turkeys each Thanksgiving for the hungry. This year, City Harvest will give away 8,500 turkeys to families hurt by the attacks on the World Trade Center and to agencies that serve the other hungry people of New York.
City Harvest was grateful for the semi-trailer truckload of "real" food Orphan Grain Train sent from Norfolk, Neb., in October. Soon after, they asked if Orphan Grain Train could help find 6,000 turkeys for Thanksgiving. City Harvest has had "turkey drives" for years. But, this year will be the closest they have ever come to meeting their goal thanks to the gift of 6,076 turkeys.
"We cannot tell you how people were literally dancing in the aisles around here," said Pat Barrick,
City Harvest Director of Media Relations.
City Harvest is America's oldest and largest food rescue organization. They collect excess food from restaurants and grocers, and deliver the food to soup kitchens, homeless centers, and other places that serve those in need. While food banks store donations of nonperishable foods until needed, City Harvest delivers food directly to agencies that can use it.
In 1998-99, City Harvest "rescued and distributed" 12.5 million pounds of food. Today it provides food for 451 New York agencies feeding over 200,000 people per week in the greater New York City area. Since September 11, City Harvest also helps feed thousands of firefighters, police, and volunteers working at Ground Zero, as well as families who lost their source of income that day.
How did Orphan Grain Train learn about City Harvest? Orphan Grain Train Advisory Board member, Rev. Walt Winters, of Lutheran Hour Ministries, St. Louis, Mo., knew of City Harvest, and introduced us to their work with the hungry of New York. When Orphan Grain Train's Rev. Ray Wilke contacted City Harvest, he found they needed food because of increased demand and decreased supply since September 11.
"Orphan Grain Train's ministry has been magnified and accelerated far beyond what it could normally do for the people of the New York area, thanks to AAL's generous grants," Wilke said. "All of us in the Orphan Grain Train organization thank God for moving AAL to make this generous gift at this time.
"Beyond being a horrendous disaster and a humbling loss, the events of September 11 have caused us to rethink our priorities as a nation. The prophet Isaiah spoke to a nation not so different from ours: 'Learn to do good; seek justice, reprove the ruthless; defend the orphan, plead for the widow. Come now let us reason together.'
"We are seekers of God's will as we gladly do these things. What a blessing as we reason together to gladly follow the mind of Christ."