Floods
Bedroom Units for Houston Volunteers
On Saturday, October 28, 2017 two bedroom units and a storage container left the Norfolk warehouse for Houston. The bedroom units are now set up with electricity on the grounds of Gloria Dei Lutheran Church with the container being used to store tools for volunteers to use while rebuilding homes. On October 30 volunteers had their first night's sleep in the units. OGT is relieved and excited to have the first set of units set up and now to concentrate on the next volunteer village units' placement. Orphan Grain Train wants to thank our donors for their generous contributions that help with the cost of transporting, obtaining permits, and setting up units that give volunteers a place to sleep while helping those in need in Texas.  (11-2017)
---
Hurricane Harvey, Irma and Maria Relief Update
The requests OGT has been receiving for assistance in Texas is for tools and building materials for rebuilding homes. OGT recently purchased $40,000.00 worth of drywall, 5 truckloads which were shipped to the Gloria Dei Lutheran Church in Houston for reconstruction of homes. This is just the start of a large commitment to Houston and the Texas coastal region of Rockport and Victoria for restoration and rebuilding of homes destroyed by Hurricane Harvey. On October 30 we will be moving two of our bedroom units (each unit houses 18-20 beds) to the Gloria Dei Lutheran Church for volunteers to sleep in while using the Gloria Dei facility for meals and showers. We will also send a container that will store tools for volunteers to access. We plan to be there for the long term and this is just the beginning of our commitment to help with disaster relief of Hurricane Harvey.  Pictured is one of the truckloads of drywall heading to Texas on Friday, October 13, 2017.
Now for Hurricane Irma which destroyed portions of Florida, OGT is planning to send volunteer village units to the Fort Myers area as well as containers of supplies for the rebuilding process. We are looking at options for the village to be in a key location with the ability to obtain proper permits. Orphan Grain Train was stationed and assisted victims of Hurricane Katrina for 5 years and we plan to be a part of the rebuilding of homes destroyed by Hurricane Harvey, Irma and Maria for the long term.    
Orphan Grain Train's first relief container for Puerto Rico was loaded Thursday, October 26 and is expected to arrive in San Juan on November 14th. A Christian church, Centro Cristiano Gracia Y Verdad will be receiving the shipper owned container filled with bottled water, generators, canned food, baby food, diapers, cleaning supplies, hygiene supplies, household items, and clothes. Cornerstone Ministry Center in Seymour, Indiana loaded the container with donated goods from the area along with supplies from OGT's Indiana Branch in Jonesville, Indiana. Hurricane Relief funds donated to OGT's International office were used to fund this first of several planned shipments for Puerto Rico. These goods will be distributed to the many families and individuals of Puerto Rico whose lives have been shattered by Hurricane Maria.  Please pray for improved living conditions and comfort for the children, families and workers in Puerto Rico.
The construction supplies can be delivered to the Norfolk OGT warehouse at 606 West Phillip Avenue Monday through Friday from 9 AM – 4 PM.   Monetary donations can be sent to Orphan Grain Train, P. O. Box 1466, Norfolk, NE  68702 or donate on line by clicking the Donate button.  Please indicate Hurricane Relief.  If you would like to double your donations and your impact please read below about Thrivent Financial's amazing offer.  Thank you for assisting the victims of the hurricanes through Orphan Grain Train.  Please pray for those that have lost so much.
Double Your Donation for victims of Hurricanes Harvey, Irma and Maria
Double Your Donation for victims of Hurricane Harvey, Irma and Maria Once again Thrivent Financial will double your contribution for Orphan Grain Train through Thrivent's website. You can make a personal donation on Thrivent.com for OGT to provide assistance to hurricane victims. When you do, Thrivent will double the impact - up to $3 million. This opportunity will run until the $3 million match is met or until December 31, 2017, whichever comes first. Go to Thrivent.com to learn more about Thrivent's disaster response or click here to make your online donation.  To be eligible for the Thrivent match, all donations must be made online through Thrivent's website.  What a wonderful way to double your impact for those in desperate need.
---
Louisiana Flood Relief Continues
OGT continues to help flood victims in Louisiana. Last September the Norfolk warehouse shipped a load of food, water and clean-up/rebuilding supplies to Pastor Ed Brashier, the LCMS Southern District Disaster Relief Coordinator to distribute to volunteers and churches in the Baton Rouge area to help flood victims rebuild. OGT has also given $18,000.00 of donations for "Louisiana" to the Greater Baton Rouge Food Bank to replenish their food supply for flood victims. A Shower Trailer for volunteers was delivered to Baton Rouge from Norfolk, NE. That unit is part of Orphan Grain Train's "Disaster Village" inventory and will stay as long as it is needed. OGT's Ohio Collection Center arranged transportation of 26 pallets of food and beverages from a major food distributor to Baton Rouge. OGT continues to help our neighbors in Louisiana and if you would like to make an online donation, please click on the Donate button and write "Louisiana" in the comments box or you can send a check marked with "Louisiana" to Orphan Grain Train P.O. Box 1466 Norfolk, NE 68701. Thank you for your support of the missions of OGT. The pictures are from Pastor Brashier of the Baton Rouge flooding.  (10/2016)
Amazon Wish List for Louisiana Flood Victims 
OGT is excited to share another way you can donate to the cause of the Louisiana Flood Victims. OGT now has a Wish List with Amazon.com where you can purchase relief supplies that ship directly to the Norfolk warehouse. You can click on the link below or go to amazon.com, create an account, click on Lists (by Shopping cart upper right corner), then Wish List then Your Friends, type in Orphan Grain Train and start shopping.
Thank you for supporting OGT with this domestic disaster.
---
OGT Donates to Help Flood Victims
Memorial Day floods of 2015 devastated Blanco county and surrounding counties in Texas. It had the highest flood waters ever recorded in Texas history and several lives were lost. Orphan Grain Train donated $7,500.00 to the Lutheran Social Services Disaster Response Division. The money will go towards the Blanco River Regional Recovery Team, which is helping residents rebuild their communities. Officials with the counties say they expect the recovery to take several years. The Blanco River Regional Recovery Team is designed to aid in long-term recovery. Prayers for the families devastated by the floods and for recovery efforts. (10-2015)
OGT Helps People in Kansas
Jefferson County in North East Kansas is under a 'boil water' order from the State Sanitation Department. The need for drinking water in Jefferson County KS was brought on by heavy rains. Contaminated runoff polluted a large reservoir that supplies several villages in the county, so residents will be required to boil their drinking water for the next 30 days. During the week of June 15th we delivered semi-trailer full of bottled water as well as a 6,000 gallon tank trailer filled with clean drinking water to Ozawkie, KS. The trailer was parked at a distribution site so that residents can fill their larger containers from the spigots on our trailer. When the trailer is empty, a local trucker will move the trailer to a fill site, then refill it and bring it back to the distribution site. This process will repeat as often as needed. This is another way that Orphan Grain Train Disaster Relief reaches out to help those who are suffering. (6-17-2015)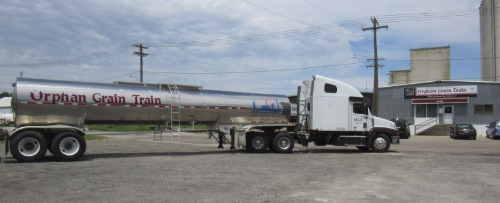 ---
Flood Victims Getting Help
This is a photo of OGT's "Big Kitchen" as it leaves Norfolk warehouse on the morning of June 3, 2015. The kitchen is equipped with a large freezer, refrigerator, stove, ovens, and fryers. It will be serving a Christian Youth Camp near Fischer, TX where their kitchen was destroyed by floodwaters. Summer Bible Camps will be able to proceed as scheduled. When those activities conclude in early August, the Camp will house volunteers that will be working on cleaning up and repairing homes in the area that sustained flood related damage.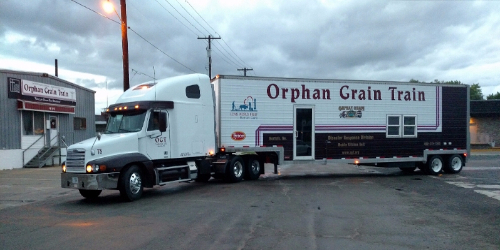 Forgotten Disaster
On June 22, 2011, the city of Minot, ND was hit with a FEMA classified, Level Five natural disaster, as the Souris River, fed by four Canadian Reservoirs, flooded the city for more than five weeks. Water levels more than 12 feet in depth cascaded through the city at up to thirty miles per hour, moving homes and business off their foundations and leaving little more than rubble in its wake. In the flood, an astonishing one fourth of the city's housing, more than 4100 homes, were damaged or destroyed. Compounding the disaster's effect is the fact that the city of Minot, population 43,000, was already consumed by a critical pre-flood housing shortage due to an oil boom economy. The end result is that 12,000 people, nearly one-fourth of the city's population, were scrambling to find shelter of any type. From June to the end of December, there was hardly a family that did not have one or two other families sharing their home. Some homes were shelters for up to five flood-devastated families.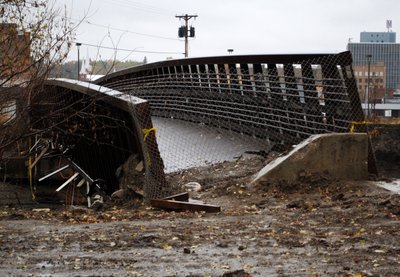 Catastrophic Flood Damage in Minot
What makes this disaster even more tragic for those involved is that flood insurance was non-existent. The flooded areas were not classified as a flood plain, which means that of the 4100 homes that were flooded, only a handful, approximately 280 families, had flood insurance of any kind. Since a person's homeowners insurance does not cover flood damage, an astonishing 3800 families are without any insurance as they seek to rebuild their lives.
The crisis becomes even more intense for devastated families as one considers that only 18 FEMA trailers were in the government's entire inventory at the beginning of the flood. The final family was finally placed in a FEMA trailer shortly before Christmas.
The housing crisis also severely hurt volunteer efforts. Willing volunteers were available.
Orphan Grain Train Rolls into Minot
Two 20 ft. storage units, two 48 ft. storage units, an office unit and tool trailer with tools, generators, pressure washers, a 40 ft. by 40 ft. tent, and supplies for mucking out flooded homes, have been sent by Orphan Grain Train. A volunteer village is in the plans for the near future. Orphan Grain Train sent 21 mobile disaster units which included; 6 mobile shower/restroom units, an industrial kitchen unit, another 45 ft. mobile office unit, 7 bunk bed units, and the mobile chapel unit, which was used in Greensburg Kansas after tornadoes devastated that city in 2007. These facilities made it possible for volunteers to help with the recovery and rebuilding effort, without adding to the housing problem there in Minot. In the words of Rev. Paul Krueger of Minot, "Without the Orphan Grain Train there would not have been a recovery, because everything in the town was destroyed or in such bad shape that there was not a spot to store anything. Disaster recovery for the entire city is being run out of the Orphan Grain Train office unit. If it would not have been there, where would it have happened?"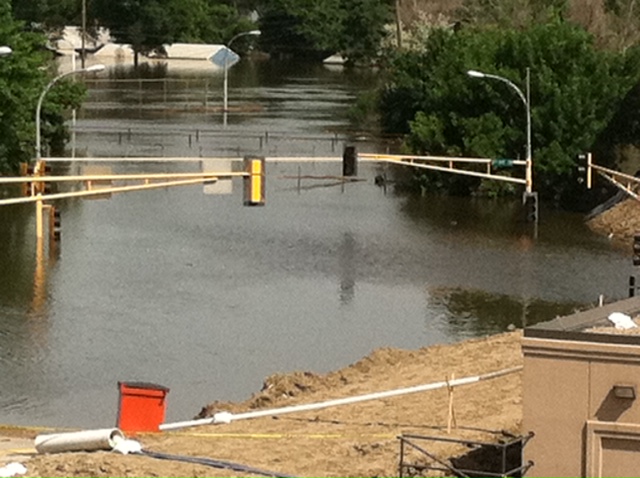 Library underpass in Minot, ND