Castle Rock, CO
Castle Rock Collection Center
Garry D Fuller  Coordiantor
gdfuller@ogt.org
cell: 720-320-1234
Warehouse:
550 Wolfensberger Rd.
Castle Rock, CO 80109
Receiving & Packing Hours:
Wednesday & Saturday 9AM till Noon
Call 720-320-1234 for special requests
---
 A New Sign to Brighten Up the Place
---
All Ages Help Out
Castle Rock loaded 1,649 boxes of clothing and 50 pieces of medical equipment for Talsi Evangelical Lutheran Church in Talsi, Latvia on Feb. 20th.  The youngest loader was 6-year-old Logan, who even wore his own gloves for the event.  We had another milestone, within the load was 180 cloth diapers made by Dottie Bockelmann, the originator of OGT Castle Rock. When asked how many t-shirt diapers she has made over the years, she said that she stopped counting at 5,000. Lot of love there for the principals of OGT.  The load also contained over 250 handmade quilts from Mt Olive church of Aurora, CO and the lady we know as Johnnie from Salida, CO. It also contained over 500 bed sheets from Denver Hilton Hotels.  The Lutheran Church distributes the items to families living in poverty and children needing help with the expense of school supplies. Thank you to those that donate and support OGT.(2/2017)
---
Exquisite Quilts by Amazing Women
What do you get when you put "50" Christian Women together on 'the march' Saturday…? answer…34 Exquisite Quilts! Fifty women, ages 9 to 90 from Mt Olive Lutheran Church of Aurora, Colorado held their 2nd annual quilting marathon this past Saturday for Castle Rock's shipment to Evangelical Lutheran Church of Talsia, Latvia in February. Altogether they donated 74 quilts, including outstanding baby quilts. What works of beauty! Thank you!(1/2017)
---
Grateful for 2016!
December 5th OGT's Castle Rock location loaded its 6th container for calendar year 2016. Castle Rock has truly been blessed in 2016 and has seen unbelievable growth. This shipment to Riga, Latvia of 1,650 boxes brings our 2016 totals to 8,250 boxes, approximately 536,250 articles of clothing in 2016!  These donations help those in need in the US and around the world.  Thank you to our volunteers and donors for all you support, work and dedication to the Castle Rock location. (12-2016)
The Arrival of a Container = Blessings
This past August, Castle Rock Collection Center shipped a load to the John Foundation in Hyderabad, India. The shipment contained blankets, quilts, linens, clothing, coats, shoes, school supplies, and sewing fabric, which was distributed to low income families, the disabled and orphanages. OGT recently received these pictures from the John Foundation sharing the goods with families and orphans in need. Thank you to those that help support these missions.(11/2016)
---
4th and 5th Containers Enroute
Castle Rock has truly been blessed in 2016.  On August 15, we shipped 1,647 boxes of clothing to the Saji John Foundation orphanages in Hyderabad, India.  We loaded this load a little different as we had the empty container dropped in the morning and then we loaded it in the evening to avoid the summer heat.  It went well and as seen in the photo, we had a great turn out of volunteers.  Then 10 days later we shipped 500 school desks, 350 school chairs and 40 double desks to Texas.(9/2016)
---
School is Stocked Up
Castle Rock Collection Center volunteers were busy loading 40 school dorm-style desks, 350 student chairs and 500 student desks for Cornerstone Children's Ranch in Quemado, TX. Such blessings for the children to learn their studies and be inspired by other's generosity.(9/2016)
India's Shipment has Arrived
Last March the Castle Rock Collection Center shipped a load to the John Foundation in Hyderabad, India. The shipment arrived and the foundation unloaded blankets/quilts, linens, clothes, coats, shoes, handbags, stuffed toys, school supplies, fabric and sewing machines. The items will be used in their schools and orphanages they support. Thank you to our donors and volunteers for making this shipment to India possible.(6-2016)
---
OGT Runs in the Family
Ascension Lutheran Church of Littleton, CO. recently had a clothing drive tied to their VBS and the donations went to Castle Rock Collection Center. It turned out to be a generous contribution and it could be that it runs in the family. Pastor Larson is the brother of Becky Carretto, bookkeeper at OGT's International office in Norfolk, NE. Garry Fuller is the coordinator at the Castle Rock Collection Center. Photo L-RT: Pastor John Larson, Garry Fuller and Janet Fuller.(6-2016)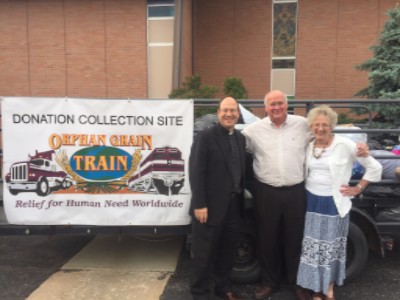 ---
Thank You Volunteers!
Pampali Evangelical Lutheran Church in Pampali, Latvia will soon be receiving a shipment from Castle Rock Collection Center in Colorado. Yesterday the volunteers were very busy loading 1,567 boxes of blankets/quilts, linens, men's, women's, and children's clothing, coats and shoes, adult diapers, soap, stuffed toys, school backpacks, and sewing fabric. That takes a lot of time and strength to sort, pack and load the boxes of donations. What a great looking group of volunteers and I love the smiles while doing for the Lord.(5-2016)
---
It's In The Little Things
Castle Rock Collection Center in Colorado shipped wonderful gifts to Bucharest, Romania. Our recipient, Bread of Life Foundation has an orphanage and feeding centers in the poorer villages of Romania. They have already distributed most all of the blankets/quilts, men's, women's and children's clothing, coats, gloves, hats, scarves, hygiene items, stuffed toys, school supplies and backpacks shipped to them. The children that attend the feeding programs are among the poorest in Romania. Their families cannot afford the basic food needs of their children. They were grateful to receive better clothing and hygiene products, which are out of reach on their meager incomes. They are very much dependent upon the generosity of their brethren within the Christian community. From Bread of Life Foundation "When you look at these photos, we hope you feel the same joy and satisfaction we feel in delivering your gifts to the poor. God does not forget these people or your good deeds. We also do not forget! Thank you! (4-2016)
---
---
Christ's Love Brings Us Together
On March 17, Castle Rock loaded a container for India.  This was a unique load in that we actually met the person who will receive the container, when he visited the USA.  The John Foundation had requested some items that we had not shipped before and therefore it became a challenge to locate them.  However, we were truly blessed in that a local church's quitters who had been in operation for 35+ years closed up shop and we were able to ship (4) commercial sewing machines and boxes of new fabric.  Perhaps the greatest blessing was that this foundation had been able to receive in the past, through India customs, English Bibles and so Castle Rock teamed up with a non-denomination church and together we were able to ship 38 boxes of Bibles and Christian books.  The loading in itself was truly remarkable as this is the first time that Castle Rock had volunteers from five (5) different denominations loading.  Castle Rocks Pastor Chris started to sing a song as we were loading and all the volunteers from those (5) denominations sang right along with him, including the pest control man and the truck driver, who also chipped in to help load.  You had to be there to witness the Love that went into this load. (3-2016)
---
Thank You For Your Service
Last month, Castle Rock Collection Center volunteers in Colorado packed and delivered 32 boxes of clothing and coats for the Veteran's Administration in Denver. What a blessing to be able to help the U.S. veterans. (3-2016)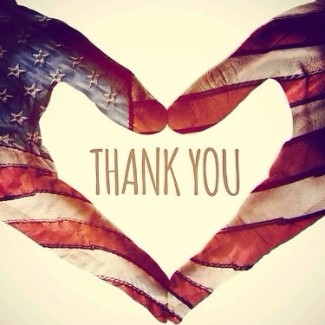 ---
A Recipient Visits for a Tour and a Shipment is Planned
Dr. Saji John, CEO of the John Foundation of India, had a tour of the Castle Rock Collection Center on March 2nd by Karen Engebretson. The John Foundation supports and assists many orphanages and schools for children of India. Castle rock will be shipping a container of clothing, fabric and sewing machines for the technical schools for young girls, along with Christian books provided by Denver area churches. A big thank you to the donors and volunteers that help make this special shipment for the children possible.(3-2016)
---
Inspiring Youth
On January 27, 1016, Hanna Brown and Annie Chambliss visited the Orphan Grain Train Castle Rock Collection Center. These two young ladies are headed on a mission trip to Gojo, Ethiopia. The mission trip is through The Petros Network. They will be working through Petros youth ministry with teenage girls and young ladies during the mission trip. Annie is a member of Our Father Lutheran Church in Centennial, Colorado and Hanna is a member of Greenwood Community Church in Englewood, Colorado. Hanna's father is a Minister at Greenwood Community church and is leading the mission trip. Annie set a goal of collecting 50 children's coats to take to the children of Gojo. The winters are very cold in this area. The Castle Rock collection center set aside children's coats for Annie; and she and Hanna sorted through the coats. Twenty of the coats were acceptable for the area they were traveling to. These twenty coats added to the thirty coats Annie had already collected, reached her goal of 50. These two young ladies are bright shining stars in our world putting their Christian faith to work.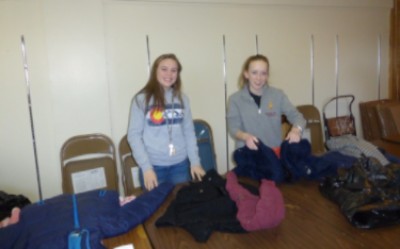 ---
Determined Volunteers
On November 20, 2015, Castle Rock Collection Center in Colorado loaded a shipment of blankets, quilts, clothing, coats, gloves, hats, scarves, hygiene items, stuffed toys, school supplies and backpacks for Romania. The weather was not favorable and this is what Garry Fuller, Castle Rock Coordinator had to say about it:
TEMP WAS 32° WIND WAS 60 MPH and 20" SNOW
NOTHING CAN STOP CASTLE ROCK'S OGT FROM HAND LOADING 1,697 BOXES FOR ROMANIA!
Oh what a night…Orphan Grain Trains nasty winds swept into Castle Rock with winds up to 70 MPH and there they met Orphan Grain Trains nasty snowflakes, and together they deposited over 20". So he started up Orphan Grain Trains nasty snow blower at daybreak and set about to clear the path for the arrival of that gigantic container from the North freight yards of Denver. He took a break and called the freight forwarder where he was met with this non-believer's voice who said: "you can't believe that we would be able to get to you" and HE was met with the reply: "This is Orphan Grain Trains "A" Team, with (1) under the age of 60" …'bring it on'!
Back Row: L-R Kristi Brindle, Rick Brindle, Julie Harris, Jan Fuller, Karen Engebretson, Kathy Kotta, 
Dave Kotta Mike Stenzel
Front Row L-R Terry Boger, Pastor Chris Mathis, Helen Baumgartel, Audrey Olson, Mark Baumgartel, Garry Fuller
Missing from photo: Gordon Carlson, Judy & John Koski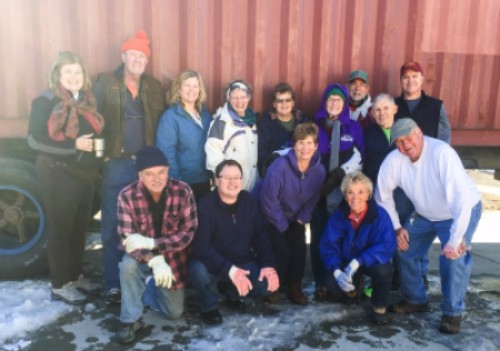 ---
Castle Rock Collection Center has Visitor
Recently, Grant Schmidt, OGT's Vice President of Operations, visited Castle Rock Collection Center in Colorado. He was able to visit with the volunteers and see their sorting and packing facility. Castle Rock volunteers are busy getting ready to ship a load to Romania this month. First picture is of Grant Schmidt on the left with Castle Rock's hard working volunteers. Next picture is Garry Fuller, Castle Rock's Coordinator, Pastor Chris Matthis and Grant Schmidt. The other photos are of the facility and volunteers. Thank you everyone for all your hard work and dedication to OGT.  (11-2015)
| | |
| --- | --- |
| Grant Schmidt, OGT VP of Operations with Castle Rock Volunteers | Garry Fuller, Castle Rock Coordinator, Pastor Chris Matthis and Grant Schmidt, OGT VP of Operations |
| | |
| | |
| | |
---
REMEMBER THESE NAMES…LAWSON & LOGAN McVay…THEY ARE GOING PLACES
10 YEAR OLD TWINS FROM FAMILY OF CHRIST LUTHERAN CHURCH IN MONUMENT, CO.
The boys wanted to help other people and asked their parents, John and Karen McVay, what they could do.  The family tried numerous sources, however, in all cases they were told 'NO' the boys are too young.  Then the boys came upon the idea of baking and selling bread at their church.  I have to tell you that Mothers of twins have to be the most ingenious mother of all mothers, as she has to work with (2) boys in the same manner and that is no easy task.  Before, they put their hands in any flour, Mom told them that they needed to decide who they would donate the funds to and how much money they wanted to raise.  They knew that they wanted to help other people and could not decide.  Their mother explained that there is a web site called Charity Navigator and explained to the twins how it worked and what percent actually went to those in need.  The boys researched each of the top 5 and told their mother that they wanted to donate to OGT, because it helped young kids like them….
The boys now set out to bake bread in Mom's kitchen and baked 200 loaves.  They thought that it would take them all summer to sell each loaf, however, it only took them 2 weeks to raise the funds and in late Sept. we received the following email: I am the Mom to Lawson and Logan from Monument, Colorado, and we want to arrange a time when our boys could present the Orphan Grain Train with $1,000 that they raised baking bread this summer. Our local church, Family of Christ Lutheran Church, allowed us to have a table one weekend to sell and take orders for homemade bread at $5 per loaf. We, as a family, had chosen the Orphan Grain Train as the recipient prior to beginning and now we just want to pass on the funds that were raised.
It has taken time to write this article, because I get teary eyed when I think of these twins and how mature they are for their age and how this Mother and Father are raising them. 
o-o-O-H WHAT A FAMILY
The Castle Rock Orphan Grain Train Volunteers are very proud to know these boys.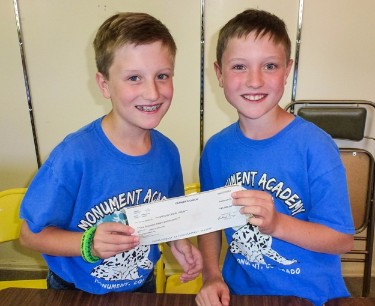 ---
Loaded International Shipment
Castle Rock Collection Center loaded a container on July 31, 2015 with 1,653 boxes of clothing, school supplies and lots of winter clothing for Riga, Latvia. What a day, 26 volunteers came to help including a retired Pastor and an active Pastor. Our 90-year-old packer was on hand to cheer us on. Thrivent Financial provided T-Shirts and soft drinks. Thank you to everyone that helped to sort and pack the many donated items.
| | |
| --- | --- |
| Volunteers take a moment for a picture | Last box loaded! |
Donations Raised for Lithuania
Castle Rock Collection Center in Colorado began to collect items for a load to Taurage, Lithuania and landed up with more than they imagined. The Collection Center Coordinator, Garry Fuller, shares the amazing story: "The Pastor of the Church in Taurage had asked if we could supply Adult Diapers and as a group, we decided to contribute $100 to purchase some. Our $100 only provided us with (2) boxes…so how did we acquire the other (25) boxes. When we took Epihany's food drive items to the Douglas County Food Bank, I told the Manager that I would see him Friday as we always borrow his collapsible roller conveyors when we load a container. He asked how the load was going and I mentioned that I wished I had more diapers and explained to him how few our $100 had gotten us. I also told him that Taurage had asked for medical supplies and equipment. So when I stopped on Friday to pick up the conveyors, he said that he had a large surplus of diapers and donated 25 boxes and that he had a whole lot of medical supplies, walkers, commodes, crutches, and wheel chair that he had for years. The other item that was asked for was Office Supplies... Our own Terry & Cindy Boger donated 15 boxes of Office Supplies. Included were over 250 quilts from Rock of Ages Lutheran of Colorado Springs, Hope Lutheran of Aurora, and First Lutheran of Salida." The load also included 88 boxes of linens, 1,431 boxes of clothing, shoes and coats and school backpacks. Pictured are the volunteers that loaded the shipment for Lithuania. Thank you to all the wonderful people that donated the gifts being shipped and to the volunteers for sorting and loading the goods. (March 2015)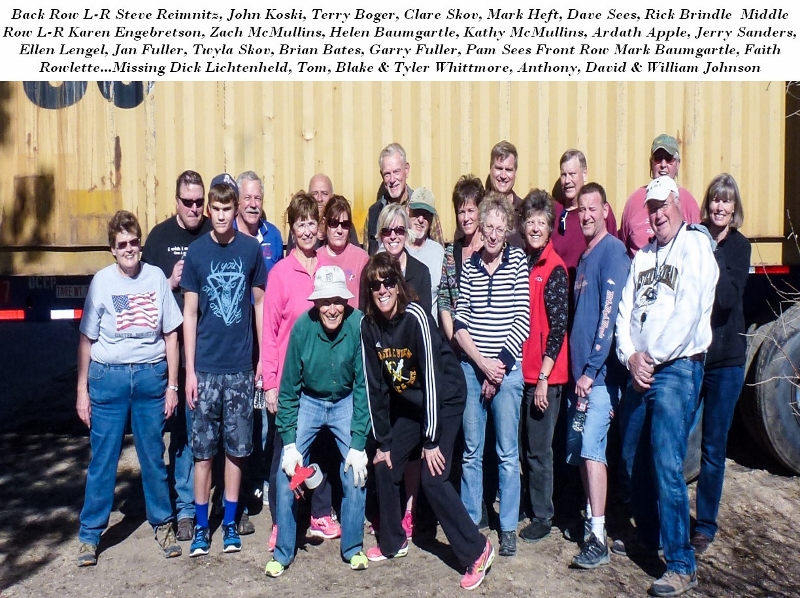 ---
Castle Rock Location Donates to Local Veterans
Orphan Grain Train's Castle Rock Collection Center has a big heart for Veterans as we have several who sort and pack weekly. For reasons unknown the number of homeless Veterans has increased in the Denver area and with this there is a big need for warm coats, winter shoes and clothing. Castle Rock's Ken and Dottie Bockelmann recently delivered to the local VA facility: 205 Winter Shirts 172 Winter Pants 102 Winter Coats 101 pr. Socks 77 Winter Shoes 10 Winter Gloves 16 Knit Caps 15 New Winter Underwear
Castle Rock Ships to Latvia
On Friday, November 14, 2014, OGT's Castle Rock, CO location loaded 1,380 boxes of bedding, clothing, shoes and backpacks for the Lutheran Church at Madona, Latvia. What a blessing for the families in Latvia, especially during the winter season. 26 volunteers loaded the 1,380 boxes in just over an hour, what great teamwork. Pictured are the volunteers loading the shipment for Latvia.
| | |
| --- | --- |
| Castle Rock volunteers loading shipment | Last box loaded for Latvia shipment |
| Volunteers after loading Latvia shipment | |
Thank You Letter Sent for Supplies Received
This past July, Castle Rock Collection Site shipped a load to Lithuania. The load made it there safely this past week. Our recipient Grazina was very grateful for the items and sent the letter below to our transportation coordinator Karen. The inventory included men's, women's, and children's clothing, shoes, coats, blankets, quilts, bedding, t-shirt diapers, mittens, hats, and scarves.

Dear Karen,
Hope you are well. Thank you really for the humanitarian consignment. All the people say "thank you". I forward some pictures for your attention.
With the best wishes from Vilnius,
Grazina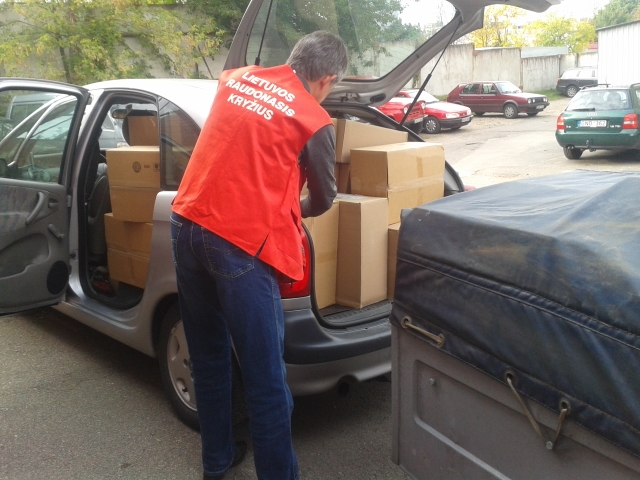 Castle Rock Location Ships One Million Pounds
It was an exciting day on Friday, July 18, 2014 for the OGT Castle Rock location in Colorado. Since 2002, they have shipped a million pounds of cargo! The volunteers loaded 1611 boxes of quilts, bedding, men, women, and children's clothing, shoes, and coats and 200 t-shirt diapers for Lithuania. Pictured holding the sign is Garry Fuller; Castle Rock Coordinator and several volunteers. Thank you for your hard work and congratulations on shipping One Million Pounds!
| | |
| --- | --- |
| Garry Fuller; Castle Rock Coordinator and volunteers | One Millionth Pound loaded |
Volunteers at Castle Rock Location
Volunteers at the Castle Rock OGT location were busy getting a load ready to be shipped.  The volunteers are from four different Lutheran Churches south of Denver.  Pictured are the volunteers taking a well-deserved break after sorting and packing 75 boxes.   Thank you for your hard work and supporting the Orphan Grain Train.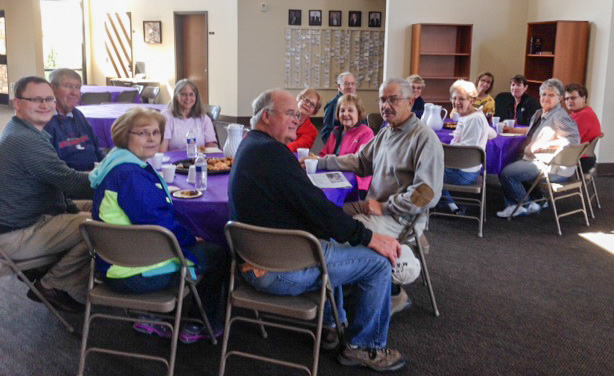 Shipment for Kyrgyzstan
Volunteers in Castle Rock, Colorado loaded a shipment December 20th for Kyrgyzstan. With temperatures around 6 degrees, they had a wonderful day to load. Some of the inventory included winter clothing, coats, shoes, linens, quilts, hats, gloves, scarves and other needed items. Merry Christmas, Kyrgyzstan! The people in the photo (left) are Castle rock volunteers braving the chilly weather to load up the shipment. Thank you, volunteers.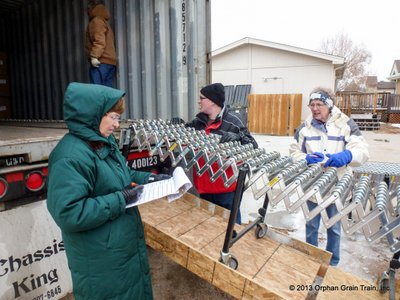 Castle Rock volunteers load a container.
Relief Supplies for Ukraine
A shipment for Ukraine was loaded July 19, 2013, by volunteers in Castle Rock, Colorado, and arrived on February 10, 2014. Inventory consisted of 725 boxes of clothing, blankets and quilts.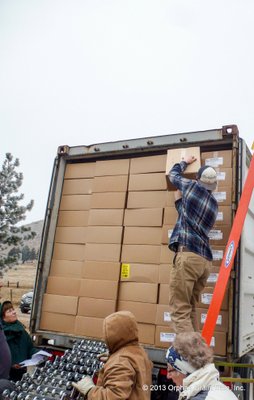 Castle Rock volunteers do a beautiful job.
---
---
---