Maryland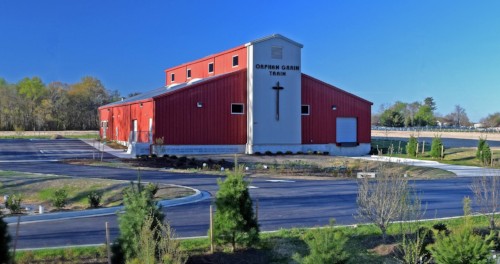 Maryland Branch
Manager: Elfie Eberle
621 East West Blvd.
Millersville, MD 21108
(410) 544-1621
maryland@ogt.org
Mailing Address:
Elfie Eberle
c/o St. Paul Lutheran Church
31 Rowe Blvd.
Annapolis, MD 21401
We offer opportunities for hands-on mission activities!  
Volunteers Needed for Packing/Sorting:
Every Tuesday:  9 - 1 p.m.
2nd Saturday of every month:  9 - 1 p.m.
Donations will be accepted: 
Monday, Tuesday & Thursday  10am - 1pm
 
OGT Miracle
---
Orphan Grain Train - Maryland Branch
Items accepted for Donation
Blankets
Cleaning supplies (for disaster relief)
Clothing and shoes/boots (in good condition)
Winter Coats (distribution in Baltimore)
Dental Supplies
Medical Equipment (including by not limited to):
Walkers, canes, crutches, shower chairs, hospital beds, sheets
Hospital Equipment – baby warmers, heart monitors, therapy tables
Scrubs
Surgical equipment
School Supplies:
Backpacks, new crayons, paper, markers/pencils, chalk boards, desks
Sports equipment
Sewing Supplies (including but not limited to):
Sewing machines, sewing fabric, thread, sewing needles
---
Baltimore's "Helping Up Mission" Receives Winter Clothing
Last month the Maryland Branch volunteers delivered men's and women's winter clothing to Helping Up Mission in Baltimore, MD. They help individuals and families with homelessness and addictions to have a safe, spiritual place to stay and a hot meal.(3/2017)
---
Furnishing Schools in Liberia
February 24th the Maryland Branch volunteers were busy loading a shipment for Liberia. OGT's recipient Joe Boway works with several rural Lutheran schools in Liberia and is grateful to be receiving 6 electronic keyboards, chalk boards, school supplies, 319 student chairs and 230 student desks. Awesome job Maryland Branch volunteers and donors!(2/2017)
---
Relief Knowing Aid Has Arrived
Maryland Branch is relieved and excited that their first international shipment from their new warehouse to Nicaragua made it safely and is unloaded! In September Maryland Branch volunteers loaded bedding, clothing, shoes, hygiene kits, medical equipment, toys, school backpacks, school supplies, sports equipment, and sewing machines/ supplies for Lutheran Hour Ministries. They were able to unload the cargo over the weekend and will distribute the items to families in need and local facilities.(10/2016)
First Shipment Out of New Warehouse is a Success
On Saturday, September 17, 2016, a crew of Orphan Grain Train volunteers in Maryland did something this location has never been able to do before, they filled a shipping container with donated goods from one place—a new warehouse in Millersville. Previously, the Maryland Branch of Orphan Grain Train has had to gather donated items at several locations around the state, waiting while the cost of a shipping container is gradually met by contribution, then use small trucks to bring the items to a shipping container for loading. Logistics were costly in terms of time and effort. Now the Maryland Branch has a central location. The container being loaded is bound for Nicaragua, specifically the Lutheran Church of Nicaragua, which has 14 congregations and 14 schools enrolling 2,700 children. The church also operates a sewing school that teaches a marketable skill to women, enabling them to support their families. The shipment contains men's, women's, and children's clothing; sewing machines; dozens of large boxes of hospital linens, scrubs, and patient gowns donated by a textile company; and hundreds of disability aids such as crutches, walkers, canes, and bathroom aids. Thank you to our donors and volunteers that help make shipments like this possible.(9/2016)
Travels for OGT Staff
OGT's Karen Mangels, International Transportation Coordinator and Chris Carstens, Inventory Manager took time off from their duties at the office and made a trip to the east coast area. This was a dual-purpose trip and they made it using personal funds. OGT's Maryland Branch, located in Millersville was holding their 2nd Annual Luau Fundraiser on Saturday, September 10th. Their locality in the DC area made it possible to also visit one of OGT's Freight Forwarders, BKA Logistics. 
They flew in on Thursday and met up with some of the Maryland Branch volunteers, Elfie & Bill Eberle, Dean Castle and Ron Phipps. They were able to tour the new warehouse and see where their first international shipment will be loaded next Saturday. 
On Friday they met up with Benda Bushell from BKA Logistics whom OGT has done many shipments with over the years. Benda showed them around the office where they met some of the staff. It was interesting meeting the people that they have spent so much time working with through emails and phone conversations and finally putting a face to them. The afternoon was spent seeing the sites and a visit to Arlington Cemetery.
On Saturday, Chris and Karen attended the Maryland Branch Luau, enjoyed Hawaiian food, entertainment and fellowship. Another highlight of the weekend was that Juris Blodnieks of the Latvian-American Shipping Line whom OGT does many shipments with was able to come down from New Jersey and attend the Luau with them. Again, this was great being able to meet face to face with him and speak on a more personal level. 
Karen and Chris are grateful for the opportunity they had to make this trip and appreciate all the hospitality given to them by the people on the east coast. (9-2016)
| | |
| --- | --- |
| Chris Carstens, Benda Bushell and Karen Mangels | Elfie Eberle; Maryland Branch Manager with husband Bill. |
| Ron Phipps, Maryland's Assistant Branch Manager with Karen Mangels, International Transportation Coordinator at OGT's home office located in Norfolk, NE. | Chris Carstens, Juris Blodneiks, Benda Bushell and Karen Mangels at the OGT Maryland Branch Luau. |
| Employees from Latvian -American Shipping Line - Ivars, Anita and Juris Blodnieks. | |
Armed Forces Help to Deliver 
Kids International Ministries (KIM) in the Philippines received a shipment of blankets, bedding, handbell tables, shoes, household items, hygiene kits and supplies, hospital beds, medical equipment, medical supplies, hospital linens, gowns, school kits, backpacks, books, and sewing supplies from OGT's Maryland Branch. The medical equipment/supplies and hospital beds were part of a medical mission's trip to Calayan Island - a remote island in the northern Philippines. The Armed Forces of the Philippines played a huge part in transporting equipment between islands. Much of the equipment will be used in a hospital that was recently built on Calayan Island. What wonderful pictures of the Armed Forces of the Philippines helping with the medical mission trip.(8/2016)
---
Smiles Abound During Independance Day Parade
Joining America's liberty bell symbol of independence and the more sobering reminder that not everyone around the world has freedom from want, volunteers from the Maryland Branch of the Orphan Grain Train decorated a borrowed truck and entered the Severna Park 4th of July Parade. Organized by the Severna Park Maryland Chamber of Commerce, the parade included floats from dozens of public and private organizations. Walking alongside the OGT float in the two-mile-long parade, volunteers distributed hundreds of flyers describing our charitable work. "Now the Lord is the Spirit, and where the Spirit of the Lord is, there is freedom" (2 Cor. 3:17).
The first picture is of Branch Manager Elfie Eberle and volunteers Patrick and Joanne Loprete standing in front of the Orphan Grain Train float. The 2nd picture is of Sam Phipps and Nate Eberle leading the Orphan Grain Train float on the parade route.(7-2016)
So Many Will Benefit
This past May the Maryland Branch shipped a load of blankets, bedding, hand bell tables, shoes, household items, hygiene kits and supplies, hospital beds, medical equipment, medical supplies, hospital linens, gowns, school kits, backpacks, books, and sewing supplies to Manila, Philippines. Our recipient, Kids International Ministries will use the supplies in their school, orphanages, clinics and pregnancy center. Maricel with KIM, clears all their shipments and had a baby boy in early June. She just returned from maternity leave in time to clear this shipment. Photo of the proud mother with her son is below. Other photos are of unloading the humanitarian aid yesterday.(7-2016)
---
Praise Be to God
On Sunday, May 22, 2016, approximately 250 volunteers and supporters of Orphan Grain Train gathered for a dedication service and celebration at the new Maryland Branch warehouse in Millersville, MD. Elfie Eberle, Maryland Branch Manager, welcomed people to the dedication. The President of Orphan Grain Train, Rev. Ray Wilke of Norfolk, Nebraska, led attendees not only to appreciate our heavenly Father's love in Jesus Christ, but also to consider opening their hearts and giving time to help those in need near and far. The celebration also included speakers, entertainment, food and fellowship. Volunteers at the new warehouse will gather, sort, store, and ship donated goods nationally and worldwide. It will also offer opportunities for hands-on mission activities. Thank you to all that supported OGT Maryland Branch to make this dream facility a reality and blessing to help more people.(5-2016)
| | |
| --- | --- |
| Elfie Eberle, Maryland Branch manager welcomes volunteers and supporters to the dedication of the warehouse. | Pastor Ray Wilke, founder of OGT, travels from Norfolk, NE to be a part of this special celebration. |
| | |
| | |
| | |
| | |
---
Praise be to God
The construction of the new Maryland Branch warehouse is almost complete and it is beautiful! The warehouse is located in the Baltimore area on land that was donated. OGT and especially Elfie Eberly, Maryland Branch Manager would like to thank everyone involved with making this vision a reality! (4-2016)
---
Last Parking Lot Load
Maryland Branch volunteers loaded a shipment Saturday, April 30, 2016 for the Philippines, which will be their last time loading from the church parking lot. They will soon be moving into their newly constructed warehouse – a long time dream and project. This shipment contained blankets, bedding, shoes, household items, hygiene kits, tables, dental supplies, hospital beds, medical equipment, canes, wheelchairs, medical supplies, hospital gowns, school supplies and backpacks, and sewing supplies. These wonderful supplies and items shipped on May 2, 2016 to Kids International Ministries in Manila. Thank you to everyone that donated and thank you to all the hard working volunteers. Pictures are of the volunteers loading the shipment for the Philippines. (5-2016)
| | |
| --- | --- |
| Maryland Branch Volunteers done loading shipment for Philippines. | |
| | |
| | |
| | |
| | |
HELPING UP MISSION DONATION
On March 11, volunteers from the Maryland Branch of Orphan Grain Train delivered Bibles donated by Lutheran Church of Our Savior in Bryans Road, Maryland, to the Helping Up Mission in inner-city Baltimore. Central to the mission's operations is a recovery program for men fighting addiction, poverty and homelessness, and at the heart of this program is the Word of God.  A Bible is given to each man accepted into the program.  God's Word is an integral part of their life-recovery.  At Bible study sessions and in their own meditations, these men are encouraged to "read, mark, and learn" passages of Holy Scripture.  We thank Our Savior Lutheran Church for this important donation. (4-2016)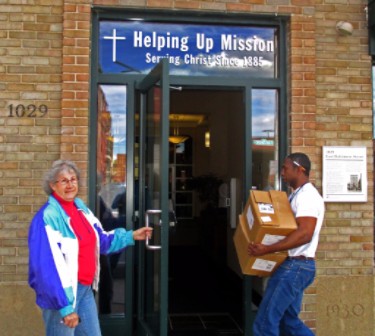 Photo caption: Maryland Branch volunteer Irene Giguere holds door while Helping Up Mission worker carries Bibles donated by the Lutheran Church of Our Savior in Bryans Road, Maryland.  
---
Orphan Grain Train Needs YOU
The Orphan Grain Train, Maryland Branch has been quite busy with recent shipments of clothes, medical supplies (including over 1,000 crutches!), canes, sanitary kits, wheelchairs, and bedding to Cameroon, Nicaragua and most recently, Kyrgyzstan. Even with these shipments, though, we are running out of room. We have graciously been given a plot of land in Millersville, Maryland, and are actively raising funds for the creation of a warehouse to store supplies in between shipments. If you are able to make a donation in support of this effort, you can donate online. Thank you for your support and helping send Relief for Human Need Worldwide! Maryland Branch mailing address: Orphan Grain Train Maryland Branch c/o St. Paul Lutheran Church 31 Roscoe Rowe Blvd. Annapolis, MD 21401 (410) 544-1621
---
Helping Out "Helping Up Mission" of Baltimore
On Tuesday, January 19, the Maryland Branch of Orphan Grain Train brought 115 boxes of donated clothing and shoes to Baltimore's inner-city Helping Up Mission, at 1029 East Baltimore Street, one of the longest-running Christian ministries in the City of Baltimore.  Since 1885 they have been in the business of helping lost and hungry people, providing food, clothing, shelter, and rehabilitation and education, all in the name of Christ and in an emphatically Christian atmosphere. The Maryland Branch of OGT is pleased to be able to help through clothing donations.  (02-2016)
| | |
| --- | --- |
| Baltimore's Helping Up Mission, founded in 1885, serves the urban poor. | Unloading boxes of clothing from Orphan Grain Train's trailer. |
| Boxes of clothing donated to Orphan Grain Train's Maryland Branch, then sorted and boxed for distribution. Here, they are given to Baltimore's Helping Up Mission. | A large cross in the lobby of the Helping Up Mission is made of pieces of the floor of a church that had been part of the multi-building ministry. |
---
Grateful for Medical Equipment
The Maryland Branch recently received this email from our correspondent in Liberia, Pastor Maxwell Whea. Pastor Maxwell has been a contact in Monrovia for the past year or two, advising what was needed there through the Ebola crisis, and helping gather donations for shipments that are well suited to the needs in the country. The Maryland Branch has been actively following his work.  
"Dear Sister Elfie [Elfie Eberle, OGT Maryland Branch Manager],
This is a story of Mr. Josiah Zeon, a crippled man who at the age of seven suffered polio. He came to Monrovia to make ends meet last year, 2014. He learned to be a tailor, sewing children's clothes for living. He never owned a wheel-chair and therefore had to borrow one from a friend to be going to the little kitchen where he sews.
Recently the owner of the wheel chair sent another crippled friend to Josiah [and this has] embarrassed him [by asking him to] give back his wheel chair because he wants to be going out this Christmas to beg for handouts. Thank God he got my number and kept calling and we went to his rescue. Here he has been given a wheel-chair. Thank God for Orphan Grain Train. May God keep blessing you and all those who donated them.
Happy Christmas,
Pastor Max"
(12-2015)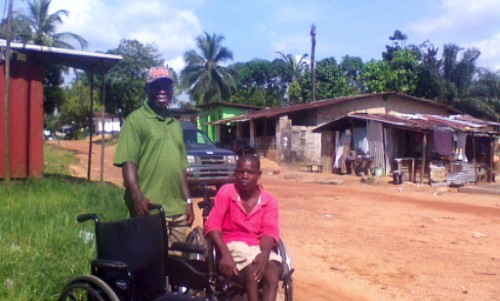 ---
Maryland Branch Joins Churches for a Coat-Drive  
Last November, the Maryland Branch started collecting donated winter coats for distribution at Baltimore-area churches and a social center. Through Christmas and into the New Year, coats were being given away to needy individuals at St. Thomas Lutheran Church, Lutheran Church of the Redeemer, Nazareth Lutheran Church, and Helping Up Mission, all in Baltimore.  More than 700 coats were donated by Maryland churches as far away as Accident, Maryland. At some of the Baltimore churches, school-children helped with organizing the donations and getting them ready to distribute. What a great lesson in Christmas sharing.  (1-2016)
| | |
| --- | --- |
| Maryland Branch board member Irene Giguere and students from Bethlehem Lutheran School, Baltimore, in a recent chapel service at which students brought in and sorted winter coats. | Coats on display at St. Thomas Lutheran Church on Baltimore's near-west side. |
| Trying on winter coats at St. Thomas Lutheran Church. | |
Maryland Branch Fundraiser
Braving the cold on the morning of November 21, members of Maryland's branch of the Orphan Grain Train served water to thirsty runners in the annual Annapolis Classic Half-Marathon and 10K Races at two of the water-stations along the route.  The race organizer, Craig Harrison, paid local charities to provide hydration to the runners, and then afterward to serve as wait-staff at a reception.  Many of the approximately 4,000 entrants slowed down enough to grab a cup or two, and OGT members enjoyed meeting runners and families later.  During the race, water-station workers offered more than just water: their cheers and encouraging words put a smile on more than one tired face.  "Great job!" "Looking good!" "Don't give up!"  It was a great race!  The first picture is Maryland branch volunteer Ellen Phipps filling water cups for Half-Marathon Runners. Second picture is of volunteers Alesia & Julie Schafer handing out cups of water.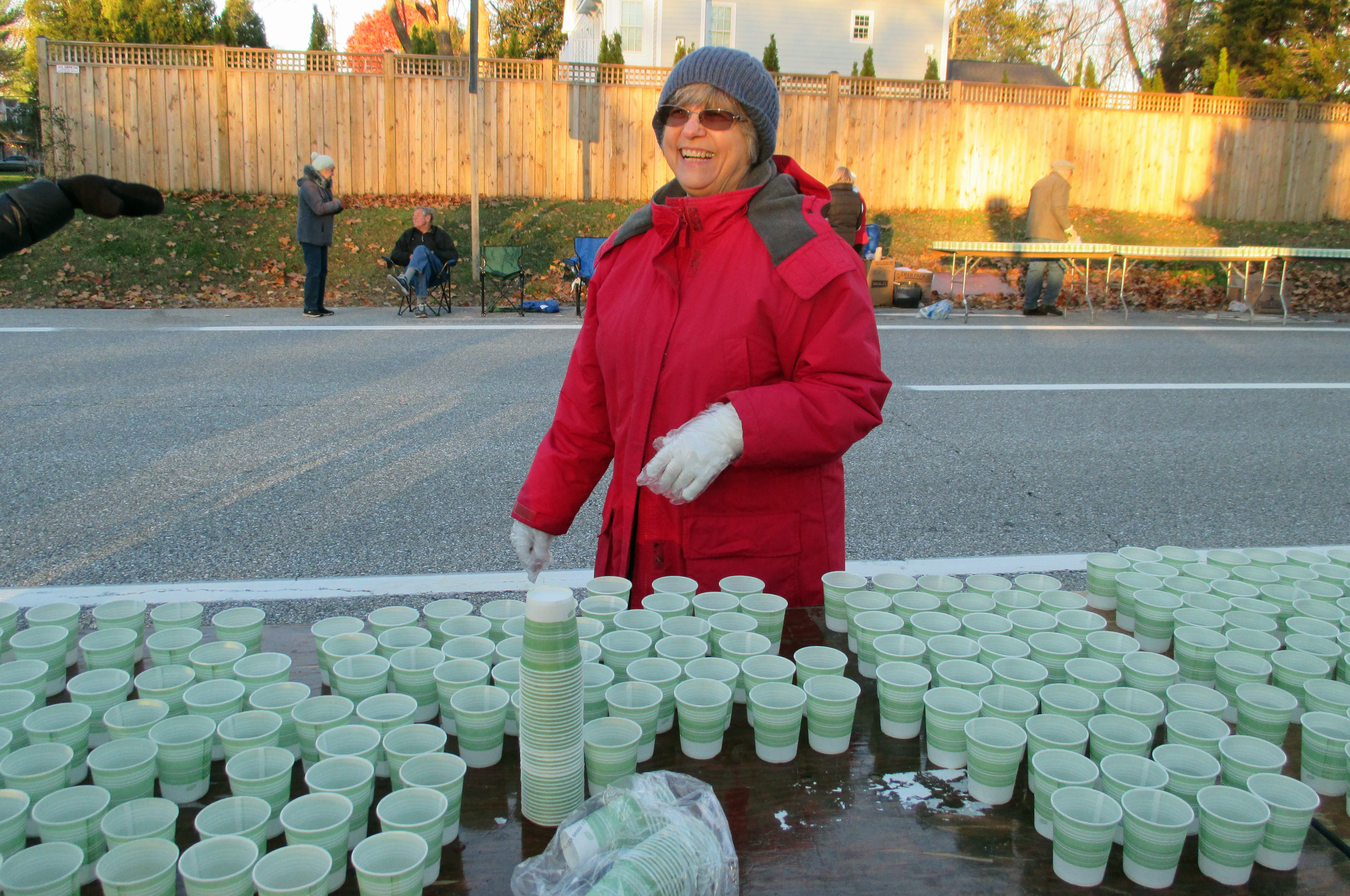 Maryland Branch volunteer Ellen Phipps fills water cups for Half-Marathon Runners.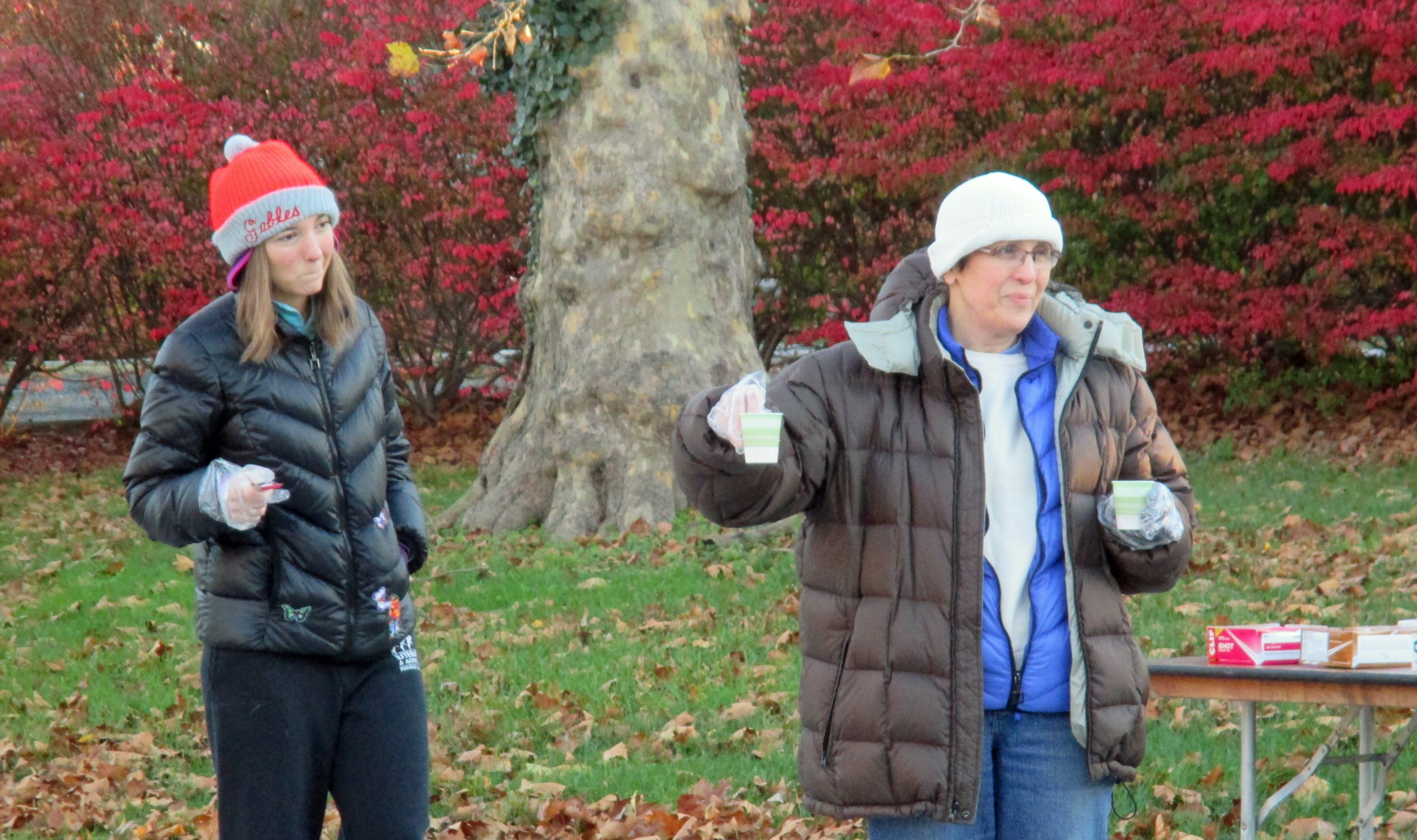 Maryland Branch volunteers Alesia & Julie Schafer hand out cups of water.
---
Maryland Branch Helps Deaf School
The first picture is of Marion Bayah, from Monrovia, Liberia, a deaf woman who broke her right leg long ago. She was not able to seek medical help at that time and is now crippled. Recently, she received crutches donated by OGT, which replaced the stick she was using. The other pictures are of the children at the Monrovia School for the Deaf in Liberia, which has over 125 students. They are so grateful for the pillowcase dresses and other items donated by OGT. Thank you to all that donated and volunteered to help make these blessings for others possible.  (10-2015)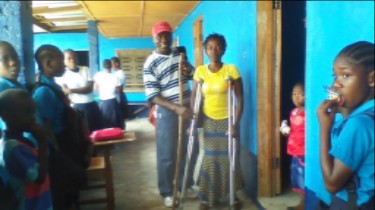 Loading International shipment
Maryland Branch of Orphan Grain Train took the weekend to carefully load a 40 foot container of medical equipment, medical supplies, dental equipment, hygiene supplies, clothing, shoes, bedding, choir robes, school books, school supplies, sewing machines, fabric, sewing supplies, and toys to be shipped to Liberia.  Working out of three donor trucks and their own storage container, many volunteers labored to check expiration dates and identify the contents of medical supply boxes as well as marking out espiration dates on used packing boxes.  There was a great effort from all involved to get everything right so that these materials and equipment can get to those who need it most.  Thank you Maryland volunteers! 
Construction has begun on Maryland Branch's new warehouse in Millersville, MD.  Keep checking back for more pictures and progress of this needed facility.
| | |
| --- | --- |
| Construction continues (10-2015) | Construction continues (10-2015) |
| Warehouse construction continues September 2015 | Construction for new warehouse June 2015 |
| | |
---
Future New Warehouse Location Gets Blessing
On Tuesday morning, June 9, 2015, members of several area churches active in the Orphan Grain Train international charity gathered on the side of East-West Boulevard just east of Veteran's Highway in Millersville, MD. They were there to participate in a blessing of the construction of the first Orphan Grain Train warehouse in the state.  Reverend Brian Rosenkoetter (left of sign) of St. Paul Lutheran Church in Annapolis and Reverend Martin Schroeder (right of sign) of St. Paul's Lutheran Church, Glen Burnie, led the group in a short service of prayer and thanksgiving. 
The Maryland Branch of Nebraska-based Orphan Grain Train, under the leadership of Elfie Eberle of St. Paul Lutheran Church in Annapolis, has been in operation since 2006, gathering donated Bibles and other religious materials, clothing, shoes, durable medical equipment and supplies, school equipment and supplies, and other needed items for container shipment to people in need in such places as Liberia, Ghana, Cameroon, Kyrgyzstan, and Nicaragua.  The next shipment, scheduled for this month, will bring sewing machines to a school for women and girls in Liberia, along with clothing and medical goods.  Until now, all donations have been stored in church basements, unused classrooms, and even garages around the state until a container came available to be packed.  Thus, a purpose-built warehouse in a central location will serve to increase capacity and efficiency.  It is a great blessing.  The land on which the warehouse is to be built was graciously donated by Mr. Wayne Gerst (third from right).  Construction is to begin this week.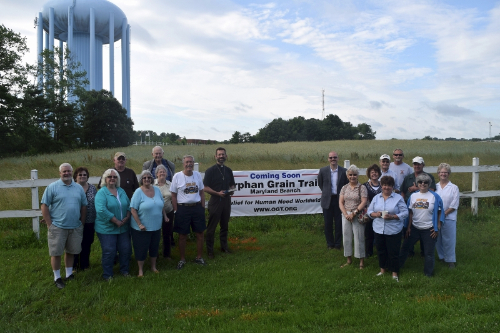 ---
Orphanage receives help from Maryland
In 2014, Maryland Branch shipped a load of school supplies, toys and medical equipment to Cameroon. The toys and school supplies were divided up into backpacks and given to children at an orphanage. The pictures are of the children after receiving the gifts donated by OGT.
---
Volunteers from the U.S. Naval Academy 
On Saturday, February 14, 2015, Midshipmen from the United States Naval Academy and other volunteers at St. Paul Lutheran Church in Annapolis, Maryland packed clothing and medical supplies for a shipment to Liberia. Midshipman 3rd class (sophomore) Brenna Shea assembled boxes and Midshipman 1st class (senior) Brant Verhulst of Sioux Falls, South Dakota labeled them.  Brant has done similar volunteer work at his home church, Shalom Christian Reformed in Sioux Falls.  Midshipmen 4th class (freshman) Victoria Ramirez-Solis and Michelle Katz sorted and folded clothing. Ramirez-Solis recently made Valentine cards for Veterans. For her that was an especially meaningful activity, she reported.  She also volunteers at a Veterans Administration hospital, spending time with patients there.  Ramirez-Solis said, "Our first job is… to help people." Mehreen Saba, a Pakistani-American, came to help because she was invited by one of the Orphan Grain Train "regulars," Ron Phipps, who volunteers at a local hospital where Mehreen also volunteers. Kelli McQuiston packed boxes. A Midshipman 4th class, Kelli has volunteered at an Annapolis-area Senior Living Center.  "Donating time helps others," she said.  Nothing beats the energy and focus of a group of young folks like these.  They sorted, packed, labeled, and loaded 107 boxes for the Orphan Grain Train shipment.  Thanks, folks!
| | |
| --- | --- |
| Midshipman 3rd class Brenna Shea and Midshipman 1st class Brant Verhulst make and label boxes. | Midshipmen 4th class Victoria Ramirez-Solis and Michelle Katz sort and fold clothing. |
| Orphan Grain Train volunteer Mehreen Saba sorts and folds clothing. | Midshipman 4th class Kelli McQuiston packs boxes. |
| Loading the Orphan Grain Train trailer. | The Orphan Grain Train volunteers. |
Maryland Branch Supported Marathon Runners
Last November, the Maryland Branch braved 30-degree weather to serve 1,500 cups of water to thirsty runners in Annapolis's Half-Marathon and 10K race at one of three water-stations along the route.  About a third of the 4,000 entrants slowed down long enough to grab a cup or two.  The OGT Maryland Branch workers served more than just water: their cheers and encouraging words put a smile on more than one tired face.  Pictures are of the Maryland Branch serving water to the marathon runners.
Maryland Branch Loads Shipment in Challenging Conditions
Volunteers operate the Maryland Branch, same as the other OGT branches.  They do their own fundraising, donation acceptance and shipping. OGT volunteers are some of the hardest working, dedicated volunteers I know.  The Maryland Branch recently loaded a shipment for Nicaragua in the snow and cold of winter on January 9, 2015.  Their warehouse is a container on the edge of the woods and they use the back of a pick-up to load the semi-trailer.  Maryland's volunteers energetically push through the difficulty because they are passionate about serving our Lord by serving others.  Pictured is the warehouse (container) and volunteers loading the shipment for Nicaragua.
Life Saving Shunts are Shipped to Kyrgyzstan  
Maryland Branch shipped 109 medical shunts to Kyrgyzstan that were donated by Integra LifeSciences.   The shunts make a difference because of their good quality and are available to families that cannot afford to purchase them.  The shunts are used for children born with hydrocephaly and will save the child's life.  Following are stories sent to Orphan Grain Train about the Center of Maternity and Childhood Care where Dr. Karachev uses the donated shunts. (2014)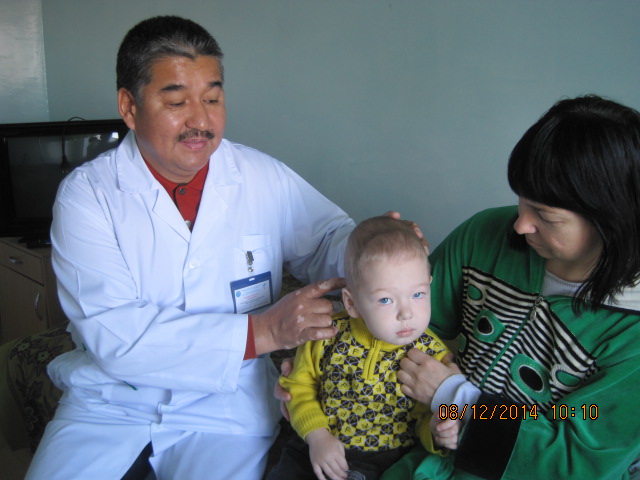 Dr. Karachev and the Chief Doctor of the Centre Nurgul Januzakova are showing me the shunts.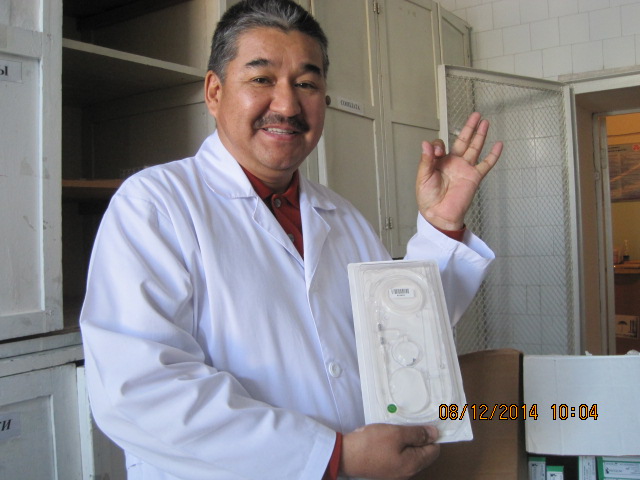 Dr. Karachev is very happy. He says that the shunts are of a very good quality. I understand little from his explanation why they are so important, but I am also very happy that 109 children will be saved by those shunts with tiny important parts. Six surgeries are planned to be performed in December.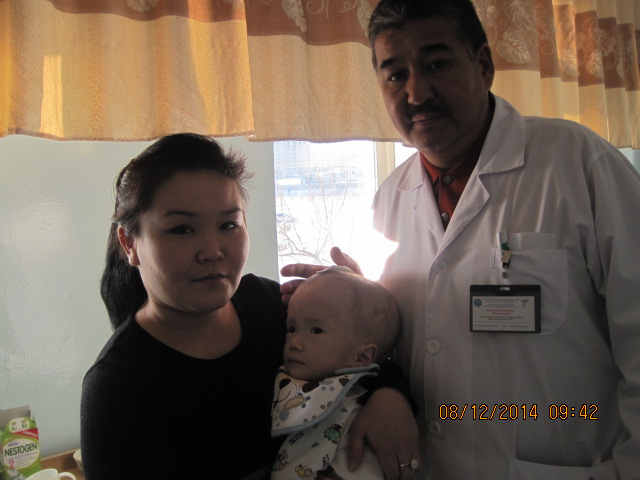 Imanaliev Nuraly, the first child in the family, was born with an innate hydrocephaly. Now the boy is 18 months old. His parents live in Kazakhstan. There were complications after the first surgery that was performed in Astana (the capital of Kazakhstan) in April 2014, and the shunt was removed. The boy's mother Imanalieva Elvira heard about Dr. Karachev in Bishkek's Center of Maternity and Childhood Care and high –quality Integra shunts that are free there, and brought the baby to Bishkek. The surgery is planned for December, 2014.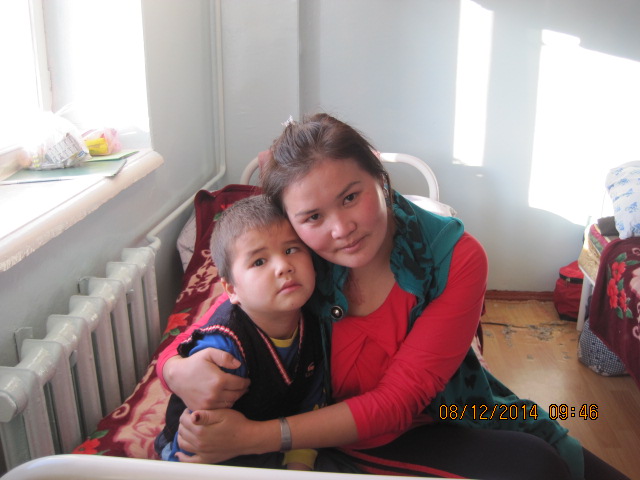 Musaev Amantur is five years old. The boy who is the second child in the family, was born with a hydrocephaly. Amantur was operated at the age of 3 months. Dr. Karachev says, that Amantur probably received a shunt brought by one of our volunteers. Amantur is developing very well after the surgery, he is a lively boy. Every six months Amantur is taken to Bishkek's Centre of Maternity and Childhood Care for prophylactic treatment. The boy's story is a great encouragement for other children and their parents who are getting ready to receive shunts.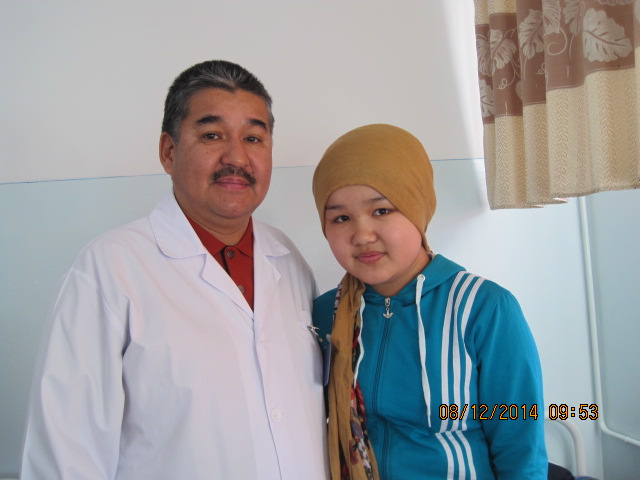 Jazgul Andasheva is 12 years old, she is the only child in the family. Hydrocephaly was diagnosed when the girl was five years old. The parents were afraid of the surgery. About a year ago, the girl's condition deteriorated. Six months ago the girl was operated on. Now the girl is receiving a course of prophylactic treatment. She feels well.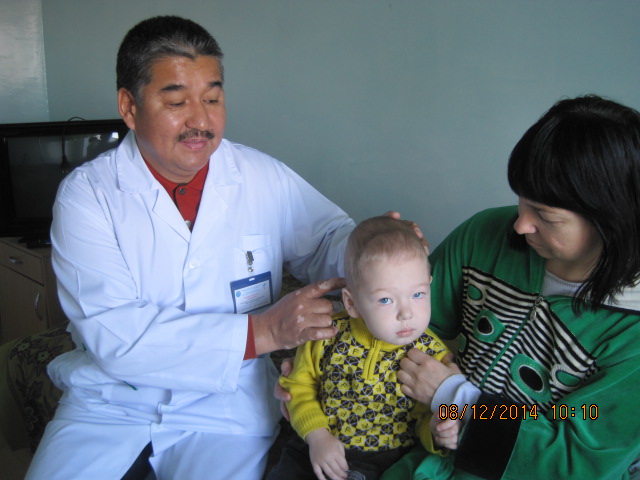 Galuilin Timofei is 3 years old. The boy had an inborn hydrocephaly. At the age of three months, Timofei had a surgery, he received an Integra's shunt. Timofei is developing very well, he speaks well, knows the ABC and recites poems.
Maryland Shipped to Cameroon, Africa
Volunteers in Maryland loaded a shipment, on February 24, 2014, for Cameroon, Africa. Items loaded were 132 boxes of clothing, 20 boxes of quilts, 20 boxes of linens, 20 boxes of Bibles and Christian resource materials, 10 heart monitors, 5 hospital beds, 2 baby warmers, 2 ultrasound machines, miscellaneous hospital equipment, school kits, school desks, hygiene kits, toys, sewing machines, sewing supplies (for the Lutheran Hour Ministries sewing school), and other needed items.
Hurricane Sandy Relief
Crisfield, Maryland was devastated by Hurricane Sandy. Over 300 homes were completely destroyed and sadly, there has not been any federal relief to date. The MD chapter of OGT trucked over 2,000 items in late 2012, including scrub buckets filled with cleaning supplies, warm gloves, hats, socks, and blankets. Now, we are recruiting construction crews to go down to Crisfield and work with other churches to rebuild the homes that were either completely leveled or substantially destroyed. If you would like to join one of these crews, please contact Norman Giguere at nigiguiere@verizon.net.
To donate toward the purchase of construction materials:
Please send your check made out to Orphan Grain Train/Maryland to:
Orphan Grain Train/Maryland Branch
c/o St. Paul Lutheran Church
31 Rowe Blvd.
Annapolis, MD 21401.

Rockaway, Long Island, New York also sustained significant damage from Hurricane Sandy. The Maryland branch sorted, packed and hauled 700 blankets to the storm victims in that area. The help goes on as these people slowly recover from this enormous devastation.

Pillowcase Dresses
Pillowcase dresses can be an answer to a prayer, both for those who sew and the little girls who receive the dresses. Karleen H. heard about the need when she had unexpected down time. Her husband was recovering from surgery, and sewing was the perfect activity to keep her hands and mind busy. She put her creative talent to work on pillowcase dresses, choosing the prettiest fabric, then adding buttons, bows, and pockets. Friends who don't sew contributed some pillowcases and buttons. Recently 119 of Karleen's dresses were shipped to Ghana. Her total is now over 200 dresses completed, and she is working on shorts for little boys! At over 80 years of age, she is blessed with good health, and she continues to be a blessing to others.
Karleen's Handiwork

Angela Thomas sewed 500 little dresses for Africa
Ghana Feature:
On December 19, 2011, a shipment was sent to Kumasi, Ghana in western Africa—which included a variety of medical supplies. In addition to hundreds of boxes of clothes, volunteers packed the container with heart monitors, exam tables, hospital beds, stretchers, 7 wheelchairs, 46 walkers, 86 canes, 100 IV poles, 66 boxes of diapers, dental equipment and other items.
Volunteers loading shipment for Ghana, Africa

Hospital delivery in Ghana

Pick-up loaded with Orphan Grain Train supplies for hospital
Maryland Branch helps New York Flood Victims
On a chilly early afternoon of Monday, November 28, a loaded cargo van arrived at Zion Lutheran Church in Owego, New York at the request of Pastor Aaron Schian. The town was devastated when the rain from tropical storm Lee began falling September 6 and poured 11 inches over the next two days. The Susquehanna River rose from 17 feet to 38 feet between 6 a.m. September 7 and 6 a.m. September 8. Then the gauge that measures the surge broke, but the river kept rising. "It was like a horizontal Niagara Falls," said a Salvation Army worker. "It was fast, it was high and it was loud."
One resident said, "Everybody's life is on the lawn." The mayor said that 90 percent of the homes on the north side of the Susquehanna River took in water. Some will have to be leveled and many more will take months to repair.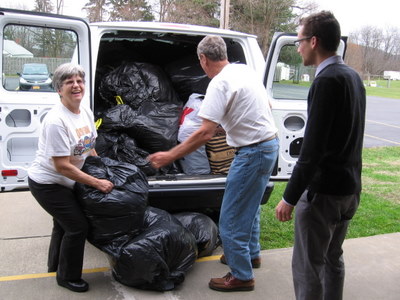 Seeking to help his community, Pastor Schian contacted Elfie Eberle, chair of the Orphan Grain Train, Maryland Branch. Housed at St. Paul Lutheran Church in Annapolis, Orphan Grain Train is a nearly all-volunteer, humanitarian, Christian organization that shares material resources with people who are in need, wherever they are. The pastor said he had a particular need for blankets and quilts. He noted that "there are still around 1,000 people without power and that means, of course, without heat. The blankets and quilts will be such a great gift to the people here in Owego."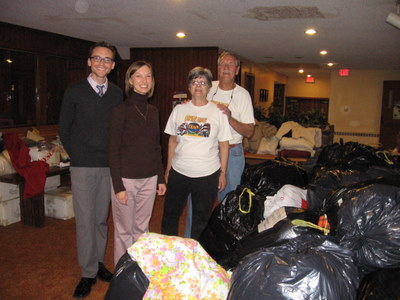 Elfie immediately put the word out and in a matter of a few short weeks, the ladies of Annapolis Evangelical Lutheran Church, along with the ladies of St. Paul's made 67 bright and beautiful quilts! Supplemented by donations from many other churches, some as far away as Salisbury, Maryland and Hampton and Williamsburg, Virginia, a total of 300 quilts and blankets were loaded in the van along with 30 mercy kits (a bath towel and wash cloth wrapped around hygiene supplies, such as toothpaste, toothbrush, shampoo, etc.)
The quilts and blankets arrived just in time. The supply at Zion Lutheran Church had dwindled to just a few.
Special thanks to all of those who helped.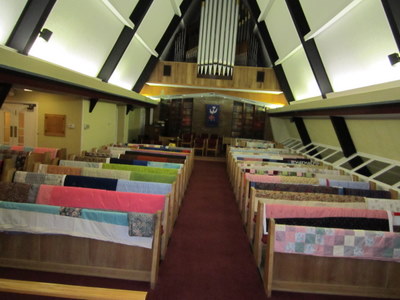 Kyrgyzstan Feature:
Kyrgyzstan is a former Soviet Republic about the size of Nebraska with a population of 6 million people.  It is 95% mountainous and actually looks very similar to Switzerland.  When the Russians left in 1991, they closed all their munitions and textile factories and the collective farm system collapsed.  That left the country with an unemployment rate of 80%.  This, coupled with the shaky democracy and the corruption have left many of the nation's citizens hopeless. 
| | |
| --- | --- |
| | A Kyrgyz mother said in her letter: "Thank you so much for the warm boots you have supplied Sasha. He now can go to school and go out and play. God bless you." |
| | |
| | |
| | |
| | |
| | |
| | |
---
Cameroon Feature:
OGT sent a container to Cameroon during November 2010, but guess what?  The container did not come back.  Instead, it was purchased by Lutheran Hour Ministries to be kept there and used as a place for a newly established sewing school.  Once windows and doors were cut into the container, the 40 sewing machines, fabrics and sewing supplies were put in place to start the school.  Aimed at women who been sexually abused, this school will offer new opportunities to learn skills that these women would not have had access to otherwise.
In addition to sewing supplies and medical supplies, clothing and brand new school supplies filled the container.  This was the first time OGT has shipped to Cameroon. 
Pastor Sam, Lutheran Hour Ministries director for Cameroon, tells us that this first shipment from OGT will open the door for opportunities to share the Gospel.
Here are some pictures of the items sent to the Hospital in Ngaoundere. These pictures were taken by the authorities of the Hospital upon reception of the medical supplies in Ngaoundere, a town situated about 900 kms away from Douala where the container was received and 600 kms away from Yaounde.
Nicaragua Feature:
Nicaragua is the second poorest country in our hemisphere. This country has suffered for decades from corrupt governments and devastating natural disasters, including hurricanes, volcanic eruptions and the aftermath of mud slides. The MD DIVISION mission is located in Chinendega, which has an unemployment rate of 70%.
For ten days, earlier this year, a group of dedicated OGT volunteers from the Maryland Branch flew to Nicaragua and helped sort the shipment into the local warehouse, while other volunteers took certain supplies, such as IV holders and other sterile medical supplies immediately to the hospital. Among other activities, volunteers took a tour of the area hospital and prison; as well as taught kids necessary hygiene routines like brushing teeth and a couple hosted a mini Vacation Bible school.
The containers that were shipped to Nicaragua included medical equipment and supplies, fabric and sewing machines to support the sewing school, clothing, linens, school supplies, school desks and dental equipment. Through the generous hearts of so many, the Maryland Branch was able to send this shipment to support area schools, churches, hospitals, clinics, and nursing homes that so desperately need this support.
We still need your help. If you are able to donate any of the above items, please email us at elfie.eberle@md-orphangraintrain.org.
Ricardo, Director of Lutheran Hour Ministries in Nicaragua sent some pictures that were taken recently in Matagalpa city. These photos are of a LHM Bible course graduation of about 70 kids. Each graduate received a certificate of conclusion and a small toy. The toys were sent by Orphan Grain Train in the last container.



Children graduating from Bible course




Children with their diplomas




Each child received a toy.




More Nicaragua Photos




Feeding the Children




One of the 14 churches we supply with clothing, toys, baptismal fonts, altars.




One of the 14 Christian schools we support with supplies and equipment.

You too can support a child for one year in one of these schools with $90.
---
---