Maryland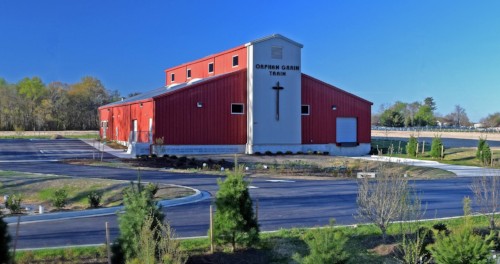 Maryland Branch
Manager: Elfie Eberle
621 East West Blvd.
Millersville, MD 21108
(410) 544-1621
maryland@ogt.org
Mailing Address:
Elfie Eberle
c/o St. Paul Lutheran Church
31 Rowe Blvd.
Annapolis, MD 21401
We offer opportunities for hands-on mission activities!  
Volunteers Needed for Packing/Sorting:
Every Tuesday:  9 - 1 p.m.
2nd Saturday of every month:  9 - 1 p.m.
Donations will be accepted: 
Monday, Tuesday & Thursday  10am - 1pm
 
Help for Florida's Hurricane Irma Victims
OGT's Maryland Branch is planning to send a shipment of relief supplies to hurricane victims in Florida.  We are currently taking donations for the November 1st shipment.  Please see the list below and for your convenience you can download a list of needed supplies.  Thank you for your help and support of our neighbors in Florida.  If you would like to make a monetary donation to help with shipping expenses, please mail check to the above mailing address and mark it for Hurricane Irma or click on the donate button and specify it for the Maryland Branch and write"Hurricane Irma in the comments section.  Thank you for your support.
2017 OGT-MARYLAND DISASTER RESPONSE FOR HURRICANE IRMA
Cleaning supplies:
·         Shovels
·         Brooms
·         Mops
·         Sturdy rubber gloves
·         Cleaning fluid
·         Buckets (like the orange ones Home Depot sells)
·         Large heavy sponge
Hygiene supplies:
·         Soap
·         Shampoo
·         Toothbrush
·         Toothpaste
·         Comb
·         Washcloth
·         Bath Towel
(All of the above small items may be wrapped in the bath towel and secured with 2 rubber bands, or you may donate them individually.
·         Diapers for children as well as adults
---
The Maryland Branch's Annual Fundraiser
Make plans now to attend:
"Celebrating America Through the Decades"
Sunday, October 1st, 2017
5:00 P.M. at
Café Mezzanotte
760 Ritchie Highway (Rte. 2)
Severna Park, Maryland 21146

We are inviting all supporters and interested persons to join us for an evening of good food, fellowship, information about Orphan Grain Train and its activities, a talk about the Liberia Children's Mission, and a sing-along. Tickets at $50.00 are available from Gail Kolos at gbkolos@hotmail.com or 410-798-5384. A silent auction for donated gifts will be held, along with a raffle (tickets $25.00) for a trip in the continental United States. Join us for an enjoyable evening!
---
Orphan Grain Train - Maryland Branch
Items accepted for Donation
Blankets
Cleaning supplies (for disaster relief)
Clothing and shoes/boots (in good condition)
Winter Coats (distribution in Baltimore)
Dental Supplies
Medical Equipment (including by not limited to):
Walkers, canes, crutches, shower chairs, hospital beds, sheets
Hospital Equipment – baby warmers, heart monitors, therapy tables
Scrubs
Surgical equipment
School Supplies:
Backpacks, new crayons, paper, markers/pencils, chalk boards, desks
Sports equipment
Sewing Supplies (including but not limited to):
Sewing machines, sewing fabric, thread, sewing needles
---
Impacting Liberia Through Gifts
On July 20, 2017 the Maryland Branch volunteers were busy loading for Lutheran Schools in Liberia. Joe Boway with the Lutheran Church in Liberia will be receiving clothes, shoes, commodes, school furnishings, and school books to share with the schools and those in need. Joe Boway will be speaking about how OGT donations impact the Lutheran schools in Liberia at our upcoming 25th Anniversary convention in September. (7/2017)
---
Shipment to South Sudan On Its Way
The Maryland Branch had special volunteers loading their shipment for South Sudan. Three of the eighteen volunteers were US citizens yet were South Sudanese by birth. They helped to load 10,152 Kids Against Hunger meals, clothing, hygiene supplies, medical equipment/supplies, sewing machines, sewing supplies, and fabric in a 40' container that will stay in Juba, South Sudan. The Episcopal Church of South Sudan will receive the goods and keep the container. They plan to cut our windows and a door to make it into a sewing classroom to teach South Sudanese women a practical trade. The first picture is of the three men Lt to Rt: Mario Bol, Dr. Benjamin Machar, and Amal Athieu. Enjoy the rest of the loading pictures.(7/2017)
---
India's Christian Charitable Trust Shipment Arrived
In April the Maryland Branch volunteers loaded a shipment for India. Early July 2017 Christian Missions Charitable Trust received the shipment and was able to unload hospital furnishings, medical supplies/ linens, adult diapers, hygiene kits/supplies, and sewing machines. The ministry teaches young girls a trade to become more self-sufficient and independent. Their soup kitchen feeds the neglected elderly and those living on the streets. They also have Bethany Healthcare Center where they offer free health care to those living in poverty. What wonderful blessings for the ministry to use to help those in desperate need. Thank you to our donors and volunteers for helping in India.(7/2017)
---
More Shunts to Save Lives!
OGT and especially the Maryland Branch Manager Elfie Eberle are excited to share the great news that Integra LifeSciences donated 318 lifesaving shunts valued just under $595,000.00! The shunts are being shipped to Dr. Karachev with National Center of Maternity and Childhood Care in Bishkek, Kyrgyzstan. Integra Lifesciences has now donated a total of 2,568 shunts for poverty stricken families in Kyrgyzstan that need to save their child's life with hydrocephaly, also known as "water in the brain". Dr. Karachev receives the shunts and is so grateful with their high quality and being able to offer them free to low income families. These have saved the lives of 2,568 children! Thank you Integra Lifesciences for your generous donation and thank you Maryland Branch for shipping the needed shunts to Kyrgyzstan. Pictures are of Dr. Karachev and some of the children he has helped in the past with the shunts.  (5-2017)
---
India to Receive Much Needed Medical Supplies
March 2017 the Maryland Branch volunteers loaded medical equipment and supplies for Bethany Hospital, part of the Christian Missions Charitable Trust in Chennai, India. This shipment is a response to an inquiry from an American, Dr. Viji George, former president of Concordia Lutheran College in Bronxville, New York. In February of this year Dr. George and his wife Janet visited the Mission in Chennai and saw the need for basic medical supplies and equipment. He had heard from a friend about the work of OGT and contacted the Maryland Branch Manager Elfie Eberle. In short order, goods were collected, sorted, and stored in the Maryland warehouse awaiting arrangements for a container and shipping clearances. Pictures of the volunteers loading this shipment for India.(4/2017)
---
Baltimore's "Helping Up Mission" Receives Winter Clothing
Last month the Maryland Branch volunteers delivered men's and women's winter clothing to Helping Up Mission in Baltimore, MD. They help individuals and families with homelessness and addictions to have a safe, spiritual place to stay and a hot meal.(3/2017)
---
Furnishing Schools in Liberia
February 24th the Maryland Branch volunteers were busy loading a shipment for Liberia. OGT's recipient Joe Boway works with several rural Lutheran schools in Liberia and is grateful to be receiving 6 electronic keyboards, chalk boards, school supplies, 319 student chairs and 230 student desks. Awesome job Maryland Branch volunteers and donors!(2/2017)
---
Relief Knowing Aid Has Arrived
Maryland Branch is relieved and excited that their first international shipment from their new warehouse to Nicaragua made it safely and is unloaded! In September Maryland Branch volunteers loaded bedding, clothing, shoes, hygiene kits, medical equipment, toys, school backpacks, school supplies, sports equipment, and sewing machines/ supplies for Lutheran Hour Ministries. They were able to unload the cargo over the weekend and will distribute the items to families in need and local facilities.(10/2016)
First Shipment Out of New Warehouse is a Success
On Saturday, September 17, 2016, a crew of Orphan Grain Train volunteers in Maryland did something this location has never been able to do before, they filled a shipping container with donated goods from one place—a new warehouse in Millersville. Previously, the Maryland Branch of Orphan Grain Train has had to gather donated items at several locations around the state, waiting while the cost of a shipping container is gradually met by contribution, then use small trucks to bring the items to a shipping container for loading. Logistics were costly in terms of time and effort. Now the Maryland Branch has a central location. The container being loaded is bound for Nicaragua, specifically the Lutheran Church of Nicaragua, which has 14 congregations and 14 schools enrolling 2,700 children. The church also operates a sewing school that teaches a marketable skill to women, enabling them to support their families. The shipment contains men's, women's, and children's clothing; sewing machines; dozens of large boxes of hospital linens, scrubs, and patient gowns donated by a textile company; and hundreds of disability aids such as crutches, walkers, canes, and bathroom aids. Thank you to our donors and volunteers that help make shipments like this possible.(9/2016)