Maryland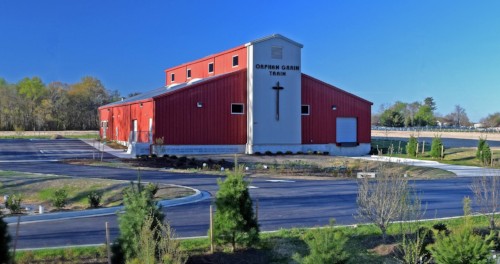 Maryland Branch
Manager: Elfie Eberle
(410) 544-1621
maryland@ogt.org
621 East-West Blvd.
Millersville, MD 21108

We offer opportunities for hands-on mission activities!  
Volunteers Needed for Packing/Sorting:
Every Tuesday:  9 - 1 p.m.
2nd Saturday of every month:  9 - 1 p.m.
Donations will be accepted: 
Monday, Tuesday & Thursday  10 - 1 p.m.
---
Orphan Grain Train - Maryland Branch
Items accepted for Donation
Bicycles - new or gently used
Blankets
Cleaning supplies (for disaster relief)
Clothing and shoes/boots (in good condition)
Winter Coats (distribution in Baltimore)
Dental Supplies
Medical Equipment (including by not limited to):
Walkers, canes, crutches, shower chairs, hospital beds, sheets
Hospital Equipment – baby warmers, heart monitors, therapy tables
Scrubs
Surgical equipment
School Supplies:
Backpacks, new crayons, paper, markers/pencils, chalk boards, desks
Sports equipment
Sewing Supplies (including but not limited to):
Sewing machines, sewing fabric, thread, sewing needles
badminton sets
baseball hats
lightweight pajamas
shoulder bags
fingernail clippers
easels
staplers and staples
flutes
clarinets
DVD players
computer cases
flat screens
projector with screen
high pixel cameras
---
Orphan Grain Train Maryland  Branch News
---
Recycling Mission Complete
Two volunteer crews spent May 17 and 19 on a Recycling Mission! Anne Arundel Community College was planning to demolish a building, and chalk boards and desks were meant for the throw away pile. Maryland Branch said we would take them to send to Liberia and India. The first volunteer crew of 5 spent Thursday taking 46 chalk boards off the classroom walls, as well as rescuing several manual pencil sharpeners. Saturday, another crew of 9 men (including 3 midshipmen from the Naval Academy) transported 270 desks from the college classrooms to the Maryland branch warehouse. We are THANKFUL for our volunteers!(5/2018)
---
South Sudan Awaits Goods Shipped
Episcopal Church of South Sudan will soon be receiving another shipment from OGT's Maryland Branch containing 10,584 harvest Pack meals, hygiene kits, school supplies, sewing machines with fabric/supplies and medical equipment. The villagers were so excited when they received the first shipment that they were dancing around the container singing words of praise.(5/2018)
---
Container Shipped Despite Many Obstacles 
Another joint effort to help our brothers and sisters in Puerto Rico was realized by the branches of New England, Mid-Atlantic and Maryland. Battling delays involving a broken down rental truck, glitches at the Port of Baltimore and a spring snow storm, the container left Maryland on March 23, 2018 one week later than scheduled. We give thanks for a loading crew that was willing to come back 3 times to make this happen! We also give thanks for Rich Klepps, driver extraordinaire, who was willing to be our 'OGTeamster' and bring the items down from New England and Mid-Atlantic. Included in the supplies sent to Puerto Rico were: 293 boxes of Kids Against Hunger meals (that's over 10,000 pounds of food!), 102 cases of water, 31 boxes of hygiene kits, 17 sewing machines, over 100 boxes of diapers, 207 boxes of clothing, 52 yard/home tools, 114 assorted medical items (wheel chairs, walkers, canes, crutches etc), 83 boxes of towels/linens, 111 boxes medical linen and tubing, plus cleaning supplies, home care items, toys, and school supplies! God is good! First photo is 'OGTeamster' Rich Klepps in the rental truck being loaded. Next photo is volunteers from Mid-Atlantic Branch and a photo of them loading. Next is New England Branch volunteers and a photo of their supplies loaded. The last photos are Maryland Branch volunteers at their warehouse loading all three loads into a shipping container for Puerto Rico! What an awesome joint effort! Thank you all!  (3/2018)
---
Grateful Hearts Receive Generous Donations in India
In November 2017 OGT's Maryland Branch shipped linens, hospital beds, exam table, canes, crutches, walkers, wheelchairs, commodes, medical linens, and medical supplies to Scudder Memorial hospital in Ranipet, India. OGT just got word that they are set up and having a free orthopedic camp next week to distribute walkers, canes, etc. to people with disabilities and diseased limbs. They were very grateful for the generous donations and support of their Mission Hospital.(2/2018)
---
Helping Those Far and Near
In January 2018 the Maryland Branch had two local deliveries. The first one was bedding, clothes and coats for Linda's Legacy that collects and distributes items for the homeless. The second delivery was toys and stuffed animals for Nazareth Lutheran Church to distribute to those in need. How wonderful for Maryland Branch to be able to share gifts to their neighbors locally.(2/2018)
---
India Awaits Many Blessings
Maryland Branch recently shipped goods to Christian Mission Charitable Trust (CMCT) in Chennai, India. They offer safe homes for orphans and a food kitchen for the elderly. CMCT will soon be receiving bikes, children's cots, school supplies/backpacks, school furnishings, desks, chairs, sewing machines/fabric, bookcases and chairs. Thank you donors and volunteers for providing these needed goods to India.(1/2018)
---
Inner City Baltimore Churches Gifted Winter Clothing and Coats
On November 17, Maryland Branch volunteers filled their box truck with 433 winter coats and 133 boxes of winter clothing. The items were delivered to 2 Lutheran churches in inner city Baltimore. The clothing will be distributed between Thanksgiving and Christmas to the needy in the communities surrounding these churches. The pictures are OGT volunteers putting out coats and clothes at St. Thomas Lutheran Church in Baltimore on Thanksgiving Day.(11/2017)
---
India to Receive Medical Supplies
Maryland Branch loaded bed linens, hospital beds with mattresses, medical equipment and supplies for Ranipet, India. Scudder Memorial Hospital will be the recipient and their mission is to continue the healing ministry of Jesus Christ by providing quality and accessible health care to all.  What a bounty of blessings, both to the hospital and to the volunteers who helped load!  (11/2017)
---
Volunteering Causes Deep Impact
At the Maryland Branch they have had many volunteers from all walks of life, young and old. Here is a letter written to them by a student at Annapolis Area Christian School who was moved to help people in need through our charity. In the letter, Ms. Eberle is Elfie Eberle, Maryland Branch manager.
"I had the opportunity to serve at Orphan Grain Train for my 7th Grade Service Project. While I was there, I asked what was the greatest need. Ms. Eberle told me they never had enough school supplies. So I purposed in my heart to find school supplies for them. Later that month, we had a running fundraiser at school. I went around and got people to sponsor me a certain dollar amount per lap. I ran as fast as I could, knowing the more I ran, the more money I would raise. I was able to raise $300.00 to buy school supplies. My mom and I went all over town to buy supplies during the month of August. We were able to purchase a lot of supplies and brought them to Orphan Grain Train. Ms. Elfie told me they were life giving, because the key to getting out of poverty is to get an education. I am happy and proud that I was able to help a child do that. I plan to continue my efforts with Orphan Grain Train. They are such a blessing to so many people and I am thankful I can be a part of it! ~Brady Fortlage" (Sept. 2017).
---
Shipment had Arrived in Liberia!
OGT's Maryland Branch shipped a load to Monrovia, Liberia was delivered on September 28! Joe Boway with Lutheran Church in Liberia received the shipment of clothing, shoes, commodes, school furnishings, and school books. Joe Boway also has Lutheran schools he starts up and supports which will be using the school supplies. What wonderful gifts and blessings for the children and families in Liberia.(10/2017)
Impacting Liberia Through Gifts
On July 20, 2017 the Maryland Branch volunteers were busy loading for Lutheran Schools in Liberia. Joe Boway with the Lutheran Church in Liberia will be receiving clothes, shoes, commodes, school furnishings, and school books to share with the schools and those in need. Joe Boway will be speaking about how OGT donations impact the Lutheran schools in Liberia at our upcoming 25th Anniversary convention in September. (7/2017)
---
Shipment to South Sudan On Its Way
The Maryland Branch had special volunteers loading their shipment for South Sudan. Three of the eighteen volunteers were US citizens yet were South Sudanese by birth. They helped to load 10,152 Kids Against Hunger meals, clothing, hygiene supplies, medical equipment/supplies, sewing machines, sewing supplies, and fabric in a 40' container that will stay in Juba, South Sudan. The Episcopal Church of South Sudan will receive the goods and keep the container. They plan to cut our windows and a door to make it into a sewing classroom to teach South Sudanese women a practical trade. The first picture is of the three men Lt to Rt: Mario Bol, Dr. Benjamin Machar, and Amal Athieu. Enjoy the rest of the loading pictures.(7/2017)
---
India's Christian Charitable Trust Shipment Arrived
In April the Maryland Branch volunteers loaded a shipment for India. Early July 2017 Christian Missions Charitable Trust received the shipment and was able to unload hospital furnishings, medical supplies/ linens, adult diapers, hygiene kits/supplies, and sewing machines. The ministry teaches young girls a trade to become more self-sufficient and independent. Their soup kitchen feeds the neglected elderly and those living on the streets. They also have Bethany Healthcare Center where they offer free health care to those living in poverty. What wonderful blessings for the ministry to use to help those in desperate need. Thank you to our donors and volunteers for helping in India.(7/2017)
---
More Shunts to Save Lives!
OGT and especially the Maryland Branch Manager Elfie Eberle are excited to share the great news that Integra LifeSciences donated 318 lifesaving shunts valued just under $595,000.00! The shunts are being shipped to Dr. Karachev with National Center of Maternity and Childhood Care in Bishkek, Kyrgyzstan. Integra Lifesciences has now donated a total of 2,568 shunts for poverty stricken families in Kyrgyzstan that need to save their child's life with hydrocephaly, also known as "water in the brain". Dr. Karachev receives the shunts and is so grateful with their high quality and being able to offer them free to low income families. These have saved the lives of 2,568 children! Thank you Integra Lifesciences for your generous donation and thank you Maryland Branch for shipping the needed shunts to Kyrgyzstan. Pictures are of Dr. Karachev and some of the children he has helped in the past with the shunts.  (5-2017)
---
India to Receive Much Needed Medical Supplies
March 2017 the Maryland Branch volunteers loaded medical equipment and supplies for Bethany Hospital, part of the Christian Missions Charitable Trust in Chennai, India. This shipment is a response to an inquiry from an American, Dr. Viji George, former president of Concordia Lutheran College in Bronxville, New York. In February of this year Dr. George and his wife Janet visited the Mission in Chennai and saw the need for basic medical supplies and equipment. He had heard from a friend about the work of OGT and contacted the Maryland Branch Manager Elfie Eberle. In short order, goods were collected, sorted, and stored in the Maryland warehouse awaiting arrangements for a container and shipping clearances. Pictures of the volunteers loading this shipment for India.(4/2017)
---
Baltimore's "Helping Up Mission" Receives Winter Clothing
Last month the Maryland Branch volunteers delivered men's and women's winter clothing to Helping Up Mission in Baltimore, MD. They help individuals and families with homelessness and addictions to have a safe, spiritual place to stay and a hot meal.(3/2017)
"Truly a Blessing from the Lord"
Elfie Eberle, Maryland Branch manager wants to celebrate their volunteers! She shared photos and these inspiring words "To all of our volunteers: Thank you all for being the most hard working, enthusiastic volunteers. You are truly a blessing from the Lord." The first photo includes an Eagle Scout who chose the Maryland Branch for his Eagle Scout Project (240 Hygiene kits). Next to the Eagle Scout is Ron Phipps, assistant branch manager and Elfie is standing next to him. What a dedicated and fun group of volunteers and servants of Christ.(4/2018)
---