South Dakota
South Dakota Collection Center
Coordinator: Jeanette Stensland
(605) 467-0205
sdakota@ogt.org
Warehouse:
101 W 12th Ave.
Milbank, SD 57252
---
Mitchell South Dakota LWML Bring Much Needed Donations
Recently the Mitchell zone LWML had a spring workshop supporting OGT. They had Gifts from the Heart gathering which included putting together 130 school kits with backpacks for OGT to deliver to Ysleta Mission in El Paso, Texas. Some ladies from Armour Redeemer Lutheran Church in South Dakota brought the backpacks to OGT and then had a tour and volunteered for a few hours in the warehouse. Thank you for the needed backpacks and for your help in the warehouse. We enjoyed the time with you!(5/2018)
---
A Penny War Worth So Much More
The students at Koch School in Milbank, SD, came together in a big way for OGT South Dakota Collection Center with a donation of $1,475.35! As part of a Bulldog Nation project organized by Lydia Street (pictured at left), Koch School students competed in a Penny War. Mrs. Lenards' 2nd-Grade Class (pictured) raised nearly $250, winning a pizza party for their efforts. Accepting a check in the amount of $1,475.35 on behalf of the South Dakota Collection Center are local representatives Joyce Kasuske and Jeanette Stensland (2nd and 3rd from left). Orphan Grain Train will be using this money to ship donated meals and clothing to needy children worldwide. What wonderful work by all the students at Koch School!(1-2016)
---
---
German Sausage Dinner Funraiser!
South Dakota Orphan Grain Train is having their fall fundraiser at Emmanuel Lutheran Church in Milbank, SD on Sunday, October 18.  If you are in the area, be sure to attend their Polka Worship at 10:30 followed by an authentic German Sausage Dinner (yum yum) at 11:30.  Enjoy Waldner's sausage and all the trimmings.  A freewill donation will be accepted with proceeds going to the South Dakota OGT.  We hope to see you there!
---
Undie Sunday Fundraiser
South Dakota Orphan Grain Train is having an Undie Sunday for NEW SOCKS and NEW UNDERWEAR, male or female in ALL SIZES on April 12th, 2015 at Emanuel Lutheran Church , Milbank SD. In conjunction with this, the LWML Milbank Zone Rally is also meeting at Emanuel Lutheran on  April 12th and the ingathering will be new socks and underwear.  For more information about this event or how you can help, please contact Joyce Kasusk at 605-432-4377.
Fall 2007
From Jeannette Stensland:
We are thankful for all the help we are getting to serve God's people!
South Dakota Regional Division recently was the recipient of a Thrivent award of $400 in supplemental funds for a benefit Wisconsin-style fish dinner held in September at Emanuel Lutheran Church, Milbank. In October a sausage dinner was held at Mt. Olive Lutheran Church in Watertown and money received there will also be supplemented by Thrivent.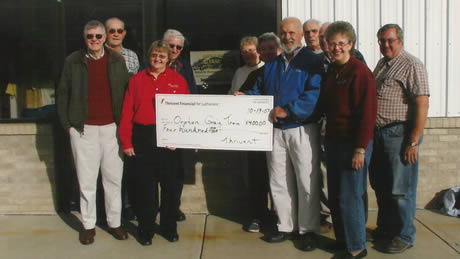 Above: Dianne Hammond, representing Thrivent Chapter 30581, presents the check to Vernon Koopman, treasurer for the South Dakota Division of Orphan Grain Train, Inc. Also shown are several of the volunteers who assist at the new packing site in Milbank.
Presentations about Orphan Grain Train were made to the South Dakota District Pastoral Conference in Spearfish as well as the LMWL Milbank and Yankton zones' fall rallies. The Milbank zone rally, held at Wilmot, included an ingathering of materials and funds greatly needed for shipping them.
Several quilts have been donated by St. John's Lutheran Church in Wolsey and Mt. Calvary in Huron.
Thank you all once again!