Missouri West
Missouri-West Collection Center
Kenneth Nierman
660-463-2523
Warehouse:
108 NE Second St.
Concordia, MO 64020
---
Helping Others Here in the United States
Missouri West Collection Center located in Concordia delivered toys, backpacks, clothing, shoes, blankets, towels, and medical equipment to Cornerstone Children's Ranch in Quemado, TX. Thank you for supporting OGT's border missions.(10/2018)
---
Cornerstone Children's Ranch in Texas Grateful for Gifts
Missouri West Collection Center volunteers in Concordia were very busy loading 1,170 boxes of quilts, Bibles, coats, shoes, clothes, bath towels, stuffed toys and school backpacks along with 2 commodes for Quemado, TX. The Cornerstone Children's Ranch will be receiving the goods to share with children and families at their facility and outreach programs. Thank you to the volunteers and donors!(4/2018)
---
Children's Ranch Blessings
On December 1, 2017 the  Missouri-West Collection Center volunteers loaded quilts, linens, coats, shoes, clothes, towels, medical equipment/supplies, stuffed animals and backpacks for Cornerstone Children's Ranch in Quemado, TX. These gifts are always a blessing for the children and families at Cornerstone.  (12/2017)
---
Helping One Another to Help Those in Need
Earlier this week the Indiana Branch and Missouri West Collection center got together to share a load to Ysleta Mission in El Paso, Tx. The shipment started in Jonesville, Indiana and was loaded with clothing, bedding, household items, medical equipment/supplies, school supplies, and toys. Then the truck headed to Concordia, MO to pick up bedding, clothing, medical supplies, toys and school backpacks. What wonderful gifts for the children, families and clinics helped at the Ysleta Mission.  (2/2017)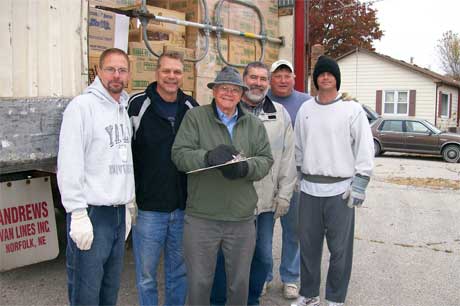 ---
Helping Right Here at Home
In June the Missouri West Collection Center in Concordia shipped a load to Cornerstone Children's Ranch in Quemado, TX. The volunteers loaded 1,115 boxes of clothes, shoes and coats, stuffed toys, bedding and blankets, school backpacks, medical supplies and household items. What wonderful gifts for the children.(7-2016)
---
Shipment sent to Cornerstone Children's Ranch in Texas
Missouri West shipped a load in May of 2014 to Cornerstone Children's Ranch in Texas. The inventory included 814 boxes of clothes, 61 boxes of shoes, 40 boxes of coats, 16 boxes of hats, scarves and gloves, 5 boxes of linens, 34 boxes of quilts and a box of toys. Thank you to the volunteers that worked so hard to sort and pack all of these items.
---
Fall 2008
Rev. Alfred Rodewald of the Missouri West Division (with clipboard) asked four members of his family to help him and Steve Krause load 810 filled boxes onto an Orphan Grain Train semi-trailer on November 8. The family had gathered from California, Iowa, Kansas City, and South Africa for his granddaughter's wedding later in the day.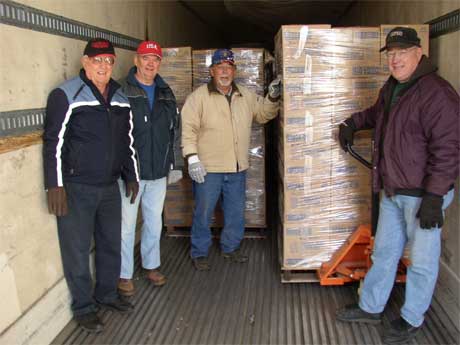 ---
Winter 2008
Orphan Grain Train, Missouri West Division at Concordia transferred 900 boxes of humanitarian goods on Feb. 29 to Orphan Grain Train International at Norfolk, Neb., for distribution to where most needed worldwide. People in western Missouri had donated the men's, women's and children's clothing. The clothing was sorted and packed by men and women volunteers in the Concordia area and at Jefferson City, Lone Elm and Norborne. Everet Hinck, Jim Evert, Homer Nierman and Robert Frerking of Concordia placed a total of 20 wrapped pallets each containing 45 boxes of goods onto an Orphan Grain Train semi-trailer from Norfolk.

Fall 2006
Orphan Grain Train Missouri-West Regional Division received 3,950 items of children's clothing from the June 23-25, 2006, Lutheran Women's Missionary League Missouri District convention ingathering in Columbia, Mo. District Vice President Martha Kleindienst of Jefferson City, whose service committee arranged the ingathering, reported the items ranged from infant sizes to size six and most items were new or nearly new. Also received through the ingathering were 177 new pairs of children's shoes, donated by Darling Shoe Co. of St. Louis, and $262 in donations to help Orphan Grain Train with shipping costs. The service committee sorted and boxed the donated items, then loaded the boxes into vehicles of women who would be returning to Concordia from the convention. The boxes were brought to the Concordia sorting center and were later trucked to Orphan Grain Train headquarters in Norfolk, Neb., for distribution. The convention ingathering also brought in 4,025 skeins of yarn. The yarn was divided, with half of it going to the women's prison at Vandalia and half to a women's knitting group at Abiding Savior Lutheran Church in St. Louis. The women at Abiding Savior knit afghans for Orphan Grain Train and other humanitarian groups.
---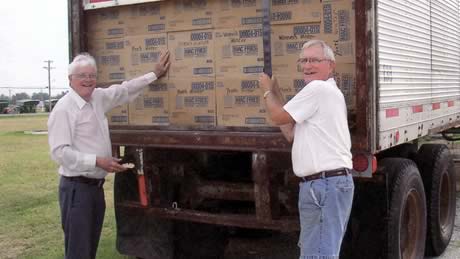 Missouri-West President Alfred Rodewald (left) and Roger Kammeyer in a recent photo with a trailer fully loaded with more than 1,200 boxes of winter clothing ready for delivery worldwide.