Indiana
Indiana Branch
Manager: Gene Ernst
indianaogt@gmail.com
Warehouse:
209 So. Jackson
Jonesville, Indiana 47247
(812) 405-2045
Warehouse Hours:
Every Tuesday, Wednesday and Thursday from 10am to 3pm.  Other times are by appointment only.  Please call for more information: (812) 405-2045
Indiana Branch News
---
Women's Ministry Blessed by Gifts
OGT Indiana delivered a truck load of men's, women's, and children's winter clothes, bunkers of houseware items, seasonal decorations, toys and games to Paoli, IN where Orange County Women's Ministries conducts an outreach community program. Also delivered was a Toro lawn mower and Toro tiller, a bit late for this season but items that will help a family or two next year. This area of Indiana ranks as the poorest area in the state and this women's ministry outreach is a way to connect with some who have very little. May the Lord's love be felt and experienced through these gifts of blessings.(11/2017)
---
Working with LRI
Indiana Branch partnered with Life Resources International (LRI) in Arkansas to ship humanitarian aid to Republic of Georgia. Indiana Branch volunteers loaded 1,519 boxes of clothes, coats, and shoes that went to Arkansas where more goods were loaded then on its way to help those in need in the Republic of Georgia. What wonderful gifts for LRI outreach program.(7/2017)
---
Kentucky to Receive Goods
Indiana Branch in Jonesville loaded a shipment of bedding, Christian resources and clothing, household items, clothes, shoes, furniture, medical equipment/supplies, toys and backpacks for Red Bird Missions in Beverly, KY. Red Bird Missions helps individuals with education, economic, spiritual and physical needs at their school and outreach programs.(7/2017)
---
Nicaragua Shipment Arrives
The week of April 10th Rainbow Network in Managua, Nicaragua unloaded an OGT shipment from the Indiana Branch. They were grateful to receive linens, clothing, shoes, patient gurneys, and over the bed hospital tables. Rainbow Network is a Christian Ministry working only in rural remote Nicaragua with about 42,000 people. They help with housing, economic problems, education and health care. What wonderful gifts to share with Nicaraguan families in need.(4/2017)
---
Great People to Get a Job Done
Indiana Branch volunteers recently loaded two domestic shipments. The first shipment contained medical equipment and supplies for Red Bird Mission in Beverly, KY. The next shipment was loaded with clothing, shoes, coats and toys for Life Resources International in Arkansas. Life Resources helps families emotionally, physically, spiritually and economically with a hand up, not a hand out.   Below is a picture of the crew that helped load for Arkansas.  (What beautiful gifts for both of these organizations helping those I need.(3/2017)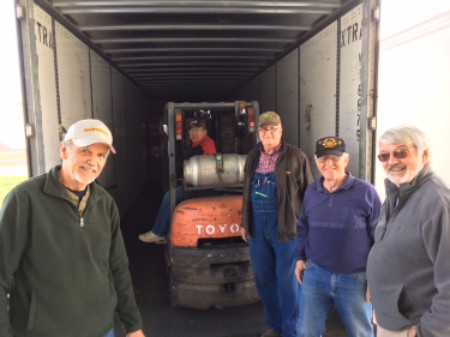 ---
Helping One Another Help Those in Need
Earlier this week the Indiana Branch and Missouri West Collection center got together to share a load to Ysleta Mission in El Paso, Tx. The shipment started in Jonesville, Indiana and was loaded with clothing, bedding, household items, medical equipment/supplies, school supplies, and toys. Then the truck headed to Concordia, MO to pick up bedding, clothing, medical supplies, toys and school backpacks. What wonderful gifts for the children, families and clinics helped at the Ysleta Mission.(2/2017)
Rainbow Network Awaits Container
OGT's Indiana Branch volunteers were busy yesterday loading a shipment for Managua, Nicaragua. Our recipient Rainbow Network will be receiving 1,208 boxes of linens, clothing, shoes, gurneys and hospital over the bed tables. Rainbow Network is a Christian ministry working with families in rural remote areas of Nicaragua. They are grateful for the donations to share with the families in need.(2/2017)
---
Nicaragua Container Ready to Distribute
Last November the Indiana Branch shipped a load to Managua, Nicaragua. Rainbow Network cleared and unloaded the shipment containing blankets/quilts, clothing and shoes, hygiene kits/towels, crutches, walkers, wheelchairs, folding/student chairs, backpacks and sports equipment. What wonderful gifts for the families in Nicaragua.(1/2017)
---
Helping Out Here at Home
The Indiana Branch shipped a load to Myra, KY, located in the beautiful Appalachian Mountains. This region has more than 25% of the population below the poverty level. This is partly due to lower pay scale and lack of jobs in this rural region. Donations are always welcomed and needed. OGT's recipient Manna from Heaven distributes the goods to families in the area and rural locations. They received blankets, quilts, clothing, coats, shoes, household items, bicycles, and school backpacks. What wonderful gifts for our neighbors.(12/2016)
---
Volunteers Help Get Container Packed
October 13th the Indiana Branch volunteers loaded a shipment for Rainbow Network in Managua, Nicaragua. They will soon be receiving 48 boxes of blankets and quilts, 1,255 boxes of clothing and shoes, hygiene kits, towels, school backpacks, sports equipment, student chairs and medical equipment. Rainbow Networks is a Christian ministry that has an outreach program to help families living in the rural remote areas of Nicaragua. Thank you to our donors and volunteers that helped ship these gifts of love to families in Nicaragua.(9/2016)
---
A Delivery Full of Joy
Last May the Indiana Branch volunteers loaded a shipment for Pastor Artis with Gaugaslici Ministry in Cesis, Latvia. The shipment of bedding, blankets, clothing, coats, clothing accessories, hygiene kits, towels/washcloths, hospital bed, medical equipment, rehab trikes, wheelchairs, bicycles, backpacks, student desks/chairs, and school supplies were recently unloaded. Some items were placed in storage until distribution day and some of the medical equipment was shared with local facilities. Pastor Artis stated how the bikes are always a huge success and people are excited and grateful for them as this is sometimes their only means of transportation. He shared these pictures of the excitement and laughter from people receiving the bikes.(8/2016)
---
Happy Faces Load Shipment for Far Off Places
The Indiana Branch loaded a shipment for Pastor Arits' ministry Gaugaslici in Cesis, Latvia. They will soon be receiving bedding, blankets, clothing, coats, hygiene kits, towels/washcloths, hospital beds, shower chairs, commodes, crutches, rehab trikes, wheelchairs, bicycles, school supplies, backpacks, student desks/chairs. What wonderful gifts for people in need in Lativa. Thank you to the hard working volunteers, pictured below, for loading all the wonderful gifts.(5-2016)
---
International Shipment Ready
On October 15, 2015, the Indiana Branch shipped their first international load since they moved into their new warehouse in Jonesville, IN. Everyone felt blessed and grateful to be shipping 79 boxes of blankets/quilts, 40 boxes of linens, 1,036 boxes of men's, women's and children's clothes, coats and shoes, hygiene kits, bicycles and school supplies to families in Cesis, Latvia. Pictured are the five hard working volunteers and one's son, Stephen, from Cummins Engine Company. They got the job done in 2 hours! Thank you for your support and dedication to the Indiana Branch and to the families in Latvia.
| | |
| --- | --- |
| Indiana Branch Volunteers | Loading for Latvia |
| Bikes being loaded for Cesis, Latvia | |
Ceremony and Dedication for New Warehouse
On Sunday, July 26, 2015, Indiana Branch celebrated their new warehouse with an Open House.  The beautiful facility has a reception area, manager's office, conference room, kitchenette, and a comfortable sorting and packing room.  The celebration started with a church service with OGT's founder and President Pastor Ray Wilke sharing the sermon, "ribbon" cutting, refreshments, and tours of the new warehouse.   Also in attendance was Indiana Branch Manager, Gene Ernst, OGT's Vice President of Operations, Grant Schmidt, President of the LCMS, Indiana District, Daniel May, and LWML District President, Emily Rogers.  Many people have helped to make this vision a reality.  Thank you to those that gave their time, talent and donations for the building of this new warehouse.  Pictures are of the front of the building, "ribbon" tape cutting with box cutters since that is what we use, refreshments line, warehouse tour and view of sorting/packing room.  
| | |
| --- | --- |
| Front view of new warehouse | "Ribbon" Cutting Ceremony |
| Refreshments served | Warehouse tours |
| Sorting/Packing Room | |

The new warehouse is getting its final touches before the upcoming Open House.
| | |
| --- | --- |
| New Warehouse | Reception Area |
| Sorting Room | Sorting Room with newly painted barrels |
| New Kitchenette being installed | |
---
Renovations Inside Begin
The renovations to Indiana Branch's new warehouse in Jonesville, IN are coming along beautifully.  The front of the warehouse will be gaining a 5'x10'sign.  They plan to start moving various items in from the old warehouse during the first two weeks of June.  So far, all is on track for the Open House on July 26, more details to come.  The first picture is of two volunteers working in the new manager's office while Jim is surveying the sorting area; 2nd is a view out the two windows in the conference room; and 3rd is the northeast corner of the sorting area--plenty of window light. A very exciting time for all involved!
---
Landscaping for the New Warehouse
Indiana Branch's new warehouse is getting some outdoor sprucing up.  The Cummins Company encourages their employees to take up to 4 hours on their dime and volunteer in the community. They came out to the new warehouse site to do some landscaping work, plant trees, and seed grass. Since they accomplished that in less time than expected, four of the volunteers strapped rehab equipment to skids for a future shipment and six of them went to the old site to clean out two trailers and get items ready for a future shipment to Myra, KY. It is such blessings to have that kind of help available.  Pictured are the volunteers from the Cummins Company helping with the landscaping.
Warehouse Addition Progresses
In four days it went from setting posts to having walls and a roof!  The Amish crew came in and did an unbelievable job putting on the addition to the warehouse.  Thank you to this crew and everybody else that have helped make this new warehouse possible.  More pictures coming as progress continues.
| | |
| --- | --- |
| Addition added to the Indiana Branch warehouse | Inside the new addition |
| Warehouse addition about finished | |
---
A New Warehouse Becomes Reality
The Indiana Branch was in need of a warehouse for sorting, packing and office space.  They worked hard to raise the money and now see their vision becoming a reality.  The Indiana Branch purchased a warehouse located in Jonesville, IN and is refitting it for their needs.  The front cinder block building was demolished and will be replaced with a 60'x70' structure that will serve as the sorting and packing room, reception area, have an office, bathrooms, conference room, and a space for repair work to be done.  Employees from Cummins Corporation, who work with logistics, are volunteering their time to organize the flow pattern and area for storage. Local volunteers helped steel brush and paint the pallet storage racks.  Completion date of July 1, 2015 is our hope for moving in and being operational. The warehouse and new building will amount to 12,500 square feet, which will replace our 39 semi-trailers and the refurbished hog/chicken barns used the last 12 years. This is a very exciting time for the Indiana Branch and would not have been possible without the help of prayers, volunteers, and donors. We are hoping to celebrate with an Open House sometime in July but that date is still a work in progress.  Pictured is the demolition of the front portion of the warehouse, repairs to the warehouse and the painted storage racks.
---
Families are Helped by Orphan Grain Train
The Indiana Branch shipped several domestic loads to facilities and churches helping the less fortunate. One of the shipments went to Garden City Church of Christ which helps families spiritually along with clothing, food and household items. What a blessing to have places help distribute the donated items from OGT. (February 2015)
Another Shipment for the Ukraine
On January 9, 2015, the Indiana Branch shipped a much-needed load of humanitarian aid to the Ukraine. The shipment included 1,013 boxes of children's, women's and men's shoes, clothing and coats, 28 boxes of towels and washcloths. What a blessing for these people in a country hurting from destruction.
The Ukraine Will Receive Humanitarian Aid
Indiana Branch loaded their 3rd 40 ft. container of winter clothes for Ukrainian refugees on December 16, 2014.  The load consisted of 996 boxes of children's, women's, and men's clothing, quilts, blankets, and linens, plus a few boxes of hats, scarves, and mittens.  These items are blessings for the families hurting in this country.  The picture is of the Cummins employees (7) who gave 4 hours of volunteer time to help load. The others in the picture are board members and OGT volunteers from the community.  Awesome job completed in 1 hour and 45 minutes--and not much air was shipped in that container.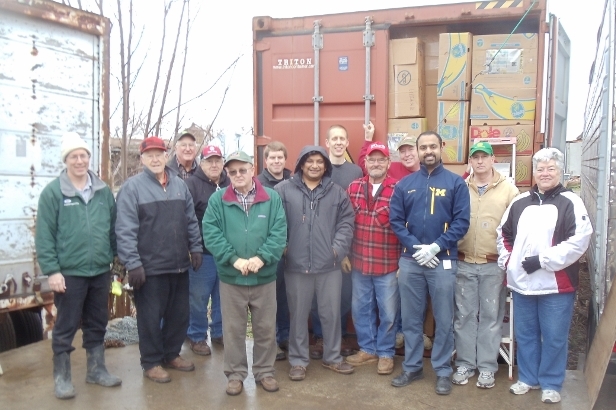 Asking Event Held to Raise Funds
Indiana Branch had an Asking Event in November 2014 to help raise funds for purchase of a warehouse, repairs and general operational costs. 
They offered several locations, times, meals and speakers for the event.  It was a big success and had many supporters attend the activities.  The pictures below are from the Asking Event.  



Gene Ernst, Indiana Branch Manager

Gene Ernst sharing opening devotion at the Asking Event and using how 3 Nails + 1 Cross = 4given as OGT's foundational principle.




Pastor Ray Wilke, Founder and President of OGT

Pastor Wilke was Keynote Speaker and had a morning church service at the Asking Event.




Grant Schmidt, Vice President of Operations for OGT

Grant Schmidt from the Norfolk, NE International Office attended the Asking Event.




Pastor Bauman, Speaker at the Asking Event

Pastor Bauman explaining the campaign's goal.
Orphan Grain Train Capital Campaign
The Lord Provides
            For well over a year, the Indiana Branch of the Orphan Grain Train has been searching for a new location. In addition, the Branch was also seeking a new director with the "retirement" of Gene Wint. In both cases the Lord has provided. Rev. Gene Ernst, a recently retired pastor who moved to the area from Iowa, has agreed to serve as the new director of the Indiana Branch of the Orphan Grain Train. Gene and his wife Vivian have been involved with this outreach since their move to this area and are a tremendous blessing.
            Recently the Indiana Branch of the Orphan Grain Train purchased the former Southern Indiana Millworks building in Jonesville for its new headquarters. This new facility is a blessing in so many ways:
The facility is located nearly equidistant between Seymour and Columbus, conveniently located for the majority of our volunteers.
The facility is easy to find for those from outside the area who are volunteering or dropping off donations. The facility is a few hundred feet off of Highway 11 and is less than three miles from Exit 55 of Interstate 65.
The warehouse is located on a nearly four acre parcel which will allow room for trailers to be loaded and unloaded and also allow for future expansion of the warehouse, if needed.
The facility is ten miles from Camp Lakeview, if out-of-town volunteers wish to spend the night.
The property includes a rental house which is currently generating a $475 monthly income.
Funding the Future
            The Indiana Branch of the Orphan Grain Train seeks to provide human care in our area and worldwide in the name of Christ. The Board is committed to doing this with few overhead costs, so that donations can be used for boxing, shipping, and delivering needed items. Thus, the Indiana Branch of the OGT has recently launched a three year campaign with a goal of $675,000. Here is what this $675,000 will accomplish.
1)   Cost of Facility and Land--$175,000: We feel blessed to have purchased a nearly 12,000 square feet facility on over 3.6 acres. In addition, there is a 725 square foot house that generates $475 in rent income every month.
2)  Remodeling of Facility--$200,000 (estimated): The front of the facility facing County Road 950 South is constructed of cinderblock. Our plan is to remove this section and in its place construct a new area for offices, sorting room, restrooms, kitchenette, and conference room. In addition, there is another small area that was added later. We will also remove this area and in its place install an overhead door which will allow vehicles to drive inside and through the building so donations can be dropped off and vehicles unloaded regardless of the weather. In addition, a loading dock will be constructed as well as new drives for parking cars and to allow semi-trailers and other trucks to drive onto the property for loading and unloading.
3)  General Operations--$300,000: Even as we are seeking to pay for the purchase and remodeling of the new warehouse, we want to continue this important work. We have established a yearly budget of $100,000 to pay for shipping costs as well as utilities. Since this is a three year campaign, the total for the continued general operations is $300,000.
Indiana Branch Ships Load to the Ukraine 
Indiana Branch loaded a shipment on October 23, 2014 headed to the Ukraine.  The inventory included 778 boxes of men's, women's and childrens clothes, shoes and coats, 52 boxes of linens and 53 boxes of quilts. Pictures include loading the truck with the 883 boxes of humanitarian aid.  Also pictured is the St. Joseph's College baseball team and Arnold Braasch.  The baseball team helped to load the box truck at Arnold Braasch's collection point in Rensselaer, IN with winter clothing destined for Ukraine.
| | |
| --- | --- |
| Loading shipment for the Ukraine | |
| Arnold Braasch and St. Joseph's College baseball team | |
---
Volunteers that help make it possible for the Indiana Branch to ship worldwide!



Employees from Cummins volunteering

Cummins encourages employees to volunteer 4 hours of time and they will pay them for their time!




Ivy Tech Community College students volunteering

The students are researching OGT as a class project for a speech class.




Calvary and Mt. Olive Lutheran Church volunteers
Kentucky Receives Supplies
OGT Indiana Branch shipped a load at the end of September to Frakes, Kentucky. The inventory included school backpacks, 64 boxes of toys, books, medical equipment, towels, clothing and Bibles. What a blessing for the children and others receiving the items.
---
Indiana Branch Sends Aid to Myra, KY
Orphan Grain Train Indiana Branch delivered a load of goods to an Appalachian ministry in Myra, Kentucky, called "Manna From Heaven" on Saturday, August 16.  Lois and Ralph Tackett operate the ministry in Myra and have done so for the last 12 years. They said that this is the worst economic situation they have seen and are doing all they can to help meet the immediate needs of the people in this region. They are also totally devoted to sharing the Gospel message of Jesus Christ and His love as these items are given out.  The load included 6000+ square feet of carpet, padding, 12 bikes, 5 boxes of children's books, and wooden crates filled with pictures and frames, misc. building hardware like hammers and other tools, baskets, and kitchen appliances. The items will be given to the truly needy in the Myra KY area where unemployment is a staggering 70% due to the shutdown of the coal mines.  Pictured are Lois and Ralph Tackett and Gene Ernst of the Indiana Branch.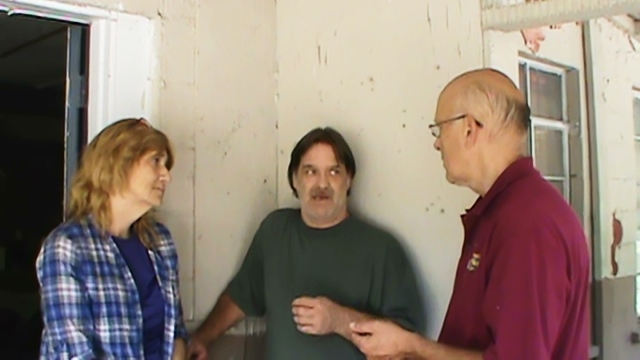 ---
Volunteers Busy Loading Shipment
Volunteers at the Indiana OGT site were busy loading miscellaneous books, Kids Against Hunger meals and Bibles in early March, 2014. These items were shipped to an outreach program in Columbus, Indiana. Thanks again to our wonderful volunteers.
---
Million Meal Marathon
Orphan Grain Train & Indiana Branch recently participated in a "Million Meal Marathon", organized by the Indianapolis Branches of Kids Against Hunger. The food packing event, held at Lucas Oil Stadium, was promoted by members of the Colts football team, an Indianapolis TV station, the Lucas Oil Stadium management, the FFA officer team, the Indiana Soybean and Corn Growers Associations, and 30 other companies. Over a million meals were packed by an estimated 4000 volunteers. Orphan Grain Train's role was to assist in transporting the palletized food to a waiting cargo plane, which finished the final leg of the event as it took off, bound for Haiti.
Disaster Updates
Due to the vast number of disasters and the huge amount of damage and loss that has taken place recently the Indiana Branch will quickly announce and heavily promote the need for items from Indiana and surrounding area churches, to distribute to people suffering loss . The items in this promotion will include the " Scrub Bucket" cleaning material project, the "Towels of Mercy" hygiene wrap, and "Quilts and Blankets" Although it is approaching the holiday season, these disasters have occurred and represent a very appropriate need in our immediate area as there is a definite need to give help right here at home. Normally these items are keep in stock , but recent needs have dwindled the supply and more are needed to help people now.