Rocky Mountain
Rocky Mountain Branch
Manager: Brad Brackhan
(970) 520-2958

Warehouse:
20832 County Road 32.5
Julesburg, CO  80737
Hours:
Wednesdays and Saturdays 9 to noon
Please call if you need a different time to donate or for a group packing.
Secretary: Muriel Nelson
PO Box 152
Julesburg, CO 80737
(970) 474-2526
mlnelson34@msn.com
---
Wonderful Gifts Sent to Bless Moldova
Bible Mission in Moldova will soon rejoice with receiving goods from Rocky Mountain Branch in Julesburg, CO. The OGT volunteers loaded sewing supplies, coats, winter accessories, clothes, linens and quilts. Bible Mission shares with those living in poverty and also offers Bible classes. What wonderful gifts for families in Moldova.(11/2018)
---
Fabulous Gifts for Families in Ysleta
Rocky Mountain Branch in Julesburg, CO and the Norfolk warehouse teamed up to ship bicycles, various foods, clothing, medical equipment/supplies and household items for Ysleta Missions in El Paso, TX. What fabulous gifts for the children and families being served at Ysleta.(9/2018)
---
Shipment Arrives to Many Excited Families in Latvia
Fonds Saules Kalns in Smiltene, Latvia was gifted with quilts, clothes, medical equipment, Christmas boxes and sewing machines with supplies from Rocky Mountain Branch in Julesburg, CO. Victor shared these unloading pictures and that the day after the container came families were asking for clothing since they saw the arrival of OGT goods. To God be the glory!(9/2018)
---
Amazing Volunteers Load Shipment for Latvia
Rocky Mountain volunteers in Julesburg, CO loaded a shipment for Fonds Saules kalns which means the "Sun Hill" Foundation. They are located in Smiltene, Latvia and will be receive sewing machines with supplies, stuffed toys, 15 Christmas gift boxes for children, medical supplies, clothing, shoes, coats, layette kits, linens and blankets to share with families living in poverty, disabled individuals, orphans and the elderly. Thank you Rocky Mountain Branch volunteers and donors!(8/2018)
---
Blizzard Conditions in Mid April Stranded Motorist
Mid-April brought blizzard conditions to many areas. Julesburg, CO was one of those places and the fire department had stranded motorists staying at their facility. OGT's Rocky Mountain Branch in Julesburg assisted by donating 7 boxes of hygiene kits for travelers to use. Just another way OGT helps our neighbors.(5/2018)
Group Effort to Supply Goods to Cornerstone Children's Ranch
Norfolk warehouse and Rocky Mountain Branch in Julesburg, CO. worked together for a shipment to Cornerstone Children's Ranch in Quemado, TX. Norfolk warehouse volunteers loaded clothing, cleaning kits and 8 pallets of various foods then at the Rocky Mt. Branch volunteers added household items and medical supplies to be shared with those in need at Cornerstone's facilities and also outreach programs.(5/2018)
---
Many Grateful for Blessings
On March 1st, 2018 it was -4 degrees Fahrenheit when OGT recipient Fonds Saules Kalns unloaded a shipment by hand in Riga, Latvia. They shared words of gratitude for blankets/quilts/linens, clothes, coats, shoes, crutches, walkers, wheelchairs, stuffed toys, school kits and sewing supplies coming from Rocky Mountain Branch in Julesburg, CO. They also shared a personal story about Vitnija, an 18 year old single mom with her one year old son, Alex struggling to have enough money for food and heat. They were able to place her in an apartment that was affordable with their assistance and OGT shipment provided clothing, toys, curtains, blankets, etc. for her apartment. They will continue to help her with food, diapers and other support as needed. Vitnija was very grateful for the gifts from OGT. Pictures are of local high school students and volunteers unloading in the frigid cold and also of Vitnija and Alex. There is a picture of a lady, Monika loading her van to share with people living with mental health issues and limited ability to support themselves. What wonderful stories of how one shipment of OGT donations impacts so many lives.
| | |
| --- | --- |
| | |
| | Help Room for those in need of clothing |
| | |
Generous Donation and Delivery of Wheat
Paul Kerschner, assistant warehouse manager at OGT's Rocky Mountain Branch in Julesburg, CO is also a wheat farmer with his wife Carolyn. Paul and Carolyn donated to Rocky MT Branch 2,500 pounds of wheat that was clean and bagged. It was decided to donate the wheat to Pastor Heimer with Ysleta Mission in El Paso, TX. Pastor Heimer has a flour mill which volunteers will mill the wheat into flour and distribute to families in need. Paul and Carolyn took the wheat on the long yet scenic trip to El Paso on their way to Arizona for a personal visit. Thank you for the generous donation and delivery of the wheat. First picture is Pastor Heimer watching a volunteer unload the pallet of wheat and the second photo is Paul and Carolyn Kerschner with the unloaded wheat.(3/2018)
---
---
500 Baby Quilts Donated in 3 Years
Since October 2015, Arline Lanckriet, her sister-in-law Irene and daughter Linda from St. Paul's Lutheran Church in Julesburg, CO have made over 500 baby quilts and donated them to OGT Rocky Mountain Branch. It warms their heart to know children throughout the world are cuddled in the quilts and prayerfully feeling warmth and love. Thanks to such wonderful ladies! Pictured is L-R: Arline Lanckriet with her daughter Linda Pitzer.(2/2018)
---
FFA Students Lend A Helping Hand
Rocky Mountain volunteers in Julesburg, CO had great help from Revere High School FFA students in Ovid, CO. These boys take time off from school to provide this community service. The FFA students loaded 906 boxes of coats, clothes, shoes, quilts along with crutches, walkers and a wheelchair going to Smiltene, Latvia. Fonds Saules Kalns provides assistance to orphans, disabled people, families livin)) in poverty, elderly, and the disabled. FFA students pictured from L to R: Dalton Carlson, Bean Parker, Colton Woodhams, Chandon Dunker and Cade McKinley.(1/2018)
---
500 Hats to Warm 500 Heads
Marybeth Sanchez from Brule, NE loves to crochet and had made some hats before for OGT's Rocky Mountain Branch in Julesburg, CO. Marybeth decided in honor of the 500th Anniversary of the Reformation and challenged herself to make 500 hats for OGT. The first 400 only took four months - from January through April, made the winter days go faster. Then the weather turned warm and she wanted to be in the garden, so the last 100 took from May to July! She had lost her sister the previous year and was given her yarn stash [ a very large tub]. She used that for a lot of the hats and several of her church sisters donated yarn and I purchased some. Marybeth brought in 3 full tubs – 500 crocheted hats and her prayer is that each hat warms ears and God's Word warms hearts of those that wear them.(11/2017)
---
Loaded for Bible Mission
Rocky Mountain Branch in Julesburg, CO loaded a shipment for Moldova on September 7, 2017. Bible Mission International will be receiving quilts, linens, clothing, coats, hygiene supplies, canes, crutches, walkers, and school kits to share with orphans, widows, the elderly and disabled individuals they assist and will also share the message of the Gospel with them.
---
FFA Students Lend a Hand
Rocky Mountain Branch located in Julesburg, CO loaded a shipment for Pampali Evangelical Lutheran Church in Latvia. The local FFA students came to help load 1,068 boxes of blankets, quilts, clothing, shoes, coats, homemade t-shirt diapers, towels and washcloths. What awesome help to load all these wonderful gifts for children and families in Latvia.(3/2017)
---
FFA Students Help Load for Lithuania
Rocky Mountain Branch in Julesburg, CO had some great help loading a shipment for Taurage, Lithuania. The FFA students from Revere School District in Ovid, CO donated their time and muscles to load 976 boxes containing quilts, layette kits, linens, coats, clothing, shoes, hygiene kits, diaper t-shirts, backpacks, sewing supplies and bikes. What wonderful gifts for Taurage Evangelical Lutheran Church to receive and distribute to families in need.(2/2017)
---
Latvian Family's are in for a Treat
On August 9th the Rocky Mountain Branch located in Julesburg, CO. loaded a shipment for Smiltene, Latvia. OGT's recipient Fonds Saules Kalns assists children and adults in orphanages, the disabled, large families, and outreach programs. They will soon be receiving blankets/quilts/linens, men's, women's, and children's clothing, coats and shoes, and school supplies to share with those in need. Pictures are of the Rocky Mountain volunteers loading all the precious cargo for Latvia.(8/2016)
---
Unpacking Love and Kindness Miles Away
June 1st Rainbow Network in Nicaragua unloaded a shipment of bedding, blankets, clothing, shoes, handbags, diapers, new underwear, hygiene kits, towels, hospital gowns, hospital linens, bicycles, stuffed toys, school supplies, and sewing supplies. The Rocky Mountain branch in Julesburg, CO sorted, packed and shipped all these wonderful gifts last April 21. Rainbow Network is a Christian ministry that assists children and families in remote areas of Nicaragua.(6-2016)
---
Rainbow Network in Nicaragua to Receive Aid
Last week the Rocky Mountain Branch volunteers in Julesburg, CO loaded a shipment for the Rainbow Network in Nicaragua. Our recipient Rainbow Network is a Christian ministry that works with children and families in rural remote areas of Nicaragua. They will soon be receiving 37 boxes of blankets/quilts/linens, 932 boxes of men's/women's/children's clothing and shoes, 8 boxes of hygiene items, medical supplies, a bicycle, stuffed toys, school kits and of sewing supplies. What wonderful gifts for these families that have very little. Thank you to our donors and volunteers!(4-2016)
---
---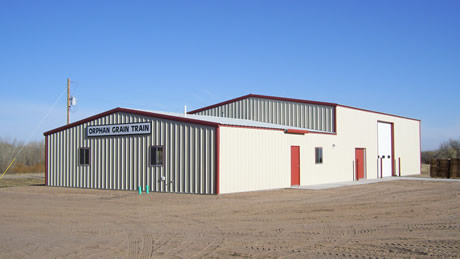 (2009) Orphan Grain Train Rocky Mountain Division Warehouse Location: I-76 and Colorado State Highway 385, Julesburg, CO 80737 Warehouse hours are Wednesday and Saturday mornings, 9 to 11 A.M. We close the day before a holiday and on holidays so our volunteers can enjoy the day with their families. Our volunteers have sent ten (semi-load) shipments from the Julesburg warehouse in 2008 and four shipments in the first half of 2009. So many wonderful miracles have happened to us we thought it would be nice to share them with you: 1. We have a satellite collection point at Epiphany Lutheran Church, Castle Rock, Colorado which is about 20 miles south of Denver. They have been collecting clothing for us since 2003. Ken and Dottie Bockelmann and their volunteers have been doing a wonderful job. We are so thankful for Epiphany Lutheran for allowing us to help the needy. A few years ago, Epiphany congregation also collected the $4,000 needed to purchase our truck. 2. Since Orphan Grain Train is still working at the Katrina relief area, I thought I could share with you two stories. Back in 2005 our Sedgwick County Sheriff received a telex from a sheriff in Hattiesburg, Mississippi, thirty-six hours after the hurricane hit. He was desperately in need of clothing, shoes, diabetic and other medical supplies, disposable diapers and bottled water. Several sheriff's departments in our area got together and collected the medical supplies, diapers, and water, and loaded it into a National Guard troop truck. Then they drove out to our Orphan Grain Train warehouse, where county inmates loaded the rest of the truck with the needed clothing, covered everything with tarps, and left directly for Hattiesburg. The drivers took turns driving, and arrived within 24 hours of the telex! A second Katrina miracle. The Sisters from St. Patrick Catholic Church, Sidney, Neb. called us right after Katrina. They knew we were doing relief, and they wanted to know what they could do to help. We asked them to collect hygiene items, and gave them a list of items. They did one better, they contacted the Sidney Public High School to compete with their Catholic School to see who could collect the most items. Three days later we received a phone call from the Sidney HS Principal to come and pick up the items, there were so much, these items were all over the halls and creating a hazard. These items were all taken to St. John's Lutheran Church in rural Ogallala, Neb. where men, women and children were waiting with gallon Zip-lock bags for assembling. As soon as they were done, Heinz Piehl and John Heidemann drove the completed packets (37 large boxes full) in our Orphan Grain Train truck straight to Norfolk, Neb., where they were loaded on the next semi truck headed to New Orleans! 3. 2007. We needed to move from our previous John Deere warehouse, and nothing in town or anywhere near was suitable. Our board members voted to build. One acre of land was donated to us. Blueprints, title work, appraisal, some of the surveying, some of the actual building, and some town services were donated. Many grants were received, and an interest free loan was given to complete the warehouse. Praise the Lord! 4. Quilts. We receive quilts from over twelve churches in our area. All of these lovingly sewed quilts give comfort to needy people, both in the states during disasters, and overseas. 5. Thrivent Financial Chapters continue to match monies collected during fundraisers, to help us pay for shipments. 6. May 2008. Windsor, Colorado suffered a tornado. An ABC reporter was on scene that afternoon and gave the list of immediately needed items. Windsor is about 150 miles from Julesburg. After receiving permission, early the next morning several men loaded our truck with 248 boxes full of quilts, baby and children's clothing, jeans, and shoes and drove to the distribution point in Windsor. It was a scene that Heinz Piehl and Paul Kerschner will never forget. The Windsor volunteers were in "awe" that help could come so fast! 7. Box Butte Hospital in Alliance, Neb. continues to donate good medical equipment for missions. When Heinz arrives with our truck, all available employees come out and help, and then donate their own extra clothing. 8. Kathy Most and her crew from St. John's Lutheran, in rural Ogallala, Neb. continue to collect and pack clothing for us! 9. Our volunteers are the most wonderful, giving people, who come faithfully twice a week to do the Lord's Mission Work as HE has taught us! Our Board members give of their time and talents consistantly. Brad Brackhan comes whenever needed, Paul Kerschner gets our boxes from Greeley and brings them out to us and comes whenever needed, Ken and Dottie continue to sort and pack. Thanks to Dick Dawson and Jan for managing the Julesburg Warehouse. We have a new and capable secretary, Muriel Nelson. You do a great job. Thanks to all of you! One final note, we all give thanks for John Heidemann, who gave so much time for a Mission that he loved. He is missed. Respectfully submitted Orphan Grain Train, Rocky Mountain Division For more information call: Muriel Nelson (970) 520-0886 .  (2009)
---