Mid-Atlantic
Mid Atlantic Branch
Cliff Kraft - Branch manager
c/o Christ Memorial Lutheran Church
89 Line Road
Malvern, PA 19355-2879
(610) 644-4508
mid-atlantic@ogt.org
MID-ATLANTIC BRANCH NEEDS WORK SPACE
Unexpectedly in mid-August 2018 we lost our warehouse which resulted in halting donations and postponing work. This came as a shock and without warning!
We are now seeking a new base of operations. We need at least 5,000 square feet of space with access to bathrooms and a garage door or loading dock. The ideal location is Wilmington, DE, but we are also looking in West Chester, PA and other locations in the Delaware Valley. A vacant school, retail shop, grocery store or warehouse are all suitable candidates. Our leasing budget is limited since almost all funds go toward shipping. Do you have any contacts with a company or individual that may know of space available at a nominal rate or gratis?
Please call Cliff Kraft at (610) 420-0380 with any information or questions.
We are confident that our Lord has a purpose in this turn of events. While we do not yet know what His plans are, we will abide by his will and trust Him to provide us a future that brings hope to those in need. Psalm 20 encourages us: "May the Lord answer you in the day of trouble! May he send you help from the sanctuary and give you support from Zion!"  Please join us in prayer for the Lord's guidance.
---
Spaghetti Sauce and Noodle Shipped to Haiti Loved by Children
Mid-Atlantic Branch recently shipped a load to Help For Haiti which included Prego Sauce and spaghetti noodles. This was shared with an orphanage and the children loved it! Thank you Mid-Atlantic Branch volunteers and donors!(9/2018)
---
Shipment Welcomed With Grateful Smiles
Mid-Atlantic Branch out of Wilmington, DE recently shipped 186,840 Kids Against Hunger meals, processed food, drinking water, women's shoes, hygiene supplies, and file cabinets to Help For Haiti. Sandra Koch expressed words of gratitude for such a welcomed shipment especially for the peanut butter which she will only share with the orphanages to put smiles on the faces of the children. More distribution photos to come.(8/2018)
---
Joining Forces to Ship Goods
Mid-Atlantic and New England Branches joined forces to ship a load of goods to Pampali Evangelical Lutheran Church in Latvia. Mid-Atlantic Branch volunteers loaded bikes, toys, school supplies, sewing fabric, quilts, bedding, clothes, shoes, hygiene items, and medical equipment and added to that was coats, shoes, boots and clothing from New England Branch volunteers. What wonderful gifts for children and families in need.(7/2018)
---
Container Shipped Despite Many Obstacles
Another joint effort to help our brothers and sisters in Puerto Rico was realized by the branches of New England, Mid-Atlantic and Maryland. Battling delays involving a broken down rental truck, glitches at the Port of Baltimore and a spring snow storm, the container left Maryland on March 23, 2018 one week later than scheduled. We give thanks for a loading crew that was willing to come back 3 times to make this happen! We also give thanks for Rich Klepps, driver extraordinaire, who was willing to be our 'OGTeamster' and bring the items down from New England and Mid-Atlantic. Included in the supplies sent to Puerto Rico were: 293 boxes of Kids Against Hunger meals (that's over 10,000 pounds of food!), 102 cases of water, 31 boxes of hygiene kits, 17 sewing machines, over 100 boxes of diapers, 207 boxes of clothing, 52 yard/home tools, 114 assorted medical items (wheel chairs, walkers, canes, crutches etc), 83 boxes of towels/linens, 111 boxes medical linen and tubing, plus cleaning supplies, home care items, toys, and school supplies! God is good! First photo is 'OGTeamster' Rich Klepps in the rental truck being loaded. Next photo is volunteers from Mid-Atlantic Branch and a photo of them loading. Next is New England Branch volunteers and a photo of their supplies loaded. The last photos are Maryland Branch volunteers at their warehouse loading all three loads into a shipping container for Puerto Rico! What an awesome joint effort! Thank you all!  (3/2018)
---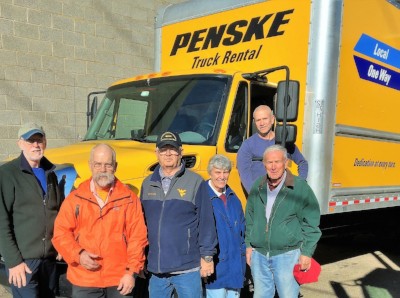 Above and Beyond for Others
Rich Klepps, a dedicated volunteer from the New England branch has to love driving because he exceeded the call of duty to help get a container loaded for victims in Puerto Rico. On Tuesday, November 28, 2017 Rich helped load several heavy items to be shipped to Puerto Rico into a 26 foot truck at the New England branch (Terryville, CT) and drove it to the Maryland warehouse (Millersville, MD). On Wednesday morning, the items were unloaded and then Rich drove to the Mid-Atlantic branch (Wilmington, DE) to load up their inventory for the Puerto Rico shipment. Rich then returned to Maryland warehouse. After staying overnight, the next morning, Thursday, the container destined for Puerto Rico was loaded with the items from the three locations. His job was completed. However, the Maryland branch asked him unexpectedly to drive his truck to three distinct venues in northern Pennsylvania to pick up hospital beds and many other items destined for Liberia. Along with one volunteer from Maryland, Norm Giguere, he left Millersville around noon and returned close to midnight after driving round trip of 400 miles. Friday morning the hospital equipment was unloaded and the truck was loaded with the aforementioned clothes and Rich drove back to Connecticut. He did all of this with a smiling face and immediate willingness to do what he could to further the mission of our charity. I share this story because one of the benefits of being a volunteer for Orphan Grain Train is that one is surrounded by wonderful and extraordinary people and Rich happens to be one of those people. If OGT had a volunteer of the year, Rich would have been in the running! From Ron Phipps, Maryland assistant branch manager
The three branches did a wonderful job loading the 40' shipping container which will stay in Puerto Rico with 26,136 Harvest Pack meals, 5,184 Kid's Care meals (pasta/bean soup), bottled water, hygiene kits/supplies, diapers, cleaning supplies, buckets, brooms, mops, generators, rakes, shovels, tools, crutches, walkers, wheelchairs, sump pump, wet/dry vacuum, clothing, shoes, and backpacks for Centro Cristiano Gracia Y Yerdad Inc. in San Juan, Puerto Rico. This is OGT's 3rd shipment to Puerto Rico. The picture above is Rich Klepps in the back on the right, L-R front row is Roger Hazzard, Mid-Atlantic warehouse manager; Rob Hall, Mid-Atlantic asst. branch manager, Don Coffman, volunteer; Marilyn Kraft with husband Cliff Kraft, Mid-Atlantic branch manager. The rest of the pictures are from the three OGT locations loading shipment for Puerto Rico.  (12/2017)
| | |
| --- | --- |
| Mid Atlantic Branch | New England Branch |
| Maryland Branch | |
| | |
| | |
| | |
---
Friends Helping Friends Fundraiser A Success
For the second year in a row Mid-Atlantic Branch volunteers created excitement by joining in a department store "Friends Helping Friends" fund-raiser. Northeast retail chain Boscov's invites not-for-profit organizations to sell $5 shopping discount passes to its annual store-wide event. Proceeds are kept by the charities. Held on the third Tuesday of October, Friends Day store traffic can rival a Christmas season shopping day! OGT volunteers pre-sold passes to friends, neighbors, and church members. They also set up in-store table displays the day of the event to sell passes and educate shoppers about OGT's mission. Mid-Atlantic Branch raised $730, surpassing last year's total. We look forward to increasing our goal in 2018! First picture is of Ruth Hewlett pre-selling passes in August and next is Roger Hazzard and Sandy O'Hedy set up in-store on sale day.(10/2017)
---
Food and Clothing to Arrive in Tajikistan
Tajikistan is one of the poorest countries in the former Soviet Union. According to the World Bank, 85% of the Tajik people are living below the poverty line. There is a shortage of work, food and other commodities. OGT's recipient "Mayak" will soon be receiving 70,416 KAH meals, blankets, linens, clothing, shoes, gloves, hats, mittens, adult diapers, hygiene kits, medical equipment, toys, school supplies, and sewing supplies from the Mid-Atlantic Branch located in Wilmington, DE. "Mayak" (the LightHouse) distributes relief aid to schools, hospitals, orphanages and the poorest of the poor in Tajikistan. Thank you to the volunteers and donors that are helping the families in Tajikistan.(8/2017)
---
Team Work to Help Others
In December the Mid Atlantic Branch and the New England Branch split a load for Riga, Latvia. Located in Wilmington, DE, the Mid-Atlantic Branch volunteers loaded gloves, hats, scarves, clothes, shoes, hygiene kits, school supplies and sewing supplies. Then in Terryville, CT, the New England Branch volunteers loaded blankets, linens, clothing, layette kits, medical equipment, school supplies and sewing machines. What wonderful gifts for children and families in need from two of OGT's locations. (1/2017)
---
"Friends Helping Friends" a Success
For the first time the Mid-Atlantic Branch tested a new fundraiser this fall. Boscov's, a department store in the northeast,
held its annual event called "Friends Helping Friends", in which charitable organizations sell 25% off shopping passes for $5 each. These are good for only one day, always the third Tuesday in October, at any Boscov's location. Besides selling passes to donors prior to the event, Boscov's invites organizations to set up display tables in stores by reservation. This event gave us a great opportunity to educate shoppers about Orphan Grain Train's mission. We were elated to raise $545 and look forward to an even bigger result next year. Awesome job Mid-Atlantic Branch! Pictured are OGT volunteers Carla Niesen and 2nd photo is Sandy O'Hedy and Roger Hazzard.(10/2016)
---
Making Meals for Many
Orphan Grain Train Mid-Atlantic Branch teamed up with Kids Against Hunger (KAH) Philadelphia for their first-ever meal packing event on Saturday, October 1st at Christ Memorial Lutheran Church in Malvern, PA.  Hoping for 25-30 volunteers, Mid-Atlantic Branch manager Cliff Kraft was amazed when almost 70 volunteers (!) – Pre-school kids through seniors - arrived at 9am to fill bags with the nutritious rice/soy/ vegetable casserole mixture. This marvelous turnout allowed them to finish in two hours. The team exceeded their goal of 10,000 meals, filling 51 boxes with 11,016 life-giving meals. The success of this event is encouraging other Mid-Atlantic Branch churches to host similar KAH packing events.(9/2016)
| | |
| --- | --- |
| | |
| | Would you like to help with cost of shipping food to the hungry? |
---
 Hygiene Kits for Greece Refugees
Last June, VBS students from Christ Memorial Lutheran Church in Malvern, PA, (Mid-Atlantic Branch) were excited to make Hygiene Kits after their teacher gave a presentation showing the difficulties of life in a refugee camp. VBS parents donated materials so generously that piles of washcloths, toothbrushes, and combs were left over, even after the kids rolled and packed 136 kits. Christ Memorial Thrivent Members stepped in and used their Action Team option to buy additional towels and, in late July, packed an additional 118 kits, bringing the grand total to over 250!  On August 10th all the Hygiene Kits were loaded into a container with clothing and food bound for the refugee camp in Thessaloniki, Greece.(8/2016)
---
Third Refugee Shipment is on its Way
Mid-Atlantic Branch volunteers loaded the 3rd OGT shipment for Greece on August 11th. The Norfolk Refugee Relief Funds paid for the shipping costs and it was loaded in Wilmington, Delaware. The families in the refugee camps will soon be receiving 25,272 Kids Against Hunger meals, processed food, infant formula, blankets, men's, women's, and children's clothing and shoes, socks, diapers, hygiene supplies, sanitary supplies, medical supplies, bicycles, toys, backpacks, books, school supplies, and child care items. What wonderful gifts for these families that have left all belongings behind. Thank you to our donors and volunteers that have helped make this shipment of relief supplies possible for these families in desperate need. In the group picture, Mid-Atlantic Branch Manager Cliff Kraft is on the far left and Assistant Branch Manager Rob Hall is 4th from the left (red shirt).(8/2016)
---
Fruits of Our Labor
On January 13th, together the Mid-Atlantic and New England Branches shipped a load to LHM in Nicaragua. The container was filled with 61,560 Kids Against Hunger meals, blankets/quilts, linens, men's, women's, and children's clothing, shoes, handicapped devices, medical supplies, hygiene kits, layette kits, diapers, bicycles, toys, school kits, school supplies, sewing machines, and sewing supplies. Our recipient Ricardo and Georgina distributed some of the cargo to families and organizations in need. They shared some of the food with local pastors to use for their children's feeding programs. What wonderful pictures showing OGT donations helping those in need and nourishing little minds and bodies. (3-2016)
---