Mid-Atlantic
Mid Atlantic Branch
Cliff Kraft - Branch manager
c/o Christ Memorial Lutheran Church
89 Line Road
Malvern, PA 19355-2879
(610) 644-4508
mid-atlantic@ogt.org
Mid-Atlantic Branch Warehouse 
Sorting and packing every Wednesday and Friday from 9 to noon
1601 North Railroad Ave.              
Wilmington, DE 19808
For GPS Use:   1440 Vandever Ave
Wilmington, DE 19808                                          
*******Mid-Atlantic Branch Needs New Warehouse*******
Your prayers and help are urgently needed to find a new work facility for the Mid-Atlantic Branch as soon as possible. Our lease runs out August 30, 2017 and the warehouse will be razed to make way for an expanded parking lot.
We are willing to take permanent or temporary space, but must have a minimum of 6,000 square feet, heated/air-conditioned rooms for packing, bathrooms, loading access and parking for 10 to 15 cars. Because our volunteers come from as far south as Dover, DE and as far north as Levittown, PA, the best location is the greater Wilmington, Delaware area. Are you aware of a person or company that has recently vacated space or has downsized, and may be willing to donate or lease their space at a nominal rate? Please contact branch manager Cliff Kraft at 610 420 0380 with any leads, ideas, or questions.
For fifteen years the Lord has richly blessed our efforts in the greater Delaware Valley to be a blessing to others. Pray that the Lord would allow us to continue in our mission and guide our decision-making process.
"On Him we have set our hope that He will continue to deliver us, as you help us by your prayers. Then many will give thanks on our behalf for the gracious favor granted us in answer to the prayers of many."  2 Cor. 1:10b, 11
 
To God alone be the glory!    

Mid-Atlantic Newsletters
---
Food and Clothing to Arrive in Tajikistan
Tajikistan is one of the poorest countries in the former Soviet Union. According to the World Bank, 85% of the Tajik people are living below the poverty line. There is a shortage of work, food and other commodities. OGT's recipient "Mayak" will soon be receiving 70,416 KAH meals, blankets, linens, clothing, shoes, gloves, hats, mittens, adult diapers, hygiene kits, medical equipment, toys, school supplies, and sewing supplies from the Mid-Atlantic Branch located in Wilmington, DE. "Mayak" (the LightHouse) distributes relief aid to schools, hospitals, orphanages and the poorest of the poor in Tajikistan. Thank you to the volunteers and donors that are helping the families in Tajikistan.(8/2017)
---
Team Work to Help Others
In December the Mid Atlantic Branch and the New England Branch split a load for Riga, Latvia. Located in Wilmington, DE, the Mid-Atlantic Branch volunteers loaded gloves, hats, scarves, clothes, shoes, hygiene kits, school supplies and sewing supplies. Then in Terryville, CT, the New England Branch volunteers loaded blankets, linens, clothing, layette kits, medical equipment, school supplies and sewing machines. What wonderful gifts for children and families in need from two of OGT's locations. (1/2017)
---
"Friends Helping Friends" a Success
For the first time the Mid-Atlantic Branch tested a new fundraiser this fall. Boscov's, a department store in the northeast,
held its annual event called "Friends Helping Friends", in which charitable organizations sell 25% off shopping passes for $5 each. These are good for only one day, always the third Tuesday in October, at any Boscov's location. Besides selling passes to donors prior to the event, Boscov's invites organizations to set up display tables in stores by reservation. This event gave us a great opportunity to educate shoppers about Orphan Grain Train's mission. We were elated to raise $545 and look forward to an even bigger result next year. Awesome job Mid-Atlantic Branch! Pictured are OGT volunteers Carla Niesen and 2nd photo is Sandy O'Hedy and Roger Hazzard.(10/2016)
---
Making Meals for Many
Orphan Grain Train Mid-Atlantic Branch teamed up with Kids Against Hunger (KAH) Philadelphia for their first-ever meal packing event on Saturday, October 1st at Christ Memorial Lutheran Church in Malvern, PA.  Hoping for 25-30 volunteers, Mid-Atlantic Branch manager Cliff Kraft was amazed when almost 70 volunteers (!) – Pre-school kids through seniors - arrived at 9am to fill bags with the nutritious rice/soy/ vegetable casserole mixture. This marvelous turnout allowed them to finish in two hours. The team exceeded their goal of 10,000 meals, filling 51 boxes with 11,016 life-giving meals. The success of this event is encouraging other Mid-Atlantic Branch churches to host similar KAH packing events.(9/2016)
| | |
| --- | --- |
| | |
| | Would you like to help with cost of shipping food to the hungry? |
---
 Hygiene Kits for Greece Refugees
Last June, VBS students from Christ Memorial Lutheran Church in Malvern, PA, (Mid-Atlantic Branch) were excited to make Hygiene Kits after their teacher gave a presentation showing the difficulties of life in a refugee camp. VBS parents donated materials so generously that piles of washcloths, toothbrushes, and combs were left over, even after the kids rolled and packed 136 kits. Christ Memorial Thrivent Members stepped in and used their Action Team option to buy additional towels and, in late July, packed an additional 118 kits, bringing the grand total to over 250!  On August 10th all the Hygiene Kits were loaded into a container with clothing and food bound for the refugee camp in Thessaloniki, Greece.(8/2016)
---
Third Refugee Shipment is on its Way
Mid-Atlantic Branch volunteers loaded the 3rd OGT shipment for Greece on August 11th. The Norfolk Refugee Relief Funds paid for the shipping costs and it was loaded in Wilmington, Delaware. The families in the refugee camps will soon be receiving 25,272 Kids Against Hunger meals, processed food, infant formula, blankets, men's, women's, and children's clothing and shoes, socks, diapers, hygiene supplies, sanitary supplies, medical supplies, bicycles, toys, backpacks, books, school supplies, and child care items. What wonderful gifts for these families that have left all belongings behind. Thank you to our donors and volunteers that have helped make this shipment of relief supplies possible for these families in desperate need. In the group picture, Mid-Atlantic Branch Manager Cliff Kraft is on the far left and Assistant Branch Manager Rob Hall is 4th from the left (red shirt).(8/2016)
---
Fruits of Our Labor
On January 13th, together the Mid-Atlantic and New England Branches shipped a load to LHM in Nicaragua. The container was filled with 61,560 Kids Against Hunger meals, blankets/quilts, linens, men's, women's, and children's clothing, shoes, handicapped devices, medical supplies, hygiene kits, layette kits, diapers, bicycles, toys, school kits, school supplies, sewing machines, and sewing supplies. Our recipient Ricardo and Georgina distributed some of the cargo to families and organizations in need. They shared some of the food with local pastors to use for their children's feeding programs. What wonderful pictures showing OGT donations helping those in need and nourishing little minds and bodies. (3-2016)
---
A Joint Effort Achieves Great Blessings for Nicaragua
Together, the Mid-Atlantic and New England Branches sent a container of 61,560 Kids Against Hunger meals, clothing, shoes, bedding, layette kits, diapers, medical supplies, handicapped devices, bicycles, tools, toys, school kits and supplies, sewing machines, and sewing supplies to LHM in Leon, Nicaragua. The volunteers in Wilmington, Delaware (Mid-Atlantic Branch) loaded Wednesday afternoon January 13, 2016 and the group at Terryville, Connecticut (New England Branch) loaded the afternoon of January 15, 2016. The container will now make its way to Nicaragua where it will be a blessing for many. The first picture is of the Mid-Atlantic Branch volunteers, next is the New England Branch volunteers and the rest of the pictures are of the container being loaded. (1-2016)
---
Shipment Arrives Safely
Mid-Atlantic Branch, located in Wilmington, DE, shipped a load to Evangelical Lutheran Church in Pampali, Latvia. OGT was grateful to hear that the shipment made it safely and was unloaded on November 24, 2015.  Pastor Ivars Eisaks shared these photos of the unloading of linens, hymnals, clothing, shoes, hygiene kits, canes, commodes, crutches, walkers, wheelchairs, and bikes. The Congregation will distribute the donations during advent and will send more pictures. He was excited for all that was donated and wanted to thank everyone that was involved with getting these much needed supplies to them.  (11-2015)
Busy Loading International Shipment
On Friday, October 16, 2015, Mid-Atlantic Branch located in Wilmington, DE, shipped a load to the Evangelical Lutheran Church in Pampali, Latvia.  The Lutheran Church will be distributing 104 boxes of linens, church hymnals, 1,070 boxes of men's, women's and children's clothes, coats and shoes, household items, 10 boxes of hygiene kits, medical equipment and bicycles.   What wonderful gifts for so many people grateful for the love.  Thank you to the volunteers for your hard work with sorting, packing and loading all the items. The pictures are of the Mid-Atlantic Branch volunteers.
| | |
| --- | --- |
| Mid-Atlantic Branch volunteers | Bikes ready to be loaded for Latvia |
| Logging the boxes for loading | Hygiene Kits for Latvia |
| Almost done loading | Ready to ship |
Mid-Atlantic Branch Ships Domestic Load
Mid-Atlantic Branch shipped a load on August 6, 2014 to the Appalachian Mission of Hope in Kentucky.  The inventory included school supplies, toys, medical equipment, household items, clothes, wooden storage cabinets, and bed linens.  What a blessing these donations are.  
The Lord Provided Again!
Thanks to so many of you, the warehouse is bare--yes, bare-- well, almost. A few boxes remain which will be sent out in the near future when we have pack sufficient boxes to fill a container.
On Friday, June 17th, we were able, with the help of about 30 teenagers and others, to load a 53 ft semi headed for Lutheran Social Services in MacArthur, Ohio. The load included household items, clothing, and medical equipment. This semi went to MacArthur, Ohio, which is the second center which Lutheran Social Services has added. At MacArthur, items were sorted and appropriate ones sent to Alabama for distribution to those in the flooded out area. The people in Ohio and Alabama have been blessed by what you have donated and helped to sort, pack, and load.
The Lord not only provided the items to be shipped but the people to sort, pack, and load 970 apple boxes, furniture, bicycles, sewing machines, a washing machine, a dryer, and much, much more.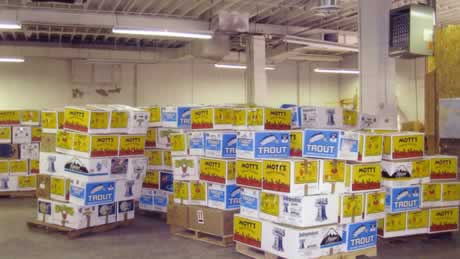 On the following Friday, June 24th, we loaded a 40 ft container bound for Haiti. The Lord was again and still at our side as we loaded 650 apple boxes of clothing plus 15 pallets of food. The Lord provided three willing youth and seven able-bodied men to do the loading; just the right amount of help for this project! Loading apple boxes is quite easy, but loading pallets is a different story. You can't just lift a pallet by hand. A forklift repair and rental company two blocks from the warehouse loaned us a fork lift to help in loading. The Lord also provided an operator who had been helping at the warehouse and had the experience of operating many types of equipment. The flour, brown sugar, tomato sauce, pasta, Spam, cinnamon, canola oil, and baking powder are all items that will be distributed by our counterpart in Haiti.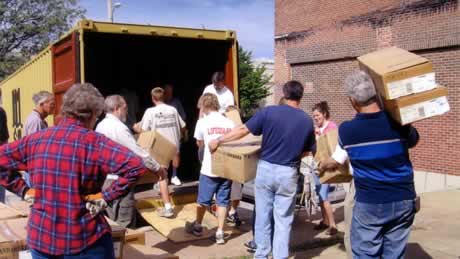 In addition to the food there were over 2400 wonderfully made Pillowcase Dresses from various parts of the U.S. including Florida, Delaware, Colorado, West Virginia, Ohio, Michigan, New Jersey, Maryland, North Caroline, and Pennsylvania. Some of the dresses came from local schools which had a sewing class and others from various organizations. Channel 10, the local tv station, showed the dresses and girls from one of the local schools. The young Haitian girls will be pleased with what you have done. Also, there were more than 3200 pairs of flip-flops for those in need. Thanks to Christ Memorial's VBS and other churches in the Delaware Vally area, the "Undie Sunday: provided more than 1000 pairs of underwear for both boys and girls. All in all, the container destined for those in need in Haiti should be a real blessing to God's people who have very little and need very much. Thanks to all who became involved in the process.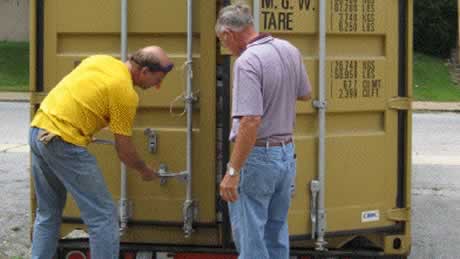 There have been many people asking, "What are you doing for the boys?" We have received a pattern for boys' shorts and are in the process of transferring it to an email program. The finished email will be ready in a week or so and we would be happy to send it to you at your request. The shorts will be sent to those boys in need along with more Pillowcase Dresses as they come in. There is a never-ending need for countries such as Haiti so we continue to help those in need.
On Friday, July 8th, we started to give the warehouse a thorough cleaning. We will, with your help, start to sort and pack the mounds of clothing which have been accumulated. Volunteers are needed to get the clothing sorted and packed in order to load the next truck and/or container for those in need. We will be sorting and packing each Wednesday and Friday starting this July. The packing area is air-conditioned and there is a large fan in the sorting area. On Fridays we have delicious donuts. Come out and enjoy the opportunity to help others who are in need of clothing and other items which are lacking in their lives. Contact Cliff Kraft at 610-420-0380 or Roger Hazzard at 302-883-1760 for questions or directions.
To do all of the above we must raise funds. If you have insurance or investments with Thrivent, your Choice Dollars can be sent to Orphan Grain Train, Mid-Atlantic Division by contacting Thrivent and designating Orphan Grain Train, Mid-Atlantic Division as your choice for the distribution of your Choice Dollars. This is available at no cost to you, but provides a benefit to those in need. The cost to send a container to Haiti is in excess of $9,000. The cost of the food which we sent was close to $19,500. The cost to send a truck to Ohio is over $975. In addition, we have warehouse expenses of rent and utilities. All of these funds must be raised by the Mid-Atlantic Division. Financial contributions are always eagerly accepted. Some congregations put Orphan Grain Train in their yearly budget. Would you prayerfully consider this approach to mission work?
We give thanks to God for the opportunity to serve Him by serving others. In His plans He has provided opportunities for us to serve others. Let's take advantage of those opportunities.
To God alone be the glory,
CAK 6/29/11
Shorts for Boys Around the World
Do you have a heart for clothing children in need? With your sewing skills and a little fabric, you can create a pair of shorts that will mean a great deal to a boy. Christ Memorial Lutheran of Malvern, PA, has once again teamed up with Orphan Grain Train and sent 2,000 shorts to boys in Haiti. Last spring, our drive to send 1,000 pillowcase dresses to needy girls in Haiti received an overwhelming response of 2,140 dresses from more than 15 states! Thank you to everyone who so generously gave of their time and skills to make that possible! Many participants asked what they could do for boys. In response, we have produced a simple-to-use pattern for shorts.
Why Are We Excited About This Program?
e did it once before for girls, and we can do it again for boys! The shorts pattern is easy to make. You can even use pillowcases.
What can you do?
Click on the links below for easy patterns and instructions for sewing shorts in three sizes.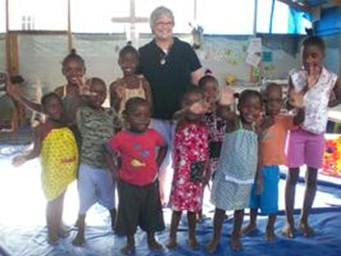 These shorts can be made as simply or as creatively as you would like! Make as many as you want. Ask friends and family to help. Organize a group to get together to make shorts; last spring church groups, schools, and Girl Scouts came together just to sew. Forward this email to someone you know who might be interested in helping our campaign. This is also ideal for young adults to use as a service project!
---
Working Together For Others
In December the New England Branch and Mid-Atlantic Branch split a load for Riga, Latvia. Located in Wilmington, DE, the Mid-Atlantic Branch volunteers loaded gloves, hats, scarves, clothes, shoes, hygiene kits, school supplies and sewing supplies. Then in Terryville, CT, the New England Branch volunteers loaded blankets, linens, clothing, layette kits, medical equipment, school supplies and sewing machines. What wonderful gifts for children and families in need from two of OGT's locations. The first picture is of Mid-Atlantic Branch volunteers and the next is New England Branch volunteers.(1/2017)
---