Norfolk Warehouse
Norfolk Warehouse
606 W. Phillip  Ave.
Norfolk, NE 68701

Warehouse Manager: 
Doug Trampe
ogtwarehouse@gmail.com
402.371.7393 ext. 148
 
Office Hours:
Monday thru Friday 9am to 4pm.  Closed from noon to 1pm for lunch.
---
Help for the Soul and Body
On July 28, 2017 the Norfolk warehouse shipped a load of humanitarian aid to Rainbow Network in Nicaragua. Rainbow Network assists those in need in the rural areas. On September 5, 2017 they were able to unload blankets/linens, Spanish Bibles, clothing, shoes, single mattress frames and mattresses, PETs (all terrain wheelchairs), medical gurney, over the bed tables, electric wheelchairs and bicycles. Pictures are of the gifts being unloaded.
People of Mindanao to be Helped 
The Norfolk warehouse shipped a load of humanitarian aid to World Harvest Mt. Moriah Camp on the island of Mindanao in the Philippines. Mt. Moriah helps the very poor in rural areas, hospitals, displaced persons and families, orphanages and the elderly. They will soon be receiving 99,792 Mercy Meals, 80 pounds of rice, blankets, linens, Bibles, shoes, handbags, sports uniforms, sports equipment, toys, Christmas gift boxes, single bed frames and mattresses, adult diapers, hygiene kits, towels, medical equipment, PETS, mini-marts for PETS, bicycles, carpet mats, and sewing machines to share with those in need.(8/2017)
LHM Nicaragua Excited for Shipment to Arrive
The Norfolk warehouse volunteers loaded a shipment for Lutheran Hour Ministries in Leon, Nicaragua. Ricardo Arguello with LHM recently received the shipment of quilts, clothing, shoes, new underwear, adult diapers, summer recreational clothing, twin bed frames with new mattresses, adult diapers, medical equipment, orthopedic supplies, bicycles, stuffed toys, office desks/chairs, and school backpacks. LHM staff and volunteers visit schools, and other outreach arenas to talk to young people about life situations and provide youth with guidance on how to approach choices in life through a biblical perspective. LHM in Nicaragua also has outreach programs to help families and the elderly living in poverty. What wonderful donations to share with others in need.(8/2017)
---
Helping Those Who Live on Trash Mountain
Kids International Ministries (KIM) in the Philippines shares OGT donated Mercy Meals with families living on "Smokey Mountain". This mountain is not like the U.S.
Smokey Mountain range, it is a mountain of trash that families, including young children, pick through heaping piles of garbage all day to find things like plastic straws to recycle. There is burning rubble all around. Lung sicknesses are common and life expectancy is even shorter up there. KIM has a mission group that takes the Mercy Meals to a Filipino pastor who ministers to that area while sharing food with the families. Thank you to our donors and volunteers that give to help those living on Trash Mountain.(8/2017)
---
India is in Store for Great Blessings
India Transformed in Bangalore, India will be receiving 95,688 KAH meals, blankets, quilts, linens, women's and children's recreational clothing, school chairs/desks, chalkboards, supplies, and classroom tables from the Norfolk Warehouse. They reach out to women to offer a trade for them to gain independence and self-worth. They also give children living in poverty and on the streets an opportunity to attend school and to help break the cycle of illiteracy and poverty. Through the outreach and feeding programs they also share the Gospel, less than 2% of India's population is Christian. Thank you to our volunteers and donors for giving hope to those in need in India.(8/2017)
---
Rainbow Network in Nicaragua Grateful for Blessings
Rainbow Network has been a recipient of OGT's for several years. They are a Christian Ministry assisting children and families in the remote regions of Nicaragua living in poverty.  Volunteers at the Norfolk warehouse loaded blankets/quilts, Spanish Bibles, clothes, shoes, furniture, medical equipment, 13 adult and child's PETs (all terrain wheelchairs) and bicycles. What wonderful gifts for their ministry to share with the families along with the Gospel.(7/2017)
---
So Many Hands Working Together for God's Glory
OGT's recipient in Bacolod, Negros in the Philippines is Ryan Tormentor with Christian Missionary Baptist Church. Ryan helps the children and families struggling with starvation, poverty and poor medical conditions in his region. He also has several feeding and outreach programs he supports. July 27th the Norfolk warehouse shipped 28,512 Kids Against Hunger meals, 120 pounds of rice, 21,600 pounds of dried corn, blankets, linens, sleeping mats, bed frames and mattresses, hygiene kits, crutches, wheelchair, bicycles, carpet mats, chalkboards, school maps and easel, food trays, school kits, soccer balls, tennis balls, sewing machines, fabric, and yarn for the children and families in Negros.(7/2017)
Monrovia to Receive Shipment of Food 
Earlier in July the Norfolk warehouse shipped 12,960 Kids Against Hunger meals and 243,648 Mercy Meals to Monrovia, Liberia. OGT's new recipient is Children Relief Services, Inc. (CRS) who helps with basic needs for children that have been orphaned or abandoned. They also assist children to attend school, most parents cannot afford school. Rev. Hilary Enoch Earley with CRS is grateful for the much needed food for the forgotten children of Monrovia.(7/2017)
---
Domestic Shipments On The Road
The Norfolk warehouse volunteers were busy loading 2 shipments of various foods for the Native American Heritage Association in Black Hawk, SD. The Association will share the food with families and organizations on the Sioux Reservations of South Dakota. Two of the poorest counties in the U.S. are on the Pine Ridge Sioux Reservation and Crow Creek Reservation, with over 63% of the people living below the federal poverty line. Thank you to our donors and volunteers for helping to provide nourishment and full bellies.
---
140 Boxes Packed in 5 Hours
OGT had a great group of ambitious youth from First Christian Church in Norfolk, NE help with a packing event. Approximately 32 youths and 3 leaders sorted clothes into OGT shipping boxes from 9 until 2. They took a lunch break with pizza and ice cream sandwiches while watching a video about the history and missions of OGT. This hard working group packed 140 boxes which will ship to serve those in need in Nicaragua. It was a great experience with everyone working hard and having fun while serving our Lord.(6/2016)
Norfolk Rescue Mission Lended a Helping Hand
Norfolk warehouse volunteers along with volunteers from the Norfolk Rescue Mission worked hard loading a shipment for Kids International Ministries in the Philippines. KIM will soon be receiving 400 lbs. of rice, 249,480 Mercy Meals, piano, household items, school equipment and supplies. What wonderful blessings for their school and orphanage. Thank you Norfolk Rescue Mission helpers for getting this shipment loaded.(6/2017)
---
---
Many to be Blessed by Meals 
Sandra Koch with Help For Haiti recently received a shipment containing 49,896 Mercy Meals and 201,960 Kids Against Hunger (KAH) meals. A majority of the food was distributed with 7 other organizations helping the poor. Pictured is Sister Lops receiving 129,600 meals donated by Sioux Falls KAH meals. She will share with the orphanages and schools she works with in Haiti.(6/2017)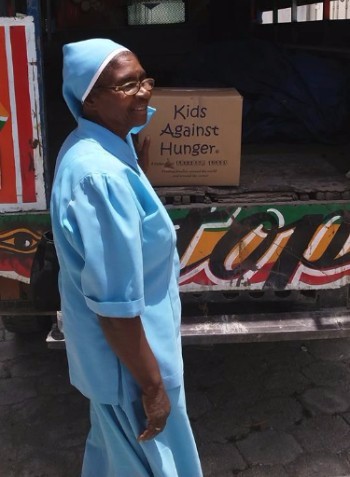 ---
Zambia Grateful For Shipment
OGT recently shipped 156,816 Mercy Meals, 150 fifty pound bags bean/pea medley, 154 boxes processed black beans, 206 boxes processed pinto beans, and surgical stands to Dr. Marjie Heier with Gospelink in Zambia. Dr. Heier helps with the distribution of food to children and families in desperate need. She shared these photos of food being distributed to children at school and the Mercy Meals being unloaded. If you would like to learn more about OGT changing lives in Zambia, Dr. Heier will be one of our speakers at OGT's 25th Anniversary Convention this September 15 & 16 in Norfolk, NE. Visit www.ogt.org to find out more information and to register.(6/2017)
Critical Call for Tents
On April 29, 2017 there were 24 people killed when heavy rains triggered landslides which swept through a village in southern Kyrgyzstan. Among those buried alive were nine children. On May 11 OGT received an email from our recipient Compassion asking for tents to help families now homeless. OGT already had a shipment scheduled for Compassion on May 17 and made calls to purchase tents and be delivered to OGT before ship date. OGT was able to purchase 3- 12x20 and 2-12x12 tents, large enough to house several families. They will be given to Ministry of Emergency Situations to set up and house the families. Compassion will also be receiving children's clothing for their orphanage. The rest of the inventory includes medical equipment, clothing, shoes, adult/child's PETs (all terrain wheelchair), bikes and toys. Please pray for the families and community of the lost lives and for speedy travels for the container of goods and tents.  (5-2017)
---
Save the Poor International Shipment On Its Way
May 11th the Norfolk warehouse volunteers were busy loading a shipment to a new recipient Save the Poor International in Ghana. They assist with education, health, welfare of orphans, street children and persons with disability in urban and rural Accra, Ghana. They will soon be receiving blankets/quilts, sleeping mats, Bibles, clothing, shoes, hygiene kits, hospital beds/furnishings, canes, crutches, wheelchairs, walkers, orthopedic supplies, bicycles, toys, floor mats, school desks, classroom tables/chairs, chalkboards, and school supplies. Such wonderful blessings to help the families they serve.(5/2017)
---
Shipment of Food to Bless in the U.S.
Norfolk warehouse shipped two domestic loads of food today. The Native American Heritage Association in Black Hawk, SD will be receiving 26 pallets of refrigerated food. The second load is helping Cornerstone Children's Ranch in Quemado, TX. They will be receiving 26 pallets of dry food for their facility and outreach programs. What wonderful blessings for so many people.(5/2017)
---
A Beautiful Thank You from the Philippines
OGT received these amazing pictures from our recipient Ryan Tormentar with Christian Missionary Baptist Church in Bacolod, Negros in the Philippines. The shipment was unloaded and some of the goods distributed last week. They are grateful to have received 42,768 Mercy Meals, 200 pounds rice, bedding, Bibles, beds/mattresses, folding chairs, hygiene kits, towels, household items, school kits, adult and child PETs (all terrain wheelchairs), wheelchairs, crutches, solar ovens, classroom tables, file cabinets, and toys. Notice how they unloaded the 40 foot shipping container by hand and assembly line. They are resourceful people with over loading and strapping down some of the goods on a motorcycle with a side cart. What beautiful gifts for so many people in desperate need. Thank you to our donors.(4/2017)
---
Faith Orphanage Receives Blessings from OGT
Recently Bethel Bible Mission in Ghana received an OGT shipment. Some of the cloths, bicycles and Bibles were distributed to Evg. James Azorda, founder of Faith Orphanage. He was grateful for the items and the first picture is of James with the Bibles, clothes and bikes and the next picture is of the Bibles being shared with the children and those in need.(4/2017)
---
Cite Soleil to Receive Supplies and Food
Cite Soleil, Haiti has received enormous rains recently and is having problems with flooding. OGT's recipient Sandra Koch with Help For Haiti (HFH) is grateful for the supplies and food from OGT. She has been loading pickup trucks with buckets to help with cleanup. She also shared being out of the Mercy Meals but is purchasing rice locally to give with the edible dried beans and canned food recently donated from OGT. She will be taking the food to seven different sectors in Cite Soleil for families to be able to eat for Easter! What wonderful blessings for so many families on Easter. Thank you HFH and our donors and volunteers. Below are past pictures from HFH of those receiving help from OGT.(4/2017)
---
Many to Benefit from Shipment
The Norfolk warehouse volunteers were busy loading a shipment of humanitarian aid for the Republic of Georgia. OGT's recipient UIHP will soon be receiving 99,792 Mercy Meals, blankets/quilts/linens, clothing, coats and shoes, hygiene items, folding chairs, canes/crutches/walkers, bicycles, wooden toys, sewing machines/supplies, and garden equipment. They help support orphans, the elderly, disabled and multi-children families in the region. Thank you to our donors for the help to send these blessings to so many people.(3/2017)
First Shipment in Years is Delivered in Ghana
Ghana was able to receive its first shipment in years from the Norfolk warehouse with its improved customs. OGT was very pleased to receive the pictures of the inventory being unloaded by Bethel Bible College in Accra, Ghana. They were able to put the blankets, quilts, sleeping mats, Bibles, clothing, hospital beds, bikes, and toys into their warehouse until distribution day. Also included in the shipment was medical equipment, adult PETs, walkers, wheelchairs and hospital beds to be used at a local clinic. 
They included this message in their email: "We have open a donation center at our warehouse at Ofankor there was rains here which flooded Homes and destroy properties, so we are announcing, and visiting Home to invite them to come and pick some clothes and mattresses for themselves, when our team do the donations sometimes we will deliver to them. I will like to use this opportunity to thank you and the entire Staff of OGT for making this possible, we say thank you and may the good lord bless you and keep you safe in all good works. To God Be The Glory, Amen and Amen. Dr.Patrick A, Zina"(4/2017)
---
A Little Girl Blessed
Kids International Ministries in the Philippines posted on their Facebook page how OGT changed this little girls ability to get around independently without having to ask others to carry her. She was given a wheelchair donated by OGT. Thank you to our donors that help make these shipments possible!(3/2017)
---
A Life Changed
It is truly amazing how OGT changes lives in the world. Recently the Norfolk warehouse shipped a load to Fund "Compassion" in Kyrgyzstan. Compassion distributed the items among several organizations including the blind and deaf people societies, a children's hospice, a rehabilitation center, invalids' societies and public funds. Below is one of the stories and pictures we received of how your donations make a difference in a little girl's life.
"My name is Malika, I am 12. My family and teachers from the "Obereg" Rehabilitation Center have taught me to stand and walk. When I was a child my Mom was always carrying me, then I learned to walk with crutches but I cannot walk long distances with crutches because I get tired soon. Now when I have this wonderful all-terrain wheelchair my teachers do not have to carry me or move my wheel-chair. I can go around without any help. Now I will be able to spend more time with my friends outside. During winter months I will be able to play with my friends in the yard instead of watching them playing out of the window. Thank you."(3/2017)
---
Hospital Damaged by Hurricane Matthew to be Helped
The Norfolk warehouse volunteers loaded a shipment  going to Help For Haiti in Haiti. They will soon be receiving five cases of 7,128 Kids Against Hunger meals, French Bibles, 593 boxes of clothing, folding chairs, office chairs, school desks, two exam tables and 12 hospital beds with mattresses. The hospital equipment will be shared with Sister Evelyn (pictured) at Sigueneau Hospital which was badly damaged along with its hospital equipment from Hurricane Matthew.(3/2017)
Nicaragua Shipment Arrived
The Norfolk warehouse shipped a load to Nicaragua that was funded by Minnesota South Branch. The picture is of Pastor Virgilio from St John's Lutheran Church in Ojoche, Nicaragua. The PET (all terrain wheelchair) was given to the assistant to the mayor of Somotillo. She is single handedly trying to find equipment and financial support for the mentally and physically handicapped people who have been abandoned by the government. This is another way your donation helps to make a difference in the world.(3/2017)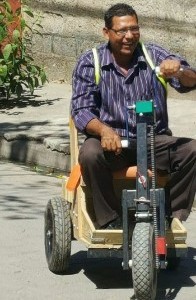 Jurbarkas Lithuania Shipment is Off
The Norfolk warehouse volunteers were busy loading a shipment for Jurbarkas, Lithuania today. The Evangelical Lutheran Church is grateful to be receiving blankets/quilts, choir robes, clothing, coats and shoes, bicycles, scales, carpet runners, school kits/supplies and sewing machines. Minnesota South Branch is funding the cost for shipping these wonderful gifts to Lithuania. Thank you to OGT's donors and volunteers.(3/2017)
---
India Shipment On Its Way
The Norfolk warehouse volunteers loaded a shipment of clothing to Jesus Shine Ministries in India. The ministry is excited to be getting clothing to share with children at orphanages and also for families in need. Thank you to our volunteers for their hard work loading all the clothes.(3/2017)
---
Kyrgyzstan Shipment Will Help Many
Compassion in Kyrgyzstan will soon be receiving a shipment from the Norfolk warehouse volunteers and donors. The shipment consists of clothes, work gloves, bed frames and mattresses, medical equipment, child and adult PETs (all terrain wheelchairs), bikes and carpet runners. Compassion helps the disabled, elderly, orphanages and the very poor. Thank you to our donors and volunteers that help contribute to OGT missions.(3/2017)
Ask and You Shall Receive
John Mack is a retired truck driver who became interested in collecting and restoring bicycles. John collected a number of bikes and decided to give some of them to Orphan Grain Train in Larned, KS. On December 8th, 2016 John brought 35 bikes to the Larned collection center for shipment to OGT's Norfolk warehouse. The Norfolk warehouse recently asked John if he had more bikes. John responded by bringing 42 more bikes to the Larned collection center which were loaded on the Orphan Grain Train semi on February 23, 2017. The picture is of John Mack loading bikes for the Norfolk warehouse to ship where needed.(2/2017)
Thank You Sent from Zambia
Gospelink ministry in Zambia was able to unload its first shipment from OGT's Norfolk warehouse. The inventory included the 40' container, 28,512 Mercy Meals, bicycles, medical linens, medical supplies, hospital furnishings, hospital equipment, desks, chairs, and PETs (all terrain wheelchairs). The medical equipment and PETs are being used at the Chifundo Rural Health Center in Chongwe, Zambia. Pictures are of unloading food, supplies and the PETs. The video is a wonderful "Thank You" for OGT supporters!(2/2017)
---
Nourishing Bodies and Souls
Doug Bennett with Kids International Ministries (KIM) in the Philippines is grateful for the partnership with OGT. KIM goes to squatter village weekly to do feedings with the mercy meals provided by OGT. During these feedings there is also a Bible study that a Filipino pastor leads. This feeding/Bible study led to over 20 people coming to know Christ. Without the rice meals, they might not have reached these individuals. The pictures are of the baptism for the Filipinos from squatter village. What blessings for the changed lives from our supporters and KIM. Thank you!(2/2016)
Water Filtration Systems Arrive
In November of 2016 the Norfolk warehouse shipped 16 large water filtration systems along with 50 small water filtration units and 25,000 pounds of edible beans to Help for Haiti to distribute to organizations hit hard by Hurricane Matthew. Mission Haiti had a lot of destruction to their schools in Cayes, Haiti and was given two of the large filtration systems. The schools also receive monthly OGT donated food from Help For Haiti. Paul Perissien with Mission Haiti sent OGT this video shows the systems being used and the rebuilding of the school. They were so grateful to have filtered drinking water!(2/2017)
---
Clinic in Zambia has First Container Delivered
Chifundo Rural Health Center in Chongwe, Zambia received its first shipment from OGT's Norfolk warehouse February 7th. The container was purchased for the clinic to use for storage. Much of the inventory for this container was donated by supporters of this clinic from Nebraska as well as inventory from the Norfolk warehouse. The inventory included 28,512 Mercy Meals, bicycles, medical linens/supplies, hospital furnishings and equipment, desks, chairs, and PETs (all terrain wheelchairs). A container of food will be shipped later this month for the clinic to share with people in need. Dr. Margie Heier is the family physician at the rural missions clinic and is also a speaker at OGT's upcoming 25th Anniversary Convention this September 15 & 16, 2017 in Norfolk, NE. For more information on this event, go to www.ogt.org. Pictured is the truck delivering the container of goods in Zambia.(2/2017)
Giving, Thoughtful Ladies Donate Quilts
OGT's Larned Collection Center in Larned, KS is the recipient of tied quilts from a mission started in 2012. Anika Polzin, along with her sister Afton Linderer, mother Lois Eye and her sister Diana Copeland and her daughter Teresa Copeland and family friend Thelma Fehrenbach decided to make quilts to share with people in need. Larned collection Center has received 215 quilts, 9 baby quilts, and cloth diapers made from t-shirts since 2012. Every year the ladies make more quilts and in 2016 they set a goal 100 and on Christmas day (this day was great because the whole family was there and could do it together!) boxed 100 quilts!! For 2017, they have set a goal of 150 quilts and so far have 35 quilts in process! The word has gotten out and people donate sewing fabric and supplies for the mission. Thank you for your mission and spirit to help others and to share with OGT. What an inspiration!  (2/2017)
Haiti Shipment to Benefit Many
Dr. Yannick in Haiti will soon be receiving 20 hospital beds with mattresses from the Norfolk warehouse. She works at an elderly care home and is in need of beds for the residents. This shipment also includes 42,768 Mercy Meals, 7,250 pounds of edible beans, linens, sleeping mats, French Bibles, men's, women's, and children's clothing, school desks and chairs. Sandra Koch with Help For Haiti will be receiving the shipment at her compound. She will divide the food and desks/chairs among schools and orphanages that are supported by OGT. Pictured is Dr. Yannick with a bed she received previously. The other pictures are of children that were excited to model the clothes given to them from OGT. Thank you to our supporters for your help in Haiti.(2/2017)
Not Even Winter Storm Leo Will Stop Us
On January 24th the Norfolk warehouse volunteers hustled loading a shipment in a snow storm for the Philippines. The hard working volunteers loaded 42,768 Mercy Meals, 200 pounds of plain rice, blankets, linens, Bibles, beds/mattresses, folding chairs, hygiene items, towels, crutches, bicycles, PETS, wheelchairs, solar ovens, school kits, sewing machines, file cabinets, tables, and toys. Pastor Ryan Tormentar with the Christian Missionary Baptist Church will receive the cargo for use in the church, school and outreach program. Pastor Ryan works with very poor families that have minimal incomes from working on sugarcane farms. They are very grateful to receive the Mercy Meals, rice and other needed supplies. The pictures are from loading in the snow storm and previous photos sent to us from Pastor Ryan of the outreach program and the congregation.(1/2017)
---
---
Meals Arrive to Feed the Hungry
In early December the Norfolk warehouse volunteers loaded a shipment of 199,584 Mercy Meals and 57,024 Kids Against Hunger meals for Manila, Philippines. Kids International Ministries (KIM) received the shipment last week and will be using the food at their rural feeding programs and orphanages. KIM shares stories from the Bible at some of their feedings to also enrich the soul. They also have roadside feeding programs which is parking alongside a road, open the back end of vehicle and children and adults come with a cup, bowl or baggy to be filled with prepared rice meal, sometimes the only meal they eat that day. Thank you to our supporters and volunteers that help feed the hungry children and families in the Philippines. The photos are from various feeding programs with Kids International Ministries.(1/2017)
---
Liberia Shipment Sets Sail
January 19th the Norfolk warehouse loaded a shipment for a new recipient in Liberia. Pastor James Kollie with Good Shepherd Lutheran Church and School in Cotton Tree, Liberia will soon be receiving 28,512 Mercy Meals, church altar, baptismal font, lectern, pews, Bibles, choir robes and church supplies, clothing, children's shoes, handbags, folding chairs, hygiene kits, towels, adult PET, bicycles, school books, chalkboards, school kits and supplies, student desks/chairs and classroom tables. Good Shepherd Church was started in 2002 with 27 members and has grown to over 400 members today. The school also continues to grow with 258 students. On this shipment, the pews and church furnishings were donated to OGT from St. Paul's Lutheran church in Seneca, SD. How wonderful for the furnishings to continue to bless others in another congregation in Liberia. Thank you to those that donated so many wonderful gifts for Liberia.(1/2017)
---
OGT Helping Out In Kyrgyzstan
On Monday, January 16 a Boeing 747 cargo plane crashed into a neighborhood outside Bishkek, Kyrgyzstan, killing 37 people in the plane and on the ground and destroying 23 homes. At least 15 people including children are hospitalized. The devastation for loss of lives and the destruction is great for this small village which only had 43 homes. OGT is in contact with our recipient Lena with Compassion in Bishkek. Lena shared "that all of Kyrgyzstan is helping those hurt in this tragedy. People are generously donating money, food, clothing and supplies for those that have suffered. We got in touch directly with the local administration of the village where the tragedy happened and offered help. We have just received OGT shipment and are giving blankets and quilts from this container. Thus, OGT also helps the victims of this terrible tragedy. I will send you pictures when we have them. Thank you very much for your prayers for us and those suffered in the tragedy." OGT is grateful to be able to help the victims. Please keep this community, families and the children affected by this tragedy in your prayers.(1/2017)
Happy Faces Warm Your Heart
Public Fund Compassion in Bishkek, Kyrgyzstan unloaded a shipment earlier this week which was shipped from the Norfolk warehouse. They were grateful to receive blankets, towels, clothing, coats, shoes, hospital beds, hospital furnishings, scales, patient lifts, medical equipment, adult and children's PETs (all terrain wheelchairs), and bicycles. Compassion helps care for children in orphanages, the elderly, deaf and blind individuals, the very poor and medical clinics. The pictures are previous photos from our recipient. Thank you to our supporters and volunteers for helping to serve the needy in Kyrgyzstan.(1/2017)
---
Shipment of Food and Supplies On It's Way
January 10th the Norfolk warehouse volunteers loaded a shipment for Kids International Ministries (KIM) in Manila, Philippines. The ministry will receive 42,768 Mercy Meals, 106,704 KAH meals, blankets, sleeping mats, hymnals, twin beds/mattresses, folding chairs, adult and child PETs (all terrain wheelchairs), bicycles, floor mats, solar oven, and classroom tables. KIM shares the rice meals and supplies with several different areas in the Philippines.
A story OGT recently received from Grace with Mt. Moriah which is known to minister to the least fortunate. One of the families lives around the garbage dump site. The mother and the kids come to Mt Moriah for fellowship. Her husband scavenges thru the garbage dump for a living and catches frogs to sell. He couldn't make enough so the meal packs that the wife and the children bring home helps a lot in making ends meet. KIM and other ministries are grateful for the rice meals because when they share the meals they also share the Gospel. Thank you to our supporters and volunteers that help us reach so many children and families desperate for food and to learn about Jesus.(1/2017)
1st Shipment of 2017 En Route
The Norfolk warehouse volunteers loaded a shipment for the Ukraine on January 6th. OGT's recipient Charitable Fund "Miriam" will soon receive toys, bicycles, hospital equipment, linens, clothing, shoes, blankets/quilts, office equipment and school chairs, desks, tables and books. Miriam helps low income families, the elderly, disabled individuals, orphanages and clinics. They are always grateful for the donations and will send photos of the distribution.(1/2017)
---
---