Norfolk Warehouse
Norfolk Warehouse
606 W. Phillip  Ave.
Norfolk, NE 68701

Warehouse Manager: 
Doug Trampe
ogtwarehouse@gmail.com
402.371.7393 ext. 148
 
Office Hours:
Monday thru Friday 9am to 4pm.  Closed from noon to 1pm for lunch.
---
Loaded Up and Ready to Go
The Norfolk warehouse volunteers loaded a shipment for Lutheran Church in Liberia October 13th. The church schools in rural Liberia will be receiving 28 cases of Bibles, Christian resources, 300 student chairs, and 183 student desks under the direction of Joe Boway. These are wonderful blessings for the children, teachers and schools receiving these gifts.(10/2016)
Volunteers Load Shipment for Rainbow Network
Norfolk warehouse volunteers loaded a shipment for Rainbow Network in Managua, Nicaragua October 17th.  The shipment included 105 boxes of blankets and quilts, Spanish Bibles, 747 boxes of clothes and shoes, hygiene kits, medical equipment, 45 boxes of toys and stuffed animals and school kits. What wonderful gifts to be distributed to the children and families of Nicaragua.(10/2016)
Not 1 But 2 Containers Enroute
October 12th the Norfolk warehouse shipped two containers to Haiti with 3,080 pounds of black beans, 99,792 KAH meals; 71,280 Mercy Meals, adult, children and pull style PETs (all terrain wheelchairs), bottled water and clothes. In the next two weeks, OGT is planning to ship three more containers of humanitarian aid to Haiti from the Norfolk warehouse and Wisconsin Branch. These shipments will be costly and requested with great need and desperation from our recipients in Haiti. Food, water (cholera will present itself due to contaminated water), clothing, shoes, buckets, shovels, and hygiene supplies will be sent with food and water being highest priority. If you would like to donate to help the very poor in Haiti with recovery efforts from Hurricane Matthew, please go to www.ogt.org and click on the Donate Button and in the comments box write "Haiti" or mail a check marked with "Haiti" to Orphan Grain Train P.O. Box 1466 Norfolk, NE 68702. Thank you for your support with the missions of OGT and please continue to pray for everyone affected by Hurricane Matthew (9/2016)
---
Local Students Lend a Helping Hand
Norfolk warehouse volunteers and some Norfolk Sr. High students helped to load a shipment for Vilnius, Lithuania. This shipment contained 1,712 boxes of blankets/quilts/linens, men's, women's and children's clothing and coats, hygiene kits, school kits and supplies. What wonderful blessings for the children and families in Lithuania. Thank you to our local students for helping to load all these boxes!(9/2016)
---
Kenya Shipment Is on Its Way
Yesterday the Norfolk warehouse volunteers were busy loading a shipment for Kisumu, Kenya. Rev. Chuchu with Diakonia Compassionate Ministry will soon be receiving 43,200 Kids Against Hunger meals, blankets/quilts, Bibles, Christian resource materials, summer clothing, sanitary kits, new underwear, medical equipment, medical linens, adult and children's PETs (all terrain wheelchairs), school desks, chairs, and school furnishings. The sanitary kits were made and supplied by Gayle Sommerfeld and area LWML groups in Illinois, Ohio and Michigan. Gayle started the "sew in" sessions to complete boxes of kits shipped to Kenya. These will be given to the girls attending school to help lessen absenteeism. Such wonderful gifts loaded on this shipment to help children and families in Kenya. Thank you to our donors and volunteers!(9/2016)
---
Blessed with Beds
Kids International Ministries (KIM) recently received a shipment containing hospital beds from OGT. KIM had these beds transported to the remote Calayan / Babuyan Islands, in the northern part of the Philippines. A new hospital/clinic was eager and grateful to receive the used hospital beds to help equip the facility. The pictures are of the beds being used at the new facility.  (9-2016)
512 Miles From Home to Help OGT
Elizabeth and Steven Amendt are from Noble, OK and have donated pillowcase dresses and other hand sewn items to OGT. They planned to visit friends in Iowa this summer and decided to include three days volunteering at the Norfolk warehouse. They are traveling in their RV and camping at a local campground. Steven has helped in the bicycle repair shop and loading shipments and Elizabeth has helped sort and pack clothing. Elizabeth shared having a history with donating and giving to OGT and wanted to learn more about the ministry and help by volunteering. What a wonderful, inspirational couple to have visit and volunteer at OGT.(8/2016)
---
Many Blessed 
On August 29th the Norfolk warehouse volunteers loaded a shipment of 249,480 Mercy Meals and 1,300 pounds of processed beans for Sandra Koch with Help For Haiti in Haiti. Sandra will distribute some of this food to Helping Hands for Haiti, Mission Haiti, La Gonave Alive, and Haiti Lutheran Mission Society that rely on monthly food donations. Sandra received these pictures from Pastor Supreme whom receives monthly food for his feeding program. He shared being grateful for the food and hope given to the children. Thank you to our donors that make these feeding programs possible around the world.(8/2016)
A Nice Donations Helps Out 
OGT received a donation of more than 2,000 food trays. These shipped to several different recipients for use in schools, churches and orphanages in the US and around the world. Our recipient Georgina with LHM in Nicaragua emailed these pictures of children in their feeding program using the food trays.8/2016
---
OGT Enjoys Recipient Visit
OGT's home office in Norfolk, NE had a special visitor from Haiti, Pastor Tomas Bernard with Good Shepard Evangelical Lutheran Church of Haiti. Pastor Bernard has received shipments in the past from OGT containing Mercy Meals, clothing, school kits and supplies. He was very gracious and shared many thanks from him, the congregation, school and community of how the donations from OGT have helped share love, hope and the Gospel with others. He believes by sharing the Mercy Meals and providing meals at his Lutheran school and church that more people attend and are learning about Jesus and becoming Christians. It was interesting and humbling to hear the stories how OGT is changing and saving lives in Haiti. This would not possible without the help from our donors and volunteers – Thank you for making a difference throughout the world. Pictured from L to R: Dick Buethe, The Haiti Lutheran Mission Society, USA; Pastor Bernard, Good Shepherd Evangelical Lutheran Church; Grant Schmidt, OGT's VP of Operations.(8/2016)
---
A Big Move
August 17th was a very busy but good day for OGT's Disaster Relief Department. In June of 2014, a tornado destroyed St. John Lutheran Church in Pilger, NE and the congregation needed a place to worship, especially since 75% of the town was destroyed. OGT, with the help from a grant through LCMS Disaster Response Program, built a mobile chapel that was placed where the church once stood to offer a place of worship, baptisms, weddings and other gatherings. Now, two years later, St John's church is rebuilt and the mobile chapel is returning to Norfolk to wait for its next call to serve. Stahla Homes of Norfolk provided the equipment and labor to transport the chapel. Pictured is OGT's driver Mike Fink with the mobile chapel ready to head down the road.(8/2016)
---
Haiti Awaits Love Filled Container
August 16th the Norfolk warehouse volunteers along with help from some Lutheran High Northeast juniors and seniors loaded a shipment for Haiti. These students worked hard loading 558 student chairs, 110 student desks, chalkboards, teacher desks, 61 School kits, school supplies, clothes and towels. The 61 school kits are actually very special pizza boxes decorated and filled with school supplies, small toys and personal trinkets from Trinity Lutheran Grade School students in Madison, NE. Pastor Thomas Bernard with Lutheran schools in Haiti will receive clothing and the pizza boxes to share with students. Amazing to see Lutheran students make the school kits from the heart and other Lutheran students load the shipment that will be shared with Lutheran students in Haiti. Help For Haiti will receive the shipment and distribute some of the cargo to House of Hope Orphanage, Leonard Isidor with Evangelical Lutheran Church of Zion and to Pastor Bernard.
---
Challenge Accepted....You Can Too
The Norfolk warehouse had a volunteer from the Houston area recently. Dustin Nitz attends New Hope Church and they challenged the congregation to volunteer at least two hours while on vacation this summer. Dustin was here visiting his parents on vacation when he accepted the challenge by calling OGT to help load a shipment. What a wonderful challenge and opportunity with OGT gaining extra help to load a shipment of medical equipment for Nicaragua and Dustin being able to help serve the Lord and learn more about the ministry of OGT. Would you consider a challenge of volunteering while on vacation?(8/2016)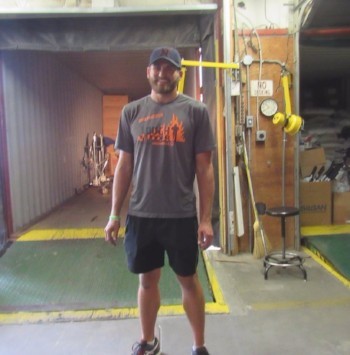 ---
Giving Hearts and Helping Hands Much Appreciated
The Norfolk warehouse needed volunteers August 4th to help load a shipment so a call was made to the Norfolk Rescue Mission. Pastor Will Perrigan, with the Mission brought several workers to help serve the Lord by loading the shipment. It was a very warm, humid morning but they were fast, hardworking volunteers. The shipment will be going to Riga, Latvia filled with 1,737 boxes of blankets/quilts/linens, clothing, coats, shoes, and hygiene kits. Thank you to the Norfolk Rescue Mission volunteers for your help and taking the time to learn about the ministry of Orphan Grain Train. The group picture is of the volunteers with Pastor Perrigan on the far right.(8/2016)
---
51 Lovely Woman Volunteer Their Day to OGT
On Tuesday, July 26, the Norfolk home office and warehouse had the pleasure of working with 51 Lutheran Women's Missionary League (LWML) members from Wisconsin and Michigan. The women spent the day at OGT doing a packing event, taking a tour and learning more about the ministry of OGT. They worked hard unpacking, sorting and repacking nearly 250 boxes of clothing. It was wonderful to have this great group of ladies be a part of OGT for a day – thank you! If you have a group that you would like to bring for a tour or help with an event, please contact OGT at 402-371-7393. We would love to have you be a part of our ministry.(7/2016)
---
A Specific Plea Fulfilled
Recently OGT put out a special request for a child's walker for a family in Kyrgyzstan. The plea was answered by receiving money designated to purchase two walkers and a third walker was donated to OGT. Our recipient, Social Charity Fund "Compassion" in Bishkek, Kyrgyzstan was thrilled to receive two of the walkers along with child PETs (all terrain wheelchairs). Lena Bykova with Compassion shared this picture and story about the little boy whose dad asked for a walker. 
"Tolinsky is 4 years old. The boy was born with infantile cerebral paralysis. The doctors say that the boy has a good chance to start walking. The family takes a good care of the boy, providing all necessary treatment to him. His father Sergei works at a big confectioner's shop. We met him when he delivered Christmas gifts for the kids from our Sunday Schools that we had ordered at that shop. Sergei saw the walkers and crutches and other supplies from one of the OGT containers that people were receiving at that time. He shared a story of his son and requested a walker for him. It is a joy for the whole family to receive not only a walker but a child's PET as well. It is impossible to get such things here. Sergei says that these two things are precious for them because they make their son's life happier and improve his health."
Thank you to those that donate and volunteer to have these special shipments change the lives of children and families throughout the world. Watch for more stories and pictures of Compassion helping disabled children with OGT donations.
---
Special Request was Exciting to Fullfill
Norfolk warehouse was loading for Nicaragua this morning when Karen Mangels, OGT's International Transportation Coordinator received an email from our Nicaraguan recipient Georgina with Lutheran Hour Ministries. She had a special request for wedding dresses for women in her church that had plans to marry but too poor to purchase a dress. Karen immediately went to Roxi's Elegant Bridal shop in Norfolk and they donated three beautiful wedding dresses. The dresses were boxed and loaded onto today's shipment along with 175 boxes of blankets, 592 boxes of clothing and shoes, diapers, hygiene kits, medical equipment, beds, bikes, solar ovens, school supplies, back packs, school chairs and tables, and eight sewing machines. What blessings for the brides and other children and families in desperate need of clothes and supplies. Thank you to all our donors and to Roxi's Elegant Bridal for giving love and hope to someone's special wedding day.(7-2016)
---
Finally the First Container is Delivered
The first container of food for refugees in Greece was unloaded on Friday, July 8th following the port strikes in Thessaloniki, Greece. They were so grateful and excited to unload 128,304 Kids Against Hunger meals and 11,880 pounds of processed Pinto beans. This shipment was shipped from the Norfolk warehouse and funded by Minnesota South Branch. What wonderful blessings for refugee children and families with no home or country to call their own.(7-2016)
---
Fish Feed a Success
On June 19th, Divine Shepherd Lutheran Church in Omaha Ne. hosted a Fish Feed for OGT. It was a beautiful day for good food and fellowship, which raised $3,600.00. The money will be used to help pay the shipping costs of a container of humanitarian aid to refugee camps in Greece. On the menu was Wisconsin Style Fish, new potatoes, pearl onions and dessert. Several people from OGT's Norfolk NE home office and warehouse attended and volunteered. Pictured back row: Grant Schmidt, VP of Operations; Ray Wilke Jr. and Kevin Sullivan. Middle row: Hanna Wilke, Kylie Wilke, Paul Warneke, Sue Wilke, and Al Long. Sitting: Pastor Ray Wilke, President of OGT and Deb Schmidt.(6-2016)
---
Beautiful Smiles that Warm Our Hearts
Norfolk warehouse recently shipped 57,600 Kids Against Hunger meals, blankets, quilts, Bibles, church pews, pulpit, household items, bicycles, solar ovens, toys, children's play kits, books, food trays, school desks, chairs, tables, and a white board to Bacolod, Philippines. Christian Missionary Baptist Church was very excited and grateful to receive the wonderful church furnishings, food and other items. They shared these photos of unloading and distributing food and other items to local families in need.(6-2016)
---
Cozy Beds and Food Arrives in Haiti
On June 1, Help For Haiti unloaded a shipment of humanitarian aid from the Norfolk warehouse. Help For Haiti will share the aid with 2 other Haitian organizations. On June 17, Josias S. Marin with L'Univers des Tout petits picked up 100 boxes of Mercy Meals, 50 boxes of beans and 10 single beds. This organizations will share the food and beds with children at their orphanage and schools.(6-2016)
---
Unloading Gifts with Grateful Hearts
Last April the Norfolk warehouse volunteers loaded a shipment for one of our recipient's Miriam in Melitopol, Ukraine. Last week they were able to unload hospital beds, crutches, walkers, wheelchairs, hospital linens, school desks, chairs, classroom tables, blankets, clothing, coats, and shoes. They are always so grateful for the humanitarian aid to help the elderly, disabled, orphanages and hospitals. Pictures are of Miriam volunteers unloading the cargo.(6-2016)
---
Joy Found in the Little Things
OGT recently shipped a container to Kids International Ministries (KIM) in the Philippines. Along with humanitarian aid, homemade wooden toy cars were included in the shipment. Jeff Long with KIM sent OGT these precious pictures of some children receiving the wooden cars.(6-2016)
---
OGT and KAH Help Support Feeding Programs
Sandra Koch with Help For Haiti (HFH) is one of OGT's recipients in Haiti. HFH uses donations of Kids Against Hunger (KAH) meals from OGT to support 2 schools and feeding programs in the villages of NW mountains. Hunger and malnutrition are daily struggles for families in the region. The feeding programs were started to ensure children have at least one meal a day. Sandra shared photos of some of the children with Kids Against Hunger meals and also of the students standing in front of their old school. Also pictured is the newly constructed school of concrete block. It is amazing the lives OGT touches in other areas of the world. Thank you to our donors!(5-2016)
---
A Man Survives a Tornado that Destroyed Home OGT Helps
As a tornado touched down near Nehawka, Nebraska, on Monday, May 9, 76-year-old Robyn Stoll clung to a tree as the twister ripped apart his home. Robyn had been outside in a machine shed, keeping an eye on the tornado. As it approached, he tried running to his house but did not make it inside. The storm blew the roof off his home and left the machine shed a mess, but he suffered only minor injuries. Mr. Stoll's home was the only residence damaged by the tornado. Christ Lutheran Church of Lincoln, NE Lutheran Emergency Response Team (LERT) was told about Mr. Stoll's home being destroyed and began a plan to help. LERT asked OGT about using a secured container to store what belongings Robyn had left. OGT responded and delivered the container on Thursday, May 12. LERT volunteers helped with the cleanup and moving belongings into the container. The first picture from L to R is Kelly Jensen, neighbor; Michele Toole, LERT volunteer; Robyn Stoll, and Tom Grunow, LERT volunteer.(5-2016)
---
Aid is on its way to Ecuador
Victims of the April 16th earthquake in Ecuador will soon be receiving aid and food from the Norfolk warehouse. Orphan Grain Train partnered with Kids Around the World (KAW) to ship 105 boxes of blankets/quilts, 280 boxes of clothing and shoes, 100 water filters for purifying drinking water, 7,700 pounds of processed beans, 149,688 Mercy meals, 28,512 Kids Against Hunger meals and 10 boxes of hygiene kits. OGT's South Dakota Collection Center contributed funds to assist with this shipment. This first shipment of relief supplies should arrive in Manta, Ecuador on June 14, 2016. KAW staff with the help of local congregations will distribute the relief goods to families affected by the earthquake. Thousands of people are still living in tents and the need for help is great. Please pray for the families of Ecuador. OGT would like to thank our supporters for helping to make this shipment happen. Pictures are of the Norfolk warehouse volunteers loading the shipment for Ecuador.(5-2016)
---
Shipment #2 for Refugees in Greece
On May 12th the Norfolk warehouse volunteers were busy loading a shipment of humanitarian aid supplies donated from the Omaha, NE area. OGT delivered a container to the parking lot of Divine Shepherd Lutheran Church for people to drop off specific donations for refugees in Greece. Divine Shepherd, along with the help from Dr. Sehr Haroon with S.E.H.R. Mission, there was an awesome response and the container was full in about 3 weeks. OGT brought the container back to the warehouse to inventory all items and reload the supplies for the journey to Greece. The goods included diapers, premade baby formula, clothes, food, blankets, and hygiene supplies. Thank you to everyone that donated and helped to send relief supplies to the children and families in the refugee camps. The first two pictures are of the container at Divine Shepherd and the other pictures are of volunteers loading the container at the Norfolk warehouse.(5-2016)
---
Excited Visitors with Infectious Energy
OGT had a terrific group of students visit the International office and Norfolk warehouse today. St. Ludger Elementary students from Creighton, NE, along with some teachers and parents, took a tour and learned more about the missions and ways to volunteer at OGT. They brought hygiene kits, layette kits and school supplies to donate. What a great group of students! So eager to learn more about the happenings of OGT and serve the Lord. Enjoy both pictures of the students.(5-2016)