Overview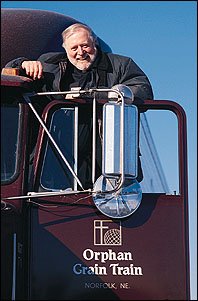 Rev. Ray Wilke
Little Norfolk Nebraska is the Hub
Orphan Grain Train's International Center is the hub around which all Orphan Grain Train activity revolves. While the 22 branch and collection center locations around the country are all volunteer workers, the International Center employs 10 dedicated workers. These employees accomplish the task of arranging for international and domestic transportation of relief supplies for all of our 22 locations. Daily they work with customs officials, keep track of inventory, do the bookkeeping, and all other tasks needed to support the work of the satellite locations.
---
Sad News  
OGT received some very sad news January 17th. One of our Haitian recipients, Leonard Isidor was shot and killed outside his home this afternoon. Leonard visited OGT home office in 2015 with Dick Buethe of Haiti Lutheran Mission Society. He gave to others freely what was given to him and often sang hymns of praise while doing so. He had a church, the Evangelical Lutheran Church of Zion, built beside his home and after services he would distribute baggies of beans or rice to those in need. He sent OGT pictures and videos of distributing OGT donated food and supplies to those in need. He was given an OGT polo shirt and wore that in most all of the distribution pictures. Please remember Leonard, his family and congregation in your prayers. He will be missed. (Below is from when he visited us here at the Home office.)  (1/2017)
International Visitor
OGT International Office in Norfolk, NE had a special guest from Haiti, Leonard Isidor along with Dick Buethe and Jim Schmersal from Lincoln, NE. Mr. Isidor shared a video about his Evangelical Lutheran Church in Haiti, which he started at his house. He has two ordained pastors that offer four church services weekly and a bible class. Leonard prepares ground corn and peanuts to share with those in need after church. He says some children and families will go 3-4 days without eating. Whenever he has extra money, he will buy food or other items for those in need. His church holds 200 people and is always full. He is truly a blessing for people that want to learn more about Jesus and the Word. Dick Buethe and Jim Schmersal are involved with Haiti Lutheran Mission Society and make several mission trips yearly to Haiti. They have been instrumental with getting food and supplies to the less fortunate in Haiti. Pictured from left to right: Dick Buethe, Leonard Isidor and Jim Schmersal. The other pictures are of the Evangelical Lutheran Church in Haiti.  (10-2015)
| | |
| --- | --- |
| | |
| | |
| Visitors Dick Buethe, Leonard Isidor and Jim Schmersal at the International Office. | |
| | |
| | |
---
Lincoln Collection Center Opened for Donations
OGT is excited to have a collection center in Lincoln, Nebraska which opened their doors on February 20. More than 20 people stopped by to donate items for OGT. The facility is located in a warehouse and will be open every third Saturday of the month from 9-noon. Be sure to think of OGT collection center while spring-cleaning and they are also hosting a winter coat drive for Palm Sunday.
The OGT Collection Center Warehouse is located at:
2316 Kimarra Place
Lincoln, Ne.
For more information, call:
1-877-371-7393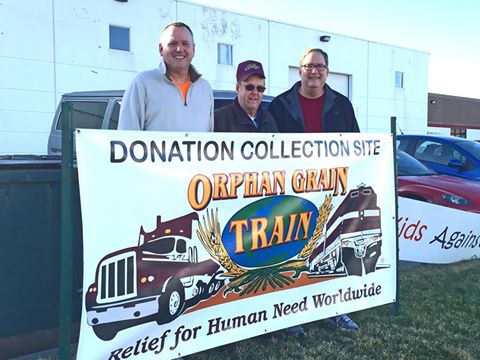 Pictured L-R: Grant Schmidt, OGT's VP of Operations; Dick Waechter, Warehouse Manager; Curt Jones, Coordinator of Missions & Generosity at Christ Lutheran Church in Lincoln.
---
**UPDATE**
A shipment of food for farming families in Mindanao, Philippines will arrive this week. El Nino has caused a devastating drought to the region and farmers are unable to grow crops or earn an income. Earlier this month, 6,000 farmers planned a protest rally demanding subsidies for farms affected by the El Nino dry spell. The rally became violent with 2 farmers killed and 13 others wounded when police opened fire. Families are feeling tension and desperation with starvation setting in. OGT's shipment of 122,400 Mercy Meals and 136,800 Kids Against Hunger meals is expected to be unloaded this week. We also have another shipment planned to arrive in May. Please keep these families and children in your prayers for rain and food for nourishment.(4-2016)
Drought + Hunger = State of Calamity
A letter of desperation sent to our recipient Jeff Long of Kids International Ministry (KIM) in the Philippines: 
Hello Jeff,
The other day our province has declared that we are under the state of calamity due to El Nino. Yesterday Glenn and I went to our farm. Most of our land is so short of water that we are not sure of what harvest would look like. Thanks be to God that He is in control whether we will have a harvest or not. Though for a lot of farmers their crops are dead. Right now since even the vegetables cannot grow anymore, hunger has started to be felt all over. It has just started! I am afraid what it will be a month, 2 months from now. I think this is the worst for our province. 
Hence, we are appealing to you to please consider sending us again the rice packs and beans as we are entering as the news said El Nino will be worst in March. They said rain may come May or June. If we plant June harvest will be October - November. Our 2 fishponds in the camp have all dried up. Even the Sawaga River is almost dry. I pray our God will provide you a sponsor to send us a container. Thank you for ALL that you do for us thru the grace of God.
Grace for Mt. Moriah Camp
Jeff Long contacted OGT sharing that they already help with impoverished mountain communities, KIM children's home, camp and Madi Bennett's pre-school are in this region. Jeff appealed for two 40-foot containers for food. Today, Norfolk warehouse is loading a container with 259,200 Mercy Meals for the island of Mindanao. On March 17th, Wisconsin Branch is shipping a full container of black beans from Norfolk to this same destination to help this calamity. Please pray for the children and families affected by this severe drought and that they will have food and assistance during this difficult time. The pictures are of a recent distribution of food in the effected region.
OGT 2015 Annual Meeting
On September 17 and 18, 2015, OGT's International Office held its Annual National Meeting with OGT regional locations from California to Connecticut attending. It was a wonderful time to catch up with everyone, share the good being done at all locations and discuss business. After meetings Thursday afternoon, Board of Directors and Advisory Board members joined us for an opening reception and dinner served by OGT International Office staff. After dinner, all enjoyed hearing from representatives from each of the OGT regional locations of accomplishments and shipments they made the past year. It was a blessing to have most all of the Regional Location volunteers attend the meeting and share their impact with helping those in need worldwide. Pictures are of the Annual Meeting at the International Office in Norfolk, NE.
| | | |
| --- | --- | --- |
| OGT 2015 Annual Meeting for all 23 locations | On the rt: Bob Feddern, Advisory Board member & former Warehouse Manager with wife Edie and in the center is Grant Schmidt, Vice President of Operations | Gary Wieck, Central Nebraska Branch Manager |
| Opening Reception at 2015 meeting | Elissa Rosin, North Dakota Branch Manager | Dan Fullner, Board of Directors member with wife Jan and Mike Widhalm, Domestic Transportation Coordinator |
| Suzie Leffers, Director of Public Relations, Linda Miller, Financial Secretary, Chris Carstens, Inventory Manager | Don Kalwat, New England Branch, Elfie Eberle, Maryland Branch Manager, Steve Rice, California/Arizona/Nevada Coordinator | Bill Eberle, Maryland and Dale Pinnt, long time volunteer for Norfolk warehouse and Fish Boils |
| Ingrid Granath and Ardith Warneke, both Advisory Board members | Chuck Tesnow, Wisconsin Branch, Assistant Branch Manager and Neal Mueller from Wisconsin. | Andrea Eckstein and Carmen Larson, Warehouse Mangaer of North Dakota Branch |
| Ralph Schmidt, Director of Development and Steve Rice, California/Arizona/Nevada Collection Center Coordinator. | Thrivent Financial representatives attended to share Thrivent Choice Dollars and Team Action opportunities. | |
International Office Service Project
Chris Carstens, Inventory Manager at OGT's International office in Norfolk, NE planned a 'Thrivent Action Team' activity to collect "School Kits". She asked members of Zion Lutheran Church in Pierce, NE and friends/family to donate school supplies and backpacks. The employees of Orphan Grain Train converged at the warehouse following workand were able to complete '41' backpacks with the school kits inside. We also had 11 complete backpacks with kits donated, bringing the total to 52. How awesome! Also boxed were 19 extra backpacks and 2 shipping boxes full of the remaining school supplies. $80.00 was donated to help with the shipping costs. Thank you also to Thrivent Financial for sponsoring the 'Thrivent Action Team' program; their community action card purchased backpacks. Blessings to all! First picture is of the OGT team left to rt: Grant Schmidt, VP of Operations; Doug Trampe, Warehouse Manager; Becky Carretto, Bookkeeper; Paul Warneke, Treasurer; Linda Miller, Financial Secretary; Chris Carstens, Inventory Manager; and Mike Widhalm, Domestic Transportation. (8-2015)
Visitors from Latvia
One of our recipients in Latvia, Pastor Artis Eglitis and his wife, Helene, visited OGT's International Office and warehouse in Norfolk, NE. It was exciting and intriguing to hear about his humanitarian ministry in Cesis, Latvia and travels to Ireland to work with the many Latvians in that country. They shared with us a slideshow of their facility and a number of people they have helped. Pastor Eglitis is a Pastor of the Latvian Evangelical Lutheran Church. Orphan Grain Train ships clothing, coats, quilts, household items, bikes, etc. to help support his ministry. He expressed the importance of receiving bicycles not only for children but also for adults for transportation. They distribute the shipments to other churches and community services within a 100-mile radius. They also offer support to orphanages and female prisons. The ministry is in the process of renovating and expanding their facility and is in need of beds and night stands to help more families. It was wonderful to hear personally how donations from OGT change lives physically, emotionally and spiritually across the ocean in another country.  Pictured are Pastor Artis Eglitis and his wife, Helene and past shipments in Latvia.  (March 9, 2015)
---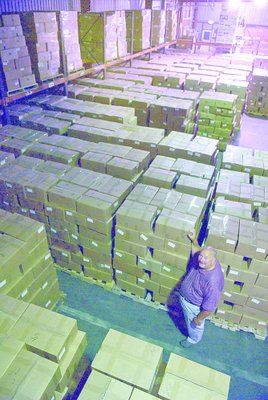 Norfolk, Nebraska Warehouse
In addition to the above activities, the Norfolk, Nebraska warehouse workers load and ship over half of the shipments sent by OGT. In the past fiscal year, 78 semi-loads or shipping containers of relief supplies were sent out of tiny little Norfolk, to disaster victims and other needy people in this country and around the world.









---
Volunteers from Hutchinson, MN Help OGT
Norfolk warehouse loaded a shipment on July 18, 2014 with the help of volunteers all the way from Peace Lutheran Church in Hutchinson, MN. The volunteers toured OGT yesterday and are also here to help with the clean up in Pilger, NE from last month's tornado. The shipment was shipped to Moldova and included quilts, clothing, coats, all terrain wheelchairs for adults and children, school desks and chairs, band and choir uniforms. Pictured are the volunteers from Hutchinson, MN. Thank you for your help!!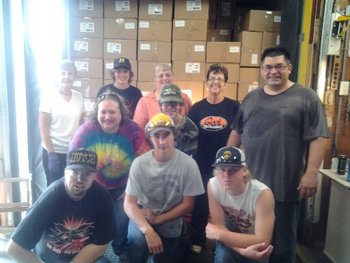 ---
Bruizin' Bettys Roller Derby Donates to OGT
Thank you to the Norfolk Bruizin' Bettys Roller Derby for their generous donation. The Bruizin' Bettys took a portion of their March proceeds and donated it to the Orphan Grain Train. Suzanne Leffers, spoke on behalf of OGT, at the roller derby on Saturday, March 29, 2014 at the Norfolk City Auditorium and had a great time. It is something to see if you have not yet been to the roller derby. Thank you, Bruizin' Bettys, for donating to the OGT and best of luck the rest of the season.
| | |
| --- | --- |
| Norfolk's Bruizin' Bettys Roller Derby team | |
---
Volunteers Needed in Norfolk
Orphan Grain Train needs your help! The Norfolk OGT warehouse is in need of volunteers to help sort and package donations so we can get them shipped to the needy. If you are able to help, please contact Doug or Paul at 402.371.8198.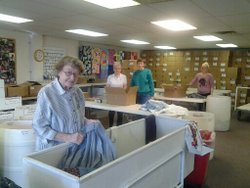 School and Church in Ghana to get Shipment
A container was loaded at Norfolk warehouse with 13 school tables, 20 student desks, 300 student chairs with 50 tables, 6 filing cabinets, 6 office chairs and desks and 7 PET All Terrain Wheelchairs for adults. This shipped Tuesday, April 1, 2014 and will be used at a church and school in Ghana. What a blessing for them.
---
Norfolk Catholic High School Students Help OGT
On February 28, 2014, 270 students from Norfolk Catholic High School helped Orphan Grain Train sort donated athletic clothes into winter and summer attire. The students made boxes, sorted clothing and then packed the boxes ready to be shipped worldwide. The students packaged over 1,000 boxes of clothing!! This was a tremendous help to Orphan Grain Train.
---
Shipment to the Lutheran Church of Philippines is Loaded
Norfolk volunteers were busy again today loading a shipment heading to the Philippines. This is the first of the shipments to the Lutheran Church of the Philippines with funding provided by LCMS Disaster Relief. The 259,200 meals that were loaded were packaged at events held at Sioux City, IA, Hastings, Lincoln, Norfolk, Omaha, Wauneta, Imperial, and Odell Nebraska. The container was purchased and will stay at the Christ Lutheran Church at Maehama on the island of Leyte for storage and distribution. In addition to the food, hygiene kits, bowls, blankets and quilts were sent.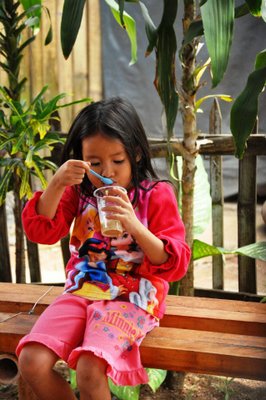 Philippine girl eating donated food