Newsroom Archive
Bedroom Units To Texas For Volunteers
Tessa Nelson on 10/27/2017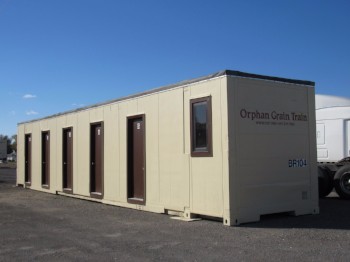 Recently two more loads of drywall left the Norfolk warehouse for Texas. OGT is planning for more loads of drywall, construction materials and supplies to help with the rebuilding of homes in regions affected by Hurricane Harvey and Irma. This Saturday, October 28 two of the bedroom units will be loaded onto semi-trailers and begin their journey to Houston. They will be placed on the ground at the Gloria Dei Lutheran Church for volunteers to have a place to sleep.
Orphan Grain Train plans to help long term with relief efforts from the devastating effects of Hurricane Harvey, Irma and Maria. This means we plan be there for years and this will be costly. If you would like to donate, please go to www.ogt.org and designate it to Hurricane Relief or mail a check to Orphan Grain Train P.O. Box 1466 Norfolk, NE 68702.
Thrivent Financial is offering to match your personal donation toward 2017 Hurricane Relief for OGT with online donations at www.thrivent.com. This opportunity will run until the $3 million match is met or until December 31, 2017, whichever comes first. What a wonderful way to double your impact for those in desperate need. The pictures are of one of the bedroom units that will be heading down to Texas this Saturday.