Newsroom Archive
Plan to Attend Pillowcase Dress Workshop
Tessa Nelson on 07/10/2017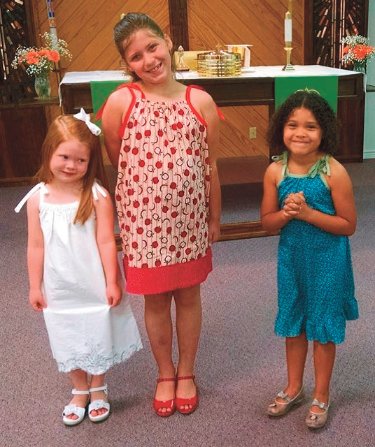 Pillowcase dress workshop July 21st & 22nd
The Genesis Piecemakers have organized a two day workshop (come both or one) on Friday July
21 and Saturday July 22. The dresses are made from gently used pillow cases and decorated to become
attractive summer wear for girls. The workshop will be held at Genesis Lutheran Church Fellowship Hall,
15946 Hwy 29 in Buchanan Dam. Hours are from 9 a.m. to noon each day.
The workshop is open to everyone. Come and learn about the dresses and help out. Advanced
sewing skills are NOT a requirement. The work projects will be divided so that participants can work on a
single task, ie cutting, sewing, decorating, or complete an entire garment. Participants can bring their own
pillowcases, notions, etc or come work with the materials already gathered. Finished garments can be
taken home by the participant or donated to Orphan Grain Train.
Can't come, but would like to help out. There is still a need for notions.. 1/2 inch elastic, thread,
sewing machine needles, ribbon or appliques. Items may be brought to the church any time before or during
the workshop days.
Can't sew a lick and don't care to try? Donate a pan of bars or cookies and come serve coffee
for the work force and admire the good work
Can't make this workshop days. Instructions on page 3 and 4 of this newsletter.
Questions call Betty Drees 512-793-4000 or the Genesis church office 512-793-6800.