Newsroom Archive
Talsi Evangelical Lutheran Church says "Thank You"
Suzanne Leffers on 05/12/2015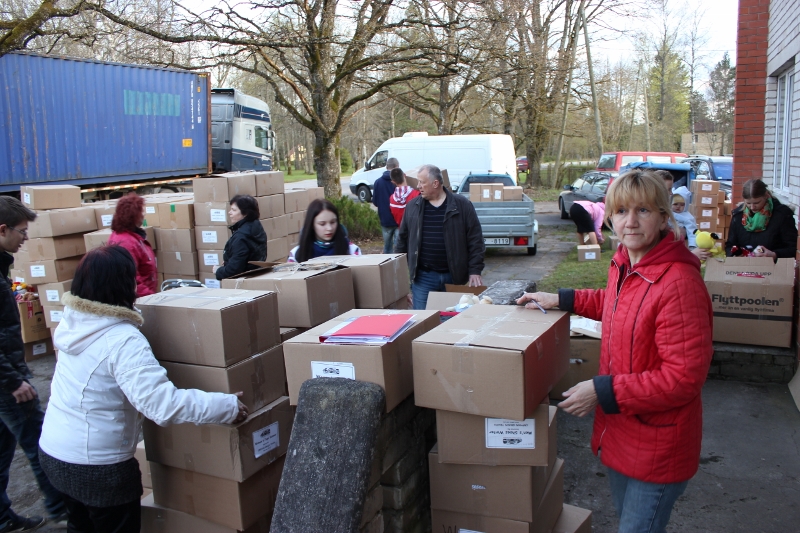 Talsi Evangelical Lutheran Church in Latvia received a shipment from the Norfolk warehouse. The inventory included bedding/linens, men's women's and children's clothing, shoes, coats, layette kits, PETS (all terrain wheelchairs), shower chairs, commodes, crutches, toilet risers, walkers, wheelchairs, sewing machines, and cereal bowls. The items were distributed to local churches and community services to share with families in need. Our recipient shared the following picture and thank you note with OGT's Inventory Manager Chris Carstens.
Hello Chris.
Sorry for late reply.
This time cargo came 30.04.2015 and we already gave away all the things on 05.05.2015, it was because of all the churches had trucks coming on pickup on the day unloading cargo. The goods where really nice, a lot of people are and will be happy to get them and use them. It was nice surprise to get boxes with baby packages (Layette kits),PETS and sewing machines. All clothing was also really good, it will come in hand for people in need.
Thank you very much for the effort and good work invested in Charity.
We will send more pictures in near future.
Thank you and God bless you.
Regards,
Oskars (Vijas son)