Newsroom Archive
Thank you from Moldova
Suzanne Leffers on 06/02/2014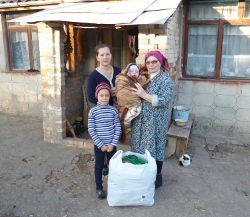 Moldova recently received a shipment of men, women and children's clothes, quilts, medical equipment and school desks and chairs. The children and parents were so grateful for the clothing that they sent Orphan Grain Train thank you letters and pictures. Below is a thank you letter from Colesnic Oxana Family and a picture:
Oxana is an optimistic girl sees a bright future with God's help of course, she has a younger brother. Their mommy Lilia and dad Nicolai decided to take another baby to there family after a relative abandonde her son in the hospital so for the last 2 years this family is taking care of this baby, last fall they took a baby girl 6 months old to raice. The children don't have the adoption documents yet but the family is in the adoption proces now. Now imagine how happy was this family to take the bags with clothes for there children especialy that both parents don't have a permanent job but they have enough love for their children and for adopted children.
Lilia the mother says, "I received this clothes as from the Lord this is so necesary for us."