Newsroom Archive
Need a Project for Vacation Bible School or your School?
Suzanne Leffers on 03/18/2014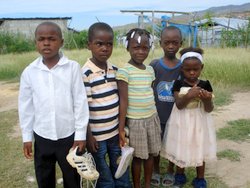 Does your church need a project for Vacation Bible School children? Does your school need a project for the children? Orphan Grain Train could use your help to help the needy. How about each child donates a pair of gently used shoes they no longer wear to children in need of shoes. All you would need to do is pack the shoes and get them to the closest OGT collection site. We would do the rest with getting them to the needy. There are children in the US and around the world that are in desperate need of shoes. The children without shoes risk getting cuts on their feet, along with poor nutrition and hygiene, their risk of serious health complications is high. Thank you in advance for your help for this special cause. The picture is of children in Haiti that have received shoes from OGT in the past.