Fish Feeds
Wisconsin Style Fish Feed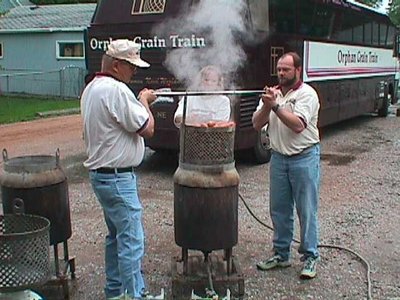 Wisconsin Style Fish Feed
Central Nebraska Fish Feed Schedule
We are needing volunteers who would be willing to be trained to do fish feeds in the future.  Fish feeds are an important source of funds for the Central Nebraska warehouse's shipping and general operating costs.  Volunteering to help with fish feeds is a good way to support orphan Grain Train.
If interested, please contact Dick Troester at 308-380-3730.
To schedule a fish feed for 2018, please contact Beth Stark, Fish Feed Coordinator for Central Nebraska Branch
of Orphan Grain Train. Call 402-469-7839 or email ogtbeth@gmail.com.

Fish Feeds 2018

March 9th- UNL- Lincoln, NE 5-8 PM Fish
March 14th- Trinity- Blue Hill, NE 5:30-7:00 PM Fish
March 18th- Zion, Shickley, NE 11:00-1:00 PM Fish/Brats
March 21st- Peace, Waverly, NE 5:15-7:00 PM Fish
April 8th- St. John's, Columbus, NE 11:00-1:00 PM Fish
April 15th- Hickory Grove, Auburn, NE 11:00-1:00 PM Fish
June 3rd- Trinity, Lexington, NE Noon-1:00 PM Fish&Brats
June 15th- LLL, Zion, Hastings, NE 5:30-7:00 PM Fish
June 24th- Cross of Christ, Aurora, NE 11:30-1:30 PM Fish
July 14th- St Peter, Hampton, NE 5:30-7:00 PM Fish
September 2nd- First Trinity, Beatrice, NE 11:00-1:00 PM Fish
September 9th- Holy Cross, Kearney, NE 11:00-12:30 PM Brats
September 16th- St Paul, Shelton, NE 11:30-1:00 PM Brats
September 14th & 15th- LWML Nebraska District South Convention, Kearney, NE
September 22nd- OGT – Central NE Branch, Grand Island, NE Annual Meeting
October 14th- Grace, Fairbury, NE 11:30-1:00 PM Fish
October 21st- Calvary, Rosemont, NE 11:30-1:00 PM Fish
November 4th- Trinity, Campbell, NE 11:00- 1:00 PM Fish
Minnesota South Branch
If you would like to schedule a Fish Feed you can email lmulbricht2@gmail.com or call Loren Ulbricht at 507-662-6270. 
Fish Feeds 2018
---