Medical Shunt Program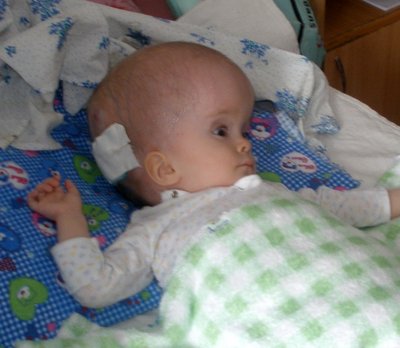 Child with Hydrocephaly
Background
A major problem in Russia today is that their technology has not yet produced a much-needed medical shunt of the quality and quantity needed at this time. This special device is used with infants and children who have a condition called hydrocephalus.
Hydrocephalus can affect any age group. It is caused by a failure of the natural drainage system that regulates the amount of fluid around the brain. Premature infants can be susceptible to hydrocephalus, and meningitis may also cause it to develop. The Chernobyl disaster of 1986 and the resulting radioactive fallout is also thought to be a contributing cause.
Years ago, Americans knew this condition as "water-head baby" and today this is a problem in Russia. The only effective way to treat this condition is to surgically insert a special "shunt" (hydrocephalic valve unit) which allows fluid to drain from the membrane surrounding the child's brain.
The director of the Russian Polenov Neurosurgical Institute indicates that each of these shunts will save the life of one child, if they can have them on hand.
Each one is sent to Russia as a special project of hope and an example of the love of our Lord Jesus Christ in reaching to these dear little ones.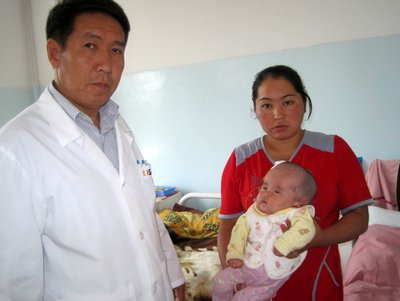 Child in Need of a Shunt
2050 Lives Saved
Thus far, Orphan Grain Train has supplied enough shunts to the doctors in St. Petersburg, Russia and former Soviet Republics, to save over 2000 lives, thanks to the generous contributions of many people. Several thousand shunts are needed each year to fill the total need for shunts in that part of the world.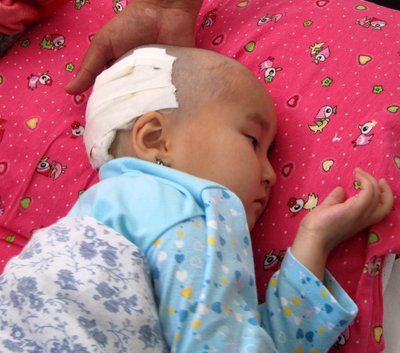 Chld following shunt surgery
Report from St. Petersburg, Russia
"The shunts were distributed among Russian Polenov Neurosurgical Hospital, Raukhfus Children's Hospital and Children's Hospital #5. Some of the shunts will be given to the Regional Hospital. All these hospitals have children's neurosurgical departments. The other St. Petersburg children's hospitals haven't got such departments; doctors of the other hospitals do not make such kind of the operations. The doctors of the Children's hospitals are very sincerely grateful to the Orphan Grain Train…[The] head of the neurosurgical department of the Raukhfus children's Hospital said that we made them the King's gift.

"Different charitable organizations had visited them before and they had known about their shunt problems, but none of those organizations helped in reality. They had no shunts at all, on the day we came. One of the small boys waiting for the operation at the Raukhfus Hospital died. The operation was delayed because of the lack of shunts at the moment. The funds, they got at the hospital, afford to buy rarely a small amount the shunts, made in Russia. But those shunts are of very bad quality. All the doctors say that there is no compare with the American analogs…
"The situation with the shunts continues to be very difficult. There are about 5,000 children having hydrocephalus in Russia. Most of the operations are made for the kids, who have parents taking care of them, spending most of their time and force to treat their small creatures. Hundreds of orphans, having hydrocephalus, are at the Homes for Neurological Invalids. [The] head of the Neurosurgical department of the Children's Hospital #5, told me, that what is going on in those Homes is terrible, unbelievable. Most of those kids are left immediately after the birth of those little babies, when their mothers with bad moral qualities find out that their babies are invalids. When I visit Polenov Institute they always have one or two orphans having hydrocephalous, whom the good doctors give a chance to survive.
"In spite of the salaries of the St. Petersburg neurosurgeons are less than that for the normal living rate (I guess it's hard to believe it in America, I know, that neurosurgeons are one of the highest rate paid people in the USA), they consider to be very qualified, the best in Russia. That is why a lot of people from the distant parts of Russia and the countries of the former USSR come to St. Petersburg Hospitals for their kids to be operated. The operations are made here free."
"Most of the patients are people in need. And it is great that you give the parents a possibility to treat their children. I know the fact that some mothers living at the other districts had to sell their apartments to have a possibility to operate their kids."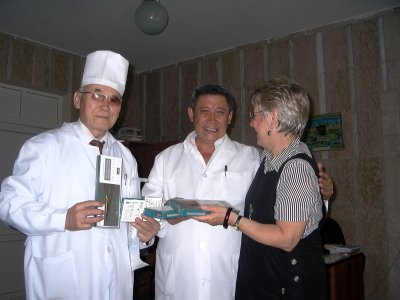 Doctors Receive Gift of Medical Shunts
A Thank You Filled Letter
From Ministry of Health of Russia, Polenov Neurosurgical Institute, St. Petersburg, Russia:
"Dear Friends, We are sincerely grateful to you for your help; drainage systems necessary for treatment of the patients, having hydrocephalus. Hydrocephalus is on of the most hard diseases of the nerve system. The good treatment of hydrocephalus is impossible without modern shunts, those we cannot afford to buy. Because of your noble charitable help, we managed to save the lives of many people. To our minds, it is the best evidence of love to the people. Such acts bear kind feelings and help our peoples to become good friends. Our patients, their parents, relatives and friends sincerely thank you for the attention and help."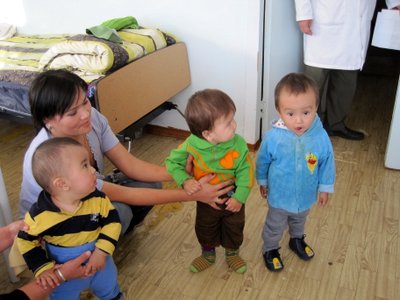 One Year After Surgery