South America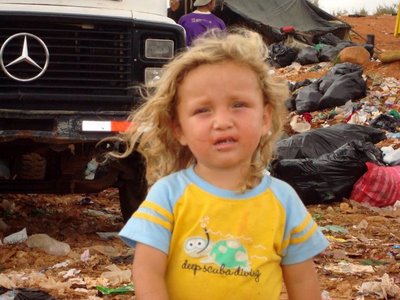 Costa Rican Child Living in Dump
People in Central and South America have received humanitarian aid from Orphan Grain Train. Below is a list of the countries who have received assistance:
Argentina
Brazil
Chile
Costa Rica
Dominican Republic
Ecuador
El Salvador
Guatemala
Haiti
Honduras
Mexico
Nicaragua
Panama
Paraguay
Peru
Puerto Rico
Trinidad
Venezuela
---
Celebrating Mother's Day in Haiti
Mother's Day was celebrated in Haiti on May 27th and the children from Evangelical Lutheran Church of Zion don't have money to buy flowers for mom so they drew flowers instead. Hudsen Isidor is one of OGT's recipients in Haiti shared these pictures with us. What beautiful gifts to show love for their mom.(5/2018)
---
Gifts for the Children
Rainbow Network in Nicaragua received a shipment from Orphan Grain Train and some of the goods included school supplies, children's books, Spanish bibles and clothes.  The items were divided into handbags and handed out to their school students.  Their faces lit up looking through their own bag of surprises.  Thank you Rainbow Network for sharing the gifts and gospel with the children.  (5-2018)
---
Beans and Clothing Arrive in Haiti
Two containers were delivered to Help For Haiti's compound on Saturday, February 3rd. The first shipment was loaded in Norfolk with 40,000 lbs. of edible beans purchased and funded by Wisconsin Branch, and clothing for Haiti Lutheran Mission Society. The second shipment also originated from Norfolk warehouse and delivered clothing, chairs, and 10 Christmas gift boxes that didn't arrive ahead of Christmas as hoped. I'm sure they will still bring happiness to some special children.(2/2018)
---
Thanks OGT from Lutheran Hour Ministries in Nicaragua
Lutheran Hour Ministries (LHM) in Nicaragua shared pictures from their Christmas celebration of children receiving clothes and other items donated by OGT. LHM has more than 15 locations where they teach Bible courses to children, adults and young people. Everybody said "Thank you OGT for sharing the love in Christ and for the presents."(1/2018)
---
Haitian Hospital and School Helped
OGT recently received these pictures from Sandra Koch with Help For Haiti and Sister Joseph of donated items for a hospital and school in Flurant, Haiti. OGT had shipped the hospital beds with mattresses and school desks to Help For Haiti and Sandra shared the beds and desks with Sister Joseph who used the items immediately and was so grateful for the beautiful gifts.(8/2017)
---
So Precious
OGT received the following email and picture from one of our recipients in Haiti, Dave Hansen with Helping Hands for Haiti. It is always heartwarming to hear that donations from OGT do make a difference in the world. Praise be to God.
As the new school year fast approaches in Haiti we are once again so thankful for Orphan Grain Train and Mercy Meals of Yankton for all that you have done so that the children of Haiti might have a nutritious meal at school. As you can see in this picture the kids look so healthy because they are getting the nutrition they need on a regular basis. You are making a difference that you may never see first-hand---Thank you!!
Dave Hansen
Helping Hands for Haiti
OGT's Norfolk warehouse will be shipping to Haiti this Thursday August 25, 2016 with another supply of food for Helping Hands for Haiti. Thank you to our donors and volunteers that help make these shipments possible!(8/2016)
---
Blessings Blessings Blessings
Josias Marin, one of OGT's recipients in Haiti recently received bunk beds, Kids Against Hunger meals and pinto beans to share with families in his region. He sent these pictures of food distribution and of some children enjoying the beds. Josias shared the joy he experiences handing out the packets of food because of how grateful the people are and how it impacts their lives.(7-2016)
---
Fruits of Our Labor
On January 13th, together the Mid-Atlantic and New England Branches shipped a load to LHM in Nicaragua. The container was filled with 61,560 Kids Against Hunger meals, blankets/quilts, linens, men's, women's, and children's clothing, shoes, handicapped devices, medical supplies, hygiene kits, layette kits, diapers, bicycles, toys, school kits, school supplies, sewing machines, and sewing supplies. Our recipient Ricardo and Georgina distributed some of the cargo to families and organizations in need. They shared some of the food with local pastors to use for their children's feeding programs. What wonderful pictures showing OGT donations helping those in need and nourishing little minds and bodies. (3-2016)
---
Humanitarian Aid Delivered
Last October, our recipient, Rainbow Network, in Managua, Nicaragua unloaded a shipment from the Norfolk warehouse.  They were very grateful to receive blankets, quilts, bedding, sleeping mats, clothes, shoes, folding chairs, coffee cups, hygiene kits, canes, crutches, toilet risers, walkers, bicycles, solar ovens, toys, office furniture, school desks and chairs, school supplies, sewing fabric and sewing machines.   The picture is of the Supervisor for Operations, Yader Moran distributing some of the goods to an elderly couple in Managua.  (10-2015)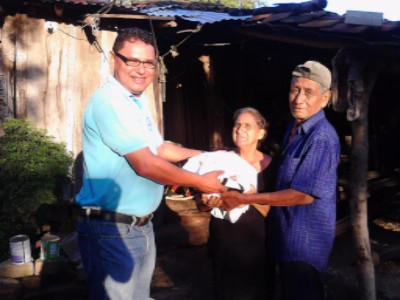 Random Acts of Kindness
Visitors to Costa Rica see beautiful golden beaches and posh resorts, but there is another side of the island paradise that can be seen if one looks beyond the port of call. On the southern coast a large population of people lives far below the poverty level, without the basic necessities of life. Orphan Grain Train's first shipment of humanitarian aid for the destitute people of Costa Rica contained Spanish Bibles, Sunday School materials, clothing, school desks, school supplies, soccer equipment, household items, blankets, and PET all-terrain wheelchairs. The goods arrived in March, and were delivered to churches, community centers, orphanages and some 300 needy families. The poorest of the poor are served by churches whose mission is to share God's Word and give hope and assistance to poverty stricken people. The church sanctuaries often consist of thatched roofs supported by poles. During the six-month rainy season, worshippers at times receive a shower after arriving at church, thanks to the leaky roofs. From this first shipment, pastors gave out over 100 Spanish Bibles, and had requests for many more. One minister traveled over 5 hours to deliver a final report and say thank you to Orphan Grain Train for all of their help.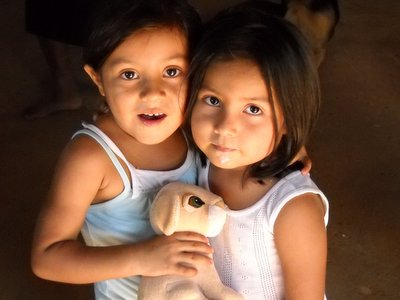 Sisters with Stuffed Animal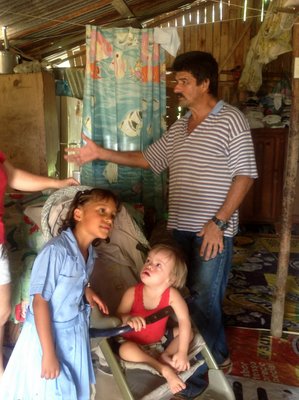 Destitute Costa Rican Family
Of the 300 families served, 130 were mostly needy mothers and children called the Cen Cenai. They received Bibles, clothing, toys, school desks, school supplies, kitchen utensils, and even rubber boots to protect them from the poisonous snakes when they are walking.
One family, who welcomed the assistance, was Don Ignacio, his wife and two children. The older child is a young teen, the younger, a baby girl with Down Syndrome. The family lives in a house with dirt floors, a living room, bedroom, and kitchen. Plastic signs Don has collected from around the community cover the floors so that his precious baby girl has something besides dirt on which to practice her crawling skills. Crabs tunnel into the kitchen from the nearby ocean, to feast upon, of all things, the refrigerator's electric cord. They disappear back down the tunnel to the sea. Needless to say the refrigerator no longer works. To add to the misery, constant vigilance is needed as occasionally a deadly poisonous snake comes up through the crab tunnel and into the kitchen. Though the family has many challenges, they are not without hope. They were thrilled to have their own Bible, clothing for the children and other relief supplies to improve their day to day existence. They showed their thanks by sharing the only ripe vegetable in their garden, a squash.
Little Faces Lit Up From Gifts
Recently Rainbow Network in Nicaragua received a shipment from OGT and some of the goods included school supplies, children's books, Spanish bibles and clothes. The items were divided into handbags and handed out to their school students. Their faces lit up looking through their own bag of surprises. Thank you Rainbow Network for sharing the gifts and gospel with the children.(5/2018)
---